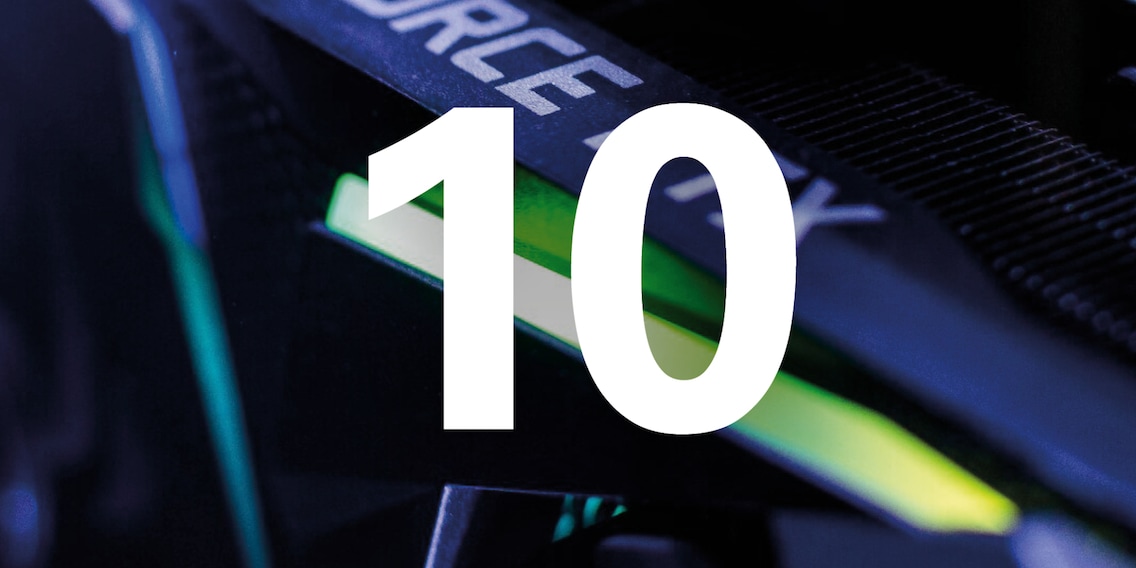 This article was translated automatically.
These are the ten most read stories in the digitec 2021 magazine
No year ends without me taking a look at the most read articles in digitec's magazine. Here are the top 10 of 2021, have you seen them all?
For the rankings, I fired up our data machine. Which articles were clicked on the most by the community, read the longest and given the most hearts as a sign of appreciation for the topic and the preparation? Here's the result - in reverse order.
Rank 10: Bad news about graphics cards
We'd also have been surprised if the topic hadn't interested us. Back in February, editor Kevin predicted that the availability of graphics cards would probably be bad for the whole year. Unfortunately, he was right.
Rank 9: Bargains - serious or dangerous?
Phil asked himself if you can trust super-cheap software keys you find on the internet. His background on the subject interested so many users that the article earned a place on the year's best list.
8th place: Keyboard without depth
Even among the users in the shop, the realization seems to have matured that a decent keyboard is needed in the home office. For non-gamers like me, Logitech's MX Keys seemed like a good choice at the time. It has remained so to this day.
Rank 7: First impressions of the Macbook
In autumn Apple released new Macbooks. Dominik grabbed a Macbook Pro M1 Max, tested it for a few hours, and then summarized his first impressions here.
Rank 6: Everything about the iPhone 13
What would a ranking be without an article about or on the most popular smartphone in Switzerland? Even if the iPhone 13 was once again more evolution than revolution: our article on rumors before the presentation and the summary of the keynote itself managed a place in the top 10 of the year.
Place 5: Many hearts for a transparent RGB mask
The heart counter for Raphael's news rose to dizzying heights in July. His article informed about Razer's plans to launch a face mask that would make all FFP2 and hygiene masks look old. By the way, the mask actually went on sale later until it sold out immediately.
Rank 4: Switching from Windows to Mac
David wrote the opinion piece that got the most likes in 2021, almost 500. Whether he collected that high number for his decision to switch to Mac or for his good reasoning - we don't know.
3rd place: The arduous struggle with Word
Lots of readers, lots of likes and lots of comments - that catapults Livia's reckoning with the Microsoft application Word to 3rd place in our annual charts.
2nd place: DIY PC as PS5 alternative
The Playstation 5 was a hot commodity in 2021 - along with graphics cards, of course. What to do if you can't get it? Gaming editor Phil tried to help himself and wanted to know what a PC replica with PS5 power actually costs.
Rank 1: The best alternatives to Whatsapp
The story that received both the most clicks, the longest reads and a lot of comments was Dominik's look at alternatives to the Whatsapp data octopus. The story was followed by a debate with Signal's founders - and a later addition to the article to clarify misleading statements.
P.S.: I didn't take into account magazine articles that were clicked on very frequently but were ultimately just a kind of instruction manual for using our shop, for example on the rules of the game on Black Friday or on how the launch of a graphics card works. That also interested the community a lot, but is rather not that exciting for an annual best list.
P.P.S.: If you don't want to miss any more articles in 2022 and only discover them in the annual review, I have a pro-tip for you: Use our "Follow" feature. If you follow the author, you'll get an email when they publish something. If you don't care about the people in our editorial team, you can also follow a topic. Then you'll get notifications when a new magazine article on your topic appears.
Illustration Titelbild: Maggie Blaser / Digitec Galaxus
---



Journalist since 1997. Stopovers in Franconia (or the Franken region), Lake Constance, Obwalden, Nidwalden and Zurich. Father since 2014. Expert in editorial organisation and motivation. Focus on sustainability, home office tools, beautiful things for the home, creative toys and sports equipment. 
---
These articles might also interest you
Skeleton Loader

Skeleton Loader

Skeleton Loader

Skeleton Loader

Skeleton Loader

Skeleton Loader