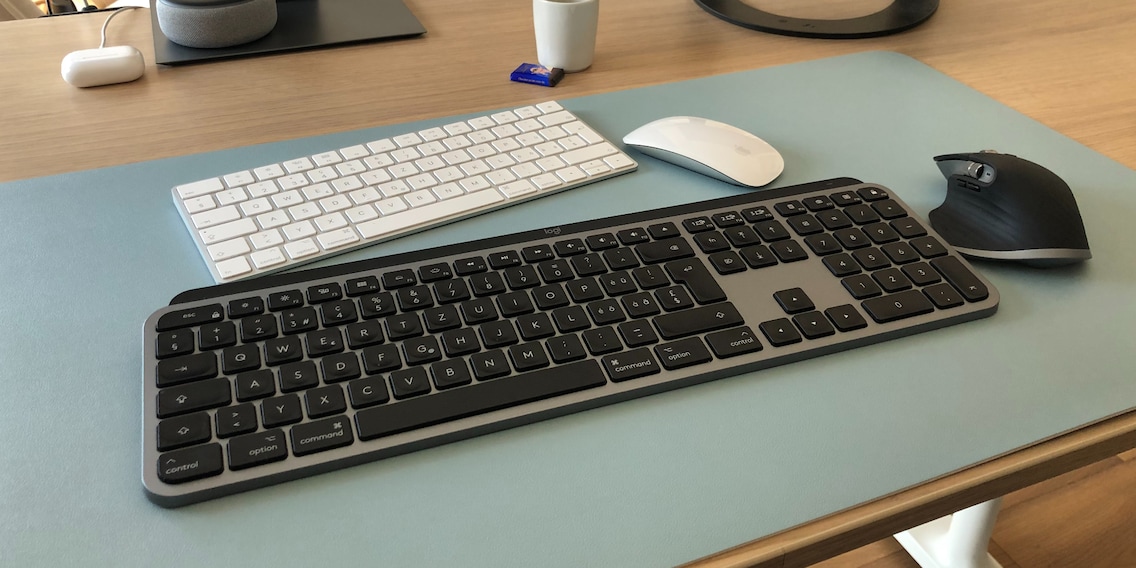 Switching keyboards: why MX Keys are making Magic obsolete

No cable, a slick design and an all-round good feel – this is what I look for in a keyboard. And Logitech's MX Keys deliver it all in a big way.
It's finally happened: one of my Apple devices has been made redundant. I had been a satisfied user of the narrow, number pad-less Magic Keyboard for many years.
I enjoy writing my articles on flat keyboards, and I prefer having tidy desks. Therefore, a keyboard I'm planning to use often has to communicate with my Macbook Pro via Bluetooth and should offer a decent battery life.
A few months ago, I felt like I was ready for a new keyboard. The need for a numeric keypad grew, as did my desire for something new. Which is why I tested the Surface Keyboard from Microsoft. Solid, but just not good enough for me.
A look at the sales statistics in our store showed me that the bestseller according to my demands was a Logitech product, more precisely the MX Keys. On a whim, I snagged the «Mac» model. It was launched back in July 2020.
I'll readily admit that I decided to test it in part because of its looks. On its homepage, Logitech boasts a whole series of design awards. And you can see why: the combination of space grey and black perfectly matches the look of my Macbook.
I decided to generously ignore the fact that the keyboard is made of plastic and not aluminium like its Apple counterpart. In the case of the MX Keys, plastic doesn't necessarily mean that the device is poorly manufactured anyway. On the contrary. It's high-quality, weighing just over 800 grams. It sits on my desk in a solid and stable manner. Six rubber feet on the bottom stop it from sliding around. The keys hardly have any lateral play. Even millions of keystrokes or frustrated hacking on the return key shouldn't upset the MX Keys.
And after three months of countless emails, chats and articles, I have my verdict on the endurance of the material; it's «very good». The laser inscription on the keys still looks good as new, even heavily used keys feel just like they did on the first day.
Not even a hint of a scratch or dent can be seen on the edges and rounded corners. Although I'm not one of those people who throw or drop their keyboard on the floor out of anger or carelessness anyway.
How does MX Keys feel?
I've compared this device to Apple's Magic Keyboard, the Surface Keyboard as well as various standard keyboards from Cherry or Logitech that you get from IT managers for your office workstation. And out of all of them, the Logitech keyboard just feels the best. Naturally, all of my opinions are subjective.
For me, the MX Keys wins thanks to its softness, while still providing reliable feedback at the pressure point without being too loud. Logitech decided to go with Scissor Switches this time. And then there are the little indentations on the keys, which did leave me a bit perplexed at first. I only realised their true purpose after a few weeks. The concave indentation actually gives your fingers a better orientation than you'd ever get with other keyboards. I was trained to be tactile, so to speak.
The built-in lighting is another unique gimmick. This might seem quaint, even laughable to gamers, as Logitech exclusively keeps its lighting white. Forget about RGB! The backlight activates as soon as you get close to touching the keys. It almost makes you feel like a superhero, the power over light and dark!
This feature does come at the expense of battery life. If it's active, the proximity sensor switches on the keys even at normal light levels. After about five working days, you'll see a red LED light up in the upper right corner, requiring you to recharge the device via USB-C. If you don't use the backlight, the keyboard will last much longer. According to Logitech, up to five months. I haven't tested this. I prefer having the lighting on, while still remaining somewhat economical by turning the brightness levels down a bit.
How compatible is MX Keys?
Apple users are unique, as in their world, devices connect and work together so wonderfully easily. I was understandably sceptical about how this alien device would fit into my universe. True, it all worked out in the end. But it wasn't all smooth sailing. You cannot pair the MX Keys with your Macbook via Bluetooth. This is prevented by Apple's security settings. Only after disabling FileVault encryption will you be able to pair the keyboard via Bluetooth (here's Apple's support page). Alternatively, you could marry the MX keys with your Macbook via the included dongle. However, it's a USB dongle, and Apple stopped using those on its mobile computers around 2016. Starting to see how this could get annoying? And having the dongle dangle around using a Type C to USB adapter on the side of my Macbook just wasn't an option.
Once you've connected the MX Keys, it's worth taking a look at the Logi-Options app. It offers you a few settings, such as assigning F keys individually.
Logitech also gives you the option of pairing three devices with your MX Keys. You can then control them via Easy-Switch buttons. For example, I still have my iPhone connected. However, as the Apple universe is pretty much perfectly in sync, you don't really need a keyboard that switches to your iPhone if you're sitting at your desk using a Macbook anyway.
The feature might be more interesting if you have a PC in addition to your Mac, for example. The switch also works across operating system boundaries.
What is MX Keys missing?
Time for a verdict. There's nothing wrong with MX Keys. I would've liked some retractable feet with which you can adjust its tilt angle. But honestly: how often would you actually retract or unfold them? To me, the angle is perfect; it's slightly more acute than on the Magic Keyboard.
I could criticise the backlight's power consumption or get artificially upset about the asinine USB dongle. But I won't.
Logitech has built me a pretty much perfect keyboard that offers more than Apple's Magic Keyboard. And above all, it feels great to use. Which is what a keyboard is all about in the first place.
PS: Would anyone like to buy my Magic Keyboard? It's still in good condition.
---



Journalist since 1997. Stopovers in Franconia (or the Franken region), Lake Constance, Obwalden, Nidwalden and Zurich. Father since 2014. Expert in editorial organisation and motivation. Focus on sustainability, home office tools, beautiful things for the home, creative toys and sports equipment. 
---
---
---
These articles might also interest you
Skeleton Loader

Skeleton Loader

Skeleton Loader

Skeleton Loader

Skeleton Loader

Skeleton Loader