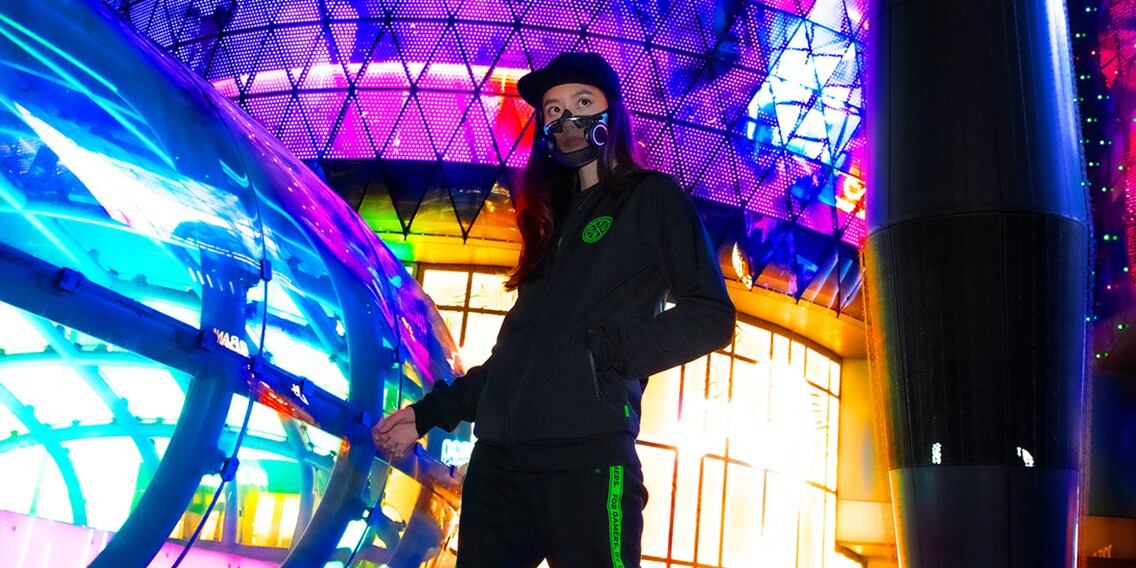 I wonder what the lady in the Razer mask is thinking right now? Image: Razer
Transparent, with an integrated speaker and RGB lighting – the mask revolution?

Razer, the manufacturer known for gaming peripherals and hardware, is presenting a new prototype at CES 2021: the world's smartest mask. It's transparent, equipped with a speaker and lights up.
Your gaming PC and peripherals already glow in all the colours of the rainbow thanks to their RGB lighting. Mousepad, monitor, headset stand... you wouldn't want to miss any opportunity to bring more colour and flashiness to your setup. Razer takes this one step further. The Americans are unveiling a new prototype at this year's Consumer Electronics Show (CES) and calling it «Project Hazel». It's supposed to be the world's smartest mask, with features like active ventilation, a voice amplifier, RGB lighting and a transparent design.
Edgy just ain't edgy enough
At CES, gadgets, toys and prototypes are usually unveiled that are supposed to reveal what the world of electronics will look like in both the near and distant future. But after a year like 2020 and the coronavirus as a ubiquitous topic, there's been a shift in focus. It's now about introducing technologies and tools that allow you to go outside despite the pandemic. The clever marketing people at Razer put their heads together virtually. This head turner is the result:
The Californian gaming experts don't see their new mask as a sensation or surprise, reveals their press release. After all, Razer has turned at least one of its manufacturing sites into a production facility for disposable masks. Last year alone, they distributed and gifted more than one million of these masks.
16.8 million colours for your face
At first glance, the contraption looks like the illegitimate child of a Razer mouse and headset. But rest assured, it's actually a reusable mask that protects you from the coronavirus. According to Razer, the main attractions are the two customizable RGB zones, allowing you to light up your face with 16.8 million different colours. They're located at the speaker and air outlets. Since the mask is still a prototype, we don't know all the details yet. But it wouldn't be surprising if you could also sync the colour rings on the mask with the RGB lighting on your gaming peripherals.
Although the mask provoked quite some laughter when it was first unveiled, the more people thought about it, the more their heads started to nod in agreement. The prototype advertises an active ventilation system that blows cool, fresh air in and warm, exhaled air out. All while killing at least 95% of all suspended particles, thanks to the N95 filter. The battery-powered fan is supposed to be rechargeable using the included charging case, which also acts as storage. And thanks to a built-in UV light, the case also sterilises the mask while you charge it. A silicone band protects your nose and cheeks, while a voice-amplifying speaker and the transparent design ensure the person you're talking to can easily understand you. In addition, a light on the inside of the masks illuminates your mouth, which is supposed to make communication easier. According to Razer, the mask is also waterproof.
The unmissable mask of the future
Since the whole thing is and remains only a prototype for now, Razer can rest easy without revealing further details. Since there's no demo version yet to demonstrate how the mask works in practice, there's always the possibility that this prototype is simply a flash of inspiration that's impossible to implement. Razer hasn't mentioned a release date, it hasn't provided pricing details, and hasn't published any info regarding battery life. Perhaps the mask needs to be recharged every three hours of use? Or the launch price is exorbitantly high? So far, everything's pure speculation.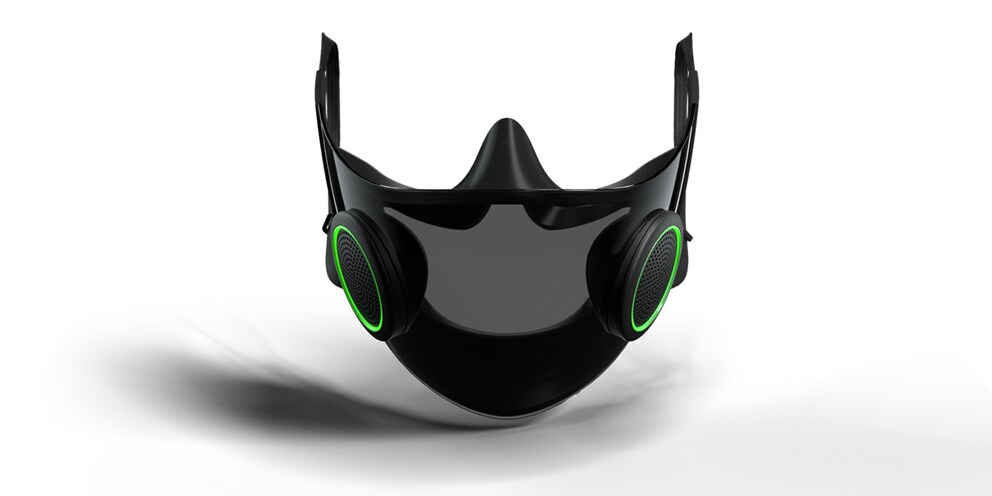 In addition, the noise produced by the ventilation system and the heat emitted by the battery must be managed so that the mask doesn't pose any short- or long-term health risks to the wearer. It's meant to protect the wearer, after all. A prototype is a prototype, though it must be said that Razer's mask isn't quite as dramatic as the Narwall mask. That one's guaranteed to make jaws drop. No, that's not snorkelling equipment. It's a mask. But without a ventilation system, no RGB lighting and no transparent design.
So far and yet so near
Even if «Project Hazel» were to never see the light of day, it remains on the Internet. And as the rule goes: once online, always online. Whether the ventilation system really works, filters the viruses and ensures sufficient fresh air supply remains to be seen. It's also not yet known if the voice amplifier and transparent design really improve communication. But I do believe that the concept of and thought behind the Razer mask won't disappear as quickly as they appeared. What do you think? Is this just a marketing stunt, taking advantage of corona times? Or a clever idea that came from RGB nerds as an attempt deal with the new reality of everyday life?
---



When I'm not stuffing my face with sweets, you'll catch me running around in the gym hall. I'm a passionate floorball player and coach. On rainy days, I tinker with my homebuilt PCs, robots or other gadgets. Music is always my trusted companion. I also enjoy tackling hilly terrain on my road bike and criss-crossing the country on my cross-country skis. 
---
---
---
These articles might also interest you
Skeleton Loader

Skeleton Loader

Skeleton Loader

Skeleton Loader

Skeleton Loader

Skeleton Loader