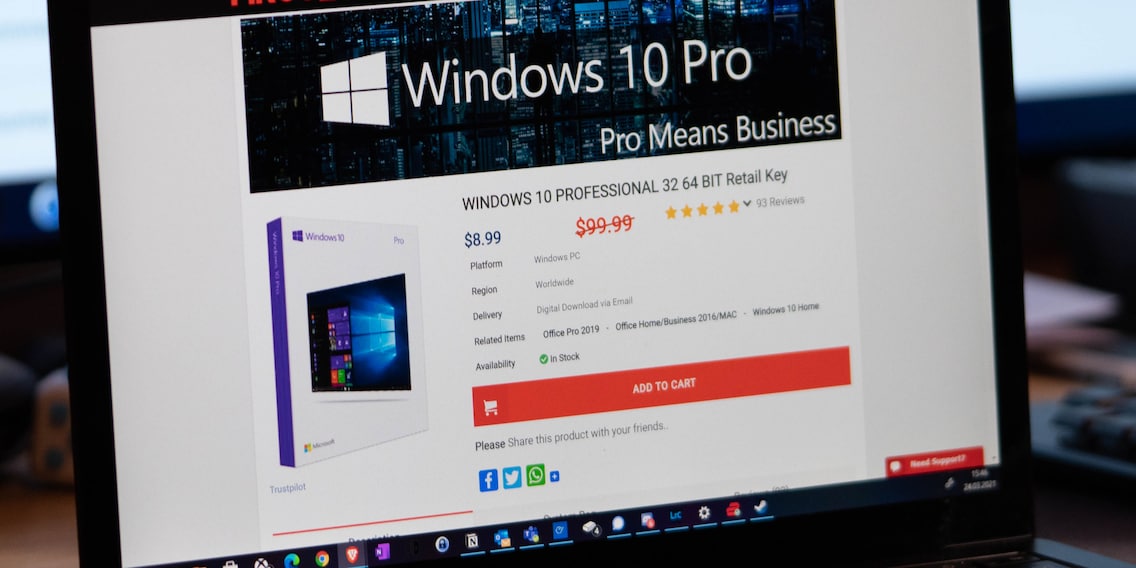 Are super cheap software keys legal, and where do they even come from?

Windows 10 for three francs or a Spotify annual subscription at half price. How do these bargains emerge, and is purchasing them punishable?
Anyone who's ever looked for a cheap game key, image editing software or music subscription has probably stumbled across dubious offers. The Internet is full of sites that offer keys at unbelievable prices. But are such offers too good to be true? How do these keys even become available? Lawyer and expert for law in the digital space Martin Steiger knows the answer.
Windows 10 Home costs 160 francs from Microsoft. On the Internet I can find offers for three francs. Where do these keys come from?
Martin Steiger, Attorney at Law: Generally, they come from companies that have bought many licences at once and received volume discounts in return. Such keys then often find their way onto resale platforms. As a rule, the original contract does not stipulate that the keys may be resold. Licence and contract terms are often confusing. Some of them are also licences that are no longer needed.
So the keys weren't stolen or forged anywhere?
This also happens, but most of the offers come from volume licences. Or they're destined for other markets, where the price is much lower. This is often the case, especially with promotions on streaming subscriptions. In these cases a phone provider might have bought a million keys and is selling off the ones they don't need. If the price is too good to be true, it usually is. We then naturally suspect that something is off somewhere along the chain of rights.
The licence should therefore not actually be resold. Do I make myself punishable by purchasing one anyway?
The biggest risk for consumers is that the key won't work or loses access as Adobe, Steam, or Spotify often will lock your account. Prosecution, on the other hand, is of little use to companies as there is no money to be made directly. Licences are usually checked for validity automatically. For companies, it's a different story. Even companies of five people are looked at more closely and investigated. If the licence check determines that the software was not legally licensed, high costs are imminent. Criminal proceedings are also possible. However, a financial solution is usually sought. Often, in such cases, it also impacts the resellers.
So, the company buys licences for cheap somewhere and trades them?
Exactly. In a first step, they usually receive warning letters threatening criminal and civil action.
Are there any 100 per cent legal bargain sites at all?
Absolutely, used software can be legal. Usedsoft, for example, is an established vendor. There, of course, prices are never as low as with dubious offers. However, reputable companies assume liability and document where a licence originated. However, manufacturers first had to be forced to allow licence resale. In Switzerland, there is no clear case law except for a decision by the Zug Cantonal Court from 2011.
But you would advise against buying suspiciously cheap keys?
Yes.
---



Being the game and gadget geek that I am, working at digitec and Galaxus makes me feel like a kid in a candy shop – but it does take its toll on my wallet. I enjoy tinkering with my PC in Tim Taylor fashion and talking about games on my podcast http://www.onemorelevel.ch. To satisfy my need for speed, I get on my full suspension mountain bike and set out to find some nice trails. My thirst for culture is quenched by deep conversations over a couple of cold ones at the mostly frustrating games of FC Winterthur. 
---
These articles might also interest you
Skeleton Loader

Skeleton Loader

Skeleton Loader

Skeleton Loader

Skeleton Loader

Skeleton Loader