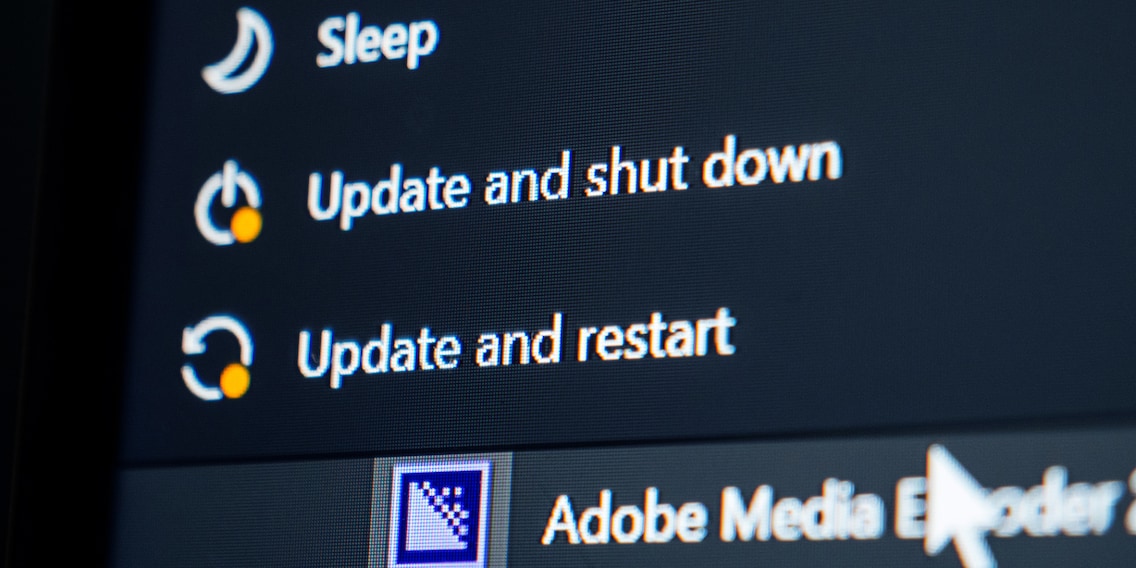 Microsoft update issue: users advised to keep PC running

Many Windows PCs aren't up to date. Microsoft's «Windows IT Pro Blog» reveals why this is the case and what companies can do about it. Users are advised to leave PCs running overnight.
PC updates shouldn't ideally prevent you from working. Therefore, they're usually installed when people aren't using their devices, but devices are still switched on. According to Microsoft, this is exactly one of the biggest problems when it comes to missing updates i.e. outdated Windows devices. As an investigation by the company shows, affected devices aren't online long enough.
In the «Windows IT Pro Blog», Microsoft explains that their analysts have found that a device needs to be online continuously for at least two hours on average to get upcoming Quality and Feature Updates for Windows. After this, the PC must remain connected. It takes four hours to install updates. In the comment section under the blog, Microsoft's David Guyer advises to take into account that the study also includes devices that were only temporarily connected to the Internet. He adds that when an update is interrupted, it's not always possible to continue at the same point and that a download would not have to be restarted, but other processes might.
The long update time results in many PCs getting too little time for the process and being stuck with an outdated operating system. When employees finish work, they close notebooks and don't open them again until the next morning.
What the update duration depends on
How quickly an update can be downloaded and installed depends on the following factors:
Size of the update
Internet connection speed
Accessibility of the update server
Strength of local hardware
Moreover, the time in which the device is switched on without being used is important.
Those with a fast Internet connection and a relatively strong end device will be less affected by long update times. However, if you unpack a new laptop, you might need much longer than six hours for the installation. The more time has passed between a device being produced and the same device being sold, the more updates are due. If the new notebook has a weak processor and poor Wi-Fi reception, this all adds up to a test of patience for the user who actually wants to use the new device.
If you want to know how the update process works in detail, Microsoft describes it here.
Increasing connectivity of outdated devices
Microsoft refers to the timing when the download starts to when it's completed as «Update Connectivity». Administrators should take this value into account if they want to increase the number of up-to-date Windows devices in their company. How many devices are affected at all can be viewed in the management software «Microsoft Intune». Microsoft has added a new «Insufficient Update Connectivity» indicator to the software.
To illustrate the importance of the Update Connectivity value, Microsoft lists an example of Windows 10 devices that lack updates. Around 50 percent of these devices don't feature a serviced build of Windows 10 and don't meet the minimum Update Connectivity requirements. Another 25 percent of devices that don't meet the requirements have a serviced build, but the security updates are more than 60 days old.
To counteract the problem, Microsoft recommends that companies reach out to their employees and ask them to leave their devices turned on and plugged in instead of turning them off overnight. Correct energy settings are also important, as too fast automatic switch to energy-saving mode or hibernation can also be the cause for too low Update Connectivity.
Is Microsoft currently doing anything else to solve the problem? That's not addressed in the blog. However, they probably are. In October 2021, the company announced how it had reduced the update size on Windows 11 by 40 percent. It would be great if Microsoft found other solutions that don't increase the energy demand by requiring company notebooks and desktop PCs to run all night.
---



I find my muse in everything. When I don't, I draw inspiration from daydreaming. After all, if you dream, you don't sleep through life.
---
---
---
These articles might also interest you
Skeleton Loader

Skeleton Loader

Skeleton Loader

Skeleton Loader

Skeleton Loader

Skeleton Loader