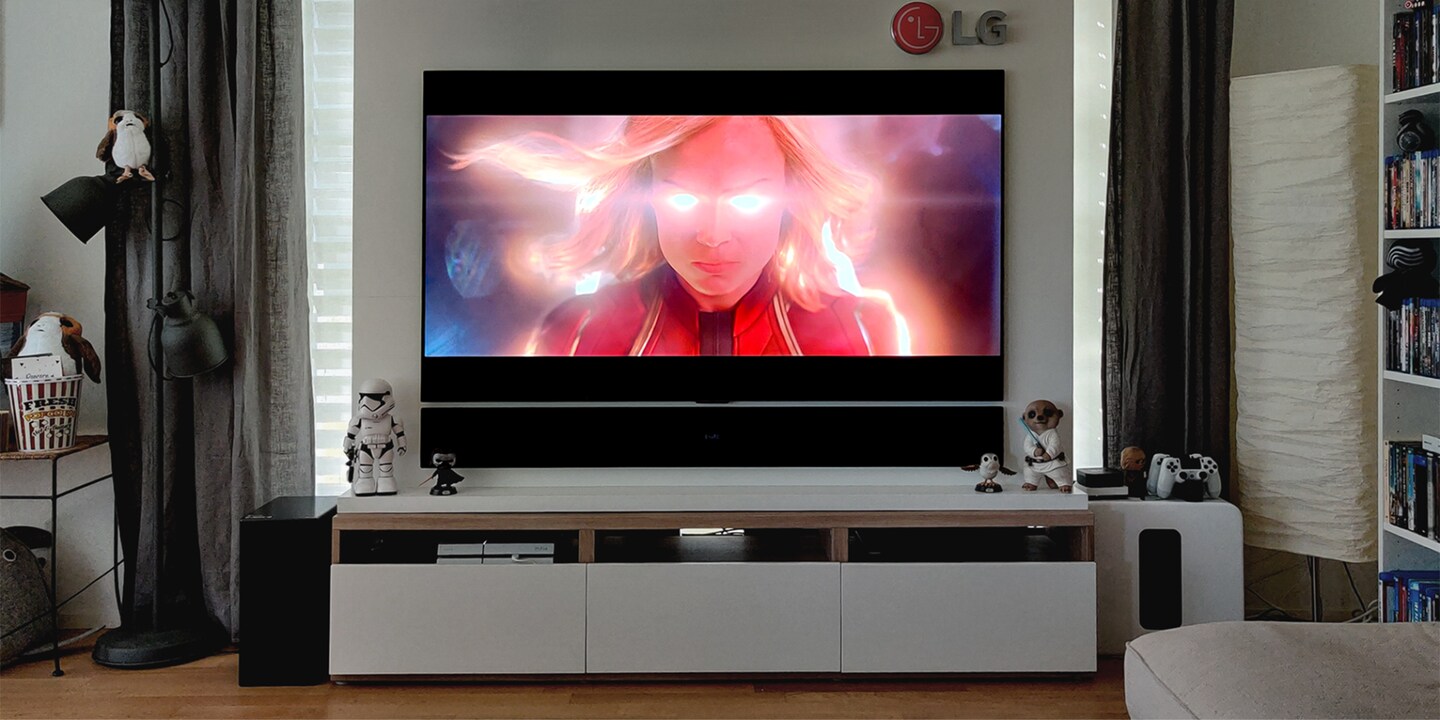 Reviewing the LG OLED GX: immune to any criticism

LG cements its position as the OLED master: the GX is the best TV I've tested so far – it's also quite expensive
From the front, I'd call this TV minimalistic. The design, not the image. Image minimalism... yikes. A grave insult. After all, the image produced by LG's OLED GX is pure excellence. And when I say minimalism in terms of design, I also mean that as a compliment.
There's a reason for this: the black border is only about half a centimetre large. Like I said: minimalism.
As always, full disclosure: the television set was made available to me by LG. As well as the wall it's mounted on. LG even had it built in my living room. With a great big glowing LG logo at the top right. Crazy. The LG OLED G model has no stand and can only be mounted on walls.
If you – like me – don't have a wall specifically for your TV, I'd recommend the C version. It includes the exact same panel with the exact same image quality. It just has a stand and is much cheaper.
There. Now that that's settled, on to the test.
Design and connections? Nicely done
Back to minimalism. The GX – the «X» is pronounced as a Roman number – doesn't want to attract attention. Why else have a 0.5 centimetre thick black frame? In any case, the TV actually looks damn nice when hung on the wall.
In case you're wondering what that bar underneath the TV is, that's the GX soundbar that LG also mounted for me. It's designed to perfectly mesh with the television set. At least to the 65-inch version of the GX. However, the GX Sound Bar isn't included and must be purchased separately if you don't want to hear TV sound from your internal TV speakers.
Honestly: the soundbar is way too expensive for what it can do. Trebles, especially dialogue, sound frighteningly tinny. This just won't do at that price. The mids aren't bad, they fill the room well. The bass is okay thanks to a separate subwoofer. Yes, the GX soundbar supports Dolby Atmos, but it doesn't really sound like it. All in all, you pay more for the design than performance here. And I don't even want to start with the internal TV speakers.
So, if you want to invest money in an even better soundbar, you're better off with the Sonos Arc. By the way, it can also be mounted on a wall, even if it doesn't fit perfectly under the GX. But personally, performance is much more important than design.
Back to the TV, which can't do anything about the overpriced GX soundbar. The television itself is about 2.5 centimetres thick. I'm impressed. These 2.5 centimetres don't just contain the wafer-thin OLED panel and some glass – to the right of my finger in the picture below – but also all the hardware.
Thanks to the wall bracket supplied, the TV can be mounted almost flush with the wall, as the back has perfectly fitting recesses for the «arms» of the wall bracket and cable management. That's great in itself. But wall mounting is both a blessing and a curse. It seldom looks as beautiful as in the commercials. Especially when it comes to the tangled cables that have to go somewhere.
I mean, how is this TV in an LG commercial getting power? From the void?
In my case, the LG workers made a hole in the improvised wall to lead the power and HDMI cables through directly to the power strip and signal sources. If that doesn't work for you, you'll have some ugly wires under the TV. This can be hidden more or less elegantly with cable rails. But you better pray you won't ever have to move, adjust or replace anything in your home cinema setup.
Be that as it may. Think carefully about whether the wall-mounted GX is for you. If you can hide the cables well, it'll look really impressive.
To the connections:
4x HDMI 2.1 ports (eARC, VRR and ALLM via HDMI 2.1)
1x Toslink output
3x USB 2.0 ports
1x LAN port
Supports AirPlay 2
In spring, the news that LG's TVs wouldn't support full HDMI 2.1 caused a stir. Specifically: LG's HDMI 2.1 «only» supports 40 Gbps instead of the usual 48 gigabits per second. LG's reasoning: the intelligent image and sound optimisations achieve better results when computing capacity is deducted from the HDMI 2.1 port and allocated to AI functions instead.
LG's slimmed-down HDMI 2.1 thus doesn't support 12-bit signals, i.e. Dolby Vision, when played back at UHD resolution and 120 frames per second. Only 10-bit UHD signals at 120 frames per second, i.e. «ordinary» HDR.
But movie and TV nerds can enjoy their content at 24 frames per second anyway. Dolby Vision easily fits into the 40 Gbit/s bandwidth. And gamers will still be getting UHD resolution with HDR and at 120 frames per second. In general: there are no 12-bit TV panels anyway. Whenever you watch Dolby Vision content, you actually only get a Dolby Vision picture scaled down to 10 bits. So it's not like you'll lose anything with a little less bandwidth.
As you can see: there's a lot of fuss over nothing.
Image-wise? There is no equal
First of all: don't be too precise with the upcoming comparison pictures. These recordings were made months apart with different ambient lighting. This may have affected the pictures. I do try to keep the lighting conditions roughly the same, but my methods are far from highly precise.
I'll start with «Jurassic World: Fallen Kingdom». After all, I've already seen the scenes I'm using for comparison on so many TVs that I know pretty much what the optimal picture should look like to me.
And what the LG GX shows me could hardly be any closer to «optimal»:
There's lush green. The lamp light in the upper right corner glows in a warm orange. The night sky is nice and dark without losing any details. And the cinema bars above and below the picture are pitch black. This isn't an OLED novelty: the more than eight million OLED panel pixels can switch on and off individually. Any blackness you'll see is actually «real» or True Black. LCD screens can't do this.
How different is this to LG's2019 OLED model? Let's go check it out.
Here's the GX in all its glory:
And here's the E9:
The GX looks a smidge warmer, and therefore pre-set better, straight out of the box. I prefer that. Had I critiqued the E9 last year, it would have been for its slight green tinge every now and then. Otherwise, the image looks almost identical.
Let's see how the GX compares to Panasonic's OLED and TCL's mini LED. Specifically, Panasonic's GZC2004 and TCL's X10.
Panasonic's OLED TV appears significantly cooler. I'd already noticed this while testing the TV. In comparison, TCL's mini-LED TVs look better, even if the black levels don't match those of LGs and Panasonic's OLED TVs, despite the latest backlight technology that switches off where black should be – I explain this more precisely in my X10-Test.
Next scene. A brighter one to see how detail renders in brighter scenes.
Oh yeah, I like that a lot. Especially in comparison with LG's previous model.
First the GX:
And now the E9:
There it is again, the LG E9 and its somewhat cold picture. And the green tint, which is clearly visible in bright scenes. On the other hand, some detail is lost around the bright sun.
Sure, this is nothing that can't be adjusted in the image settings. For the test, however, I always leave the presets as they are by default – «Out-of-the-Box». I test the TV exactly as it would be used by most customers. Just the way LG envisions it.
I for one prefer the warmer tone of the GX. I also left the picture setting at «Standard»; in cinema mode, the picture would be even warmer. With Panasonic's GZC2004, I often watched movies in cinema mode. This is closer to what Hollywood colourists like. But with LG's GX, this didn't seem necessary in order to achieve a balanced image with good colour fidelity. In return, the spherical shape of the sun is always clearly visible with Panasonic. Thanks to superior brightness gradations.
Speaking of cinema: LG's 2020 OLED masters «Filmmaker» mode. It does essentially the same as the other cinema modes: the colour temperature is set exactly as Hollywood colourists intended, and optimisations such as noise reduction, edge smoothing and black frame insertion – to prevent motion blur – are turned off. This makes the content look more cinematic and less like a Netflix series production polished to a high gloss.
However, Filmmaker mode requires a certificate. Something LG's GX has. In addition, content must also have «Filmmaker mode» metadata so that the TV's processor doesn't automatically calculate anything else. In the end, this wouldn't correspond to the director's vision. And here's the kicker: thanks to Filmmaker metadata, Filmmaker mode actually delivers on its promise of «real Hollywood-Vision». Other cinema modes have only partially been able to fulfil this.
However: as of today, there are no streaming services or UHD Blu-rays that actively support Filmmaker mode. It's a bit ahead of its time, but at least it speaks for the future viability of the GX. Or for a vision of where TV is headed.
One last thing about picture modes: LG's GX has an «HDR effect» mode. I'm not sure what it does. Enhance contrasts. That's for sure. But not to the same exaggerated extent as «Dynamic» mode. In any case, HDR effect mode is great for watching football games. In contrast to Sport mode, the actual dedicated service, the lawn here doesn't appear in a vicious radioactive green.
My living room. Unedited and untidy. I don't even think I stood up for that picture. Watching football makes you lazy. Sorry. And the ref's an imbecile. As always.
The processor and smart TV? Pure finesse
LG's GX incorporates the third generation Alpha 9 processor. It's found in all 2020 LG OLED TVs except the B-series, which has the third-generation Alpha 7 processor. According to LG, it's at about the same performance level as last year's second-generation Alpha 9 processor.
Maybe it's just the same chip with a different imprint.
With highly scaled content from inferior sources – Blu-ray or live television for example – the Alpha 9 Gen 3 certainly puts a big smile on my face. Take «The Walking Dead», for instance. The series was deliberately shot on 16 mm film. This creates old-fashioned graininess and image noise that underlines the feeling of a broken, post-apocalyptic world.
Let's take a closer look at it.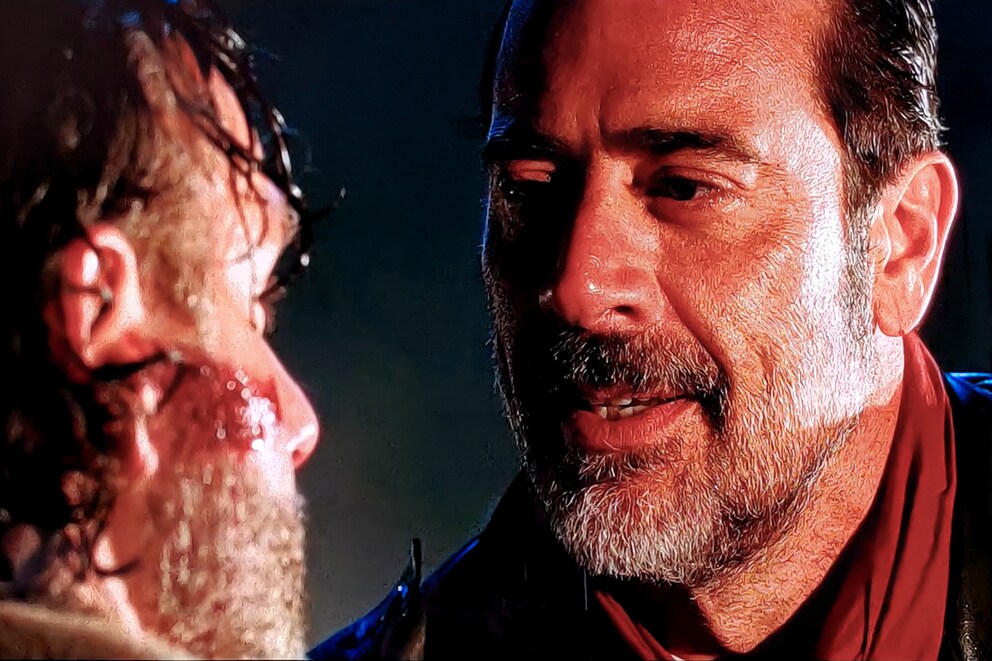 This isn't a screenshot from Netflix' press release. This is a photographed image from an HD source with SDR quality, whose approximately 2 million pixels are blown up to 8.3 million. In addition, it suppresses some noise, smooths edges and enhances colours. Voilà: the processor, the brain of any television set, has done its job.
LG's processors are particularly good at upgrading inferior sources. In 2018, the crown still belonged to Sony. One year later, the Japanese TV manufacturer was overtaken by LG. And even in 2020, LG's processors still rule the roost – at least for now.
For example, here's Panasonic's result for the same scene: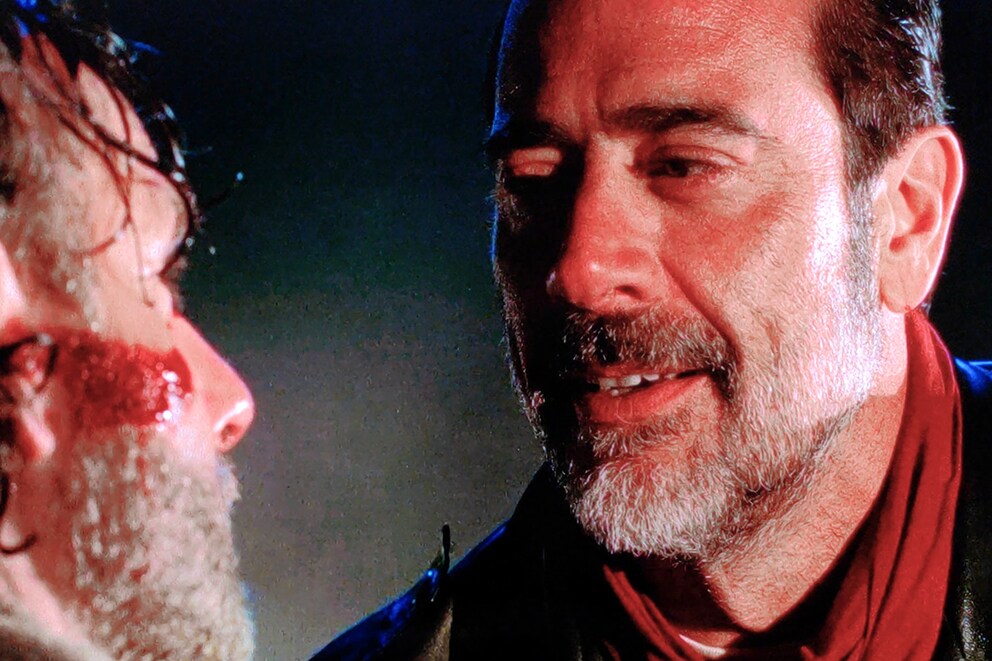 Notice the dark background to the left of Negan's face. Panasonic's image looks like a snowstorm. His stubbles are also much sharper with LG. Even the dimples on his skin are clearly visible.
TCL's processor in its X10 flagship is even worse: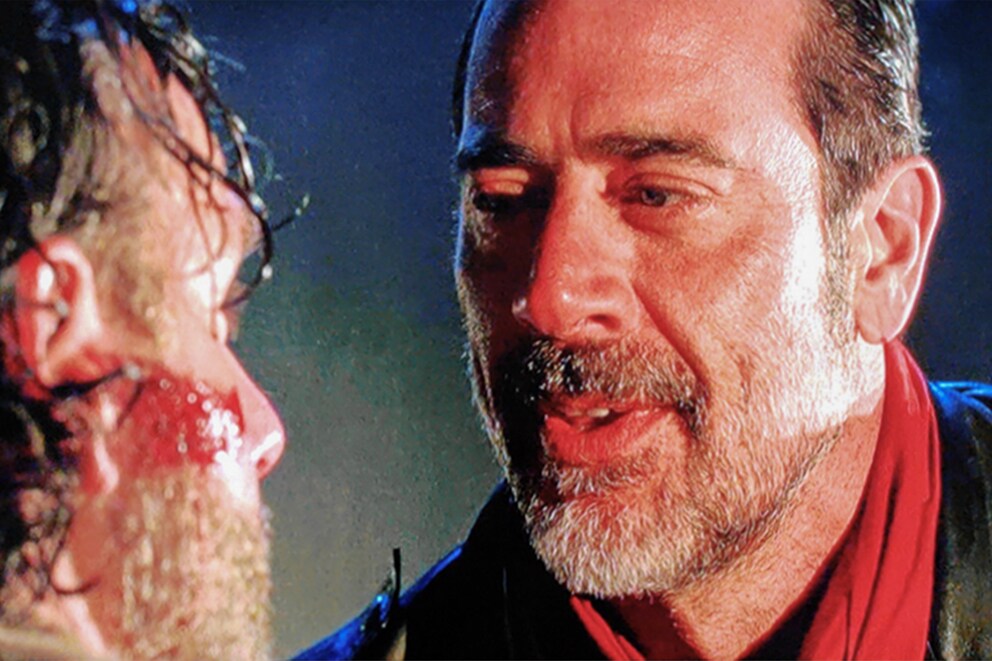 As you can see: UHD-HDR content such as «Jurassic World» always looks great. Which differences in the presentation are more appealing often depends on your own preferences. Finding a television that screws up even such high quality content is difficult. Not to say almost impossible.
Almost?
That's why it isn't so much optimal UHD-HDR content that separates the wheat from the chaff, but HD-SDR content. Yeah, «The Walking Dead» wants to look shoddy on purpose. The GX actually intervenes in the artistic decision of the creators. That's rare. If necessary, there's also «Eco-Mode». Most content is still best when it's enjoyed at its best possible picture quality.
The processor doesn't just evaluate the image material. It's also necessary for smooth operation of the Smart TV menu; the user interface. LG uses webOS 4.0. In its fourth generation, differences when compared to its predecessor are minimal. In essence, you select the app you want to use – Netflix, Amazon Prime, Disney+, AppleTV+ and so on – or connect your IoT devices to the TV. The whole thing can be operated without any problems with the included Magic-Remote control.
The GX can also be voice controlled. Commands such as «Louder» and «Quieter» work well. «Open Netflix» too. With commands such as «Open 'Money Heist' on Netflix», LGs language assistance was lost. Damn. I would've been faster if I'd just selected the series by hand.
Speaking of which: LGs Netflix and Disney+ apps both support Dolby Vision and Dolby Atmos. But English soundtracks only showed me Atmos. The AppleTV app can also play Dolby Vision on top of Dolby Atmos, and even some German Atmos soundtracks. Amazon Prime could theoretically support Dolby Vision, but quite consistently uses HDR10+, the other 12-bit HDR format. LG doesn't support HDR10+. Therefore, all HDR10+ content is shown as «normal» 10-bit HDR content.
Panasonic and TCL support HDR10+ by the way.
If you want to know how gaming feels with LG's 2020 OLED: don't worry. Gaming editor Phil tested a 48-inch version as a gaming monitor. Here's all I'll say: according to rtings.com, the input lag is a very good 13.6 milliseconds, the response time an even better 1.7 milliseconds, and it even includes GSync and FreeSync. Phil will tell you everything else in his soon to be published review.
My verdict? Too bad I'll have to give it back
LG's GX is a knockout. Again. In the OLED sector, the South Korean TV manufacturer is ahead of the curve.
The most important connections are all there. Including four HDMI 2.1 interfaces, one of which has eARC. For gamers, UHD gaming at 120 frames per second with HDR quality is assured as soon as the new consoles are available.
From a picture standpoint, the GX is the best TV I've ever tested, no question.
For old-school cinema enthusiasts, Filmmaker mode should be a lot of fun. And thanks to the ultra-strong third-generation Alpha-9 processor, content from Blu-Ray or live TV looks great.
As for the sound – it sounds better than when we tested the E9. But still far from «very good». With such amazing image quality, just grab a soundbar or even a whole home cinema system.
One final tip: if the G version of the 2020 OLED is too expensive for you, then go for the C version.. As of writing, the price was about 500-600 francs/euros cheaper.
---

I'm an outdoorsy guy and enjoy sports that push me to the limit – now that's what I call comfort zone! But I'm also about curling up in an armchair with books about ugly intrigue and sinister kingkillers. Being an avid cinema-goer, I've been known to rave about film scores for hours on end. I've always wanted to say: «I am Groot.»
---
---
---
These articles might also interest you
Skeleton Loader

Skeleton Loader

Skeleton Loader

Skeleton Loader

Skeleton Loader

Skeleton Loader