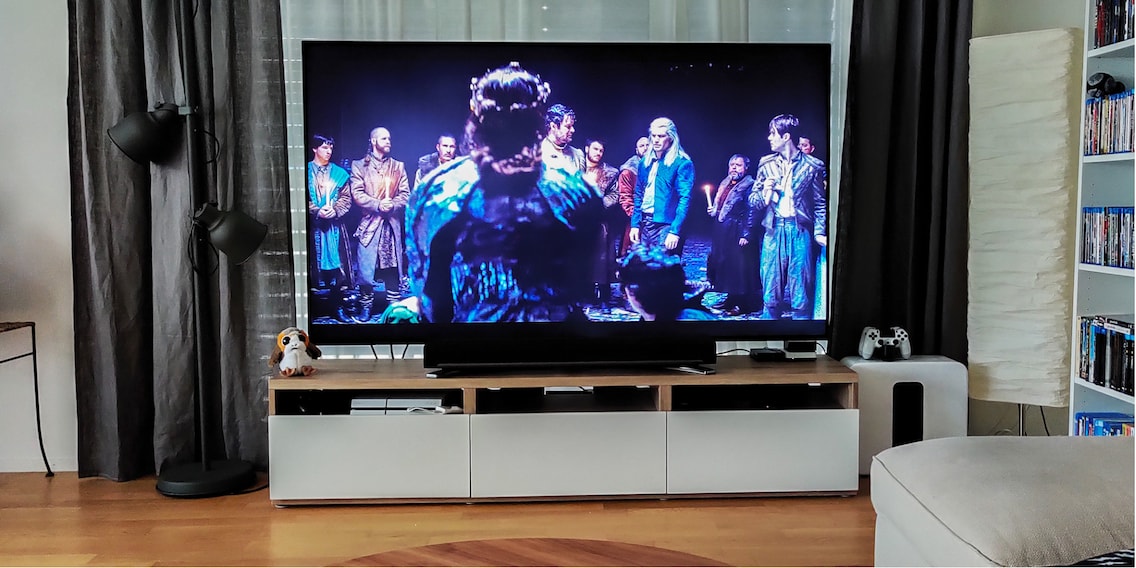 LG's first 8K television: far from good

Manufacturers keep telling us that 8K is the be-all and end-all of TV. I beg to differ. In my review of the LG SM9900 model, I arrive at the following conclusion: this 8K television has nothing to offer viewers. The problem isn't 8K, but something completely different.
The first 8K television by LG is called SM9900, and it has been available since last November. This makes it one of the 2019 models. Scrap metal, so to speak. As the first member of the LG 8K generation, some teething troubles are to be expected.
LG provided the device for me to test. But what I came to find was much more biting than teething troubles. The SM9900 has serious weaknesses. Or even worse. It is painfully useless. Having lengthy discussions about the merits and drawbacks of 8K is one thing. But the debilitating problems of the SM9900 are of a completely different nature.
And it's called blooming.
When Full Array Local Dimming fails
Blooming. The term is used to refer to the «halo» which surrounds bright objects against a black background. Blooming occurs whenever visible background lighting brightens up areas which should be black. Let me give you an example:
Here's the Netflix logo. The red «N» on a black background. And a halo surrounding it. Here's the problem: LCD pixels cannot emit light by themselves. Therefore, dozens – or with some models even hundreds – of LEDs create the backlight which lights up the pixels. Light is concealed from black areas by light crystals, which work together with polarisation filters.
For physical reasons, this can never be 100% successful, which is why LCD displays usually show a dark-grey colour instead of black. To counteract this effect, TV manufacturers came up with Full Array Local Dimming (FALD). In layman's terms, this means the LEDs shine brightly wherever they're supposed to shine brightly. Behind darker sections of the image, on the other hand, they are dimmed or switched off. This results in better black levels. The problem with FALD revolves around the great difference between the bright and dark spots, which is exactly when blooming comes into play.
video

Background informationAudio

TV teardown: «Huh? Just plain old LED strips?»
It might sound good in theory, and it already managed to impress me a few times over in real life, as evidenced by my review of Samsung's Q9FN TV, but it fails all along the line here. What we see at the top here, with the N of Netflix, isn't a bit of blooming, as is natural with FALD televisions. This isn't a blooming halo, it's the devil's work! I can think of three reasons for this.
LG's SM9900 has only a few LEDs which are grouped into dimming zones. As a result, the 33 million LCD pixels cannot be provided with light at the same pinpoint accuracy, which is why their light bleeds into dark sections of the image.
The LEDs shine far too brightly when compared to the dark sections of the image. This would be a configuration problem and the light crystals of the LCD pixels cannot deal with that.
The mechanism of shielding off the LCD pixels which should remain dark simply works poorly, and this has nothing to do with the intrinsic brightness of the LEDs.
Whatever might be the reason: the backlight management of this TV is so bad that it takes all the fun out of watching telly. Here's an example using moving images from «Westworld».
You can see how the LEDs in the dark bar behind the faces of the actors are activated and reactivated zone by zone, above all from the 0:30 mark onwards. A problem which affects HDR content much more than SDR content. But that makes sense: the contrast is higher with HDR; there's a greater difference between the brightest and the darkest point on the screen. In other words: the background LEDs shine brighter with HDR than with SDR content.
On the SM9900, however, blooming already becomes very apparent with SDR content. When watching the following football clip, have a look at the Cagliari players in the white shirts, who move through the shade in the Sardegna Arena. The halos around the players are a lot more annoying «in real life» than they are in this video.
At one point, I had grown so tired of the blooming that I tried to switch off local dimming in the settings. Well, I tried, but after seeing how miserable the blackness values were, I immediately switched back to the original settings.
To be fair, I have to admit that the blooming effect wasn't as striking as I expected it to be when watching what is by now my go-to TV demo fragment of «Jurassic World: Fallen Kingdom». The picture was a lot worse with the Sony XG95 set – a FALD TV which I tested last summer. Have a look at the spotlight in the upper left corner of the image.
I am flabbergasted by the lack of blooming here. Nevertheless, during daily watching, the LG blooming was a lot more striking than the blooming on the Sony set, whether I was watching a football match, binging on UHD Blu-rays, or catching up on my Netflix; in about a month, I've collected plenty of evidence to support my claim that the unpleasant blooming effect didn't just appear once in a specific scene of a single series, but rather that blooming is more rule than exception. It's just my luck that the demo scene I usually rely on paints an opposite picture; this is the kind of image we want to see from LG.
Maybe you guys have any idea about what sets this scene apart from the others, blooming-wise?
8K offers little added value, but is still impressive
There's hardly any 8K content about. But we're still bombarded with 8K devices, which should lead us to believe that a bright new future, with a resolution of 7680×4320, is right around the corner. Most TV channels still produce their content in 720p, which is slightly less than the Full HD resolution of Blu-rays. Streaming platforms offer their content in UHD resolution. But this usually only concerns their in-house productions. Nobody really seems to think about 8K just yet. Except for YouTube, with a very sparse offering.
The SM9900 has YouTube.
The SM9900 even has 33 million pixels – true 8K resolution. But the SM9900 doesn't have the codecs to play YouTube's 8K content. For this content, you need an additional LG top box decoding set, which you connect to the TV using an HDMI cable. All buyers in Germany are given the upgrade box for free when registering their device with LG. When I asked LG Switzerland, they confirmed that the decoding device is included with delivery in our country. But they failed to give me one to try it out.
Whatever. The TV set capable of mastering «real» 8K following the criteria of the display experts at the ICDM – something only a few 8K televisions available on the market can claim for themselves – should theoretically be able to play 8K contents. Until then, the so-called upscaling of lower-grade sources will have to do. And that's something the SM9900 manages to get right.
Yes, you've just heard me say a word of praise about this thing.
News + TrendsAudio

The fight for real 8K: Samsung and LG get at each other's throats
I still feel that 8K is of very little use to the world, regardless of whether there will actually be relevant content available or not – and whether the infrastructure of most households will actually manage to handle the data quantities required for 8K content. You would have to sit much too close to the set anyway to recognise the benefits of 8K pixel mass with your bare eye. I know this for a fact, because I've seen real 8K content on 8K TVs. At trade fairs and manufacturers in Switzerland, for example, who demonstrated their TV innovations.
Nevertheless, the TV processor – a second-generation Alpha-9 processor – truly blows my socks off.
A Full HD image consists of 1920×1080 pixels, which makes up over two million of them. The 8K panel of the SM9900 has 33 million pixels. In the video above, the processor computes the almost 31 million missing pixels by itself – in real time. In other words: 94 percent of the image is computed, and only six percent comes directly from the source.
The resulting razor-sharp image is something of a miracle, I wouldn't have been surprised by a messy blur either.
Add to this the nano-particle technology, which LG calls «NanoCell», Samsung «Quantum Dot» and Sony «Triluminos». It transforms the impure backlight of the LEDs into the purest white. As a result, the colour filters of an 8K TV can represent a broader colour space than conventional LCD sets. Together with the Alpha-9 processor, this results in a remarkably natural image: the processor removes noise without making the image feel unnatural, and thanks to the Black Frame Insertion (BFI), it creates a flowing image while smoothing the edges and boosting the intensity of the colours, especially with non-HDR content.
Let's look at another example: a tennis match on SRF2 via Swisscom TV. Source: 1280×720 pixels, or 720p.
I wouldn't say that the upscaled 8K image clearly outperforms the native UHD image. But if it wasn't for that meddling blooming – which you can clearly see in the video at the top from the 0:29 mark – the TV would give us a razor-sharp image with lush colours, something of a sensation compared to other LCD screens.
Connections, sound and design
The SM9900 has four HDMI-2.1 interfaces. Together with the matching HDMI cables, they can process 8K material from external sources such as gaming consoles and graphic cards with up to 60 frames per second or UHD material with up to 120 frames per second. The SM9900 will do just fine for passionate online gamers. Review pages such as rtings.com have measured an input lag of 18 to 20 milliseconds in game mode. That's quite okay. The IPS panel used by LG has a native refresh rate of 120 hertz and a response time of 11.8 milliseconds – this enables streak-free playing in game mode whenever the response time falls below 20 milliseconds. Well done, SM9900.
Background informationGaming

The perfect gaming TV: what you need to know
Other HDMI 2.1 advantages that have nothing to do with 8K are:
transferring dynamic HDR metadata (Dolby Vision, HDR10+)
transferring uncompressed audio files via eARC (Dolby Atmos, DTS:X)
variable refresh rates (VRR, when image composition and refresh rate aren't in sync)
When it comes to the sound performance, the 2.2 sound system with twin 20-watts speakers of the SM9900 isn't bad, but not exactly impressive. Not that I expected otherwise: the internal TV speakers need space to unfold full-bodied, room-filling sound. And the speakers are pressed for space in today's thinner sets.
Therefore, if you plan to invest almost 5,000 francs in a TV, I wouldn't save a few quid on the sound. If you're looking for a tip: here you go.
Verdict: glad to see the back of it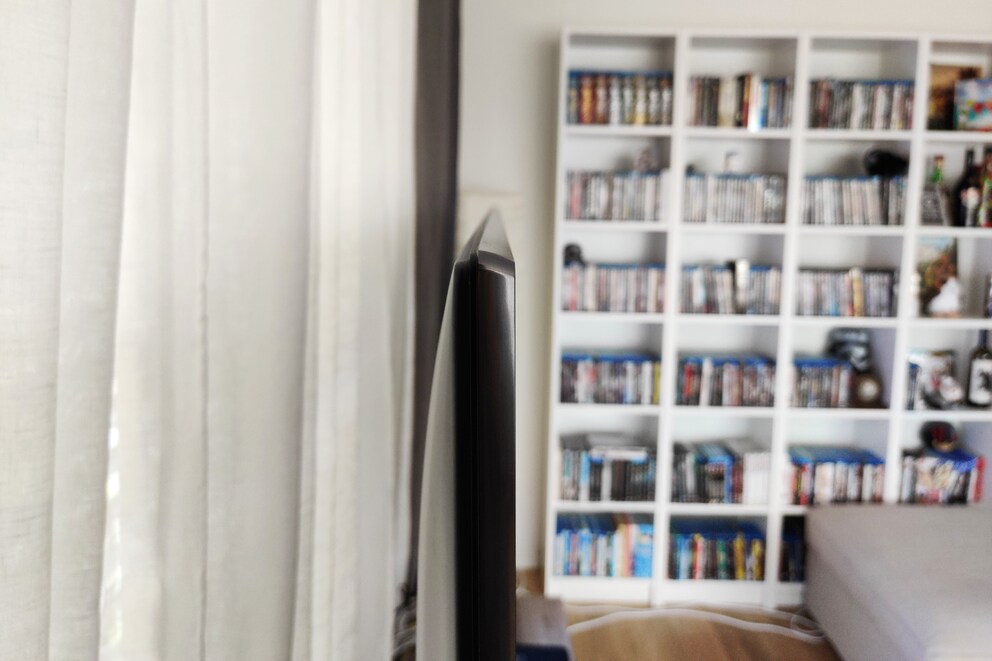 This is the first time since I've started testing television sets that I've encountered a TV that's this expensive which I don't like. But this has nothing to do with «8K». On the contrary. I'm not saying that the 8K resolution does damage to the image. But without true 8K content, the improvements are barely worth taking seriously. And then there's the question of whether the human eye can even perceive the increase in pixel mass from further than a metre away – but that's too much to dive into here.
No, the problem here is blooming. Even though blooming is a basic side effect of televisions using FALD technologies, I've never seen it as bad as with the SM9900. This is unacceptable, and messes up the image quality to such an extent that I wouldn't recommend busing this TV – especially not at a price of 5,000 francs or 4,500 euros – even though the SM9900 performs really well in almost all other disciplines.
This needs to be improved in the coming 2020 models.
---



I'm an outdoorsy guy and enjoy sports that push me to the limit – now that's what I call comfort zone! But I'm also about curling up in an armchair with books about ugly intrigue and sinister kingkillers. Being an avid cinema-goer, I've been known to rave about film scores for hours on end. I've always wanted to say: «I am Groot.» 
---
---
---
These articles might also interest you
Skeleton Loader

Skeleton Loader

Skeleton Loader

Skeleton Loader

Skeleton Loader

Skeleton Loader