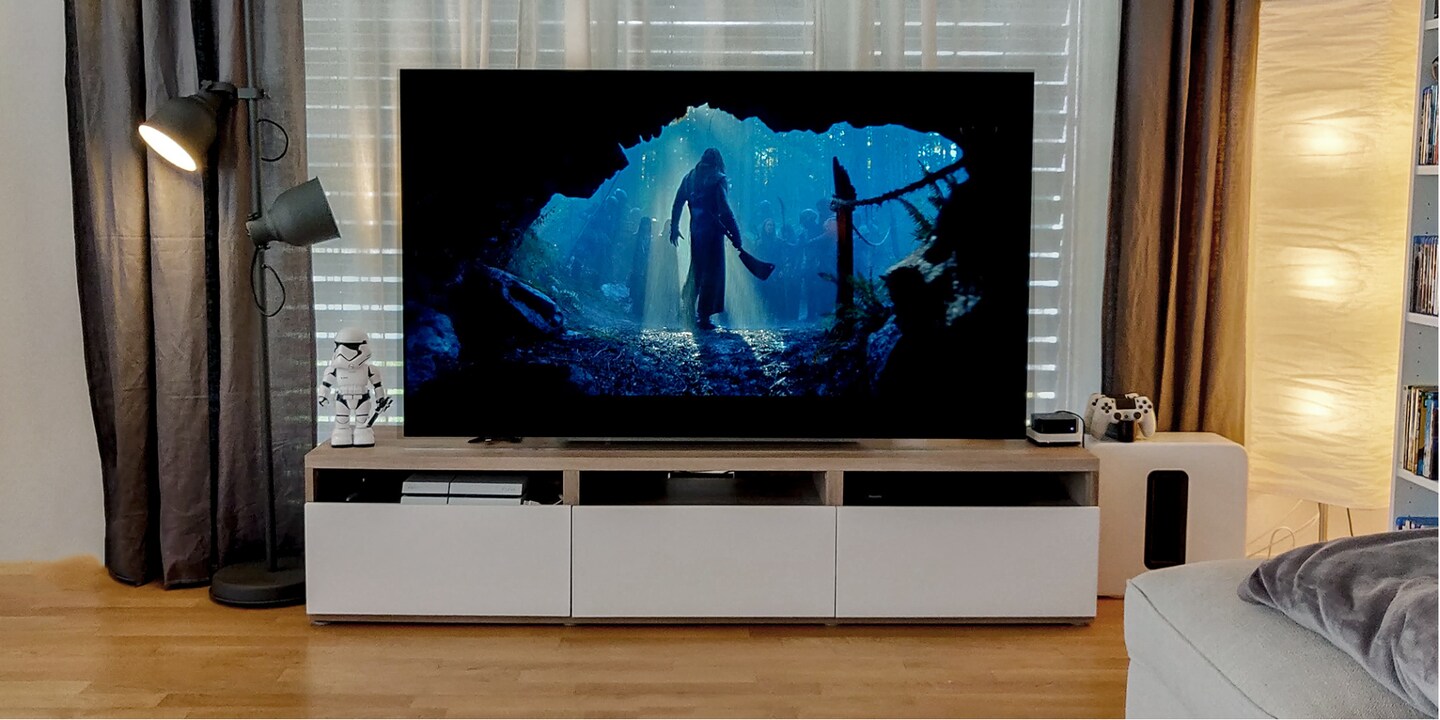 Review: gaming excellence – the LG OLED E9, not just for watching movies

A new TV. A new OLED TV. And once again, it's probably the best TV I've ever had to test. Not only for watching films – the TV is also a gamer's dream.
It's not easy to write about the E9 – LG's currently best OLED TV. Cause there's nothing I can really complain about. That's never happened. Cause I always find something. The proverbial needle in a haystack. But this TV's just great. It doesn't everything flawlessly. Although – yeah. There is something: the sound. It's bad. Really bad.
There. That could be the review. But that would be too easy. Let's take a closer look.
Design & Connections, HDMI 2.1
What I like about OLED TVs are their ultra-flat panels. You can thank OLED pixels for this, millions of tiny squares hidden under the glass that make up an image: the automatically turn on when supplied with power. No more LED backlights required, as is common among LCD TVs.
LG is taking advantage of this fact. The panel, which itself is only about 0.4 centimetres thick, is attached to a 0.3 centimetre thick glass pane. LG calls this design «Picture-on-Glass», invoking the feel of an image projected directly onto the glass. All without stands as well. If you've read my review of the Sony AF9, you know I'm a huge fan of footless models.
So combined, the OLED panel and glass plate are only 0.7 centimetres thin. That's just a millimetre thicker than the equally skinny Sony AG-9 panel, this year's flagship TV from Sony – and a millimetre thinner than the iPhone 11 I just tested (only in German).
To mount the TV to the wall, you'll need a VESA wall mount type,
300x200 mm. But you can't get the E9 completely flat against the wall; there's a five-centimetre-thick case on the bottom half of the TV that holds all the TV's hardware. An image processor, connections and stuff. Seen from the front, the five centimetres are hardly worth mentioning.
But as my TV setup is in front of a window, wall mounting is out of the question. The footless design brings another challenge: where do I place my [Sonos Playbar](/en/s1/product/sonos playbar-black-multiroom-system-402961)? I'll try behind the TV. What you can't see can't hurt you. Works wonderfully. Speaking of which, all the connections are behind the TV.
4x HDMI 2.1 ports (eARC, VRR and ALLM via HDMI 2.1)
1x Toslink output
3x USB 2.0 ports
1x LAN port
WLAN: 802.11ac
Bluetooth v5.0
Supports AirPlay 2
HDMI 2.1 is a feature you should remember. You'll often hear of HDMI 2.1 in tandem with 8K televisions: 8K content creates huge amounts of data that have to be sent and processed between TVs and connected devices – you need appropriate HDMI cables and HDMI-2.1 interfaces that know how to use these cables. But it will take a while before 8K becomes standard (only in German). Apart from that, the LG E9 is a UHD TV anyway. Other HDMI 2.1 advantages that have nothing to do with 8K are:
transferring dynamic HDR metadata (Dolby Vision, HDR10+)
transferring uncompressed audio files via eARC (Dolby Atmos, DTS:X)
variable refresh rates (VRR, when image composition and refresh rate aren't in sync)
frame rates of up to 120 frames per second (FPS) at UHD resolution, even when gaming
If you read above that the E9-OLED is very suitable for gaming, then you read correctly. I'll go into gaming in more detail later.
Exceptionally beautiful UHD image – thanks to Dolby Vision
In my last TV reviews I often tested with «Jurassic World: Fallen Kingdom» as a benchmark. I'll continue to do so as the Dino movie has both dark scenes that show the strengths of OLEDs and brighter scenes that depend on maximum brightness – something OLED TVs tend to struggle with. I'll compare the LG images with those of Sony's AG9, the E9's most direct competitor. Including pricing.
But don't take these comparisons too seriously. These shots were taken three months apart with totally different ambient lighting, which also affects the camera. The dark days of early winter made it difficult for me to make the incidence of light as similar as possible to the Sony test in August. I'll think of something to make it better in the future. Maybe you have an idea?
In terms of colour, LG clearly trumps the Sony TV. The warm green bushes from which the T-Rex storms clearly highlight this. Especially in dark scenes Sony's AG9 seems a bit desaturated, which I actually like: I have often seen how the dynamic values of TVs on display are set too high in shops in order to suggest superior picture quality with the brightest possible colours. But LG's E9 looks balanced and still packs a certain punch without appearing unnatural – 1:0 for LG.
In return, I'll give the Sony a slightly better detail rendition. Especially when it comes to aforementioned dark scenes. Watch out for the bushes to the left of the T-Rex's neck: with the LG, the bushes partially disappear into the black shade. Not with Sony's model. If you want to take a closer look, then click here, to download both pictures in original resolution.
Next, I'll compare a bright scene with large differences in brightness, where good contrast values are important: a sunrise, filmed against the light.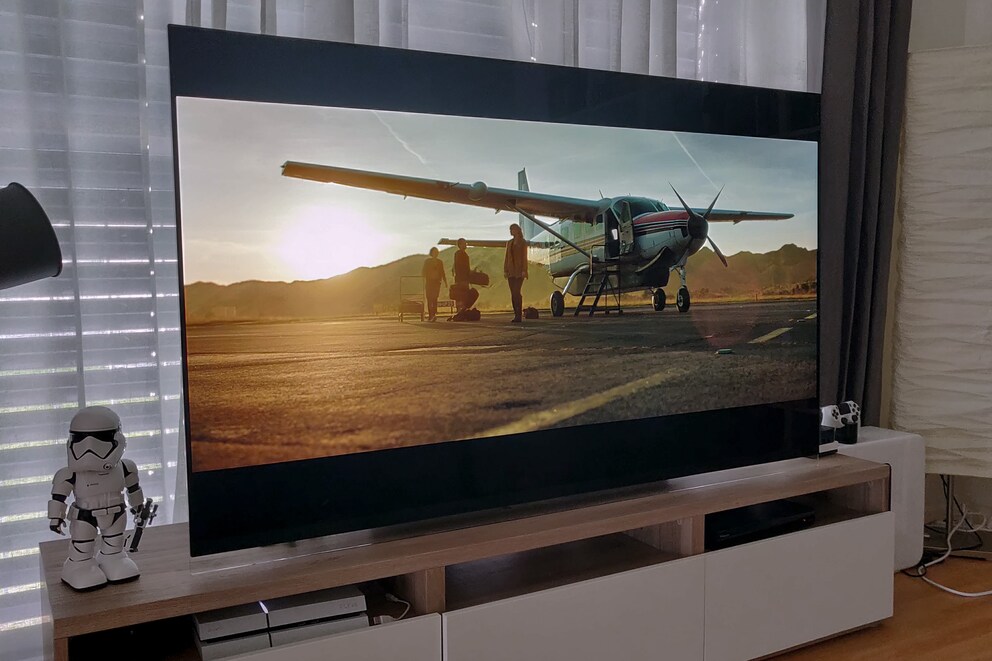 Thanks to the excellent brightness gradations around the rising sun, it can even be perceived as a sphere. This is different with Sony's AG9: the bright light outshines everything and points to small weaknesses in the display of brightness gradations.
I'm a little surprised. According to rtings.com – yes, they have a lab and do lab tests – Sony's AG9 has a maximum brightness of 593 Nits. On the other hand, LG's E9 comes with 742 Nits. This is noticeable when you watch TV in a bright living room and still want to see something. But if the TV is too bright, the colours fade. Especially on TVs with poor or outdated TV processors that have poor colour management.
In principle, pictures that are too bright are less of a problem with OLED TVs than with LCD TVs, which can radiate much brighter due to their technology – 1000 Nits and more are standard. Samsung's QLED TVs even make it over 2000 Nits. But if you look at the Sony TV at the top of the Compare Images page, you'll see the sun shining all around it. With LG, on the other hand, you see much more detail. And this despite the fact that the LG theoretically shines much brighter. Surprising indeed.
Either way: the scene speaks for LG's processor, which obviously controls the millions of pixels better and has no trouble at all with 742 Nits, a powerful combo when it comes to OLED ratios.
Of course I haven't just spent the last few weeks watching «Jurassic World». «The Greatest Showman», with its rich colours, or the amazingly naturalistic Apple TV+ series «See» convinced me just as much frames from «Alita: Battle Angel», which quickly change between cool and warm. Yeah, I feel like I'm in TV heaven, especially with Dolby Vision content. You'll find them on Netflix and Apple TV when watching their Originals or newer movies on Apple's on-demand service.
As you can see: I find it difficult to write about the LG E9 without digressing into superlatives.
Powerful processor, but trash sound
LG's E9 contains the second-generation Alpha-9 processor. Its artificial intelligence, a deep learning algorithm, is designed to improve both image and sound quality by recognizing what content is being played. The AI distinguishes not only between films and games, but also between action and horror films. For optimization, the Alpha 9 also uses ambient light via a sensor.
I noticed this while watching «See» when the sun came out on a rainy Saturday afternoon. For a moment, I found it difficult to recognise the picture in my living room, which was much too bright. Within a few seconds, the processor increased the brightness of the image. Everything was back on track
Nevertheless, if you read my articles regularly, you'll know that I abhor marketing buzz words such as deep learning algorithms or whatever. There's also no way of figuring out how the TV's AI is exactly modifying the image – or it's even doing anything at all. In the above example, has a sensor simply increased the brightness? Or did the AI decide on its own to remove haze, brighten depths and increase contrast so that I could see the picture better? No idea. Without insight into the processor's workings, you can't tell for sure if the whole deep learning stuff is just marketing magic concerning image brightness or not.
Still, I can't doubt the processor's effectiveness while watching «The Walking Dead». The series was deliberately shot on 16mm film until the sixth season. In this way, an old-fashioned grain with some static was created that underlines the feeling of a broken, post-apocalyptic world. A shame that the processor doesn't go along with this: it recognizes the zombie series as a source of poor quality and upgrades it, removing the static, smoothing the edges and enhancing the colours. You can see it in the dark background next to Negan's face.
The processor also handles other HD content well: fast camera pans aren't a big deal. Be it action movies or football, there's no image tearing whatsoever. The operating system, webOS 4.0, runs smoothly and rarely jerks. My colleague Phil has had different experiences: he constantly complains about his three-year old Sony TV because its lame processor makes it impossible to operate Android TV.
One more word about the quality of the TV's speakers: it's bad. They're surprisingly tinny. Have hardly any depth. The sound barely fills the room. Sony's «Acoustic Surface» technology is a step ahead in this aspect: drivers behind the TV panel cause the display itself to vibrate and produce a much better sound than what comes out of the LG speakers.
Still, not that bad in my case. I use a Sonos Surround system anyway. People willing to spend a small fortune on image quality alone probably won't skimp on their sound system either.
Like this one, for example.
The best gaming TV (?)
Gamers looking for a mindblowingly awesome TV can't avoid the E9. It has too many things going for it, perhaps making it the best gaming TV on the market.
Input lag FHD, 60 fps: 13.5 milliseconds
Input lag UHD, 60 fps: 13.4 milliseconds
Input lag HDR, 60 fps: 13.4 milliseconds
Response time: 2.4 milliseconds
Native frame rate: 120 Hz
Variable frame rate: HDMI Forum VRR (HDMI 2.1) and Nvidia G-Sync
The above input lag numbers, measured in game mode, are from rtings.com. The lower the input lag, the faster the commands executed on the controller are processed and executed by the television. Watch the following video to see how long it takes Spider-Man to jump when I press the controller. Sound on, by the way.
Gamemode is definitely an improvement.
Low input lag isn't cheap. In Gamemode, the TV processor shuts down less relevant optimisation processes for gaming. This allows external signals to be processed faster by the console. To avoid the picture from looking ugly and avoid tearing during fast movements, it depends on low reaction times. Anything under 20 milliseconds is acceptable for TV conditions – the E9 has 2.4 milliseconds. Along with a native frame rate of up to 120 Hz, the image always runs pleasantly smoothly.
Background informationGaming

The perfect gaming TV: what you need to know
Thanks to HDMI 2.1 and Nvidia G-Sync, you can also get variable frame rates with PCs connected to your TV or future consoles. With this, LG actually puts together an unbeatable overall package for gamers.
Conclusion: you can't do better than this
For me one thing is certain: The LG OLED E9 is the best TV you can get at the moment – barely.
Don't get me wrong: in terms of image quality, its OLED nemesis, the Sony AG9, isn't as far behind as you'd think judging from my glowing review. Which is exactly why this race is so close. But I prefer LG's out-of-the-box picture settings with warmer colours that never drift into the unnatural to Sony's X1 Ultimate processor. In this case, the Japanese have a better feel for details. As colour management is more important for moving material.
Then there's HDMI 2.1 – Sony doesn't have it. A major shortcoming in terms of sustainability. And the E9 Gamemode easily beats Sony. So the E9 isn't just for movie lovers, but also for gamers wanting only the best.
A little tip: if you can do without the picture-on-glass design, then you'd better go for LG's C9 model. This is exactly the same TV, with a simpler design – and 500 francs cheaper.
---

I'm an outdoorsy guy and enjoy sports that push me to the limit – now that's what I call comfort zone! But I'm also about curling up in an armchair with books about ugly intrigue and sinister kingkillers. Being an avid cinema-goer, I've been known to rave about film scores for hours on end. I've always wanted to say: «I am Groot.»
---
---
---
These articles might also interest you
Skeleton Loader

Skeleton Loader

Skeleton Loader

Skeleton Loader

Skeleton Loader

Skeleton Loader