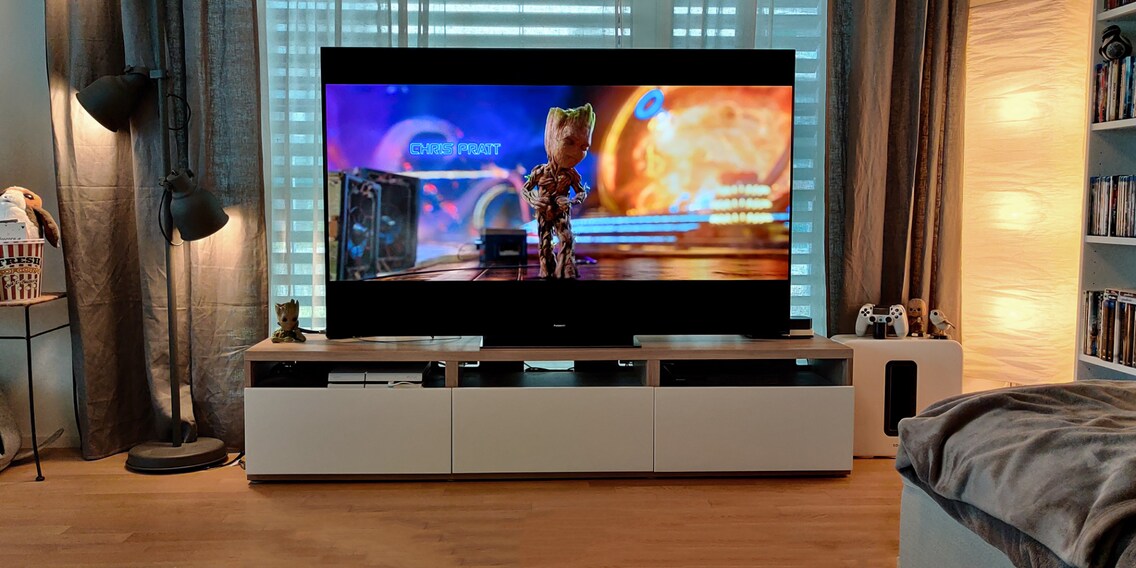 Review: Panasonic's GZC2004 – pricey but outstanding OLED fun

Panasonic's 2019-generation OLED TV is a revelation for old-school movie and series enthusiasts. Gamers, on the other hand, are left wanting – just like your wallet.
Let me be straight with you: the TV I tested was provided to me by Panasonic. The original plan had been to test the current HZC2004 model. But due to the Covid pandemic, it was not yet available at the start of the test. That's why I took a close look at this year's GZC2004 model for this review. The HZC2004 test will soon follow. When, I hear you ask? Unfortunately, I can't give you a more precise date than «this year».
---
Panasonic. New territory. For me at least. So far, I've only tested televisions by LG, Sony and Samsung. At last year's IFA in Berlin I saw with my own eyes just how good the Japanese TV makers from Osaka are. Or aren't. Depending on what your idea of a transparent OLED panel is.
But this is not about an innovation like the world's first transparent OLED. It's about an OLED TV that masters all common HDR standards. Namely Dolby Vision, HDR10, HDR10+ and HLG. That's rare. LGs TVs can handle Dolby Vision but not HDR10+. With Samsung TVs, it's the other way round. This sets the GZC2004 apart from its competition.
Another thing that's exclusive to Panasonic's OLED TV is that it does true Dolby Atmos thanks to two additional internal speakers that radiate sound upward. Sounds promising – quite literally. High time to test the GZC2004.
Design, connections and HDMI 2.1
Admittedly, the GCZ2004 does not have a slim build. Well, the panel does. In true OLED fashion, it's no thicker than my index finger. 0.5 centimetres to be precise. The panel, not my finger, that is. To put things into perspective, iPhone 11 is about three millimetres thicker than this panel.
In theory, that's amazingly thin. But then there's the casing that houses the TV's hardware. An image processor, connections and stuff. And the speakers. All in all, the TV's about 7.8 centimetres deep. Sony's AG9 with its hardware measures 4.1 centimetres. LG's E9 5.7 centimetres.
However, none of the competitors feature upward-radiating Dolby Atmos speakers. Panasonic GZC2004 does. Hence the extra thickness. If you want to mount the TV to the wall, you'll need a 300×200 mm VESA wall mount.
All discussions about centimetres aside, I quite like the design of this TV. Especially the integrated soundbar, which was developed and built by Technics – a Panasonic subsidiary company specialising in audio products. In comparison to the competition, the GZC2004 still falls a bit behind in terms of design. Personally, I prefer designs without a stand that make the image look as if it's floating on your TV cabinet.
Although the base of the stand is hardly visible, the stand and the soundbar are. This destroys the illusion of a floating image. Sony's AF9 from 2018 did things differently. I liked that a lot better.
Let's take a look at the connections. Panasonic brought out the big guns in that department. And that's a good thing.
4x HDMI 2.1 connections (HDCP 2.2)
Auto low latency mode for gamers (ALLM)
No variable refresh rate (VRR) yet
1x Toslink output
2x USB 2.0 ports
1x USB 3.0 port
1x LAN port
1x headphone output / subwoofer connection
1x common interface connection (CI plus, version 1.4, ECP)
Quattro tuner with twin concept (two tuners for aerial, cable and satellite)
When I checked with Panasonic, they confirmed that HDMI 2.1 is available on all four ports and supports the full bandwidth of 48 Gbps. And that's not necessarily a given. LG's 2020 models don't support the full HDMI 2.1 bandwidth.
However, to my surprise, Panasonic lacks eARC and VRR. A dampener for music buffs and gamers. But more on that later. But Panasonic also confirmed to me that VRR will be added shortly. When, I hear you ask? That is yet to be seen.
Exceptionally beautiful UHD image – thanks to Dolby Vision and HDR10+
For my TV reviews, I've always used «Jurassic World: Fallen Kingdom» as a benchmark for UHD Blu-ray. I'll continue to do so as the dinosaur movie has both dark scenes that show the strengths of OLEDs and brighter scenes that depend on maximum brightness – something OLED TVs tend to struggle with.
To start with, I take a look at the scene in which a T-Rex approaches an unsuspecting park employee from the pitch-black shadows. Compared to the competition's TVs, the picture in «normal» mode looks a bit cool. This is particularly noticeable when you look at the green bush that's not quite as lush as the version produced by LG's E9.
But I do like the balance between the dark and light areas of the picture much better. Even in very bright lightning, the leathery surface of the dinosaur's skin is visible in all its detail. It doesn't look faded like it does on the screens of the competitors.
I correct the coolish picture by switching to «cinema» mode – those default image settings aim to be closer to what Hollywood colourists had in mind. At least that's what the TV manufacturers claim. As with all TV manufacturers, cinema mode displays much warmer colours and shines less brightly. No problem when you're watching a movie in the evening. However, if you're kicking back to watch a film in your light-flooded living room during the day, it's not perfect.
There's something that bothers me a bit. There used to be just one explicit cinema mode. Meanwhile, TV manufacturers provide several. Although they're visually hardly any different from each other, they all promise to be something along the line of «Hollywood tuning». What's up with that? Panasonic has really taken the biscuit by adding six «cinema» modes:
Cinema
THX Cinema
THX Bright Room
True Cinema
Professional
Professional 2
Frankly, that's just too much of a good thing. For the other picture modes, the Japanese company keeps things traditional. «Game» switches off the picture optimisation processes that are less relevant for gaming, thereby reducing the input lag, «Sport» produces bright-green, radioactive-looking fields during soccer games – not something I'd recommend. And «Dynamic» cranks up the contrast and brightness values.
I was surprised how often I used the latter. With most TVs, «Dynamic» equals over-the-top coolness combined and intensely rich colours. A combination that produces an unnatural look. This mode is mainly used in shops, where the bright colours feign a better image than what the competition has. But this is not the case with the GZC2004. Take a look at the following picture.
It doesn't feel cool at all. The rich orange of the sunrise even gives it that extra pop I only used to see on plasma TVs.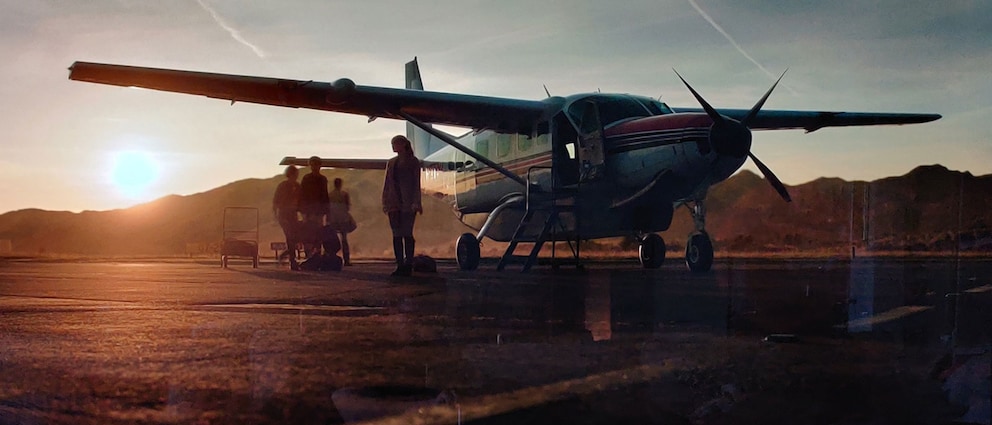 Not even the high brightness around the glaring sun seems to cause any significant loss of detail. Quite the opposite. You can even make out the round shape of the sun. This is less the case when looking at the same scene on a LG TV and not the case at all on a Sony. All this speaks for the excellent brightness gradations of Panasonic.
To keep things fair, please take these comparisons with a pinch of salt. The shots of these images were taken months apart and in totally different ambient light. This may have affected the pictures. I do try to keep the lighting conditions roughly the same, but my methods are far from highly precise.
Nevertheless, the images confirm my impression: the GCZ2004's colour management and detail rendition are extremely good, even in dynamic mode. No matter what you're looking at. From «The Revenant», where the images are deliberately desaturated to give them a natural look, making every splash of blood painful to watch, to «Guardians of the Galaxy, Vol. 2», with colours that are meant to be garish. Thanks to UHD resolution, not a single pore remains unseen.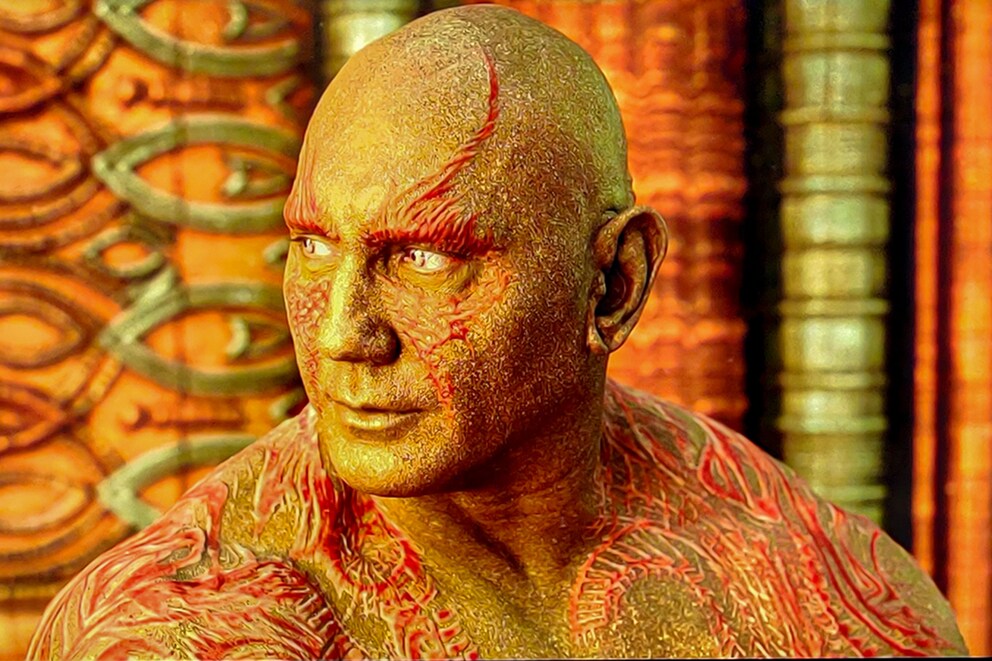 What you see above isn't a screenshot, but a picture I took of the TV screen using my camera. What you see below is too.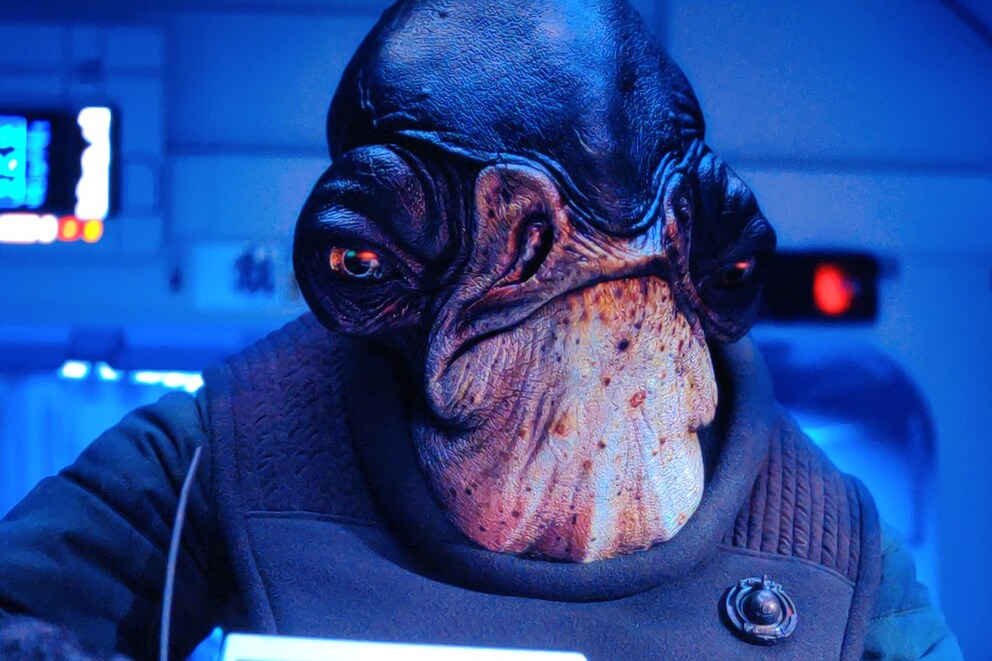 Honestly, who needs 8K looking at that?
«Weak» points: upscaling, smart and game TV
Preliminary conclusion: UHD and HDR content looks fantastic. The GCZ2004 rocks. A little less when it comes to upscaled content from inferior sources such as Blu-ray or live television, for example. Take «The Walking Dead», for instance. The series was deliberately shot on 16 mm film. This creates old-fashioned graininess and image noise that underlines the feeling of a broken, post-apocalyptic world.
Normally, this is where the TV processor should intervene. In Panasonic's case, that's the HCX Pro Intelligent Processor. Its job is to identify the Zombie series as a source of poor quality and improve it by removing noise, smoothing edges and enhancing colours.
These are tasks tackled by the processor, the brains of a television. LG's second generation Alpha 9 is the processor inside the E9 OLED TV. And it did a much better job in that scene. Take a close look at the dark background behind Negan's face. It's a great example of what LG's processor got out of the intentionally bad source.
I've got a theory: Panasonic's processor is deliberately holding back.
At IFA 2019 I spoke to many Panasonic representatives. One subject that came up was that many cinephiles appreciate «errors» such as image grain and noise, as they are part of cinematic charm. High-gloss, post-coloured UHD-HDR productions? Definitely frowned upon. So it's unsurprising that Panasonic is a TV manufacturer that advertises its close ties with Hollywood directors and old-school colourists. Christopher Nolan, Martin Scorsese, James Cameron and others.
Maybe the Japanese TV manufacturer is deliberately stopping its processors from doing a job that's «too good»?
Personally, I enjoy it when an expensive, state-of-the-art TV squeezes out every last bit of image quality. Having said that, I also like the fact there's an alternative that's opposing technological progress – at least in terms of how far subsequent image corrections should go before they start to interfere with the director's vision.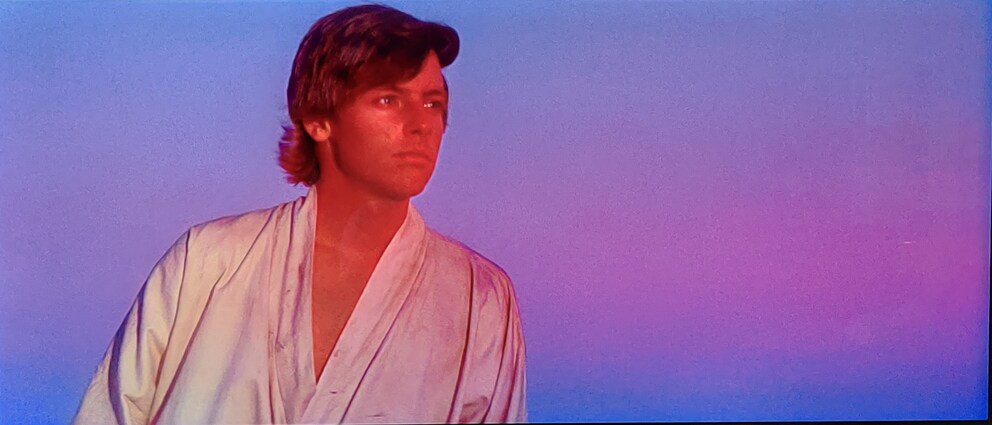 In these two scenes taken from the classic Star Wars trilogy, and also photographed directly from the TV, one criticism could be that the image is too noisy. However, noise reduction often leads to soft edges and washed-out details. For example, when it comes to faces. It's a similar look to the beauty mode on your smartphone.
I still think the processor could do a little more image re-sharpening. Carefully, of course. After all, the oversharpening of images can lead to double edges. Particularly in places where the difference between bright and dark is large. In the picture below around Obi-Wan Kenobi's dark brown cape, for example.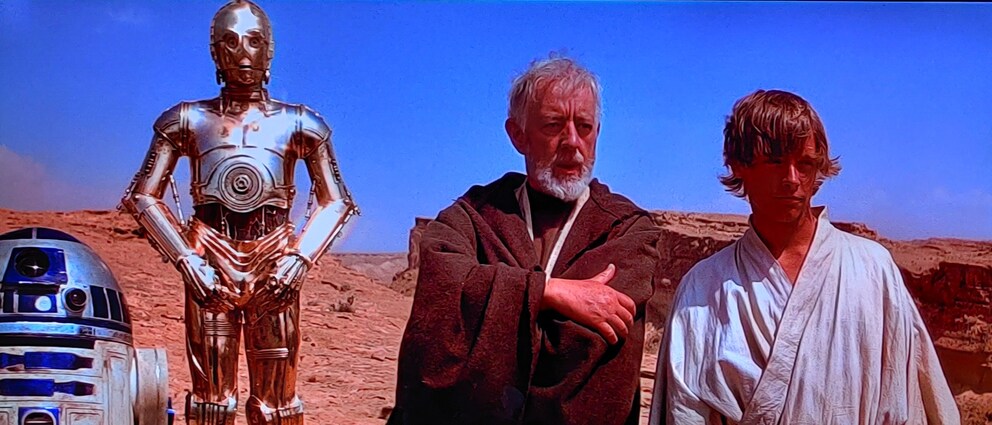 Otherwise, it's hard to fault the HCX Pro Intelligent Processor. Fast camera pans aren't a problem. Neither in action movies nor in football matches, where the ball doesn't drag a trail behind it thanks to low reaction times typical of OLED. Even the Firefox OS-based operating system, «my Home Screen 4.0», runs smoothly and rarely jerks. Nevertheless, it seems a bit less technically mature to me than LG's «WebOS» or Samsung's «Tizen». What's more, there's no Spotify. These days, that should be standard.
And no, dear reader JiSin, unfortunately, Panasonic's app store does not have the Kodi app. Only Plex.
The GZC2004 also cuts a fine figure when you're gaming. Thanks to ALLM, game mode is automatically activated as soon as I switch on my Playstation 4. This is the only way to make acceptable input lags for gaming possible – the lower they are, the faster the commands executed on the controller are processed and carried out by the TV.
To give you an example: check out how long it takes for Kratos from «God of War» to throw his Leviathan axe after I've pressed the controller. Please switch the sound on for this one.
According to DisplaySpecifications the input lag in game mode is 22 milliseconds. Not a bad value. But it's not amazing either. It would have to be under the 20-millisecond mark to be just that. LG's E9 even manages to bring that mark down to 13.1 milliseconds.
Thanks to HDMI 2.1, the next generation of consoles will also be able to play back content at 120 frames per second at UHD resolution – Panasonic has confirmed that the panel can play back native 120 Hz from the corresponding sources.
What's missing are variable refresh rates (VRR). This is especially important for those gamers who use their television as a PC monitor. After all, graphics cards have variable rendering rates. Most TVs and monitors, on the other hand, have a fixed frame rate. If these rates aren't in sync, the images will jitter and look as if they're being torn apart. And that's what this phenomenon is called: tearing. It wasn't until the introduction of VRR that both frequencies were synchronised and said problems were eliminated. LG's OLED televisions manage VRR by means of Nvidia's FreeSync.
For the time being, the crown for best gaming TV remains on LG's head. But it was a close call.
«True» Dolby Atmos – how good is it really?
Last but not least, let's talk about audio. The Panasonic GZC2004 can manage Dolby Atmos. But so can other TVs. LG's E9, for example. However, it can only process the Dolby Atmos signal and play it back to the front via its two pairs of loudspeakers. Panasonic's GZC2004, on the other hand, has a pair of speakers specifically designed for Atmos that radiate sound upward so that it is reflected back from the ceiling. This makes you hear sounds coming from above. An effect that's unique to Dolby Atmos.
Panasonic has equipped its GZC2004 with a total of five speakers. Together, they produce 140 watts of output power:
2x speakers for sound from above (each 40 watts)
3x speakers in the soundbar for right, centre and left (each 20 watts)
I tested several Atmos sound tracks from several sources. But I'm only elaborating on the example of the relatively young Netflix series «Snowpiercer». The episode begins with the end of the world: people have tried to reverse global warming by firing specially constructed bombs into the atmosphere. This has triggered an ice age that's freezing everything. Ever since this has happened, a train with the last remnants of humanity on board has been travelling through the world – the Snowpiercer.
The intro is spectacular. It's a mix between animation and live action. Next, the background story is told. It's the story of civil war and destruction. The story of panic. Screaming people everywhere. Explosions. War. Everyone is desperately trying to reach the Snowpiercer. The Atmos sound is good, but far from being as room filling as Sony's Acoustic Surface technology. That's a shame. The starting position with the powerful, 140-watt 3.0.2 system promises more. More force, above all.
At least the sounds that don't belong to the background soundscape stand out much more than in the Dolby Surround mixing. The dialogues, for instance. The positioning of sound objects – left, right or centred – works just as well as with a conventional soundbar. What about sound from above? Well... Let me put it this way: I never managed to associate anything to the ceiling.
Of course, I don't expect internal TV speakers to match the sound of a real surround sound system. But I'm still a little disappointed. Maybe it's the lacking bass that makes the Panasonic TV sound a little feeble. I just expected more oomph. At least the Panasonic sound is much more room filling than the sound produced by the LG E9. Perhaps it is the simulated ceiling loudspeakers that are helping my living room fill up with sound.
It's a shortcoming I can stomach. Besides, I use a Sonos surround system. And anyone who spends that much money on a television set would probably not dream of skimping on the sound, but, instead, invest in a decent surround sound system.
The downside is that there's no eARC despite HDMI 2.1. The GZC2004 only has ARC. Does it matter?
You only need ARC or eARC – the «e» stands for «enhanced» – if you don't want to play back the TV sound through the built-in speakers but through a soundbar or a speaker system that's connected to the receiver.
Also, if you have a Dolby Atmos soundtrack, it can only be passed on to the soundbar or receiver without losses via the high eARC bandwidth. If your TV only has HDMI ARC, like the GZC2004, for example, the Dolby Atmos signal is compressed into a Dolby Digital Plus signal and passed on. What's then produced by your external speakers is Dolby Atmos but it's not lossless.
The thing is: due to the bandwidth problem, streaming services such as Netflix or Prime are already using the compressed Dolby Digital Plus signal to bring Atmos to your TV. So even if the GZC2004 were equipped with eARC, it would not be able to receive a lossless Dolby Atmos signal. This usually only happens if you're using a UHD Blu-ray as a source. And you usually don't plug its player directly into your TV but straight into the receiver or the soundbar.
In other words, having no eARC isn't as dramatic as it sounds.
The lowdown: amazing images at a high price.
I've got to admit, the images produced by the GZC2004 are particularly impressive for UHD-HDR content. And when I say impressive, I mean mind-blowing. In this field, Panasonic has managed to show me the best picture I have ever tested.
But if you are using an inferior source for some reason, the GCZ2004 takes a backseat compared to the OLED competition by LG and Sony. And I reckon this is intentional. It seems like the creators are the cinema buffs of the old-school type. The GCZ2004 is also outstanding for gaming, but not quite as good as LG's E9. By contrast, Panasonic beats the LG OLED when it comes to acoustics. But the top dog in this field is still Sony's AG9. It's equipped with Acoustic Surface that easily replaces a soundbar.
There's one thing that bothers me, though. The price. It's definitely way too high. On 8 June 2020, the OLED TV cost 2.499 francs. With a price tag of 2.105 francs, the LG E9 is quite a bit cheaper. The same applies to Sony's A9 that will set you back 2.015 francs. If you went for the LG C9, which has the same panel as the E9 but isn't glued to glass, you're even looking at a relatively affordable 1.499 francs. That's one thousand francs less, after all. For a TV of the same generation. A difference that can't be justified.
---



I'm an outdoorsy guy and enjoy sports that push me to the limit – now that's what I call comfort zone! But I'm also about curling up in an armchair with books about ugly intrigue and sinister kingkillers. Being an avid cinema-goer, I've been known to rave about film scores for hours on end. I've always wanted to say: «I am Groot.» 
---
---
---
These articles might also interest you
Skeleton Loader

Skeleton Loader

Skeleton Loader

Skeleton Loader

Skeleton Loader

Skeleton Loader