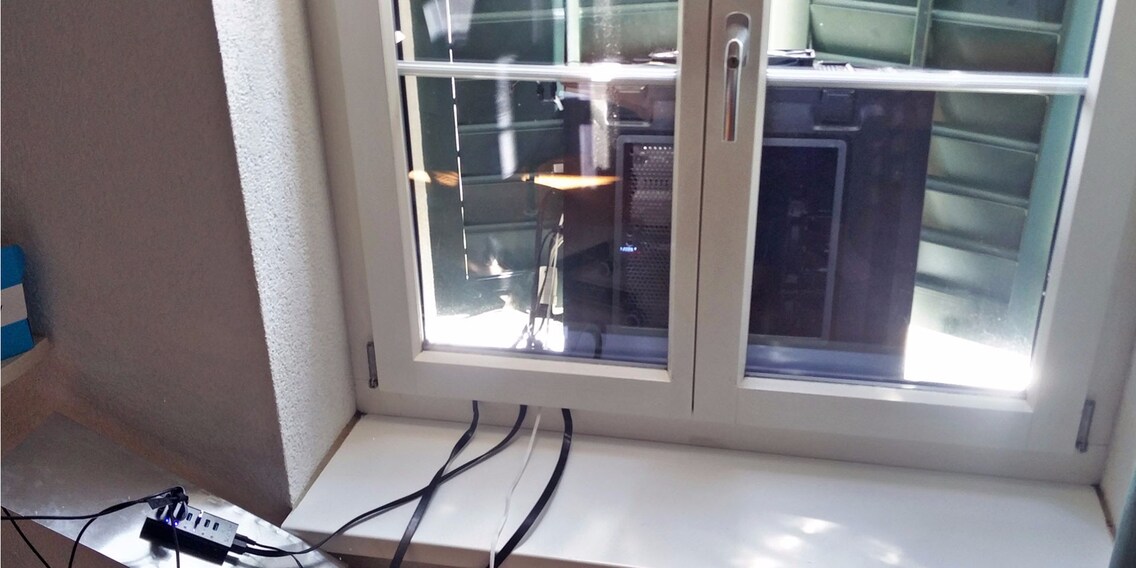 Defying the summer heat: our reader Lukas and his outdoor PC

Despite coolers and fans, there's a lot of heat coming from computers. So much that if it's hot outside, your gaming room or home office can quickly turn into a sauna. Our reader Lukas has come up with a rather creative way of tackling this problem. However, he needs your help to finalise his project.
«My room's usually nice and cool», Lukas Hunziker explains. The 19-year old informatics apprentice likes the thermometer in his room to stay below 22 to 24 degrees, even at the height of summer. «The thick sandstone walls do a great job in keeping the heat out», he goes on to explain. «But whenever I spend a lot of time at my computer, the temperature quickly rises to 30 degrees». The solution he came up with is simple: If it's already hot outside and there's even more heat coming from the computer, why not just put the computer outside. This leaves Lukas to enjoy the cool inside while his computer and the summer heat can have their own little competition in who's hotter outside.
Squeezing cables through the window
His setup is neither perfect nor complete. He might have thought it through, but wouldn't it have been easier to buy a fan? «I considered the idea, but decided against it», Lukas explains. «Fans are expensive and noisy. Outsourcing the heat was the only way to go». So, he decided to put the PC outside.
Lukas has quite a good PC. I would have just used scrap parts, but the PC he's using is actually quite decent.
Combined with a MSI motherboard.
His room in Lenzburg is west facing, so keeping the windows open all day isn't a good idea. The problem Lukas is confronted with can be summarised as follows:
His window needs to be shut.
His PC needs to be outside.
The rest of the setup needs to be inside.
What this means is that Lukas needs to find a way to get the cables through the window without opening it. This might sound like a strange idea, but Lukas is convinced that his setup has potential and a bright future ahead. He wanted to read up about similar projects before he started, but didn't find anything useful. It seems nobody's ever attempted to build an outdoor PC. This is how Lukas became an inventor and pioneer. His first challenge was reducing the number and size of his cables.
These are the cables he ended up using:
«Finding flat cables was harder than expected. I couldn't get my hands on flat cables for all types of connections I needed, so I used adapters to make it work», Lukas explains. The only outdoor connection is the power supply: He used the outdoor socket on the lower floor of his house to plug everything in. «The only other way would have been drilling a hole into the wall» – a bad idea.
USB isn't only convenient for any average user, but also for a DIY'er: If you can connect anything and there are hubs available, there's no need to plug USBs into the PC housing itself. Lukas simply pulled an USB hub over the border of the window and plugged all his peripheral equipment into this hub.
This only left four cables to be squeezed between the window frame and the window itself. «The cables are as flat as a pancake, but so far, they're still working.»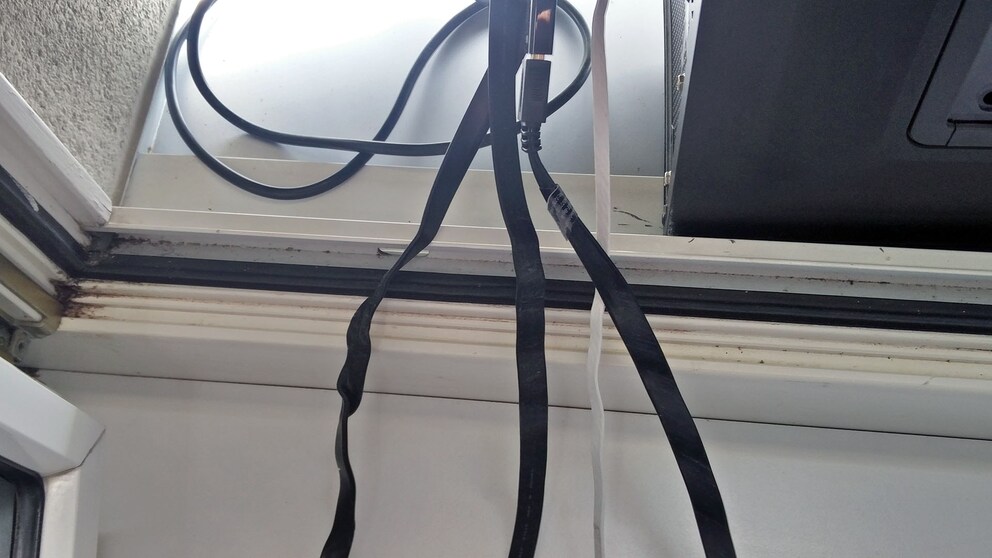 These four cables are squashed in the window.
Taking the project to a new level: building a weather-resistant outdoor PC
«To make sure the PC stays cool in the summer months, I've installed two additional cooling fans to the top of the housing», Lukas says. He explained that although his PC still got hotter outside than inside, 60 to 65 degrees to be precise, it was still fully functional. A PC that runs in the open air needs to get to terms with completely different environmental influences than usually. There's no influencing nature, anything is possible: cold weather, hot weather or – and this is every electronic equipments' enemy – humidity.
«My invention has survived one small summer storm already because I was too lazy to take it inside one evening», Lukas told me. «After I let it dry for a while, the PC worked a treat.»
Computers and its components are a lot more rugged than often assumed. Therefore, there's no immediate threat to Lukas' windowsill setup. However, as we learnt from the popular TV show «Game of Thrones»: Winter is coming. The humidity will rise and there will be snow. For this reason, Lukas wants to make his PC weather-resistant. And this is where he needs help: «I thought of building a cover, so I could easily take the PC to a LAN party.»
He's not lacking ideas, but is having trouble implementing something suitable. «The challenge is that the cover isn't allowed to be completely water and air-proof because the computer needs air», Lukas explains. «But water isn't allowed to get through it». Any openings in the cover would have to be protruding because the cables as such aren't delicate.
Our question to you is: How would you make sure the outdoor PC is weather-resistant? Write a comment below this article if you have any ideas. Who knows, Lukas might decide to give your idea a go. If you prefer drawing to writing, you can upload images on imgur.com.
This might also interest you
---



Journalist. Author. Hacker. A storyteller searching for boundaries, secrets and taboos – putting the world to paper. Not because I can but because I can't not.
---
These articles might also interest you
Skeleton Loader

Skeleton Loader

Skeleton Loader

Skeleton Loader

Skeleton Loader

Skeleton Loader