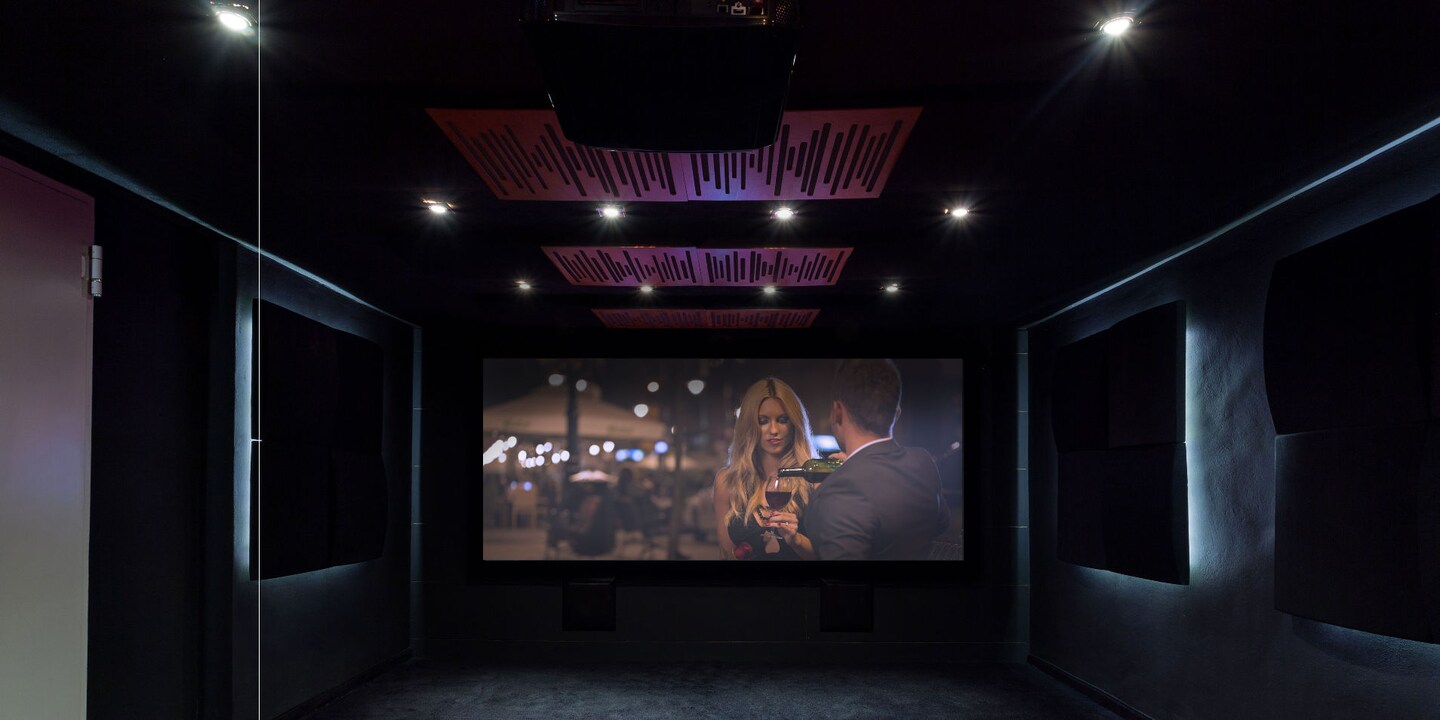 Your luxury home cinema
Always dreamed of a luxurious home cinema with finest high-end devices and perfect extras? Now's the time to upgrade all your components or put together a luxury home cinema from scratch! Check out the product recommendations by our very own product managers for TVs, projectors and audio.
TV or projector
When should you opt for a TV? We recommend going for a TV if image quality is your top priority and you want to put up your home movie theatre in a bright room that is hard to darken. TVs provide high-quality images with high brightness and excellent contrasts and black levels. Today's 4K TVs provide a considerably higher resolution and lower energy consumption than the majority of projectors. [We've swapped the Sony KD-75X9405C for the LG OLED 65-inch because we think it's a more interesting deal.]
When should you opt for a projector? If you're after that true home cinema feeling and not too worried about some extra cost, then a projector is for you. The huge screen can't even be outsized by the largest TVs – and this at a fraction of the cost! What's more, depending on the installation, the screen size is variable and can be adjusted to suit your requirements. A disadvantage of a projector is its low brightness compared to a TV. Therefore, ideal image quality is only reached in a darkened room. Installing the projector may prove to be a bit trickier than installing a TV as you may want to mount it to the ceiling and lay cables tidily.
Customised audio solutions for individual requirements
When it comes to projectors, sound quality has never really been a focal point. TVs, on the other hand, are being equipped with ever smaller speakers due to their shrinking construction depth. This development has taken its toll on sound quality. But fear not! This flaw can be compensated for with a soundbar. The result: room-filling and powerful TV sound! And it doesn't end there. Soundbars also require very little space and are super simple to install – two cables is all it takes!
Combine your AV receiver with various speakers. Get a step closer to perfecting your home cinema and improving the sound quality by adding better-quality components.
True home cinema fans appreciate multiroom solutions Want to shake ya tailfeather to that Spotify track in any room of the house? Or listen to that important football game when you're, erm, on the toilet? Enjoy a different high resolution concert in every room? Multiroom systems make it possible – wireless and controllable from your phone.
Headphones for the wee hours of the morning Great if you don't want to disturb others, are squeezed for space or simply appreciate great value for money. As for you gamers out there – precise surround headphones are absolutely essential for you as it is. Plug in, get started, fully immerse!
A single remote to control it all
A universal remote control puts an end to that smorgasbord of remotes for all your devices. All it takes is a few simple steps to configure your devices for your new universal remote control. You can even set up so-called "activities" including "movie", "concert" or "TV". All it takes is a push of a button and the required devices will be ready in just seconds!
---

I've had a fascination for content marketing ever since uni. My aim is to generate great content – any requests are welcome. Photography is what I'm passionate about and so is shopping. So I've definitely found my place in the online business at digitec!
---
These articles might also interest you
Skeleton Loader

Skeleton Loader

Skeleton Loader

Skeleton Loader

Skeleton Loader

Skeleton Loader