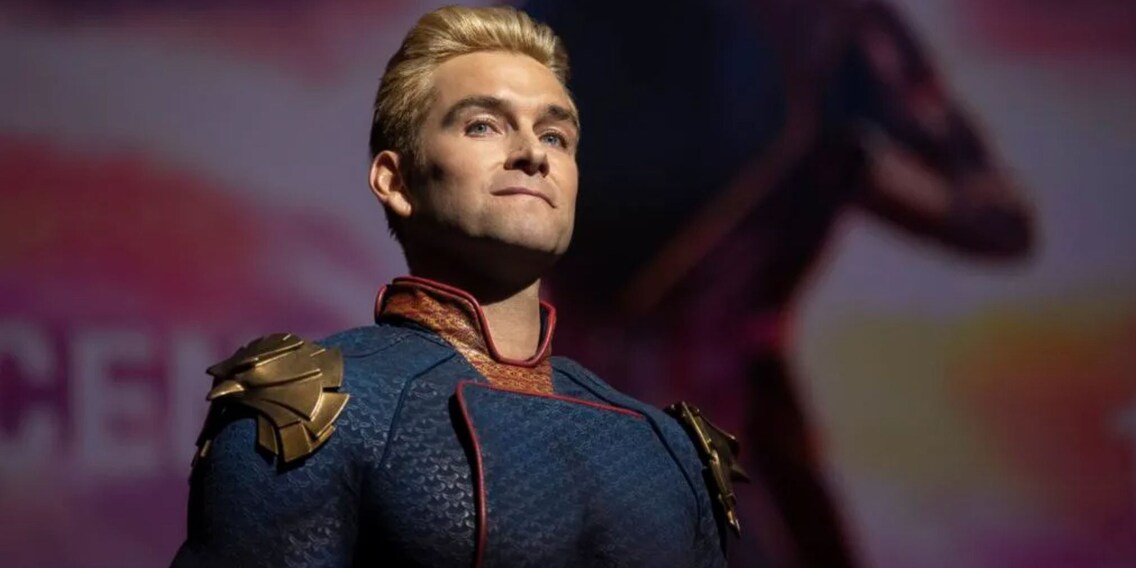 This article was translated automatically.
Streaming highlights: What you can't miss this June
You don't know what to expect this month? No matter. Whether Netflix, Disney+, Sky or Prime Video: Here you can find out which streaming highlights you can't miss this month.
Two magnets meet. One says, "What should I wear today?" Haha. I've written worse introductions. But now I'd rather present you the series and movies of the month.
The Boys, Season 3
Exploding heads. Flying guts. Erogenous gills. Fascist superheroes. Perverted dolphins. Mother complexes. Father complexes. Cults. Milk. Sometimes I don't know myself why I still watch "The Boys" at all. But as crazy as it sounds, the authors manage to walk the tightrope between action that borders on glorifying violence, black humor and good character sketches. For as dull as "The Boys" may seem at times, the thoroughly satirical commentary on our society is nuanced. It's no wonder that the series is considered one of the best things to watch on Amazon Prime. The third season is therefore a must-see.
Start: June 3
Where: Prime Video
Ms. Marvel, Season 1
The trailers shown so far had left me cold. Not because I don't see potential in Kamala Khan aka Ms. Marvel, the first Muslim Marvel superhero. But to me, what has been shown so far seemed like a lousy Nickelodeon series at best. Fortunately, I can give the all-clear: I was allowed to preview the first two episodes. And what I saw surprised me in a positive way. The humor is good. Really good. Plus, the series is a visual revelation, often reminiscent of "Scott Pilgrim vs. the World," "The Secret Life of Walter Mitty" or "Scrubs" in the way the protagonist daydreams. Sure, the target audience tends to stay young. High school and teen problems are the order of the day. Not everyone will like that. But: The view of the Muslim community and of India's conflict-ridden history and its divisions is fascinating. For that reason alone, "Ms. Marvel" stands far apart from the usual Nickelodeon or Disney Channel junk.
Launch: June 8
Where: Disney+
For All Mankind, Season 3
Do you know the series? It's one of the absolute best things to watch on Apple TV+, along with "The Morning Show." Conceptually, it has something of Amazon's "The Man in the High Castle." The story begins in 1969, when the first man sets foot on the moon. Only it wasn't Neil Armstrong's. Yes, not even that of an American: it is the Russians who first conquer the moon. That changes everything. The whole course of history. Season 1 takes place between 1969 and 1973. Season two jumps directly to 1983 and ends with the near annihilation of all mankind. Season three now fast-forwards to the year 1995, where mankind no longer only has the moon in its sights - but Mars.
Start: June 10
Where: Apple TV+
Peaky Blinders, Season 6
It's the final season of a great series that premiered on BBC almost ten years ago. The first season starts in the 1920s, right after the end of the First World War. The Peaky Blinders, a gang of gangsters from Birmingham, are slowly but steadily building their empire. In the meantime, they are even involved at the highest levels of government. And leading actor Cillian Murphy simply plays everything and everyone against the wall. Sometimes I almost think the series is based on true events, so accurately does it recreate the spirit of the times. The real Peaky Blinders, however, had their mischief far earlier, in the 1890s, in Birmingham. Instead, series creator Steven Knight drew inspiration from his father's stories: "In fact, he told me about these men who were always impeccably dressed, wore caps and had guns in their pockets."
Launch: June 10
Where: Netflix
Westworld, Season 4
I have to admit: I still haven't gotten past the second season of the dystopian future thriller "Westworld." Yet "Westworld" is incredibly good. Especially the first season. It takes place in a fictional amusement park with a Wild West theme, populated by androids that are almost indistinguishable from real people. The real humans, on the other hand, visit the park to have adventures, hunt Indians, or just get drunk at the bar and later have fun with an android chick in a brothel. At the center: to discover his true "self", whether helpful sheriff, brutal gangster or gruesome rapist. No humans suffer anyway. Only androids - until one day they decide to stop being slaves to their creators, who are disturbed with god complexes.
Start: June 27
Where: Sky Show Entertainment
We Own This City.
I love the mini-series produced by HBO. They always tell a self-contained story. Like "Chernobyl." No sequels. No more seasons. Six narratively incredibly dense episodes. That's it. What's it about? It's about a special police unit that is supposed to rid the social hotspot of Baltimore of guns and drugs. But then the corrupt cops themselves become the epicenter of a scandal. The story is told by the creators of "The Wire," one of the "best series of all time that is as relevant today as it was 19 years ago," as editorial colleague Caro once wrote in her series review. And if that alone isn't reason enough for you to watch "We Own This City," give yourself one more: "Punisher" actor Jon Bernthal.
Launch date: June 27
Where: Sky Show Entertainment
All Netflix Marvel series on Disney+.
Netflix's Marvel series aren't new, after all. But look for them on Netflix, you look in vain. That's because Netflix has since lost the rights to Marvel characters. For a few months, their series were nowhere to be found. Fortunately, that's changing: starting at the end of June, all former Netflix series in the Marvel universe will come to Disney+. And according to industry magazine Variety, a new Daredevil series is even in the works. Of course, with Daredevil actor Charlie Cox and King Pin actor Vincent D'Onofrio.
Start: June 29
Where: Disney+
---



I'm an outdoorsy guy and enjoy sports that push me to the limit – now that's what I call comfort zone! But I'm also about curling up in an armchair with books about ugly intrigue and sinister kingkillers. Being an avid cinema-goer, I've been known to rave about film scores for hours on end. I've always wanted to say: «I am Groot.» 
---
---
These articles might also interest you
Skeleton Loader

Skeleton Loader

Skeleton Loader

Skeleton Loader

Skeleton Loader

Skeleton Loader