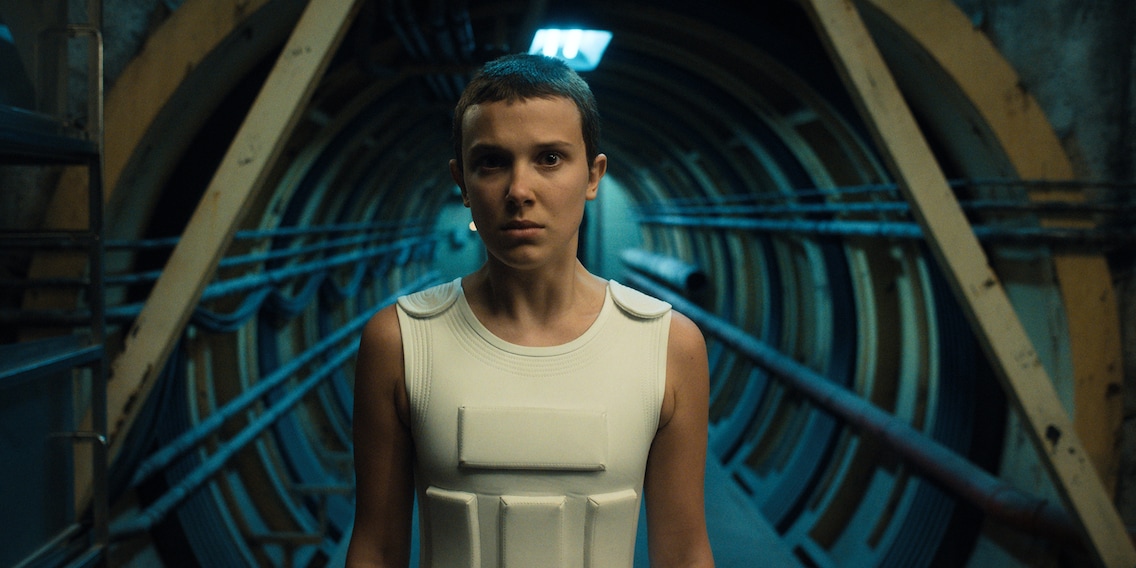 July streaming highlights: the movies and series you just can't miss

New month, new streaming highlights. Whether it's on Netflix, Disney+, Sky or Prime Video: here's what you just can't miss this July.
There are three kinds of people in the world. People who can count, and people who can't. With the «aha» moment over and done with, it's time to present the best series and films appearing on Netflix and other platforms this month.
Stranger Things, season 4, part 2
It goes without saying that this is mandatory viewing.
Release date: 1 July
Where: Netflix
The Terminal List, season 1
When Antoine Fuqua's in the director's chair, it never hurts to check out the finished product. After all, Fuqua didn't just make «Training Day» – one of the best films of all time, period. I'm not willing to debate that particular point. He also directed gems like «Shooter», «The Equalizer» and «Southpaw» and the, in my opinion, totally underrated «The Magnificent Seven». Now, Fuqua is taking a punt with a series. A series, which is, in fact, an adaptation of a novel: «The Terminal List». It tells the story of ex-Navy SEAL James Reece (Chris Pratt), who returns home from a failed covert mission with such conflicting memories that he begins to doubt his own innocence. At least until new evidence comes to light. Reece discovers that dark forces are working against him, putting not only his life, but the lives of his loved ones in danger.
Release date: 1 July
Where: Prime Video
Almost all the «Spider-Man» movies – and "Venom"!
When Marvel Entertainment goes bankrupt in 1996, the company can only save one thing: the sale of the movie rights to their most popular comic book heroes. That includes «Spider-Man» and his enemies, which are passed over to Sony. In 2008, Marvel takes its chances with «Iron Man» under the banner of the newly founded Marvel Studios. The only reason Marvel still has rights to the film is because nobody wanted them when they were for sale. Today, Marvel dominates the cinema landscape and has bought back most of the film rights. Apart from «Spider-Man», of course, which is why, until now, the films haven't been available on Disney+. Even I don't know why this has all changed. All I know is that someone at Sony, who, at the very least, sold the streaming rights to Disney, will probably make a pretty penny. And the yawning gaps in the Marvel catalogue on Disney+ will finally close up.
Release date for «The Amazing Spider-Man 1+2» and «Venom» : 1 July
Release date for «Spider-Man 1-3», «Spider-Man: Homecoming» and «Into the Spider-Verse»: 8 July
Where: Disney+
King of Stonks
June 2020. A 1.9-billion-euro shortfall. The web of lies surrounding financial services provider Wirecard collapses – and the biggest economic scandal in German history takes its course. The makers of «How to Sell Drugs Online (fast)» have based a six-part mini-series on the story. Think «Wolf of Wall Street» if it took place in Düsseldorf. Great. I'll be watching it. And after it, you should at least get in on the true story. German newspaper The Süddeutsche Zeitung has unravelled it in a fascinating podcast (in German) over eight episodes: «Wirecard: 1,9 Milliarden Lügen» (Wirecard: 1.9 Billion Lies).
Release date: 6 July
Where: Netflix
Black Bird
Not long ago, Jimmy Keene («Kingsmen» star Taron Egerton) was the football hero of his high school. Now he's serving ten years in prison. That is, unless he takes part in a life-threatening deal: to be transferred to a maximum security prison for the criminally insane, where he's to befriend suspected serial killer Larry Hall (Paul Walter Hauser). Keene has no choice: his only way out is to extract a confession from Hall and find out where he buried the bodies of several young girls before Hall's appeal goes through. The police, after all, have still only found one of an estimated fourteen bodies. Yep, looks like my Apple TV subscription will finally be worth having again.
Release date: 8 July
Where: Apple TV+
D.B. Cooper: Where Are You?!
Cooper is unusually calm as he hands a note to a stewardess on the Boeing 727 on 24 November 1971. She smiles, thinking he just wants to give her his phone number. Cooper leans closer to her. «Miss, take a better look at the note. I've got a bomb», he whispers. His demand is written on the scrap of paper: the hostages in exchange for 200,000 US dollars, four parachutes and a tank of fuel. The authorities agree. At 8 p.m., three kilometres above ground, Cooper opens the tailgate, jumps into the darkness in the wind and rain and is never seen again. To this day, the case remains unsolved. There are hardly any concrete leads. But there are quite a few theories, including one featuring Loki. This has given the case a cult following. If you like true-crime series, you definitely shouldn't miss this very special treat.
Release date: 13 July
Where: Netflix
The Staircase
Even today, the Michael Peterson case is considered controversial. This is down to the fact Peterson, a writer, allegedly murdered his wife. All this despite the fact that it was Peterson himself who called the local emergency services in Durham, North California, on the evening of 9 December, 2001. He was completely distraught because his wife Kathleen Peterson had fallen down the stairs and was seriously injured. When the paramedics and police arrived, they found the woman in a large pool of blood at the bottom of the stairs. The suspicion quickly arose that Kathleen's fall had been no accident. Especially when it became clear that the debt-ridden writer would benefit enormously from Kathleen's life insurance. HBO revisits the case in this eight-episode miniseries. Colin Firth and Toni Collette appear in the main roles of Michael and Kathleen. It's sure to be a cinema ...er, TV sensation.
Release date: 22 July
Where: Sky Show with Entertainment Pass
The Gray Man
It could just be any other action thriller. That is, if «The Gray Man» hadn't been directed by the Russo brothers. The name makes my ears prick up. After all, the two didn't just make «Avengers: Infinity War» and «Avengers: Endgame». They also made «Captain America and the Winter Soldier». The latter in particular is a good example of the Russo brothers' mastery of action and thriller. Throw in Ryan Gosling and Chris Evans as the lead actors and a budget of 200 million dollars, and you have the most expensive Netflix film of all time alongside «Red Notice». Okay, Netflix, you've convinced me. I'll watch it.
Release date: 22 July
Where: Netflix
---



I'm an outdoorsy guy and enjoy sports that push me to the limit – now that's what I call comfort zone! But I'm also about curling up in an armchair with books about ugly intrigue and sinister kingkillers. Being an avid cinema-goer, I've been known to rave about film scores for hours on end. I've always wanted to say: «I am Groot.» 
---
---
These articles might also interest you
Skeleton Loader

Skeleton Loader

Skeleton Loader

Skeleton Loader

Skeleton Loader

Skeleton Loader