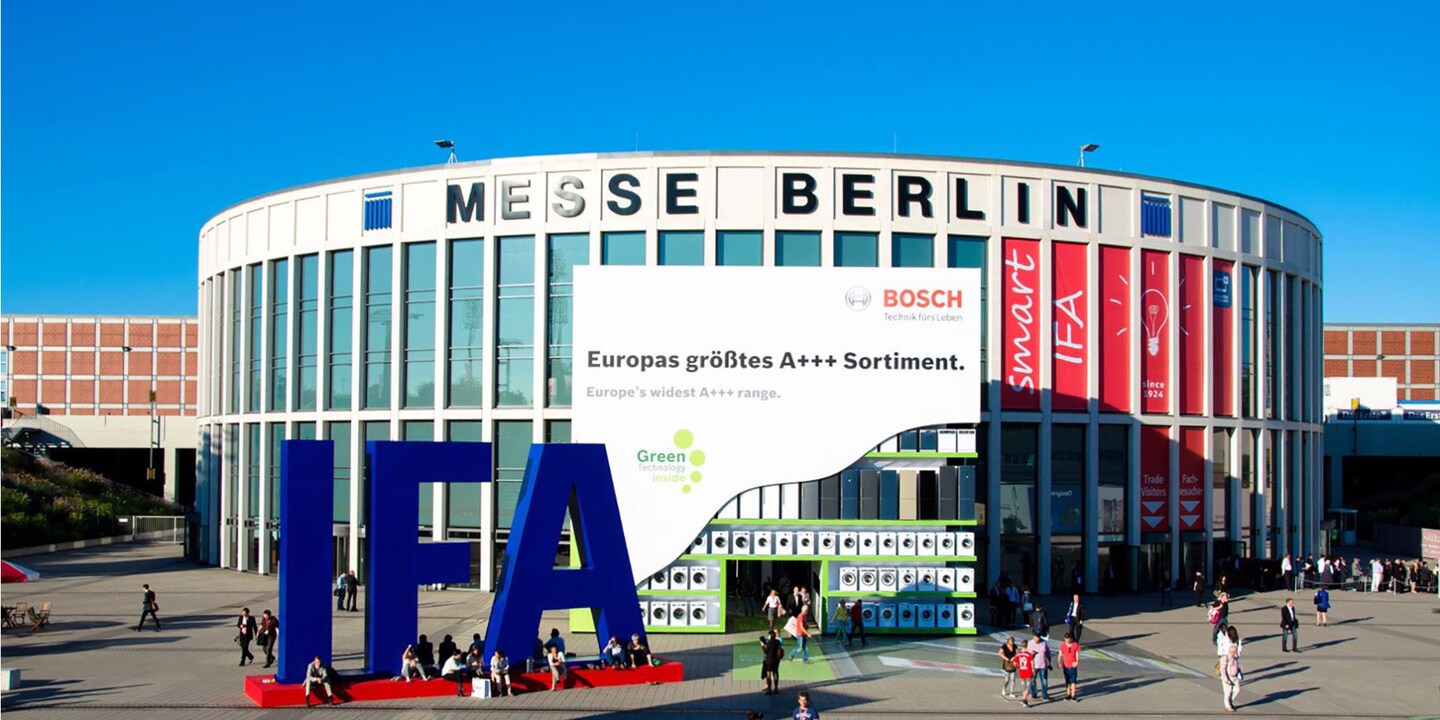 IFA must-haves: packing for Berlin's bustling trade show

The digitec team is packing its bags and jetting off to Berlin. We're getting ready to bring you the latest news from IFA, the world's leading trade show for consumer electronics and home appliances. But before we go, we'd like to give you a look behind the scenes and show you exactly what we'll be taking to keep the videos and updates flowing.
In the next few days, video producer Stephanie Tresch and I will be heading to Berlin for this year's IFA. We'll be your eyes and ears on the ground, reporting back with the latest innovations and interesting things we find.
But before we can even think about what clothes we're going to pack, we need to organise the equipment for writing these articles and editing our videos. Giving you a behind the scenes look at our equipment makes us feel like you're coming with us – and I guess we're pretty proud of our devices, too.
Journalist
Our journalist on tour, Dominik Bärlocher, focuses on portability and reliability. It's important for him to have devices that can be used within a few seconds and give results without a lot of effort. The equipment also has to have a long battery life.
Smartphone
The HTC U11 doesn't just have a great camera, it can also withstand a day's heavy use. The system is optimised in such a way that the battery rarely drops below 40% during a normal working day in Switzerland. Thanks to Quick Charge, the device recharges again quickly.
It also has a hybrid dual-SIM slot that can be used with a German SIM so we're not reliant on the Wi-Fi at the trade show. At the MWC in Barcelona it wasn't particularly good.
Laptop
The keyboard and the battery are what make the difference here. The pen will stay in Zurich, as it could get lost in the hustle and bustle of the trade fair. But we'll certainly be making use of the tablet function – not just for efficiency reasons, but also because it can charged like a tablet.
The keyboard offers a comfortable pressure point and nicely spaced out keys. We're certainly impressed and think it's perfect for writing articles quickly while avoiding typos.
Camera
This is an all-round camera, that can do pretty much anything. It reacts quickly and the battery is fairly long-lasting. Of course it would be great if it lasted longer, but that's what replacement batteries are for. What's more, the camera is weatherproof and shockproof. That's not altogether relevant for trade shows, but at least it means it can withstand quite a bit.
The Sony Alpha a6500 is also a good choice for less experienced photographers who just want to take a few shots here and there. The camera is good for taking pictures that get a message across, but they won't be aesthetically brilliant. In other words, it's a camera for journalism.
Powerbank
The device is enormous. With a capacity of 30000 mAh, this beast is able to charge everything and anything numerous times, but you can't take it in your hand luggage. Fortunately, that's not a problem with the current set-up. Even if you listen to music, the smartphone's battery will easily last for the one-hour flight to Berlin.
These are the pieces of equipment in our case that guzzle battery:
HTC U 11: 3000 mAh
Porsche Design Book One Tablet Battery: 25 Wh/7.6 V → 3300 mAh

Porsche Design Book One Keyboard battery: 45 Wh/15.4 V → 2985 mAh

This gives us roughly 9285 mAh per day. In concrete terms, the powerbank lets you go three days without plugging in. While that shouldn't be necessary, it's good to know we can have long days without any IT hiccups.

What's also great about this powerbank is we can use it to charge the camera as well.

Camera queen

Video editor Stephanie Tresch is putting all her effort into packing as much high-quality hardware in her hand luggage as possible. She hates feeling like she's taken the wrong things or not brought enough. She is a savvy packer, leaving not a smidgen of unfilled space.
The most important takeaways about the camera
This camera is perfect for me and I've fallen in love with it. Why? Because the Sony 7S II is a mirrorless full frame 35 mm camera that lets you shoot in 4K with 24 und 30 fps. In full HD you can even take amazing slow-motion shots, as it registers up to 120 fps.
It's a great choice for trade fairs, as it is made for difficult light environments. The camera allows an ISO of 409 600, without producing too much image noise. Although trade shows are usually well-lit affairs because stand owners want to present their products in the best light, it doesn't do any harm to be prepared. Some areas in trade fairs have such strong lights, while other parts are dark or normally lit. That's why the gamma setting Slog 2 appealed to me. It lets you record maximum image information. In other words, it loses less information in the lighter and darker areas. The camera also has an integrated audio jack I can use to check Dominik's voice during the trade fair.
Pocket-sized power
The Sony camera is very good but its battery leaves a bit to be desired. That means you need at least four extra batteries.
It's all about the lens
The Sony 24-70 mm is a small all-rounder. No matter what demands the trade fair puts on the camera, be it a close-up or a distance shot, the lens can take it. Not only does it tick the box of sharp zoom lens, it also lets me achieve beautiful bokeh.
The sound in the crowd: Sennheiser MD 46
The Sennheiser MD 46 delivers a lovely, full sound. It doesn't make voices sound tinny or flat – rather it makes them full and round. Being lightweight and a convenient length, the Senheiser also sits comfortably in your hand. But you are aware it's there, and you can't wave it about too much in front of the camera. So stay still, Dominik!
Sound and vision: Rode Newsshooter Kit
Unfortunately, a good microphone alone doesn't do much good. However, when you combine it with the Newsshooter Kit… wow. Given it is wireless, easy to put together and a joy to work with, it's no wonder I've become a fan. I can attach any popular brand XLR microphone to the transmitter, but I also have a 3.5 mm input for a lavalier microphone just in case. While I've not had time to test that, knowing it's there gives me confidence.
The beast: my laptop for in the field
The beast, I mean my laptop for in the field is an Acer Nitro Black Edition. It is slightly more compact than the Predator 21x, but it has plenty of unbridled power. And it'll certainly need it, because once the trade fair is finished, this is the device that will be doing all the video editing and rendering. The last thing we need is the laptop driving me crazy with hours of rendering.
Ready, steady: the tripod
With experience of some other trade fairs and events with digitec under my belt, I'm aware just how little time we have for setting up equipment. What I know for sure is I want a monopod this time – to be more precise, a monopod with feet.
They are quick to put together, compact and, if I'm lucky, I can get Dominik to put it in his rucksack at IFA. Then all I'd need to carry would be the camera and the audio equipment.
For emergencies: the smartphone
If I want to record something really quickly, I need a smartphone with a powerful camera. Most importantly, it has to be able to react quickly and reliably to unusual or drastic changes in light conditions. That's why product manager Dario left Samsung's latest flagship, the S8+ on my desk.
With its dual-SIM slot, this smartphone also lets me insert a German SIM card, so I'm always available abroad without any pesky roaming charges.
Powerbank for those long phone calls you have when you're looking for Mr Bärlocher
When you're out and about, you always need a mobile phone. It doesn't matter whether you need it for taking photos or recording videos. Or if you need it to look for Dominik, who has just rushed off as excited as a child when they hear the ice cream van, oblivious to the consequences and Stephie with ghe video equipment. To ensure I can use my phone whenever I need it, I always carry my trusty RAVPower powerbank.
So all the work isn't in vain: memory card
I have four of these memory cards with me. Overkill? You just never know. They are expensive, but they're reliable and quick. My Sony a7S II needs a certain speed of card otherwise nothing saves on it. It's a spoilt little Sony, but what can I do?
Are you excited about IFA yet? What do you want to see?
Once we're at IFA, we'd like to know what you're interested in seeing and hearing about. Let us know in the comments and we'll do our best to report back on those things.
---

Journalist. Author. Hacker. A storyteller searching for boundaries, secrets and taboos – putting the world to paper. Not because I can but because I can't not.
---
---
---
These articles might also interest you
Skeleton Loader

Skeleton Loader

Skeleton Loader

Skeleton Loader

Skeleton Loader

Skeleton Loader