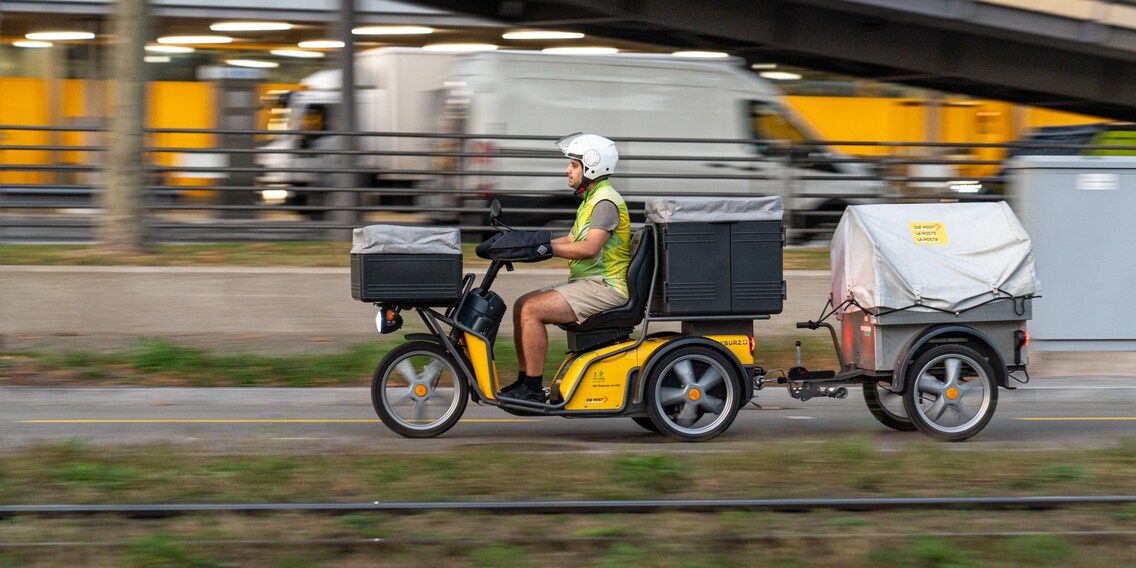 Digitec Galaxus extends flash delivery to French-speaking Switzerland

Following the German-speaking part of Switzerland, our customers in French-speaking Switzerland will now also be able to benefit from flash delivery. So if you place your order by 11:00 in the morning, you'll have it delivered to your doorstep the same day.
Digitec Galaxus will be launching this free and environmentally friendly delivery option in French-speaking Switzerland within the next few days. After hooking up the majority of households in German-speaking Switzerland to the same-day delivery network in recent months, this is next big step for the online retailer.
Starting 31 October, greater Geneva will be connected. Further areas along Lake Geneva will be gradually added soon after. On 10 November, Digitec Galaxus will be concluding its flash delivery expansion with the Neuchâtel region. At least for the time being.
Eco-friendly and fast
The doorstep deliveries will be taken care of by Post subsidiary notime, who specialise in same-day services. notime uses Post's fleet of electric-powered vehicles as soon as the post carriers' shift is over. For these deliveries, Digitec Galaxus does without cardboard packaging or plastic filling materials. Not only does this save the online retailer's logistics department time, but also space and weight during transport. «This has already enabled us to save over 100 tonnes of cardboard since 2020,» says Peter Weingartner, who as First & Last Mile Leader is responsible for the delivery of Digitec and Galaxus parcels. At the same time, we're taking some of the pressure off our employees busy at the packing stations, where products are put into cardboard boxes by hand.
Digitec Galaxus offers flash delivery for all products it stocks itself in Switzerland. The product must weigh a maximum of 30 kilogrammes and can be no larger than 60×60×100 centimetres. If all products in an order can be sent by flash delivery, the option is automatically recommended to customers at checkout.
Flash delivery's a big hit
One thing's for sure. Digitec Galaxus customers love flash delivery and the numbers prove it. Since the launch of this new delivery option three years ago in central Zurich as well as East Zurich (April 2023), the online retailer has flash-delivered around 26% of all products ordered in these areas. Peter Weingartner expects a similar level of interest in the other parts of Switzerland.
Have you tried flash delivery yet? Thanks for letting us know what you think of the service in the comments!
---



As a Multimedia Producer, preparing multimedia content and knowing about cutting-edge technology is my business. My main focus at digitec is producing videos. I can't wait to try out new products such as cameras, drones or smartphones as soon as they're launched. This is where being at the source comes in rather handy. When I'm not working, I'm probably skiing, biking or hiking – the mountains are my place to be. 
---
---
---