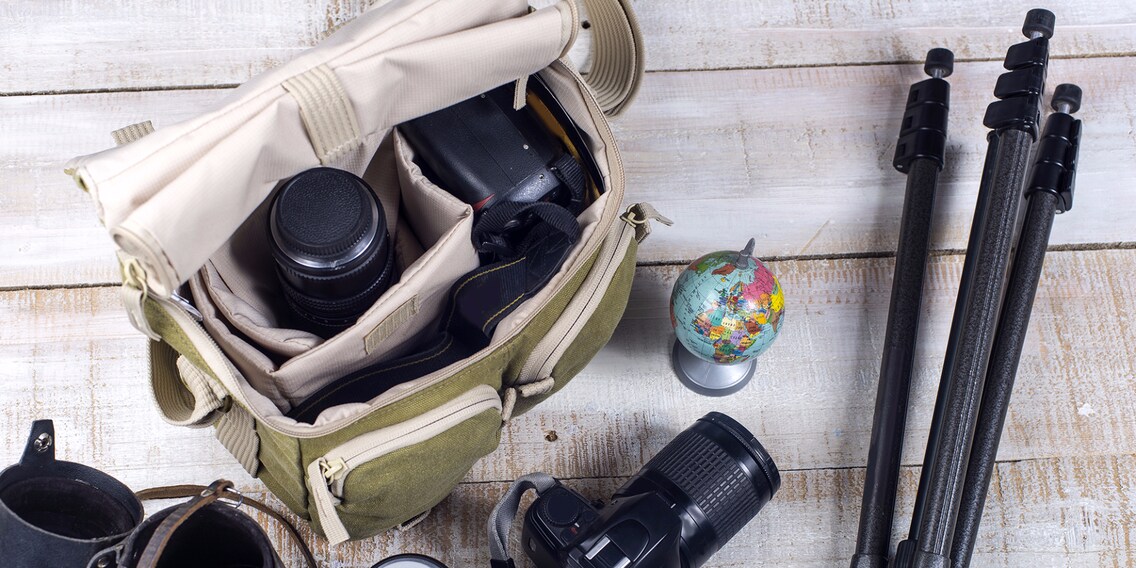 Unsere Tipps fürs passende Ferien-Zubehör.
This article is not yet available in your selected language.
Die Zubehör-Must-Haves zur Kamera
Klar, du willst mit leichtem Gepäck in die Ferien. Ohne unsere Must-Haves gehts aber nicht. Lass mich wissen, wenn du noch ein Foto-Must-Have hast, ohne das du nicht in die Ferien gehst!
Rucksack oder Tasche
Deine Fotoausrüstung mitsamt Laptop oder Tablet und ein paar persönlichen Gegenständen müssen verstaut werden. Bevor du dein Objektiv ins Wasser schmeisst, dein Stativ untern Arm klemmen musst oder du deinen Filter verlierst, packst du lieber alles zusammen ein. Hierfür empfehlen wir dir entweder eine Schultertasche oder einen Rucksack. Du entscheidest dich fürs Material und die Grösse. Alle drei Taschen sind für Fotoausrüstungen konzipiert und bieten Schutz für dein Equipment.
Stativ
Die besten Ferienfotos entstehen beim Sonnenauf- oder untergang oder bei langer Belichtungszeit. Mit einem kompakten und leichten Reise-Stativ schaffst du beste Ergebnisse. Auch Gruppenfotos oder Portraits werden mit Stativ besser. Es lohnt sich wirklich, eines mitzunehmen – du wirst dich über die Fotos freuen.
Kameragurt
Warum du einen Kameragurt brauchst, muss ich wohl nicht erklären. Wir haben eine grosse Auswahl an verschiedensten Modellen. Hier sind unsere drei Favoriten. Der Curve Breathe und der Capture Pro sind mega praktisch und erlauben dir einen schnellen Zugriff auf deine Kamera. Der Slide ist auch praktisch, kann aber ein wenig mehr mit Style überzeugen.
Filter
Strahlend blauer Himmel inklusive Meer und grüne Palmenblätter sind das klassische Ferienmotiv. Damit dein Himmel kräftig blau wird, unerwünschte Wasserspiegelungen vermieden werden und Farben noch intensiver sind, solltest du einen Polarisationsfilter einpacken. Bitte achte darauf, dass das angegebene Mass fürs Filtergewinde mit deinem Objektiv übereinstimmt.
SD-Karte, externe Festplatte und Powerbank
Nichts ist schlimmer als eine volle Speicherkarte, wenn du noch so viele potentielle Ferienmotive vor dir hast. Eine SD-Karte mit 32GB-Kapazität ist für die meisten Kameras und Ferien(-längen) mehr als ausreichend. Du willst wirklich viele Fotos und zusätzlich noch Videos machen? Dann empfehle ich dir eine externe Festplatte. Das Modell hier ist zudem sehr robust.
Mehr Inspiration und Angebote
Skeleton Loader

Skeleton Loader

Skeleton Loader

Skeleton Loader

Skeleton Loader

Skeleton Loader

Skeleton Loader

Skeleton Loader

Skeleton Loader

Skeleton Loader

Skeleton Loader

Skeleton Loader
---



I've had a fascination for content marketing ever since uni. My aim is to generate great content – any requests are welcome. Photography is what I'm passionate about and so is shopping. So I've definitely found my place in the online business at digitec!
---
---
These articles might also interest you
Skeleton Loader

Skeleton Loader

Skeleton Loader

Skeleton Loader

Skeleton Loader

Skeleton Loader