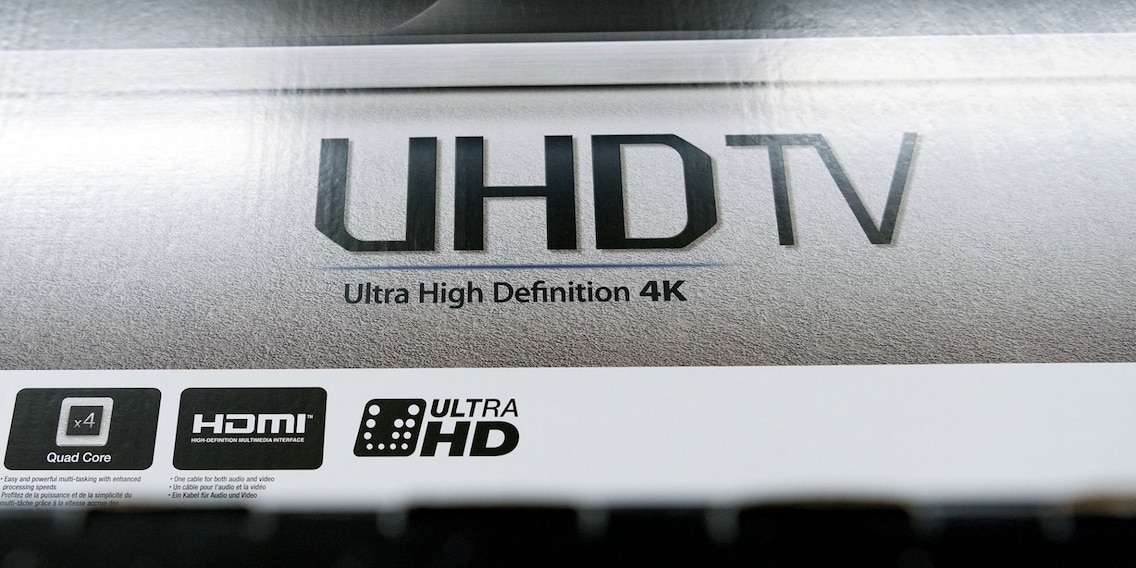 Ultra HD Premium: What's the point?

Labels are supposed to create clarity for customers. But they notoriously defeat their purpose. Ultra HD Premium is a recent example. It's good in theory, but absolutely no help when it comes down to choosing a TV. Read on to find out why.
If you're not a techie, all the terms and labels associated with tech products can be very confusing. You might even get up to speed and read up about everything regarding one topic, only to realise a few months later that all your knowledge is already outdated. New terms, labels and technologies are invented all the time, putting you back to square one when it comes to choosing the product that fits your needs. Plus, some manufacturers come up with features you didn't even know you needed.
UHD Alliance have taken the same line. At the beginning of 2016, after weeks of tough negotiations with manufacturers, they came up with the label «Ultra HD Premium».
Their intention was to make it easier to understand all the different terms manufacturer use: The label «Ultra HD Premium» indicates that a TV meets the minimum requirements for a high-end experience.
Got it? Nor did I.
Let's take things step by step: What does Ultra HD stand for?
Is there a difference between 4K and Ultra HD (UHD)? Of course there is, but most people don't know or care about it. So Ultra HD isn't the answer to everything after all? I'm afraid it isn't. This is confusing, as «Ultra HD» sounds rather impressive. But in fact, «premium» is quite a bit better. Don't try to understand it, it's just marketing.
All jokes aside, the label has good intentions. And it's helpful – as long as you know exactly what it stands for.
Let's begin with resolution. The established default format is Full HD, which stands for a resolution of 1920 × 1080 pixels (width × height) and an aspect ratio of 16:9. Most TV channels and YouTube videos are in Full HD. Since 2016, 4K is growing in popularity. This format corresponds to 4096 × 2160 pixels and an aspect ratio of 19:10. However, as we're so used to the 16:9 aspect ratio, content is scaled down to 3840 × 2160 pixels – the format that should be referred to as «Ultra HD». It should, but most people call it «4K».
Why's that? Here's my theory: Most people have no clue what to expect from a TV that has «Ultra HD» on its packaging. My guess is that it's too similar to «Full HD» and the two get mixed up quite often. To make sure everyone knows that a TV has extraordinary resolution, manufacturers prefer using the label «4K».
My point is: If it says «4K» on the box, it's likely that what you're actually getting isn't 4K resolution but Ultra HD resolution with 3840 horizontal pixels. But who cares about correct specs anyway?!
What does Ultra HD Premium stand for?
Let's face the key question of this article: What on earth is Ultra HD Premium?
As I mentioned before, the term was coined by UHD Alliance in collaboration with manufacturers and studios such as Samsung, LG, Sony, Panasonic, Disney, 20th Century Fox and Netflix.
They were aware of the confusion surrounding labels and wanted to establish an industry-wide consensus that marks which TVs really offer high-end specs, i.e. the best resolution, contrasts and colours. As the requirements are identical for all manufacturers and an independent UHD Alliance committee decides which products deserve the label, it's impossible to cheat.
These four aspects are the key to the Ultra HD Premium label: resolution, colour depth, colour space and dynamic range.
1. Minimum resolution of 3840 × 2160 pixels
This is the easy part. The resolution of a TV has to meet or exceed Ultra HD, which means that, no matter how large your TV is, the image is made up of at least eight million pixels. To put this in relation: Full HD TVs have two million pixels.
2. Minimum colour depth of 10 bit
To wear the UHD Premium badge, TVs need to support 10-bit colour depth (as opposed to 8 bit with Full HD). A Full HD TV displays about 16.7 million colours; an Ultra HD Premium TV 1.07 billion colours. This corresponds to the HDR standard «HDR10» – 10 standing for 10 bits.
This illustration shows the differences between 10-bit and 8-bit. The difference is particularly noticeable where the sun reflects on the water. The transitions are more fluid on the left than on the right.
Note: No single frame displays all colours at once (and besides, we're not capable of sensing every single colour), but the more colours are available, the more natural the image will look.
3. Colour space representation: BT.2020 and DCI-P3
While almost every middle-end TV meets the first two requirements, colour space is a different story. This aspect separates the wheat from the chaff.
Let me warn you: If the first part of this article has been too technically demanding for your taste, you might struggle with the next part. Sorry!
Firstly, a Premium TV needs to be capable of processing BT.2020 signals. Secondly, it needs to cover over 90% of the DCI-P3 colour space. Sound complicated? Well, I warned you. But don't worry, it makes perfect sense. BT. 2020 and DCI-P3 are names for the most commonly used colour spaces in the film industry. They are standards that define how colour information is transmitted via video signal; signals that tell the TV which red or blue to display in a specific frame.
The colours within a specific colour space are exactly defined. An Ultra HD Premium TV needs to be capable of processing the colours within the colour space of the BT. 2020 standard and displaying at least 90% of the colours of the DCI-P3 standard. By comparison, conventional Full HD TVs only display the sRGB / Rec. 709 standard, which only covers 80% of the DCI-P3 colour space.
Another visual representation to show the differences in colour spaces.
As the illustration above shows, there are various colour spaces. Why is this necessary? Because the human eye has a much higher colour spectrum than TVs, projectors and PC monitor are capable of displaying. The larger the defined colour space, the higher the hardware requirements. If you look at the illustration again, you will see that your TV needs to process more colours (BT. 2020 / Rec. 2020) than it has to reproduce (at least 90% of the DCI-P3 colour space).
4. Minimum dynamic range for HDR
HDR is a complex topic. If you really want to get to the nitty-gritty of it, check out this article (in German). I'm not going into great detail in the following paragraph, but will keep to what's important to understand this article.
HDR is short for High Dynamic Range. It represents the contrast range; in HDR TVs, the difference from the darkest to the lightest colour is much larger than with Full HD TVs. Therefore, the colours we see are more natural and vivid.
To obtain the Ultra HD Premium label, a TV needs to fulfil minimum requirements regarding dynamic range. Before I go into these, let's have a look at the two main technologies on the market: LCD and OLED. The main difference is that with OLED, the light-emitting diodes (pixels) are organic and switch themselves on or off as required. Just like a lamp. This results in unmatched black levels. LCD screens, on the other hand, are brighter, which benefits well-lit living rooms.
Neither the absolute brightness and black levels nor the technology (LCD or OLED) are crucial to the UHD Alliance, but the difference between the brightest and darkest colour; the dynamic range. There are two options to meet the minimum requirements of the UHD Alliance:
Option 1: Maximum brightness of at least 1000 Nit and black levels of no more than 0.05 Nit.
Option 2: Maximum brightness of at least 540 Nit and black levels of no more than 0.0005 Nit.
In other words: The UHD Alliance has found a way to make everyone happy. Hooray!
So the Ultra HD Premium label is a good thing after all?
It is in theory. It covers all aspects of high-quality televisions and offers an objective and standardised rating of TVs, which allows no manufacturers to call their product high-end if it isn't. Plus, when you're looking for a new TV, you can ignore all the marketing slogans and promises of manufacturers and just go by this label. Great, right?
What are the downsides?
Imagine there's a standardised label for everyone, but nobody agrees to use it. It's not as bad as this in reality, but it only takes one large manufacturer, Sony for instance, to ignore it (despite being a member of the UHD Alliance) and the intention of the label fails. There are several Sony TVs that fulfil all requirements and deserve the label, but don't have it.
On top of that, the label hasn't eliminated all other terms and labels that manufacturers come up with, but rather added another one. Samsung and LG use «SUHD» or «Super Ultra HD», Panasonic use their own 4K label and to make things even more complicated, Ultra HD Blu-rays launched their own 4K label in spring 2017.
A silly trend
Two years have passed since the Ultra HD Premium label was introduced, but TV manufacturers still prefer using their own terms and labels than this official seal of quality. Especially the term 4K is everywhere. On top of that, the UHD Alliance has been criticised for ignoring aspects such as motion blur, frame interpolation, clouding, smearing or display settings. Fair point. What about display settings? Well, some manufacturers are so keen to fulfil the Ultra HD Premium requirements that they adjust the display settings in a way that makes it difficult to actually watch TV. For example, the display might be so bright that it hurts your eyes and you have to readjust the display settings.
What about commerce?
The label hasn't gained acceptance in commerce either. I'm not going to lie: At digitec, we've also realised that our customer search for «4K» much more often than for «Ultra HD». It seems that 4K has burned into people's minds and trying to re-educate everyone, although with good intentions, is just a waste of time.
Outlook
The UHD Alliance meant well when they launched their label, but it doesn't look like it's going to gain acceptance. With all the terms and labels on TV packaging, it's hard to tell marketing inventions from actual seals of quality. If you're looking for a new TV, my advice is to ignore the labels and do your own research and testing – even for premium models.
---



I'm an outdoorsy guy and enjoy sports that push me to the limit – now that's what I call comfort zone! But I'm also about curling up in an armchair with books about ugly intrigue and sinister kingkillers. Being an avid cinema-goer, I've been known to rave about film scores for hours on end. I've always wanted to say: «I am Groot.» 
---
These articles might also interest you
Skeleton Loader

Skeleton Loader

Skeleton Loader

Skeleton Loader

Skeleton Loader

Skeleton Loader