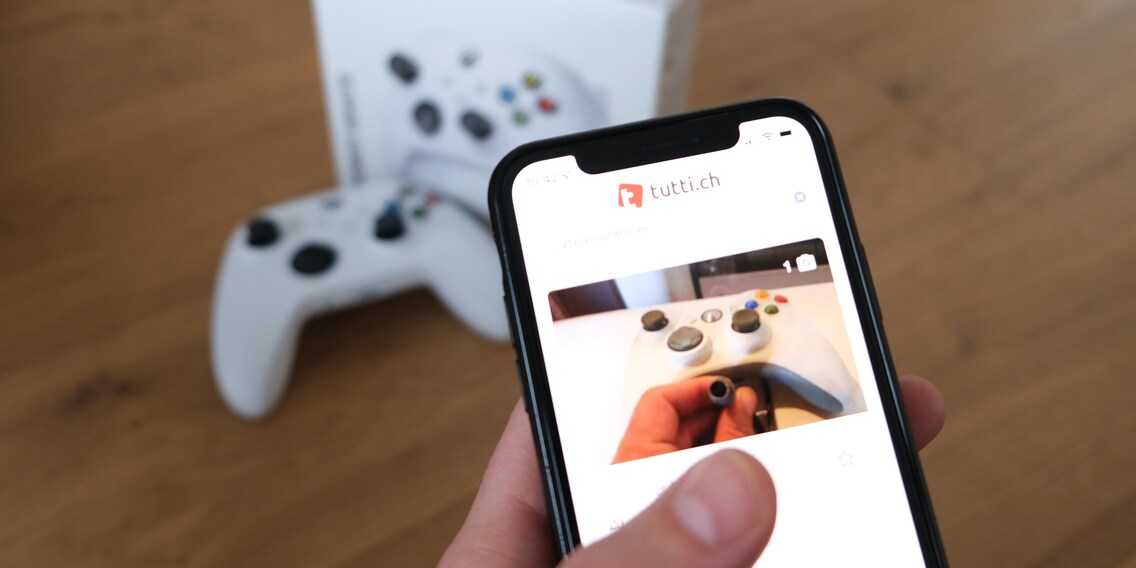 Tutti, Ricardo and co.: what type of seller are you?

We've all got too much stuff lying around. What to do with it? Some of us store it in drawers or in the basement. Others sell their used items online. What type of seller are you?
We all know how it goes: New Year, new you. Perhaps you've become acutely aware of the camera that's been lying unused on your shelf for months. It would probably make sense to sell it, wouldn't it? Or maybe you were pleased to find a new pair of speakers under the Christmas tree. That begs the question of what do with the old ones?
Odds are you sell them through an online classified ads platform. There are several of these to choose from – from Tutti to Ricardo to Ebay. And, of course, there's digitec's own resale platform. Which one you use and how you go about it says something about your character. Here's a not-so-serious rundown of seller types. Which one are you?
The thrill seeker
In your eyes, nothing beats the thrill of an auction. Minimum prices are for wimps. You put up your product with a starting price of one franc and hope that a bidding war will break out, driving the price of your used goods to unimagined heights. But you can also live with the fact that, three hours before the end of the auction, bidder «Vijay0765» may be on the verge of securing the cassette deck that cost you 800 francs – with a measly 1-franc bid.
Typical product: Lego Minifigures Set from the DC Comics 71026 series, starting at 1 franc.
The profiteer
You want to get as much out of the stuff lying around your house as you can. So, you create Excel spreadsheets (at the very least!) containing your inventory, purchase prices and current used market prices. Using a tool you programmed yourself, you scrape this data twice a day from Tutti, Ricardo, Ebay and the like. That way, you can find the perfect time and price at which to sell your gadgets.
Typical product: Samsung Galaxy S20 128 GB, grey, dual SIM, «like new», 520 francs.
The fee avoider
You don't mind getting messages along the lines of «What's the lowest price?» on Tutti. You know that it's practically good manners to negotiate on there, and you make time for it – just as you make time for posting your used items, product descriptions, photos and all. When Tutti offers to promote your offer on the front page for a fee, you categorically refuse. You're out for maximum profit; there's no room for fees. You take care of advertising yourself, sharing the Tutti ad with your friends on Facebook, WhatsApp, Twitter and Instagram.
Typical product: Cybex children's car seat, «used, needs to be washed», 25 francs.
The good Samaritan
Your motto: the gadgets you no longer use can certainly be used by someone else. Whether you could earn 10 francs more on an item is totally irrelevant. In fact, if you could, you'd make your offer available only to those truly in need. Unfortunately, you can't. Instead, you hope that the person who buys your used item was only able to afford it thanks to you.
Typical product: Raclette set for 6 people, «used only once, for family-oriented individuals», price negotiable.
The «anything-but-in-the-trash» seller
You're concerned about the environment above all. You know that the disposal of electronic components can be very expensive and isn't always done properly. It's obviously better to find someone who can still use the things you no longer need.
Typical product: 8-year-old LCD TV, 40 inches, thick black frame, «perfect for the basement or your child's room».
The «pickup-only» seller
When you put something up for sale, you expect the person who buys it to pick it up at your home. As luck would have it, you threw out the box in which you could have shipped the item. Either way, the post office is only open from 8:45 a.m. to 9:30 a.m. and 2:15 p.m. to 2:45 p.m., except on Thursdays. The mere thought of waiting in line to send a package is too tedious. In fact, you take «pickup» to mean you can deposit the sold item in your mailbox, which is where the buyer picks it up; you sent him your address on WhatsApp after he paid you on Twint. In exceptional cases, you may allow the buyer to deposit the sales price in cash in your mailbox.
Typical product: Ravensburger puzzle, 100 pieces, for children ages 6 and up, all pieces included, good condition.
The «lazy-but-clever» seller
You don't feel like coming up with a description of your product or even photographing it (even though a good photo isn't that hard to take). At your peak, you can bring yourself to click through a few selection menus. When you sell something, you want it to be quick and easy. And you're prepared to pay a fee for this convenience. Depending on the product, you either set it up as an auction or fixed-price sale. Sound familiar? It's how reselling works at digitec. In your account, you can sell products you previously purchased at digitec, including any remaining warranty. It takes just a few clicks. These items are then displayed in the online shop whenever someone searches for them, or to buyers looking specifically for used products.
Typical product: 1 pair of ASUS ZenWiFi XT8 WiFi 6 AX6600 routers, opened, with original box.
Can you relate to any of the described seller types? What would platforms like Tutti, Ricardo or we, digitec, have to do better to have you to sell your used products online, giving them a second life? Let me know in the comments.
---



Journalist since 1997. Stopovers in Franconia (or the Franken region), Lake Constance, Obwalden, Nidwalden and Zurich. Father since 2014. Expert in editorial organisation and motivation. Focus on sustainability, home office tools, beautiful things for the home, creative toys and sports equipment. 
---
These articles might also interest you
Skeleton Loader

Skeleton Loader

Skeleton Loader

Skeleton Loader

Skeleton Loader

Skeleton Loader