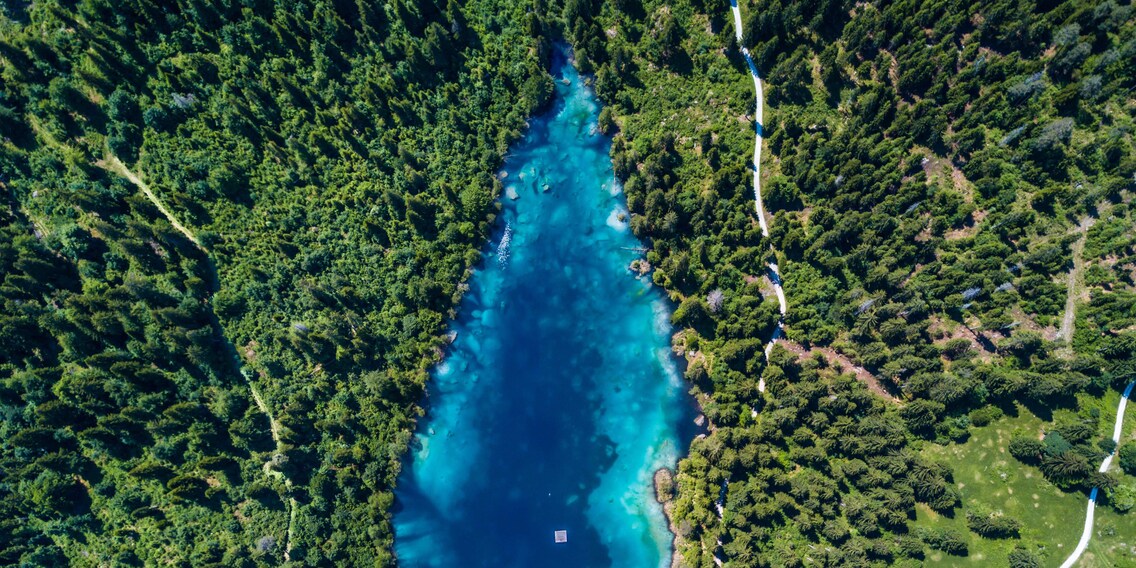 Crestasee in the Grisons. Pictured using a Dji Mavic Pro.
My advice on how to fly a drone

About two years ago, I had the idea to make a movie about India. I instantly knew that I wanted to include aerial views, so I needed a drone. I've done many projects since then and have had the chance to gather experience with a few different drones. My advice? Keep reading :)
Learning to fly a drone
What helped me a lot was learning to fly a drone first. And I'm not talking about just flying about, but flying in a precise and controlled way. I practiced flying around, through, past and over obstacles, and did anything that would help me get a feeling for the drone. After this, I practiced the same with objects, always trying to keep focus on the object.
In my opinion, there are only two types of drone flying: aerobatics and videography flying (that's what I call it). Aerobatics is the high art of flying, whereas videography flying is the art of flying a drone in such a way that great footage is captured. Let me tell you: It requires a lot of practice.
Having a plan
I realized quickly that if I wanted to get good footage, I needed to have a plan and a clear idea of how I wanted to capture an object. This also becomes clear when you think about post-editing: the more scenes you have that you don't need, the more work you'll have. It's worth thinking about what you want your picture or video to look like beforehand and capturing exactly that.
Smooth flying
Fly your drone as smoothly as possible. Move in slow motion and don't make any abrupt movements unless intended for your video. If you keep this in mind, you'll have a nice recording and not too much post-editing to do.
Extended flying
Once you've captured what you'd planned to, keep on recording for a while. If I'm filming a straight route and am about to finish the recording, I just keep on flying for five to ten seconds. I'd say this is one of my most valuable pieces of advice. This will make sure you have enough footage when you're cutting your video. It might even happen that an unexpected item crosses your screen and provides for a positive surprise. Here's an example.
Speed and distance
Unfortunately, the propellers sometimes get into the picture. You'll need to find out what the ideal speed is to take recordings without seeing the propellers. Most of the times, it will be enough to reduce the speed slightly. In my opinion, flying slowly is better anyway. But each to their own.
Finding the right distance between drone and subject is very important. You don't want to be looking at your bicycle without recognizing it, just because your recording was taken from too far away.
Using filters
My last piece of advice has nothing to do with flying as such, but is just as handy: I almost always use an ND filter on my camera, except for recordings in the dark. This filter helps control camera settings and daylight. And again, this will make post-editing easier (unless you use the recordings from the camera directly without post-editing).
Practice, practice and more practice…
Practice makes perfect. With a bit of talent and some post-editing, you could be taking aerial shots like these:
If some video footage can win you over: I've just spent some time in Greece and created a short video.
More about my projects
«My only goal is to live my life to my fullest potential.»
www.tolisart.com
Tolisart on Facebook
Tolisart on Instagram
Are you about to embark on a holiday?
Read more about vacations with drones and our special offers:
General information about flying drones (in German)
More articles by Tolis (in German)
---



I am an audio-visual artist, photo and videographer. I photograph and shoot videos for sports, events and image campaigns. Once a year I take the liberty of travelling the world for two months. Here I create my very personal film projects. My roots come from Greece, I grew up in Graubünden and now I have been living in Zurich for many years. You can find more about my projects on <a href="http://www.tolisart.com/" target="_blank">tolisart.com/</a>. 
---