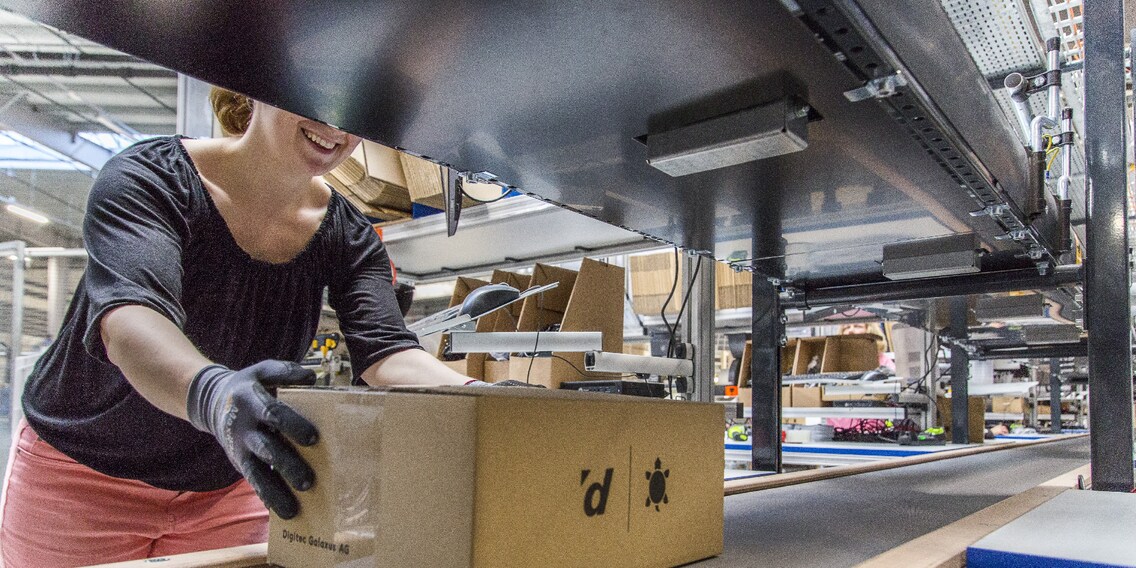 Digitec Galaxus increases turnover to 992 million francs

In 2018, Digitec Galaxus achieved a platform turnover of CHF 992 million and expanded its product range to 2.6 million products. The online retailer is also pursuing ambitious goals for 2019: The focus is on expanding logistics and product portfolio as well as positioning Galaxus in Germany.
The leading Swiss online retailer Digitec Galaxus increased its total sales by 15% in the financial year 2018 and set a new record with a total turnover of CHF 992 million. After a net yield of 834 million in 2017, the year 2018 saw this number increase to CHF 950 million. «2018 was a spectacular year for us,» says CEO Florian Teuteberg. «Thanks to great teamwork and strong partnerships, we achieved double-digit growth, increased turnover to almost one billion francs and aligned the prices of large parts of our product range to European levels. At the same time, we expanded into Germany. Since 1 November, Galaxus is active in Europe's largest market.»
Product range almost trebled
Both the electronics retailer digitec and the online department store Galaxus achieved double-digit growth in the past financial year. digitec remained the stronger-selling shop in 2018, while Galaxus displayed a steeper upward growth curve. The product portfolio, which almost trebled in the course of the past twelve months, was one of the main factors driving turnover growth. Digitec Galaxus began the year 2018 with one million products – by the end of the year, the two shops had no less than 2.6 million articles on offer. The product categories Electronics, Home, Fashion and Sports experienced particularly strong growth. Today, Switzerland's largest online retailer offers the most comprehensive range of branded products in the country. «Our customers are very demanding and expect to find a large selection of high-quality products on Digitec Galaxus,» Teuteberg explains. «That's why one of our top priorities for the year 2019 is to continue expanding our product range.»
Taking logistics to a new level
Another project that will be tackled in 2019 is the expansion of the logistics centre in Wohlen. After the warehouse was considerably expanded in 2017, the next step is now imminent: Digitec Galaxus is adding an entirely new hall to the warehouse to allow smooth handling of the growing product range and increasing shipping volumes. In the course of this, both the goods inward department and the small parts warehouse will be further automated by 2020. These efforts will result in a gradual increase in capacities at the Aargau logistics centre. The capacity of the EU hub in Weil am Rhein will also be adjusted to the growing flow of goods: Digitec Galaxus' declared goal is to deliver any product from the product portfolio of its European merchants to Swiss customers within 48 hours.
Germany launch in beta version
With the launch of the German online shop in November 2018, Galaxus has expanded beyond its national borders into Europe's most competitive market. Having started with a beta version, Galaxus draws a positive conclusion from the first two months: «Our offer is well received in Germany,» says Teuteberg. «We're now working on increasing the brand awareness, continuously expanding the product range and winning over as many customers as possible for the Galaxus online concept. There's still a lot of work to be done. We're learning new things every day and are eager to take on any challenge,» he adds. Having launched the online shop with a rather small consumer electronics range, Galaxus will greatly expand its product portfolio and gradually add new product categories in the course of the year.
Images for free use
CEO Florian Teuteberg:
Download image 1
Download image 2
Download image 3
Warehouse Wohlen:
Download image 4
Download image 5
Contact for media representatives
Digitec Galaxus AG
Corporate Communications
Pfingstweidstrasse 60, CH-8005 Zurich
Phone: +41 44 575 96 96
E-mail: media@digitecgalaxus.ch
---



Making sure employees and media know what's up at Digitec Galaxus is my job. But without fresh air and a lot of exercise, I basically stop functioning. The great outdoors provides me with the energy I need to stay on the ball. Jazz gives me the tranquility to tame my kids. 
---