Corsair Void RGB – when the gaming world visits the office

I'm admittedly not a gamer, but I do appreciate good sound. That's how I got roped into testing the Corsair Void RGB headset in the first place. The Void RGB promises 7.1 surround sound, an intelligent microphone and comfort at its core. Surely that's appealing even if gaming isn't your thing.
While unboxing, I notice the packaging goads me to "Upgrade to Unfair". I still don't really understand what that slogan means, even after having tried them out. To be honest, I struggle to see what is so unfair about the Corsair Void RGB. If anything is unfair, it's the fact my desk doesn't come with that headset or a similar one as standard. Before we go into the specifics of the Void RGB, let me explain what I'm looking for in a headset:
Microphone for phone calls – we do everything using headsets here
Headphones for a bit of music while I write
The last point is particularly important, as I can concentrate better when I don't overhear every snippet of conversation in the office. That's why I wear headphones pretty much the whole day. Obviously, a cheap, standard pair of headphones would do the job, but I like working with quality material.
"Yes, but," I can hear you saying. "The Corsair Void RGB is a gaming headset. Why are you only talking about using it in the office?"
Although I wouldn't consider myself a gamer, I do use my computer a lot – usually for some graphic designing here, a little writing there and general tinkering around. The last time gaming ate up my whole weekend was when I got absorbed in Unreal Tournament 99. When it was new. In 1999. Oh goodness, I'm old.
But when I look at the gamer scene now and look at their setups in more detail, I realise they don't just focus on flashing lights. They also value robustness and, most importantly, lasting comfort. In other words, gaming chairs are made for pulling all-nighters. If you swap the word night for day then it's not so much of a stretch of the imagination to consider using a gaming chair in the office.
The same goes for headsets. If you can play Overwatch the whole night, with good sound and not end up with sore ears in the morning, then the headset probably won't go amiss in the office.
So, the next time you're buying IT equipment and office furniture, look at what the gaming world and its neon, flashing lights has to offer. In fact, it was the quality of gaming products that made me agree to test the Corsair Void RGB headset in the first place.
As far as the Void RGB goes, there are two types of headsets and two colours to choose from. What I was interested in testing was whether or not the headset could cope with up to ten hours (or in extreme cases even longer) in the office. That's why I needed a headset with a cable. The Corsair Void RGB does have a wireless version that promises long battery life, but I didn't want the stress of another device with the potential to run out of battery.
The setup – with or without administrator rights
In an office that is set up in a reasonably sensible fashion, you probably won't have any administrator rights on your computer. That makes sense, and I'm not saying it should change. It is fairly unlikely they will make an exception for you just because you want to install a new headset. Fortunately, Corsair is one step ahead. They took this into consideration and built the Void RGB to use standard drivers. In other words, all you need to do is plug the headset in and away you go.
You don't need a fancy gaming machine or a desktop computer. You can use the Void RGB with any laptop that has a USB A plug. To the uninitiated, that's the square-shaped USB connector you always fumble around with, turning it around several times before it eventually plugs in.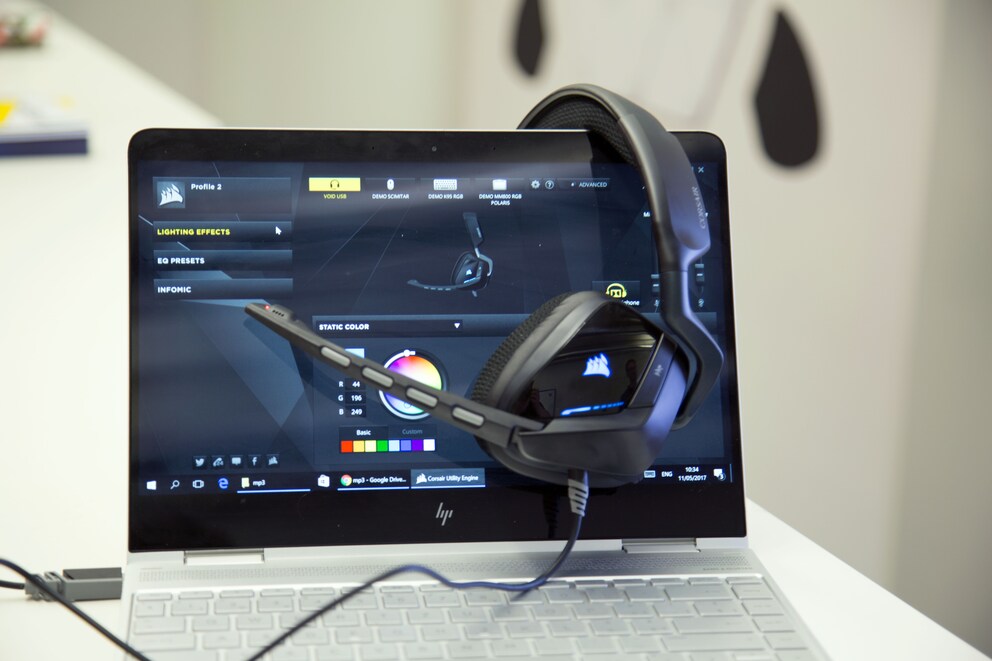 You can control colour effects and the equaliser via software, provided you have admin rights on your computer.
If you have administrator rights, you can configure the headset the way you like. To do that you'll need the Corsair Utility Engine. This software lets you adjust the lighting effects or even switch them off. It also lets you play around with the equaliser settings.It's worth mentioning that these changes won't be saved on the headset itself. Unlike Corsair keyboards, the Void RGB requires you to run the Utility Engine (CUE) in the background and save your settings there.
That bothers me somewhat. I can't imagine Corsair would have a way of saving settings on one device and a different method on another. That's why I'm appealing to my lovely readers here. Do any of you know if it's possible to save settings to the headset? If so, please tell us how in the comments.
Soundcheck
In the video above I talk about Black Sabbath's Iron Man track, which has the best guitar solo of all time. My colleague disagrees and insists it is in fact Jimi Hendrix who delivered it. But if we're talking about the best guitar solo of all time, I don't think we can even consider Hendrix by virtue of his great talent. Either way, we can't include the song in the video because of licensing rights and so on. But what I can do is include a link to the official video on the YouTube channel so that you put on your headset and listen to the same song.
Up until now I have been using the HyperX headset at work. I got this to replace the initial cheap one we had, but then I came across the HyperX. It was floating about the office one day, and since then it has done me proud. But after listening to Black Sabbath, I knew the HyperX was no match for the Corsair Void RGB when it came to sound quality.
However, what I have just said does come with a but. I'm sitting in the office next to my editorial colleagues and the design department when graphic designer Sven Mathis taps me on the shoulder.
"That's really loud," he says once I've removed my headphones.
I don't think so. In fact, I'd say it's quite the opposite. I've even set the headphones on a lower volume than I had the HyperX. The sound in the headphones themselves is fantastic. Maybe there's a bit of hollowness in the high notes when I'm only using the standard settings, but all in all I'm really impressed. Sven not so much.
"I don't even want to sit next to someone on the train who uses those things."
Evidently the acoustic barrier to the outside leaves a bit to be desired. But I don't let that put me off. I can still work with great sound and poor shielding. So I ask Sven to sit down and let me know when he can't hear my music anymore.
I start testing at Windows volume 50. He can hear perfectly and starts to sing along. You can control the volume from the headset so I use this to turn the sound down gradually. When it is at 40 and 30 he can still hear the music. Darn it. At 20 it's fine. Admittedly, the music isn't very loud but the sound quality is still there.
For reference, we were playing KI Theory's Enjoy the Silence.
When the volume is at 20, it is like pleasant background noise – and it doesn't bother the designers either.
I haven't tested the surround sound much, as it's not really something you'd use in the office. Having said that, a quick test with a tech demo video on YouTube proved it did work. There's not much more I can say about testing the gaming headset for office use. Of course, when I'm using the Void RGB as an office headset it won't reach its full performance. But that's only because this gaming hardware is intended for another purpose – something I'm happy to admit.
The verdict
The Corsair Void RGB delivers fantastic sound for the price and the fact it is a headset. No one I spoke to on the phone ever complained about the microphone quality either. From that perspective, the Void RGB works perfectly as an office headset, even after several hours of use. Although you can't push the headset to its full performance in the office, phone conferences and background music are certainly more pleasant with decent equipment.
The only thing that has the potential to cause tension in an open-plan office is the fact the acoustic barrier to the outside is not particularly impressive or sometimes even inexistent. If you're thinking about getting a Void RGB for work, make sure to ask the people sitting next to you what volume you can set it at so they can't hear.
When it comes to weight, performance and comfort, the Void RGB is a clear winner. In more general terms, I think it is definitely worth taking inspiration from the world of gaming when you're optimising your workspace. I say that even though I think 75% of lighting effects on desktop computers are unnecessary.
You may find the following interesting (in English and German):
ReviewGaming

Is the AKRacing Player gaming chair suitable for office use? Let's find out
---

Journalist. Author. Hacker. A storyteller searching for boundaries, secrets and taboos – putting the world to paper. Not because I can but because I can't not.
---
---
These articles might also interest you
Skeleton Loader

Skeleton Loader

Skeleton Loader

Skeleton Loader

Skeleton Loader

Skeleton Loader