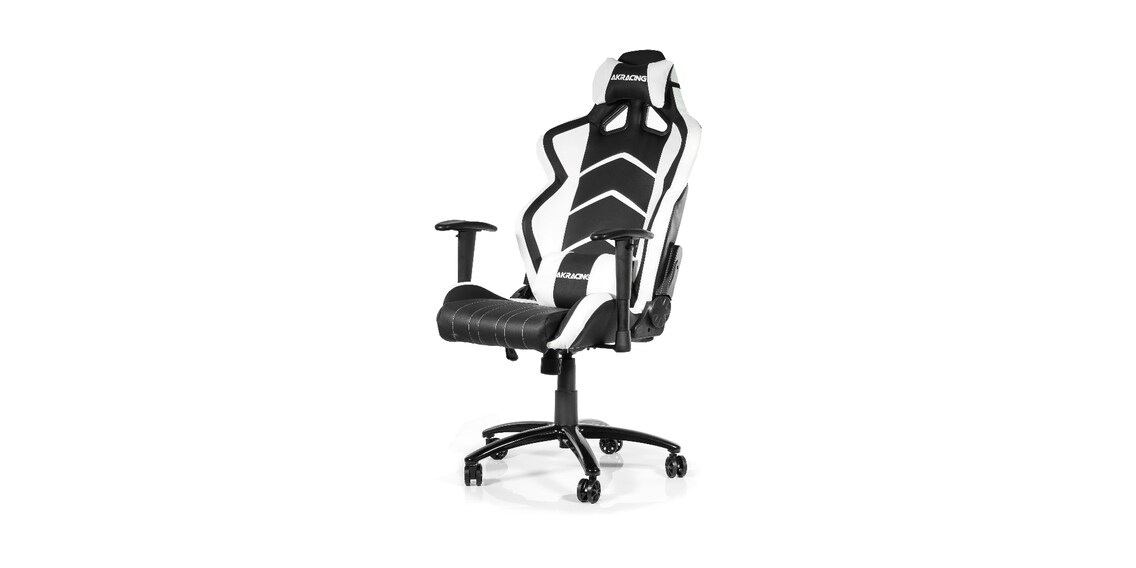 AKRacing Player – Take a seat like a pro gamer. How about at the office?

Time for an experiment. There's an AKRacing chair standing around in our office. Gamers have been swearing by these chairs for years and non-gamers generally find them a bit weird. I'm currently sitting on one of these chairs. Hence the review.
My workmates Phil and Ramon greeted me with a mixture of disbelief and laughter when I wheeled the black and white AKRacing Player into the office.
Let's be honest: these chairs are not exactly easy on the eye. The design seems to be roughly based on racing seats you find in cars – and they're none to pretty either. They either look like a Disney movie has had a technicolor yawn all over them or as if they are going to cause serious back injuries.
But, and this a very big but with a capital B, the gaming scene swears by these chairs and has done so for years. Well prove it, I hear you say.
Angry Joe aka Joe Vargas
Prefer a more local example?
Xephira aka Nadine
Basically, just take a look at almost any top Twitch streamer: Their gaming backside will be nestled into a chair by one of the big brands – either AK Racing or DX Racer.
As I'm currently looking for a new office chair, I thought I'd keep an eye out for people who know how to sit comfortably for hours on end without having to consult a physiotherapist for months afterwards. So that's why I put an AKRacing player behind my desk, because there's no other place I rest my rear more than at the office.
What's more, my old office chair, handed down to me from my predecessor, has definitely seen better days.
How to review a chair?
I'm a proficient reviewer. Seriously. During my career I've reviewed hundreds of books and movies, dealt with hundreds of annoying comments such as "how is that objective", and believe me, I know how reviews are constructed. They include certain measurement values. For a mobile phone they might be battery runtime or memory. For a book it would probably be the story or the style of writing. But how on earth do you rate a chair? I mean, if you're out buying a new sofa, you'll probably sit on it and ask yourself the question "Comfy? Yes/No".
So I sat myself down and thought about it. After a few minutes of pointless clicking around the internet, I came up with the following criteria:
The main criterion: How comfy is the chair?
What does it look like?
What are the pros and cons of the design?
Can I sit on it for a whole day?
Sit, wiggle that bum and get typing
So here I am, sitting down. The absolute killer criterion, namely the chair being comfortable, is totally met by the AKRacing Player. To prevent me from slouching, my lower back is comfortably pushed into an ever-so-slight hollow by an adjustable cushion attached by elastic bands that are included in the delivery. To ensure the ever-so-slight hollow doesn't turn into a massive one, there's another adjustable cushion at head level.
After finding the chair in our server room a while ago and sitting in it for a few days now, I can safely say that the AKRacing Player is comfy. Maybe not the comfiest chair of all times but, in view of the budget, definitely very comfy. The thing is: If you're after an office chair that won't destroy your back, will last forever and is nice to look at, it will set you back quite a bit. That makes the gaming chairs with their price tag of just a few hundred francs very bearable.
Admittedly, they're out of the question if you're on a tight budget but even if you're sitting it out on a cheapo chair, there will come the time when you must ask yourself if it's worth sacrificing the health of your back to save a few francs. I've had back problems in the past and I really wouldn't recommend them. Since then, I've been a bit pickier when it comes to sitting. That being said, I won't splash out on a 1.000-franc chair (who can afford that, anyway?!) but still. I want to give my spine the support it deserves. It's the only spine I have.
To quote Monsieur Ibrahim, the main character in the book "Monsieur Ibrahim and the flowers of the Qur'an:
You only have one pair of feet, look after them. If your shoes hurt you, you change them. You can't change your feet.
Right, enough of my sermon. I'm sitting quite comfortably. Therefore, the probably most important criterion is met.
A few design flaws
There's no accounting for tastes – you might think these racing car seats look amazing with your computer. Me not so much. These eye-sores simply can't measure up to a minimalistic office chair. When they're all-black, the gaming chairs are just about acceptable. The two-tone versions are already pushing me close to the edge and then there's the model that looks like a toddler has gone nuts with wax crayons.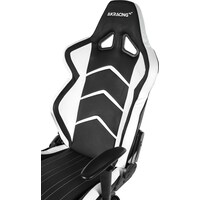 Oh, and then there's a version in stereotypical pink, just in case you gaming girls feel like sitting comfortably, too. I mean, let's be honest here, in a masculine world in which even the gawkiest of guys want to be herculean heroes, not one dude is going to buy a pink chair. A pink unicorn at a push. But that won't cost several hundred francs.
In a nutshell: The chair isn't very attractive and was probably designed with gaming dens in mind. Because even after days of sitting comfortably, I still haven't got used to this bright clumsy lump of a chair.
Then there's that strange thing with the wheels. I get the impression that the star-shaped construction with the wheels on it just isn't wide enough. I keep getting the feeling that I'm going to tip forward when I move towards the desk. It happens because I'm sitting closer to the seat's edge due to my back cushion. One time I toppled over with the entire chair. Thankfully nothing happened.
Time for the lowdown: I've been sitting comfortably for days. My back is happy and so are my eyes because I don't have to look at the chair all day long. AKRacing is definitely on the right track, even though some minor issues need to be ironed out. Having said that, the AKRacing Player definitely passed the office chair test.
---



Journalist. Author. Hacker. A storyteller searching for boundaries, secrets and taboos – putting the world to paper. Not because I can but because I can't not.
---
---