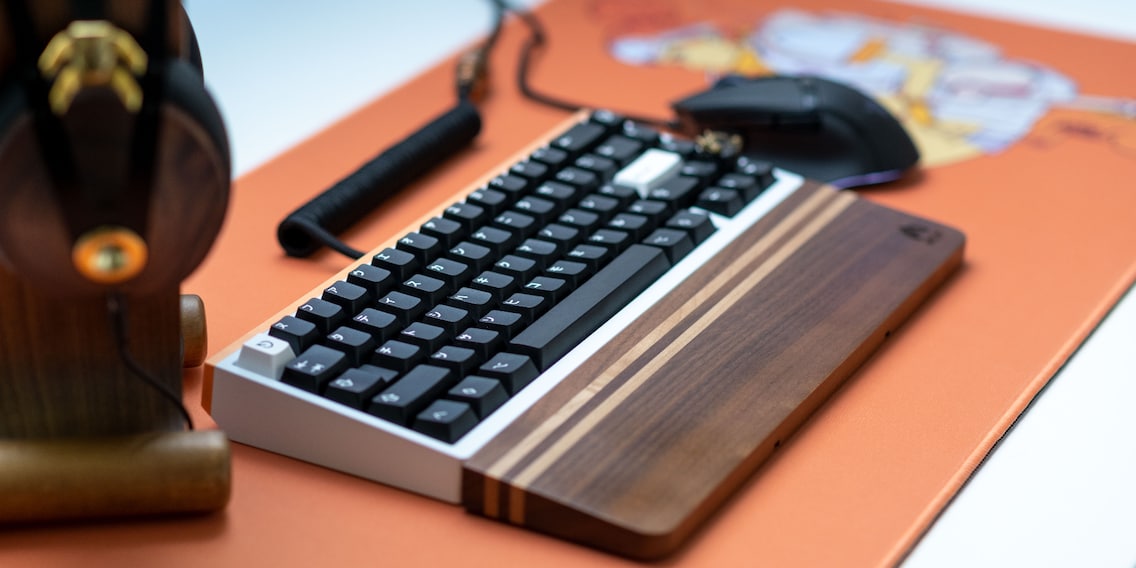 Why I spent 800 francs on a keyboard – and would do it again

I have once again assembled a new mechanical keyboard. An expensive one at that. Today's model goes for a proud 800 bucks. Nevertheless, I would spend that much on a keyboard again.
Admitting you have a problem is the first step in fighting an addiction. I read that somewhere, long ago. But is this really true? I have no clue.
In any case, I know that it might look like I have a problem – but I'm simply not willing to change. My problem, which isn't one in my eyes: mechanical keyboards. I love these things. And I can't get enough of them. Not those mostly terrible ready-made models you can buy right here in our store. No, I'm talking about custom brand keyboards. I own eleven by now, just having finished my latest creation.
More, more, more
It all started towards the end of 2018. That's when I assembled my first keyboard. I was happy with that one for quite a while. But by 2020, the start of the pandemic, the DIY fever gripped me again. New keyboards have been added, and I've spent a whole lot of money in the process.
My hobby is totally somewhat out of control. I realised this when taking a look at my bank balance following my last build. I spent over 800 francs on it. On individual components, that is, making it my most expensive keyboard to date. Let's be honest: I don't regret any of it. Every time I use this keyboard, I can't help but smile. I really must be an addict: always on the hunt for the next typing fix. After all, I'm not hurting anyone with my addiction – aside from my wallet.
A reason for it suffering so much this time around might be due to the keyboard kit I bought. On the other hand, other components also cost a fair bit of money.
Here's my problem: near infinite possibilities
The keyboard kit that won my heart this time was SixtyFive from Mode Designs. In all actuality, the keyboard «only» costs $299. Completely barebones, of course – neither buttons nor keycaps are included. I had to get those separately. However, for a keyboard addict enthusiast such as myself, SixtyFive is dangerous: after all, it can be personalised almost endlessly. You can choose between different materials and colours for the bottom as well as the top of the keyboard. Then there's the magnetic back – also available in different materials and colours. Naturally, all this costs extra.
I'm a total copper lover, the attraction is almost arcane in nature. Quite unfortunately so, as the bottom and back of the SitxtyFive are available in a copper version. For a modest additional cost of $200. And you don't even see the underside. Total cost for the keyboard kit: around 460 francs. After all, I won't treat myself to anything less.
Senseless, more senseless, Frankenswitch
In the Mechanical Keyboard Community, there exists the meaningless discipline of Frankenswitching. Simply put, you take apart different switches and combine their individual parts into a new one. Basically, it's keyboard fusion.
I'd never done it before, so I decided to try it out. I created the so-called «Holy Bobas». They combine Gazzew's Boba U4T with Drop's Halo Switches to create a new tactile stylus. Tactile keys provide haptic feedback when a pressure signal is triggered. Holy Bobas are said to be highly tactile.
Basically, I'm transplanting stems from the Drop switch – the part of the switch that moves up and down – into housing from the Gazzew switch. And given the «Halo» theme, Boba U4T became Holy Boba.
However, the whole exercise was ultimately pointless: Frankenswitches are extremely expensive, and switches with similar features already exist for much less money. It's purely to satisfy my addiction hobby. Final price tag for 110 Frankenswitches: around 145 francs. For my keyboard, I only need 67. But I still made 110. You never know. Naturally, I lubricated my switches for a better feel and sound when typing.
The right keycaps
A keyboard is only as good as its keycaps. GMK are still considered the best in terms of quality. And naturally, only the best will do. I landed on GMK's White-on-Black Katakana. Mostly because they were available at short notice and the Japanese Katakana writing on the keycaps gives the keyboard that certain something. Price? 135 francs.
Speaking of that certain something: this little guy found a new home above my Fn key.
Price? 20 francs.
The already mentioned components were joined by stabilisers for long keys, a cable for style points and various modding utensils. Price? 100 francs. Not included are shipping and any import costs. I simply don't remember how much that amounted to. These components have been with me for a while now.
A lot of money for a keyboard
Let's do the math:
| Components | Price |
| --- | --- |
| DIY keyboard kit | 460 CHF |
| Frankenswitches | 145 CHF |
| Keycaps | 135 CHF |
| Dragon skeleton | 20 CHF |
| Further parts | 100 CHF |
| Grand total | 860 CHF |
Is it worth it? Absolutely. I love my new keyboard. I can't get enough of it. It just looks awesome. I've yet to find a key more tactile than Holy Boba frankswitches. Last but not least, the keyboard offers a flexible typing feel. No default prefabricated keyboard can even come close. What's more: I get to use it every day. Perfect.
Something I already know: at some point, another keyboard will come. After all, some have already been pre-ordered. Then this one too will find its place on my ever-growing keyboard wall. But it won't just gather dust there: I rotate between all my models. This way I always get to enjoy something different and don't get bored – at least until I find my next awesome keyboard.
Am I addicted? Many would probably label me as one. I call it a hobby. A damn expensive one, sure, but dumber ones exist. Some drink away 100 bucks every night, I buy switches.
---



From big data to big brother, Cyborgs to Sci-Fi. All aspects of technology and society fascinate me.
---
---
These articles might also interest you
Skeleton Loader

Skeleton Loader

Skeleton Loader

Skeleton Loader

Skeleton Loader

Skeleton Loader