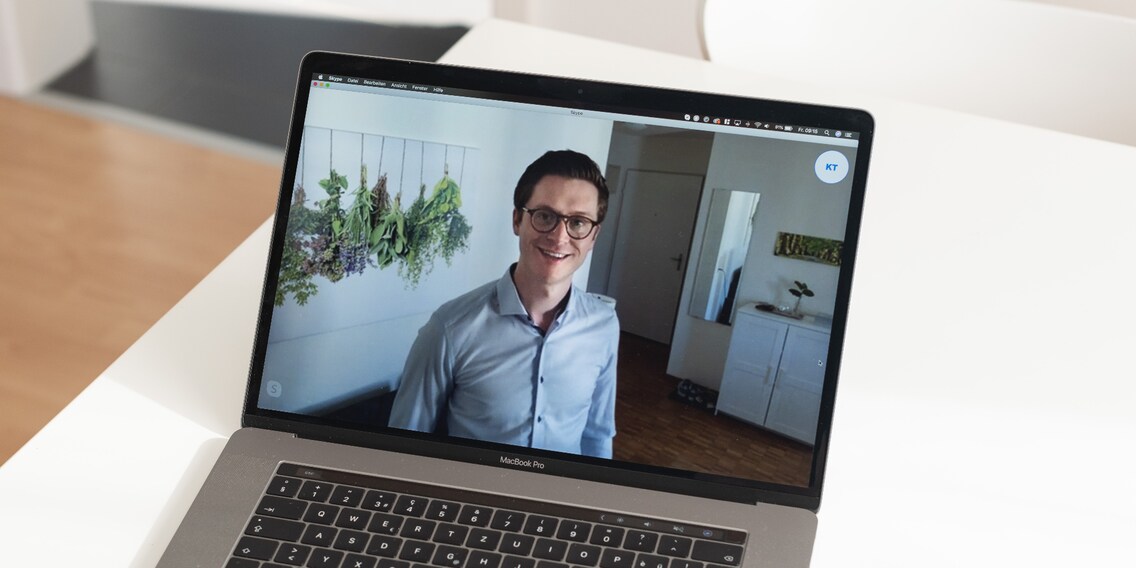 What are climate funds really good for? – the climate solutions company South Pole answered our questions

To compensate our company's CO2 emissions, we work with South Pole. South Pole has a portfolio of project solutions that combat climate change. In the following interview, Sustainability Advisor Roman Bolli explains how much of the money reaches the projects, how projects are selected and what sets South Pole apart from other organisations.
What exactly does a Sustainability Advisor do?
Roman Bolli, Sustainability Advisor: I work with various companies and institutions and help contribute towards climate protection. This includes calculating carbon footprints, defining climate goals and strategies as well as implementing and monitoring concrete climate protection measures. For Digitec Galaxus, we developed an emission model for the products available in their shops. The model allows customers to make up for the CO2 emissions generated by their purchases by investing in South Pole climate protection projects. This is done by buying CO2 certificates that neutralise the footprint of the items they bought.
Where does the money go when Digitec Galaxus customers decide to compensate their shopping with a contribution?
The money paid by the customer is invested in climate protection projects through CO2 certificates. This gives customers the chance to offset the greenhouse gas emissions associated with their purchases. To give you an example: One Swiss franc corresponds to 50 kilogrammes of CO2, which is avoided or extracted from the atmosphere in another part of the world through concrete measures. Projects like these would never take off without such investments. In practical terms, customers' compensation money might go towards an efficient cooking stove that uses less fire wood or towards protecting a forest area, for example.
How long does it take for the money to reach a project?
As soon as we at South Pole receive a payment from Digitec Galaxus, we retire the equivalent amount in CO2 certificates. This means that the certificates are pulled out of the market and can no longer be used. The climate benefit, or rather avoiding or reducing greenhouse gases such as CO2, is only ever assigned to one buyer. Retiring the certificate from the market triggers payment for the project.
The majority of South Pole projects are in Africa or Asia. Does it make more sense to compensate in Asia or Africa than to invest in local projects?
First and foremost, our projects abroad have to do with so-called additionality. A climate protection project can only generate CO2 certificates if you can prove by means of recognised standards that it's dependent on external financing through certificates. This is a way of guaranteeing that the projects create an additional climate benefit and would not have been realised without extra financial help – otherwise you'd be looking at a case of «greenwashing». In less developed countries, or LDCs, projects are far more dependent on funding than projects in Europe. What's more, projects in LDCs contribute to a more sustainable development overall and create added value for the local population. For example, by giving access to jobs, clean drinking water or education. Another criterion is that carbon emissions in LDCs can be reduced far more cost effectively. In other words, you're getting more positive effects for ecosystems and the climate with the same amount of money. Ultimately, the climate doesn't care in which part of the world emission reductions are being made. At the same time, we're increasingly developing projects in Switzerland and Europe to also get active against climate change in these parts.
What criteria does a project need to meet to be selected? Have you visited any locations in person?
When developing new projects, we always proceed in the same manner. Firstly, all parties involved in the project need to comply with our ethical guidelines. Secondly, a new project must go hand in hand with verifiable environmental and social benefits and be large enough to make investments worthwhile for our planet. We're looking at a minimum of around 10,000 tonnes of CO2 that the project can save annually. The main criterion is that a new project needs to pass the strict audit procedure in order to be certified according to an internationally recognised CO2 standard. For this to happen, we need to prove that the project has that additionality I mentioned earlier. It must also permanently and demonstrably generate the benefits it promises. I haven't yet had the opportunity to look at a project on site. This is because our project teams are set up regionally to avoid unnecessary travel. But if an opportunity should arise in Switzerland, it's very high on my to-do list.
Isn't CO2 compensation giving consumers the wrong incentive? Shouldn't we just all be consuming less?
There's a slogan that goes «Do your best, compensate the rest.» That sums it up quite well. To reach the goals of the Paris climate agreement, we need to significantly reduce carbon emissions. This includes working on a less consumerist society. However, it's still up to each and everyone of us to decide what we put in our (digital) shopping cart. What we do at South Pole is raise awareness for the issue. If I order a laptop or garden furniture from Digitec Galaxus today, the entire chain – from extracting the raw materials to the home delivery – generates CO2 emissions. It's our job to point that out. However, if your purchase is a necessary one, it makes sense to invest in climate protection at the same time. Thanks to certified projects, «climate-neutral» shopping is possible today. What's more, some studies have shown that e-commerce can be less of a strain on the climate than traditional forms of shopping, provided that the retailer has a certain size. This is because shopping online means fewer consumers drive to the shops and the goods reach households with a smaller carbon footprint.
How much of the money actually goes towards the projects? After all, many companies have high administrative costs. What about you?
Depending on the project, about 70 to 80 per cent of funds go directly towards project activities, i.e. planting trees, operating power plants or building schools. The rest of the funding goes towards developing and certifying projects among other things. A small part remains with South Pole. It covers our administration costs and pays for the development of new projects.
How is South Pole different from other organisations such as myclimate?
South Pole stands out because of its global network. We're now represented in 19 countries and are therefore very close to our climate protection projects. For example, we've established local hubs in Colombia and Indonesia, from where we are constantly working on new projects. This is unlike many other providers of CO2 compensation programmes, who aren't project developers but intermediaries who buy and sell certificates on the market. Furthermore, as mentioned at the beginning, our strengths lie in the fact that we cater to almost all climate protection needs of companies and organisations. We advise companies not only on compensation options but also on effective CO2 reduction measures. Besides, we're probably the only company that calls its employees penguins – personally, I think that's pretty cool.
South Pole is a stock company. Why is that? Is this common in your line of work?
In the industry we work in, all types of companies exist. South Pole is a profit for purpose company. As a private company, we can grow much faster because we're very flexible when it comes to making investments. The way we're structured allows us to scale the positive impact on our climate. Since we were founded in 2006, we have reduced over 170 million tonnes of CO2, which is approximately four times Switzerland's annual emissions. South Pole is almost entirely in the hands of our employees. This also contributes to the fact that we haven't lost that start-up vibe, despite our growth over the last 14 years.
Will the Corona crisis have a short- or long-term impact on your work? If so, what kind?
We're also mainly working from home and have reduced direct customer contact to a minimum to protect ourselves and others. Thankfully, our daily business hasn't been that affected by the situation as we're used to working internationally and in a resource-saving manner. Our daily conference calls with our colleagues in Jakarta, London or New York were already part of our daily routine.
However, some of our partners are, of course, affected by this crisis in the short term. But it's impressive to see how companies continue to be very much in favour of climate protection and keep pushing the measures they've announced, in spite of everything that's going on. At the same time, we're starting to see that many companies are now taking a closer look at their sustainability strategy. Corona has demonstrated how strongly global crises affect the economy. Forward-thinking organisations know that the effects of global climate change will be serious if your own climate risks and chances have not yet been pointed out and evaluated.
One positive aspect of the current situation is that we as a society are capable of acting with determination in the face of a crisis. And we'll have to show the same determination with regard to climate change. That's where we want to support anybody who wants to get active against climate change.
---



Testing devices and gadgets is my thing. Some experiments lead to interesting insights, others to demolished phones. I'm hooked on series and can't imagine life without Netflix. In summer, you'll find me soaking up the sun by the lake or at a music festival.
---
---
These articles might also interest you
Skeleton Loader

Skeleton Loader

Skeleton Loader

Skeleton Loader

Skeleton Loader

Skeleton Loader