VR and flight simulators: reaching new heights or just reaching for the sick bag?

How do you make a flight simulator more realistic? With virtual reality, of course. Or at least, that's what we think. Our colleague and flight simulator fan Obi is here to find out if we're right.
After we let a pilot try out our flight simulator, you suggested we put a virtual reality simulator to the test. We thought that was a great idea and got straight down to finding a volunteer for the project. This task fell to Ovidiu Oprea, who goes by the name Obi. As a keen flight simulator player, he was the perfect candidate. Unfortunately, we weren't able to let him play Flight Simulator X and instead had to install the early access game Aerofly FS 2 Flight Simulator from the German developer IPACS.
For this test, our flight simulator consists of the following:
We're playing using this bad boy
Picky pilots
As Obi is so intent on starting from Dübendorf, we also buy Switzerland as DLC. No expense spared for our hobbyist pilots. And how does he thank us? As soon as he sits down he complains «Wow, that's rubbish. Did your last pilot really think the foot pedal felt realistic?» I tell him to be quiet and start playing the game.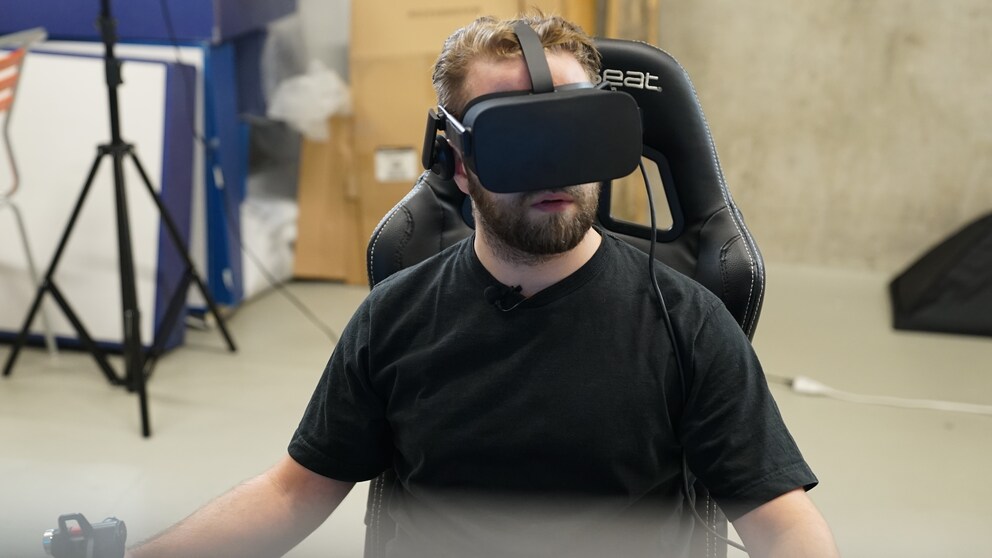 Obi already has some VR experience under his belt, but only from short stints in the gaming chair. Let's see how he gets on with a round of Aerofly FS 2. As with X-Plane 11, there is a huge fleet of planes to choose from. «Nope, nope, nope, nope, hmm, Learjet 45. That's a classic. It makes me think of FSX and GTA times.» The Learjet 45 is a small private jet that lets you activate all kinds of things in GTA 5. Obi seems to think he's back in his gangster games, as he's already started harassing his virtual co-pilot. This should be fun...
Strap yourself in
At Obi's request, we set off from the Dübendorf airbase. He doesn't have a pilot licence, so I guess that explains it. «That's the tricky thing about airports. I never know where the yellow lines take you,» bemoans our pilot. He finally finds a suitable runway and takes off without incident. Unlike the last time we tested out a flight simulator, we don't end up using all the switches and levers we attached so professionally with sticky tape. With the Oculus Rift on, Obi only sees what's going on in the virtual cockpit. He knows his way around our Saitek HOTAS, as he uses one like that at home. «You soon find the keys and buttons when you know the controls,» explains Obi. But given the fact we've skipped the whole configuration process again, he doesn't know where the landing flaps are nor where the landing gear locks and retracts.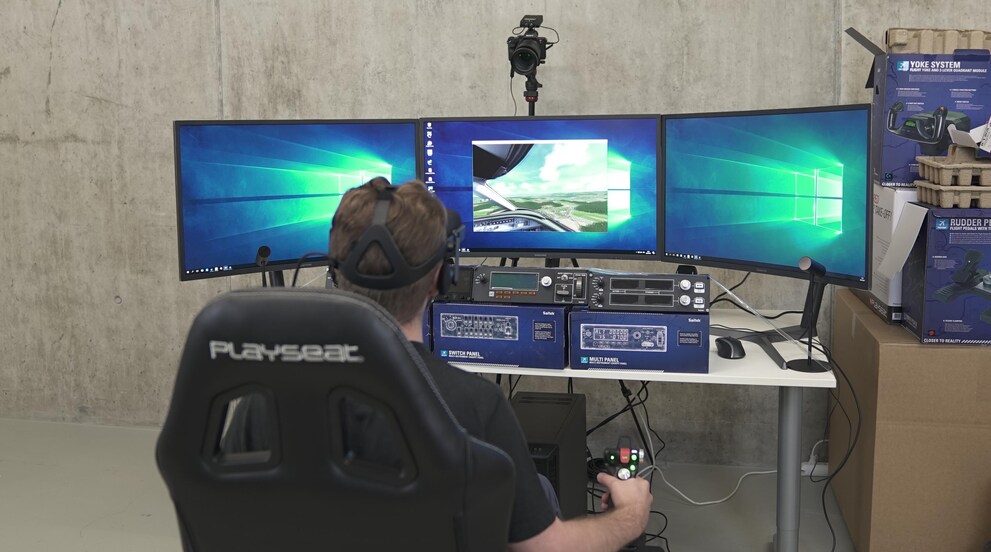 Obi's three monitors weren't excessive
That doesn't give our pilot cause for concern. He's too caught up in his virtual world. «You really have to force yourself to concentrate on flying so you don't just keep gazing out the window. It just looks amazing,» explains Obi. Although he almost only has eyes for the path in front of him, he still manages to lose his bearings a few minutes in. «Is there a sat nav? No Google Maps?» Navigation skills seem to be a problem for professional and virtual pilots alike. To be honest, I'm not one to talk. When I took a plane for a spin from Zurich I couldn't even find Winterthur. And there was me thinking all roads lead to Winterthur – or am I getting the saying wrong?
Sick bags are in the pocket in front of your seat
But anyway, we were talking about Obi. He slowly starts to get an uncomfortable feeling in the pit of his stomach. My colleague Quentin doesn't want to miss out on the fun and chuckles at Obi's reaction. «You soon get used to it when you play regularly in VR,» he says casually. After all, Quentin should know. Out of everyone there, he is the only one who uses VR glasses a lot at home. «It's definitely not something for people who are scared of flying,» mutters Obi. After a quick breather, he sits down bravely into a Red Bull Air Racer. These are little speedsters that pilots use for the most crazy stunts. «Go on, do a loop,» yells a voice from the gaggle of onlookers in the corner. «Don't be daft. I'd throw up at your feet,», warns Obi. We can't expect the cleaner to deal with that so instead he does a barrel roll. «Wow, that goes blooming fast.»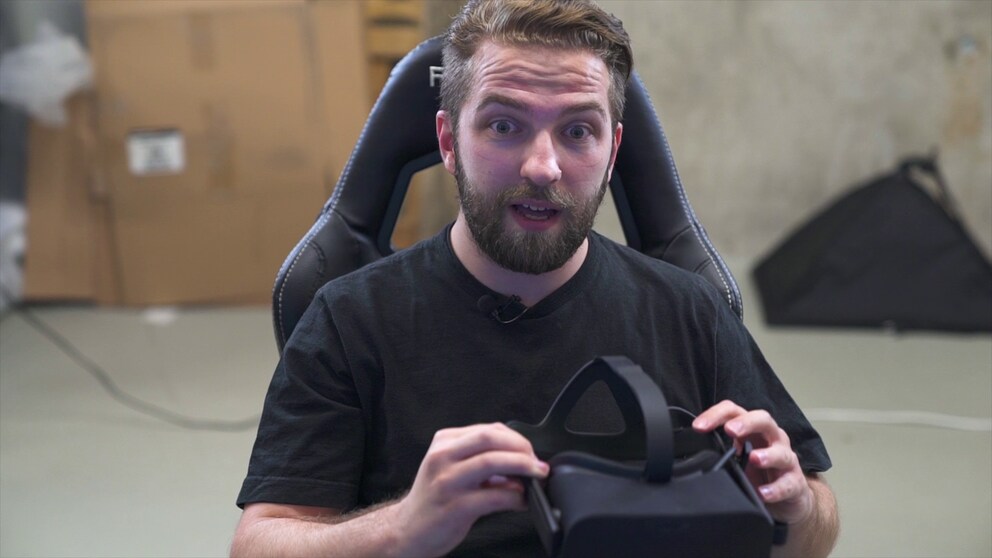 VR leaves its mark
At the end, he dares do another loop and immediately crashes to the ground. We don't think that counts so ask him to do it again. With a deep sigh, Obi sets off again. He wrenches the joystick back and turns slowly and on a slight slant. To me it looks like a real twist dive. «Well, are you happy? Now I don't feel well.» I'd give him 4 out of 10 – it looks like he's got his work cut out.
After briefly putting VR flight simulators to the test, this was Obi's verdict: «It's definitely a great feeling to be in the middle of the action and to be able to look around. But it's not exactly relaxing.» Does that mean he wouldn't be up for eight hours of real-time transatlantic flights? «Never!», he exclaims, without even having to give it a second thought. I see a look of utter dread cross his eyes when the mere thought of it forms in his mind.
Flight simulators are very impressive, but a lot of people have to get used to VR before they can truly enjoy the experience. However, VR does make the simulators a lot more realistic. The downside of not using VR is you would have to get rid of the additional screens. You see, there is a trade off. But for Obi, it's a no-brainer. He'd much rather do loops on a flat monitor than in VR so he can keep his lunch down.
You may find the following interesting:
video

News + TrendsGaming

What a pilot thought of our luxury flight simulator
---



Being the game and gadget geek that I am, working at digitec and Galaxus makes me feel like a kid in a candy shop – but it does take its toll on my wallet. I enjoy tinkering with my PC in Tim Taylor fashion and talking about games on my podcast http://www.onemorelevel.ch. To satisfy my need for speed, I get on my full suspension mountain bike and set out to find some nice trails. My thirst for culture is quenched by deep conversations over a couple of cold ones at the mostly frustrating games of FC Winterthur. 
---
---
These articles might also interest you
Skeleton Loader

Skeleton Loader

Skeleton Loader

Skeleton Loader

Skeleton Loader

Skeleton Loader