Office monitor vs. premium gaming monitor: waste of money or must-buy?

Is it worth investing in an expensive gaming monitor or is a regular office monitor just as good? Five of our co-workers tried to find out and played Battlefield 1 on two completely different screens. But is the difference really that big?
A decent gaming set-up doesn't only include a good PC. A mechanical and colourful keyboard, a laser mouse with 15 programmable buttons and good monitor are also a must. Not just any monitor though, but one that's as large as possible, with a high refresh rate and resolution, a curved screen and ideally G- or Freesync.
The demands on gaming monitors are increasing all the time. But to get your hands on all the extra features they offer, you'll have to dig deep into your pockets. If you have a look at Steam's hardware survey, you'll see that most gamers still use rather modest equipment. Almost 50% of all participants have a monitor with 1920x1080p and more than 20% even with 1366x768p resolution. Only a few percent have a monitor with higher resolution such as QHD or 4K.
Of course, not everyone can afford such an expensive monitor. To find out if it's worth the investment, we've invited a few co-workers and asked them to test both screens and find differences between a regular, small full HD monitor and a huge, curved monitor with all the gadgets.
«Do I really have to play on this tiny screen first?»
We used the following office monitors for our experiment:
24", full HD resolution, that's it. No other gimmicks.
This gem was our second test monitor:
35", 21:9 ultra-wide, 3440x1440 Pixel, G-Sync and 100Hz.
To compare the two, we made our testers play a round of «Battlefield 1» on the HP first. Afterwards, they were allowed to go crazy on the AOC. Not everyone liked that. «Do I really have to play on this tiny screen first?» our tester, our digital marketing manager Sandro Hostettler, asked. He really liked the large monitor. «Can I keep it for work?» he asked and he meant it. Of course the answer was «no». If it had been possible, I would have kept it for myself.
Our warranty manager Eric Insel was the next one. He has a good monitor at home, a BenQ with WQHD resolution and 144Hz. «What a huge screen» was his first reaction to the AOC. He also liked that is has 100Hz, despite the size. His conclusion was: "If I needed a new one, I'd definitely consider this one."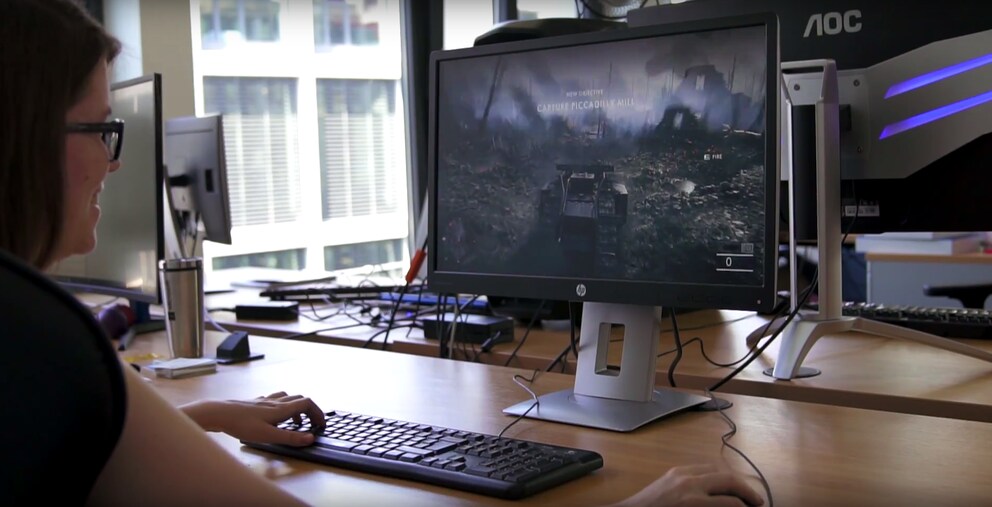 We made our co-workers play a round of «Battlefield 1» on the HP first.
The third tester, our product expert Jennifer Berisha, isn't easy to impress either. She usually works on a 165Hz monitor and ideal for competitive online shooters. After the gaming session, she was truly tempted to buy the huge AOC, but said she'd miss having two monitors. «I'd just have to get two of these,» she said and laughed. If you have space and money to spare, go ahead 😀.
Our junior product manager Tim Gerber was the next person in line. He has a 4K monitor at home, but his graphics card doesn't allow gaming with this resolution. The first thing that struck him was the width of the screen. It is an ultra-wide after all. «I play Counter-Strike a lot. With this screen, I'd see a lot more of what's going on in the game.» His conclusion is: «Great stuff».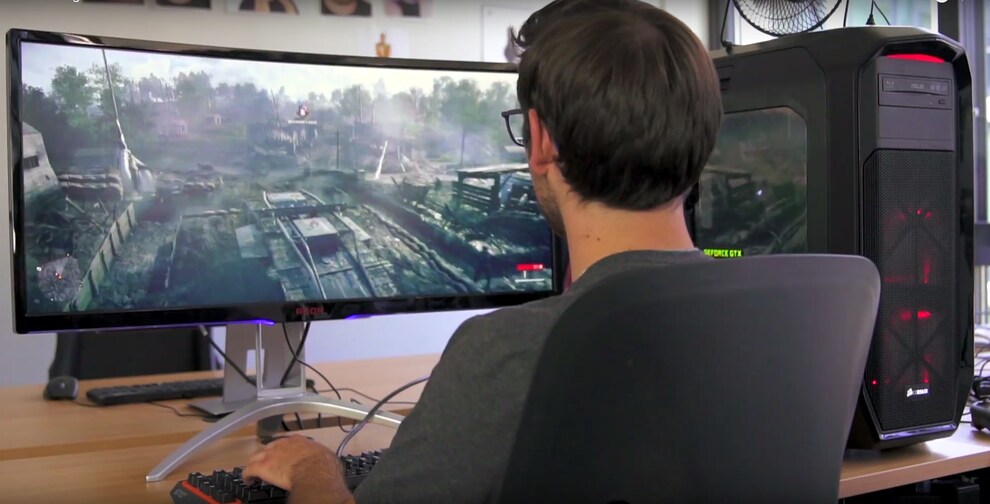 Most testers would have liked to keep the monitor.
Our assistant editor Ramon Schneider was the last to enter into the battle. He usually plays on a console and TV screen. Compared to the small monitor, he also enjoyed seeing a lot more of what's going on in the game. «On the small screen, airplanes would appear quite suddenly, whereas on this screen, I can see that I'm being attacked much earlier. Awesome screen. I'd take it with no second thought. I could even afford it, but I'd prefer spending the money on a holiday,» was his personal conclusion.
Conclusion
Unsurprisingly, our testers liked he ultra-wide monitor a lot more than the small full HD. The frequent gamers own good monitors already, all with a high frequency. Being used to screens in this price range, they knew what to expect from the AOC. Our casual gamers were a lot more excited to use the high-end monitor and they noticed the difference to smaller screen a lot more. But they're not as willing to spend money on a monitor. Having said that, these kinds of monitors used to cost one and a half times as much just one year ago. They're still a luxury object, but they're definitely worth their price.
Video: Stephanie Tresch
This might also interest you (in German)
video

News + TrendsGaming

What a pilot thought of our luxury flight simulator
---

Being the game and gadget geek that I am, working at digitec and Galaxus makes me feel like a kid in a candy shop – but it does take its toll on my wallet. I enjoy tinkering with my PC in Tim Taylor fashion and talking about games on my podcast http://www.onemorelevel.ch. To satisfy my need for speed, I get on my full suspension mountain bike and set out to find some nice trails. My thirst for culture is quenched by deep conversations over a couple of cold ones at the mostly frustrating games of FC Winterthur.
---
These articles might also interest you
Skeleton Loader

Skeleton Loader

Skeleton Loader

Skeleton Loader

Skeleton Loader

Skeleton Loader