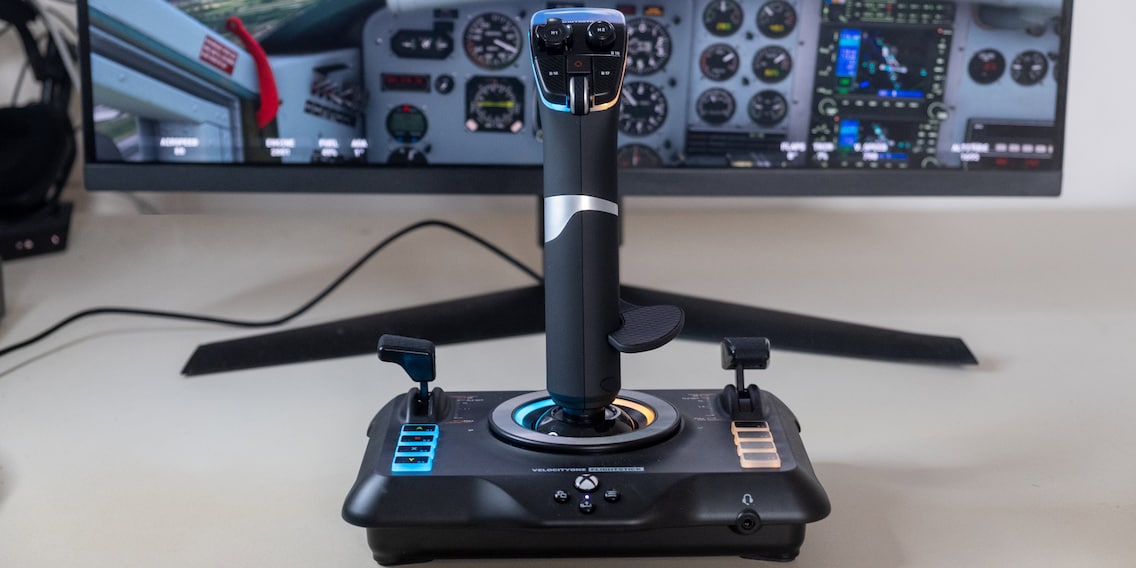 VelocityOne Flightstick review: a stick to get you by

With the VelocityOne, Turtle Beach promises a flight stick at a top-end entry-level price that's just as suitable for flight simulators as space games. What I like most is the fact it's so compact and quick to set up.
I'd actually like to fly virtually more often, but I don't have time. For a more realistic flight experience, I have to install my Honeycomb controller and configure it to the correct setup. This takes over half an hour, so flying a quick loop round my home office at lunchtime isn't on the cards.
That's why Turtle Beach's VelocityOne is just what I need. It's a matter of plug in and go, as the essential controls are conveniently placed on the stick.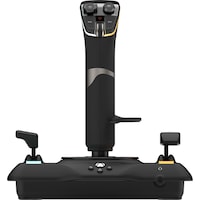 Game controllers
Turtle Beach Velocity One Flight Stick
Xbox One S, Xbox Series X, PC, Xbox Series S, Xbox One X
When I say controls, I mean eight illuminated buttons, two throttles, two potentiometers, a wheel for trimming and four buttons on the stick itself. The functions are already pre-programmed in Microsoft Flight Simulator and assigned in a way that makes sense – more or less.
What I like about the VelocityOne
Everything is nice and tidy
With its symmetrical buttons, the VelocityOne looks very orderly. As a result, I can use the stick with my left or right hand. You can easily attach the small slot for the heel of your hand on either side. Moreover, you can use two sticks at the same time in space simulations. All in all, this makes it a good allrounder.
Nothing's left out – despite a lack of space
You can rotate the flight stick left and right, which is how you operate the rudder. Combined with the trim wheel on the stick itself and the throttle on the right, which I use for the landing flaps, all the important controls for a short flight in a single-engine aircraft are there, but in the most compact of spaces. Gimmicks like a built-in stopwatch for visual flights round it off. When I tried other controllers, there was always something missing. Whereas this time I'm perfectly happy. But this comes at a price: the throttles are so short that it's impossible to adjust them perfectly. I had to label the buttons, as I tend to forget what they're for. And that's why my Honeycomb setup still comes up trumps for ventures further afield.
Plenty of extras
The VelocityOne boasts a two-port USB-C hub along with an integrated sound card. I don't need either in my case, but they're nice additions. If you want to connect other accessories, such as rudder pedals, you can do so directly via the flight stick. The device also comes with a long USB-C to USB-A cable. The small OLED display on the stick is a bit deceptive, as it just superimposes information about the stick's configuration. What's more, I can set three profiles for sensitivity and see the trim. I can also use an Android or iOS app to configure the deadzone, in other words, how much I have to move an axis before the stick reacts. While this is a nice extra, it's something you can also configure in the simulation.
What I don't like about the VelocityOne
It's a lightweight with a lot of resistance
The VelocityOne weighs practically nothing. As it doesn't feature suction cups, I often end up sliding the whole controller around my desk during hectic flying manoeuvres. This is also because the stick provides fairly good resistance when flying – which is something I like as it allows for precision. But if you need more stability, you can affix the stick in one place. It looks like you've got the option to screw the joystick to a mount from the bottom of the device. In a fixed setup this is certainly desirable, but in my case it's not an issue.
Lovely lights just for the sake of it
LEDs. I hate LEDs. Why is it that in recent years, all sticks have to light up like they're part of a Christmas ornament? If only the lighting was at least interactive and showed me virtual errors in the aircraft by flashing. But nope. All I can do is choose preset colour profiles, dim the brightness or disable the lighting altogether. What a shame.
A pointless touchpad
There's a mini touchpad between the buttons on the stick and the section above the trim wheel for controlling the cursor. However, the pad is so small that it's unusable. Added to that is the fact the B16 and B17 keys trigger very easily. I'm constantly activating autopilot (B16) or adjusting the view (B17) as soon as I try to use the touchpad.
Verdict: everything I need and then some
The VelocityOne is the perfect stick for short flights when you're snatching at time here and there. It's quick to install and the most important features are available and easily expandable thanks to the integrated USB hub. It'd be perfect if it came with interactive lighting and if the stick were a bit easier to use. So, if you need a stick for your X-Box, this is a no-brainer. But if you're looking for something for the PC, there are more appealing alternatives, such as Thrustmaster or Logitech sticks. However, credit where it's due: the VelocityOne does score points as a compact all-in-one device for short flights in the home office.
Header image: Simon Balissat
---



When I flew the family nest over 15 years ago, I suddenly had to cook for myself. But it wasn't long until this necessity became a virtue. Today, rattling those pots and pans is a fundamental part of my life. I'm a true foodie and devour everything from junk food to star-awarded cuisine. Literally. I eat way too fast. 
---
---