Tobi asks, we answer: What is a gimbal?

Every day during IFA, we post interesting finds from the trade show on our newsfeed. Then in the evenings we sit down and write the longer stories about what we saw that day. When we shared a video of a gimbal, one user asked us what this device was.
For some reason, User TobiG3032 didn't like the IFA feed we compiled here in German. There was apparently not enough content and too many things that didn't appeal to him. Sorry, Tobi. During the day, video producer Stephanie Tresch and I just don't have the time to go into lots of detail. You can catch the most important news from each day in the evening once IFA in Berlin has closed its doors. That's when we sit round our Airbnb dining table we nicknamed «the editorial desk» to edit videos and write articles.
But Stephanie couldn't get one of Tobi's comments out of her head. She kept thinking about his question about gimbal controls.
It looks like Stephanie is testing gimbals. I've never worked with a gimbal before. The camera sometimes swivels quickly, sometimes slowly. I can't see any controls Stephanie is using to get it to move like that. Is the gimbal doing that on its own or is it just a funny video? Thanks for letting me know. TobiG3032

«A gimbal is one of a camera person's most valuable tools,» says Stephanie. She explains that the problem with gimbals is they are often too heavy unless you're «1.90 m and built like a tank.» That's why Stephanie recommends a handheld system. The DJI Ronin, which video producers use in Zurich, is really heavy and despite the adjustable hand grips for a 1.65 metre-tall woman it's still a bit wide. «That's why I rarely use them,» she adds.
Stephanie is particularly interested in gimbal systems at IFA. She wants to know if you can get a light gimbal that is made of solid but light materials. Is there such a thing as a compact gimbal system? And how long do the batteries last? How quickly does the gimbal react to movement? Between all three of us, we've got so many questions.
What does a gimbal do?
A gimbal only has one job: keeping the camera stable. It lets you achieve a smooth tracking shot. Most gimbal systems balance movements across three axes. This means you can move it on a vertical axis, shake it from left to right or back to front and vice versa.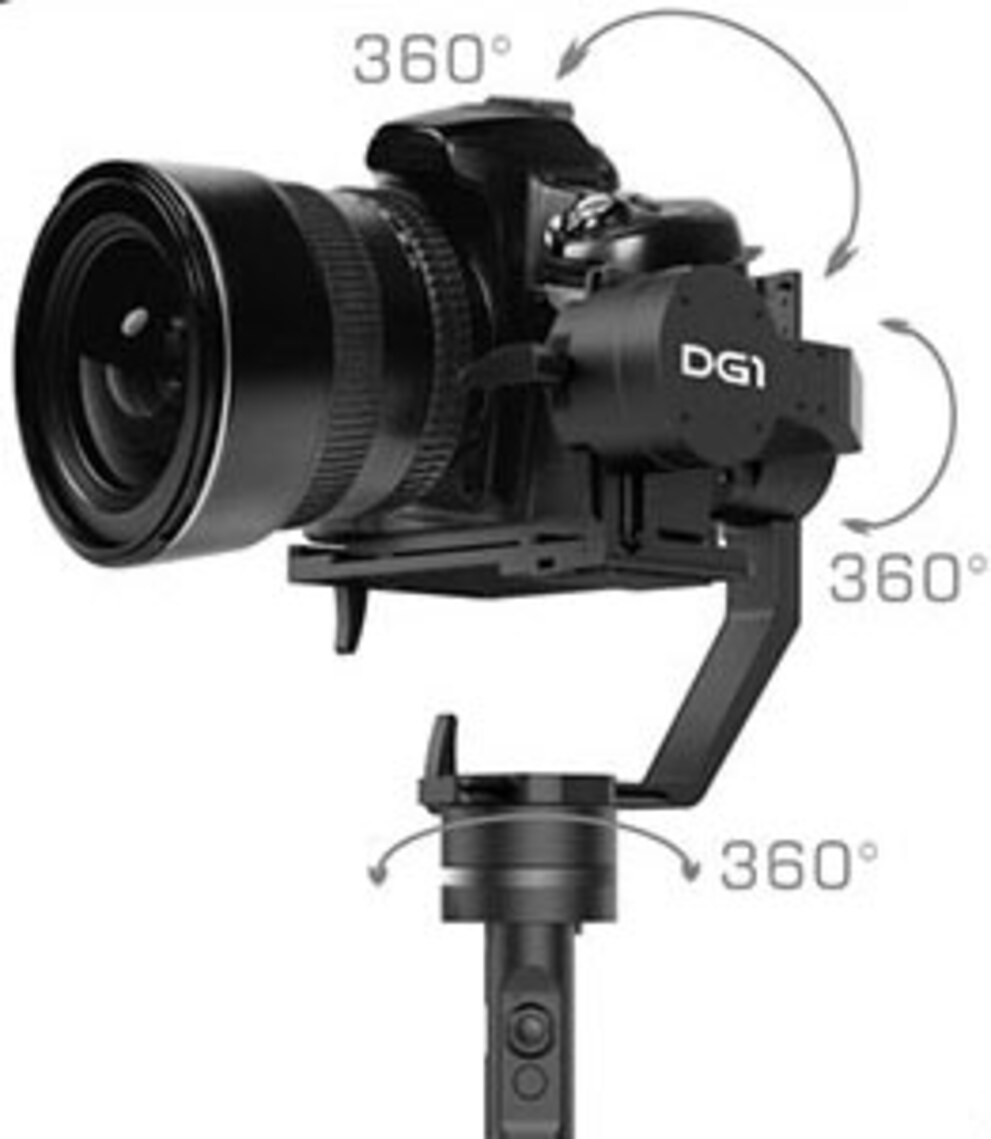 The three motors on a three-axis gimbal. Image: Hohem Tech
Three motors with gyroscope sensors react lightning fast to keep the camera movement smooth. This means the viewers don't end up with a bumpy image.
Getting back to TobiG3032's question, let's look at the issue of controls. «After initial set-up, the gimbal system only needs one command,» says Stephanie, «and that's on or off.» The device deals with all the other commands by itself. It reacts just as quickly if not quicker than people, it's a lot more precise and it ultimately makes life for the person behind the camera much easier.
Size as a deciding factor
In spite of all the benefits of gimbal systems, they do rely on people. Until a camera is securely clamped into a gimbal with the same screw hole you'd use to attach a lens to a camera, you have to balance it as best you possibly can. The three motors are strong enough to move a heavy camera and lens, but they are better used for correcting movements rather than orientation.
That's why gimbal systems have printed units on the axes. If you're forgetful, you can make a note of the values so you only have to check how the gimbal has to be aligned once per camera configuration.
When we were looking around IFA one day, Stephanie came to a halt at the Hohem Technology Limited stand. One of the gimbals manufactured by this young company from Shenzhen in China had caught her eye. «It's a lot more compact than the Ronin,» she exclaimed. She might be onto a winner here, as the DJI Ronin is too heavy and bulky for her. A more slimline solution had come at just the right moment. She tried out the device and smiled. «FeiyuTech was very good, but the Hohem DG1 is a lot smoother with movement correction.» But she wants to make it clear that wasn't an overall verdict on FeiyuTech or Hohem. «Just as every cameraman and camerawoman has their own style, they all have a different feel for gimbal systems. They're really something you have to try out,» she explained, while doing a move that wouldn't have been out of place in an Austin Powers film and then laughing out loud.
Her laughing was what brought us to the attention of Hohem Tech CEO, Min Chen. He is obviously proud of his four-year-old company's product. He told us he filmed in his free time and got an idea in his head he could develop a gimbal that would be in a different league to the heavyweights in the industry. «I didn't intend to just develop a gimbal for shorter people, but I did want it to be compact,» he explained. His reasoning was there are sometimes shots you can't take with a big, bulky gimbal. You can use the app, which is available on Android and Apple iOS to set the speed at which the camera follows the movement. «We've stored a lot of other functions there, too,» said Min Chen.
While we were at the stand, we started filming a video about gimbals. Min Chen converted his two-handed gimbal into a one-handed model at lightning speed. He smiled when he saw approving glances from passers-by. The gimbal suddenly looked like a balanced out selfie stick. «The Sony a6500 is never big or heavy enough to warrant the two-handed model,» Min Chen explained.
That's where the idea to film a video with the gimbal about the gimbal came about. It was a kind of acid test for the slimline gimbal system from Shenzhen. Naturally, Min Chen was so proud of his product, he wanted to help out. He insisted.
Fast-forward thirty minutes and we were posing for Min Chen and his staff, exchanging business cards and looking for the next exciting product.
You may find the following interesting (in German):
---

Journalist. Author. Hacker. A storyteller searching for boundaries, secrets and taboos – putting the world to paper. Not because I can but because I can't not.
---
---
These articles might also interest you
Skeleton Loader

Skeleton Loader

Skeleton Loader

Skeleton Loader

Skeleton Loader

Skeleton Loader