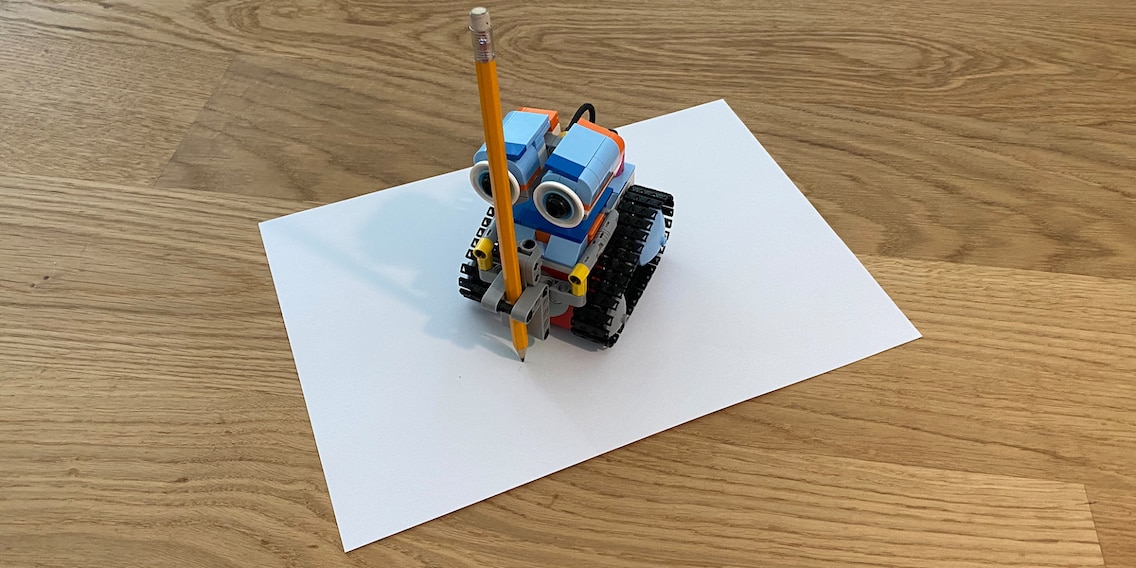 Tinkerbots' My first Robot: the perfect gadget for new programmers

My first Robot is targeted towards children and young adults. It's intended to teach programming to young people using playful elements. I wonder if the Tinkerbots construction kit can inspire me too?
This thing kinda reminds me of Wall-E. The German developers are deliberately trying to re-create the famous cleaning robot from the movie. With My first Robot, Tinkerbots is addressing the nerds of tomorrow and turning children into budding programmers. Our little Wall-E here, assembled from LEGO-like bricks, comes into play as an assistant. But just by looking at this robot, I can tell that it isn't just aimed towards children. Is My first Robot really only for children and beginners? Will it entertain younglings for hours while my model goes unused? And what good is the coding?
Unboxing: are those LEGO bricks?
The packaging is light, small and colourful. Again, I immediately noticed that Tinkerbots is primarily aimed towards children. Large images, letters and numbers make it clear that the audience here isn't farsighted people but children. The content is manageable: there's two cubes, one red and one white, with golden electrochips. There are also four bags of LEGO-like bricks, two manuals and a charging cable. And that's it. The whole thing looks high-quality, from the cubes to the charging cable. According to another manual, My first Robot is compatible with many other Tinkerbots products. By the way: My first Robot is «made in Germany».
The manual is one leaflet, nothing more. It says that the corresponding Tinkerbots app must be downloaded for this robot. If you're below reading age, simply use the pictures to guide your way. A smartphone or tablet is required to use My first Robot. As a father, would I leave such a gadget to my five-year-old child? Certainly not unsupervised. My kids would have to wait a few years before having a go. Once the app is downloaded, you first have to choose one of four player avatars and then open the building instructions. It leads you through the construction of body, chain drive, head and arms step by step. Reading skills aren't necessary, the pictures explain everything flawlessly. The bags with the plastic building blocks aren't numbered, but that's ok for a little more than 200 pieces.
Assembly: short and painful
Well, turns out this isn't LEGO. Just another copy. But they certainly feel similar. Naturally, Tinkerbots and LEGO are compatible. Apart from the missing LEGO logo, there's another notable difference: My first Robot bricks are even more angular and more difficult to assemble than LEGO. My fingers hurt after only three or four steps. They also require much more force to put together than LEGO. I don't know if a five or six-year-old could do this. Not to mention the fact that smaller children could swallow the bricks.
The digital guide isn't only ecological, but modern as well. It took me 15 minutes to assemble the body. After I finished the final step, a short animated video showed me that I was holding the robot's fuselage. The chain drive took me another 15 minutes, the head took twice as long. The arms were done in 5 minutes. This was followed by three more videos, which put my combined construction time at just above one hour. There were quite a few bricks left. Not as replacements it turned out, but as accessories unlockable in game mode.
Game mode: simply addictive
I have to see this thing in action. In addition to the instructions and game mode, My first Robot offers a coding and remote control mode. The latter is only unlocked after reaching level 90 in game mode. Finally, a goal. Game mode reminds me of Memory a bit: the robot performs an exercise, and I have to copy it with code blocks. Level 1 starts off very simple with only one single code block. Later levels unlock further code blocks. First simple movements, then sounds, then more complicated movements and finally action blocks that enable pausing, repetition, acceleration or slowing down. Apart from the sounds emitted via a smartphone or tablet, the robot does everything itself. Fun fact: one of the sounds My first Robot masters is burping on command.
Coding mode is based on a simplified version of the «Scratch» programming language. Instead of words, only symbols are shown. The mode works flawlessly, just like the rest of the app. A worthy task for absolute beginners, but advanced users should get the hang of it pretty quickly. The first ten levels have you recreating robot movements, limited to forward and backward commands. Suddenly, a video sequence appears in which my Wall-E handles a glass bowl and test tube. I then build these parts in an intermediate step from the remaining parts. After unlocking the feature, I find the new building instructions in the corresponding menu. A nice feature and a welcome change.
Coding mode: only boring for professionals
Everything you unlock in game mode can be used in coding mode. After all, you'd want to control it yourself sometimes, no? That's fun and motivating: it gives you a reason to work through the 200 levels to unlock everything. Tinkerbots' My first Robot uses gamification elements to the fullest extent. A battery life of three to four hours also contributes to long-lasting entertainment value. The battery is fully charged in just one hour. I made it to level 90 before giving up. Not because I didn't enjoy it anymore, but because I still had other tasks to do. All levels up to 145 unlock new blocks, the remaining 55 are purely a test to see how far you're willing to go.
At level 90 you can also activate remote control mode. Just as I'm about to jump in head-first, everything suddenly stops working. The robot is still connected to my smartphone, but it won't react anymore. The app screen states that I have to consult the building instructions. But they don't help me either. I move around the two main modules in every possible way, but it just won't work. The online FAQ doesn't help me along either. Even a reset of the main and auxiliary modules doesn't help. Out of sheer desperation, I install the Tinkerbots World App, go to the settings and perform a double reset. Lo and behold, it works: My first Robot runs as fine as ever. I still have no idea what the problem was or how I caused it.
Remote control mode doesn't really bring many new features. As the name suggests, I can use it to remotely control the robot. Without blocks or coding, but with a virtual joystick. That's about it. More isn't really necessary as the game and coding mode captivated me. In game mode, robot movements aren't always clearly distinguishable, which only makes solving the puzzle that much more interesting. Coding mode allows you to use your experience from game mode and program your own movements. The action that the robot is currently performing is visually highlighted. I also randomly discovered this in the Tinkerbots World app: My first Robot also supports Python. This could sound interesting to advanced programmers. My first Robot also has an education mode. It's intended for schools and allows teachers to specify their own code which can be copied by students.
Conclusion: fun for beginners and beyond
My first Robot by Tinkerbots is the ideal introduction to coding with robots. Wall-E's cousin here also offers just enough new features for advanced users. Professionals and Scratch experts might find it simple and boring, however. I also doubt that children from the age of five are the right target demographic. In my opinion, both the assembly and various coding steps are too challenging for five, six or seven-year-olds. Unless they explore My first Robot with their parents. For everyone else, My first Robot will do the job. It introduces coding using Memory, has a LEGO-like flair and also serves as a remote-controlled car. For these reasons, I can definitely recommend this robot at just over 100 francs.
Tinkerbots' My first Robot is small but powerful. After my disappointment with the GJS-Geio and the surprising Xiaomi-Mi-Robot-Builder, Wall-E's cousin made for a refreshing change of pace. The Clementoni Robomaker is up next – will it stand up to My first Robot? Stay tuned! If you want to be up-to-date and never miss any robotics or gadget highlights, click on the «Follow» button next to my author profile.
---



When I'm not stuffing my face with sweets, you'll catch me running around in the gym hall. I'm a passionate floorball player and coach. On rainy days, I tinker with my homebuilt PCs, robots or other gadgets. Music is always my trusted companion. I also enjoy tackling hilly terrain on my road bike and criss-crossing the country on my cross-country skis. 
---
---
These articles might also interest you
Skeleton Loader

Skeleton Loader

Skeleton Loader

Skeleton Loader

Skeleton Loader

Skeleton Loader