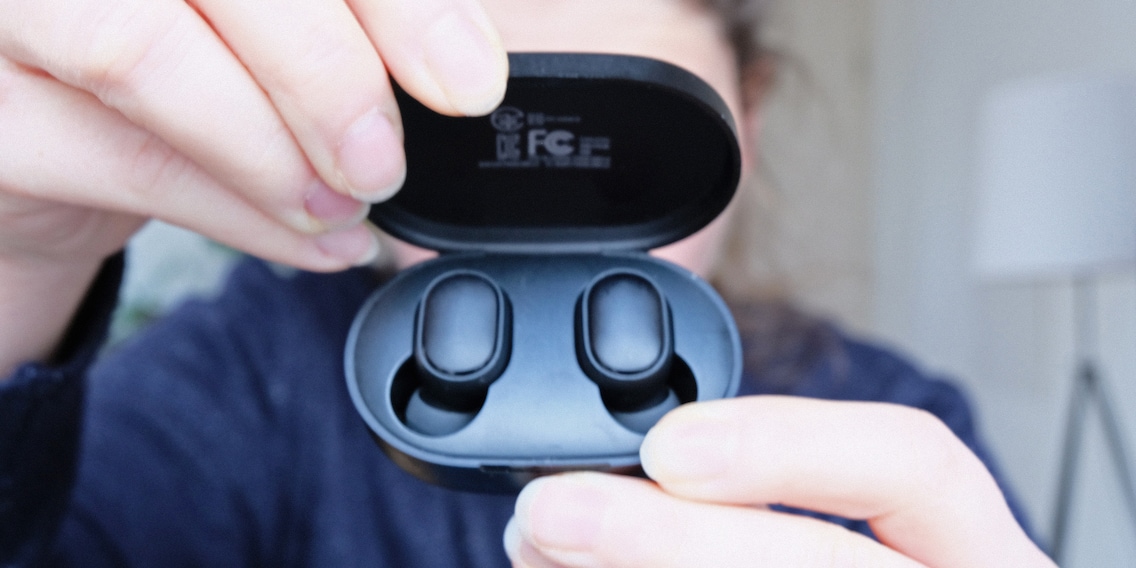 The Xiaomi Earbuds are OK, even if you don't wear them properly

Xiaomi's Earbuds are a price-performance phenomenon. For little money, they offer everything a non-audiophile person like myself needs: decent sound, sleek design, fast pairing. And if you put them on your ears properly, they even stay in place.
Xiaomi's Earbuds are a miracle when it comes to value for money. For little money, they offer decent sound, a good design and fast pairing – that's everything a non-audiophile person like myself needs. And if you place them in your ears properly, they even fit well.
I tested the Xiaomi Mi True Wireless Basic 2 for about three weeks.
My verdict on the sound? Pretty good, although rather quiet. Pairing worked smoothly and extremely fast. I didn't even have to download an app, but just press one of the headphones in the charging case for three seconds. The case is charged within two hours and (unfortunately) via micro-USB. The headphones came without a cable, so I used that of my photo camera. They did come with rubber earbud attachments in three sizes. I was also pleasantly surprised by the quality of the buds and the charging case. I wasn't expecting much, as they don't even cost 30 francs.
If only they stayed in place …
There was only one thing that bothered me: the earbuds kept slipping out of position, especially while running on the treadmill. This was rather annoying, since I need the earbuds almost exclusively for workout music in the gym. For everything else, I have over-ear headphones. Much to the annoyance of my home office or (back then) office colleagues who have to put up with my shouting during meetings – even without active noise cancellation.
Instead of asking customer service or simply googling, of course my initial reaction was to complain to my boyfriend: «These earbuds are really great, but they're terrible at dealing with vibrations when you walk. But then again, what did I expect for 20 francs. Or maybe the anatomy of my ears is just weird.»
Blah blah blah ...
That's probably what my boyfriend thought too and put the earbuds in his own ears before I could keep on whining. He struggled with them for a second and then said: «You're supposed to put them in the other way round. If you do that, they actually stay in place.»
Right, I didn't get that. I might just be conditioned incorrectly. With all other in-ear headphones I know, the earpiece points downwards, not upwards. That's a given for wired headphones, but also the case for most wireless models. But if I'd thought about it for a moment, it would have become quite clear how the Xiaomi earbuds fit into the ear properly. After all, the earbuds are placed upwards in the charging case and the left and right labelling can now be read correctly.
No one can fool the community
By the way, the digitec and Galaxus Community seems to be more cunning than I am. At least no comparable statement can be found among the 292 reviews. Except if all those who complain about them not staying in place are also wearing them incorrectly. Apart from that, the majority of you also seem to be enthusiastic about the Mi True Wireless Basic 2. Great looks, weight (the earbuds weigh 4.1 grams each) and especially price-performance ratio are mentioned again and again.
A small drawback, which one other user also mentioned, is how the earbuds are operated. The entire surface of the visible earpiece acts as a button to skip, pause, repeat songs, etc. While this looks good, it occasionally causes me to accidentally press the button when positioning the earbuds.
I'm happy with everything else. Unlike another customer, I seem to have very small hands, so getting the headphones out of the charging case is no problem for me. And as I mentioned at the beginning, as an average-audiophile person, the sound quality is good enough. Sure, I need to turn teh volume on my mobile phone up a bit more than with my over-ears, but that doesn't bother me. The battery life is also completely sufficient for my needs. The buds alone last just under four hours, and with the charging case, they last another twelve.
And all that for 22.40 francs (as of 12.1.22). This can't be mentioned often enough. Also, the Xiaomi Mi True Wireless Basic 2 haven't yet exploded in my ear, as is said to have happened with Apple's AirPods. Yet, you may put them into your ears the wrong way around. But even if you do, they still work quite OK. And that has to be a compliment.
---

My life in a nutshell? On a quest to broaden my horizon. I love discovering and learning new skills and I see a chance to experience something new in everything – be it travelling, reading, cooking, movies or DIY.
---
---
These articles might also interest you
Skeleton Loader

Skeleton Loader

Skeleton Loader

Skeleton Loader

Skeleton Loader

Skeleton Loader