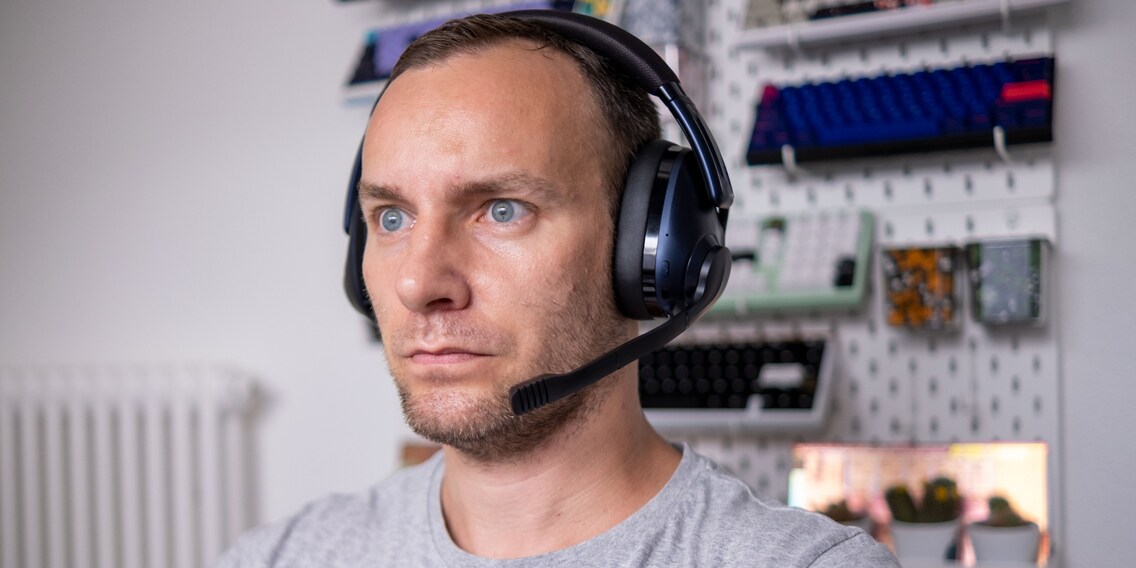 The would-be all-rounder: testing the Epos H3Pro Hybrid

With the H3Pro Hybrid, Epos is providing a gaming headset in business garb. It has many features, but does nothing really outstanding.
The H3Pro Hybrid wants to do everything. It looks very plain for a gaming headset – as if wearing a blue tuxedo. It's supposed to be suitable as a gaming headset thanks to the clip-on microphone and as over-ear headphones on the go thanks to active noise cancellation (ANC). Unfortunately, the headset doesn't really stand out anywhere.
Connection options: top
The best feature of the headset is its connectivity options. You can use it either wired via USB or a 3.5-millimeter headphone cable as well as Bluetooth 5.2 or a 2.4 gigahertz dongle. One cool thing: Bluetooth and the wireless connection via a dongle can be used simultaneously. So you can game and listen to music via your smartphone at the same time. If a call comes in, any audio will automatically pause.
However, there are also negative points in terms of connectivity. Only the SBC codec is available for the Bluetooth connection, the absolute minimum. This headset must also be switched on all the time – even when connected by a headphone cable. The battery is thus constantly running on empty.
Battery life is difficult to quantify since the headset can be connected in so many ways. In the best case, Epos states 38 hours – with a Bluetooth connection and ANC turned off – and in the worst case, 19 hours – with the dongle connection and ANC enabled. These run times correspond roughly to my experience. The device is fully charged within two hours.
Sound: okay
The 40-millimetre drivers do a good job when gaming. Action-heavy titles come with extra bombast thanks to massive bass. Voices are nevertheless understandable. The headset is bass- and midrange-heavy. Treble plays second fiddle. Therefore, the H3Pro Hybrid is less suitable for listening to music. I can adjust the equaliser in the Epos Gaming Suite, but I can't get the sound the way I want it.
Overall, the sound is what I expect from a gaming headset. Surround sound is also fun in games. Action flicks also sound good with it. Due to limitations when listening to music, I'd rather just use it as a pure gaming headset.
Active noise cancellation is decent. However, it can't compare to headphones from Sony, Bose and co. There's significantly more sound getting through to me than with the Linkbuds S in-ears from Sony, which I am currently testing. The passive insulation of the H3Pro Hybrid makes up for a lot more. I feel a slight pressure on my ears when the active noise cancellation is on. At least the background noise that can be heard in many ANC headphones is hardly present.
The microphone is good overall. It can be quickly and easily removed when you don't need it thanks to magnets. To plug this gaping hole in the headset, Epos includes a plastic cover. If you still want to make calls on the go, the H3Pro Hybrid also has an integrated solution. Both microphones filter out background noise well.
Here are some audio samples for the microphones, featuring me reading through comments. In each case once with background noise and once without. I'm also playing a gameplay clip from «Call of Duty: Warzone» in the background.
Padding: comfortable
The memory foam on the ear pieces is comfortable. However, the casing isn't particularly breathable – within a short time I begin sweating. But since I'm very sensitive to heat anyway, this is the case with almost all over-ear headphones.
With the shape of my noggin, I always feel the headband. It doesn't feel uncomfortable, but other headsets are much smoother, or at least allow me to forget about them over time. The size-adjustable headset snaps in well and doesn't slip during use.
The headband gives a glimpse of something other than plastic, as it's namely made of metal. Despite all the plastic, everything looks solidly manufactured. No matter how I turn or bend the headset, nothing creaks or cracks.
The ear cups can be easily rotated and tilted. Therefore, they should fit any head shape.
The shells are packed with control and connection elements. On the right is the volume dial, Bluetooth pairing button and active noise cancellation switch. The headphone cable port, USB-C port and power button are on the left. Besides that, there's a status LED on that side as well as the integrated and the clip-on microphone. The headset weighs a bit over 300 grams with the clip-on mic, and a bit less without it.
Verdict: I don't really know…
The Epic H3Pro Hybrid leaves me somewhat perplexed. It can do many things, but nothing really well. With various wireless and wired connection options, it can be used virtually at will, but it always has to be turned on and only offers the bare essentials in terms of codecs.
Thanks to active noise cancellation, it can also be operated in noisy environments or on the go. However, the ANC isn't as good as I'd like it to be. The sound quality when listening to music is also rather poor than good.
At least the microphone and the sound quality are good when gaming. But that isn't enough for me to justify the high price of almost 290 francs. For that price, you can find cheaper and better exclusive gaming headsets and better over-ear headphones with ANC.
---



From big data to big brother, Cyborgs to Sci-Fi. All aspects of technology and society fascinate me.
---
---
---
These articles might also interest you
Skeleton Loader

Skeleton Loader

Skeleton Loader

Skeleton Loader

Skeleton Loader

Skeleton Loader