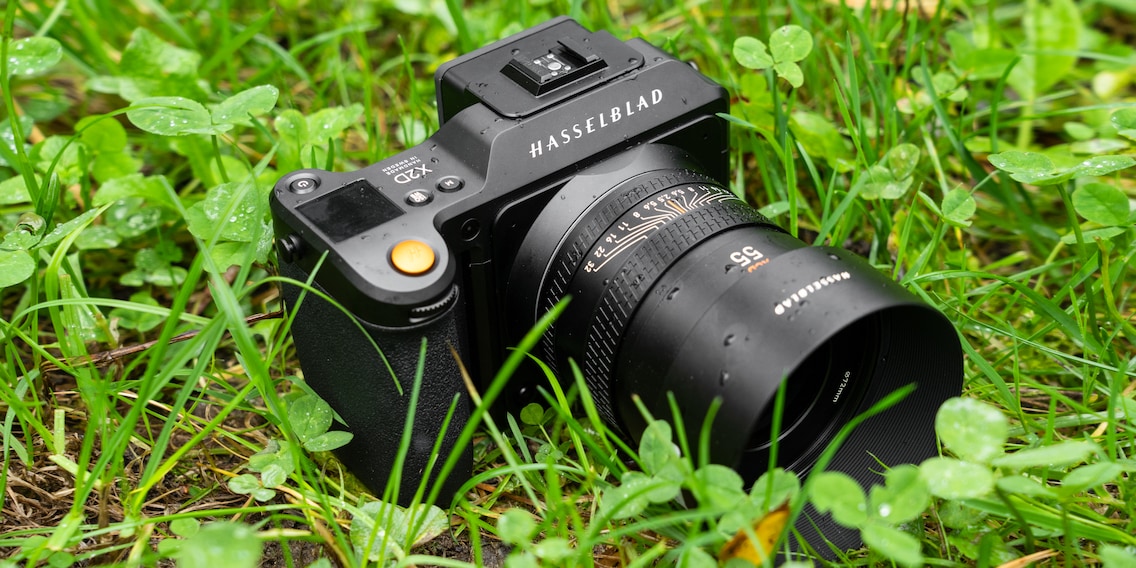 The editorial team's favourite cameras – April 2023 edition

Which camera is right for you? This guide lists our recommendation for different use cases. We'll be updating it on a regular basis.
Looking for a new camera but don't know which one to get? The world of cameras is quite the jungle. In the Digitec editorial team, we're lucky to get our hands on all the latest models. In this article, I'll let you know which ones are currently my favourites. For the «Sports and Wildlife Photography» and «Travel Photography» categories, my colleague David Lee was kind enough to provide his recommendations. This list will be updated on a regular basis.
We're aware that there's no blanket answer to the question, «What's the best camera?» It all comes down to your budget, situation and preferences. The devices listed here are the ones we'd spend our own money on. Have your own experiences? We'd love to hear your thoughts in the comments!
Studio photography: Fujifilm GFX 100S, Canon EOS R5
If you're looking for ultimate image quality in a controlled setting, you can't get around a medium format sensor. The Fujifilm GFX 100S isn't cheap, but it's my clear winner in this class in terms of value for money. The 100-megapixel sensor is only beaten by systems that cost ten times as much. The GFX 100S also has state-of-the-art features uncharacteristic of the medium format, such as automatic eye tracking, which is hugely helpful for portraits. I also personally like Fujifilm's skin tone reproduction very much. You'll find David's review of it here.
Canon also delivers nice skin tones, in my opinion. If you prefer to work in the studio with a full format, I recommend the EOS R5. The advantages include much better autofocus and a wider range of lenses. With 45 megapixels, the Canon R5 delivers a sufficiently high resolution for most tasks and very good image quality in general. Outside the studio, it also makes for a good all-round camera. The only weaknesses David found in his review of the EOS R5 reared their head when filming long 8K videos.
Further solid options: Fujifilm GFX 50S II, Sony Alpha 7RV, Nikon Z 7 II
Landscape photography: Hasselblad X2D, Fujifilm X-H2
The image quality of the Hasselblad X2D is fantastic. The resolution, dynamic range and noise behaviour are all outstanding. But it's my dream camera for landscape photography for totally esoteric reasons. It's been a long time since I've had as much fun taking pictures as I did with this amazingly small medium format camera. The colours are exactly to my taste, the haptics and ergonomics on another level. Being the most expensive camera in this list, the X2D costs 9,000 francs – without the lenses, which are also expensive. There's no way to rationally justify this price. You can read why it's still a legitimate choice on an unlimited budget in my review.
At the other end of the value-for-money spectrum is the Fujifilm X-H2. The camera costs 1,800 francs and still offers a very good resolution of 40 megapixels. Thanks to the APS-C sensor, both the body and lenses are nice and small. Noise performance at high ISO isn't quite as good as that of a full frame due to the small sensor, but this isn't particularly relevant in landscape photography. Even the imperfect autofocus isn't a problem with static objects. You can find the detailed review of the X-H2 here.
Further solid options: Fujifilm GFX 100S, Sony Alpha 7RV, Canon EOS R5, Nikon Z 7 II
Press photography: Nikon Z 9, Canon EOS R6 Mark II
Because magazines often rely on images in portrait format, cameras with a fixed vertical grip are ubiquitous in the world of press photography. The Nikon Z9 is an up-to-date model offering just that. It's blazingly fast, extremely robust and feels great to grip. Its image quality is excellent, as is its autofocus. And should you want to shoot a video every now and then, the Z9 also plays right at the top. The only drawbacks are its weight and price. At 5,500 francs, the Z9 is a camera in the professional segment. See more details here.
The Canon EOS R6 Mark II costs less and is also a good choice. It's fast and has very good autofocus and noise performance, especially in photos. But the most important aspect in this category is, in my opinion, the fact that the current generation of Canon bodies feels great to hold. The R6 Mark II feels well balanced, even with heavier lenses like the RF 70-200mm f/2.8L. I also think the 24-megapixel resolution is a good middle ground between quality and file size when shooting thousands of images. Here's my detailed review of the Canon EOS R6 Mark II.
Further solid options: Sony Alpha 1, Canon EOS R3, Sony Alpha 7 IV, Fujifilm X-H2S
Travel photography: OM System OM-5, Sony RX100 V A
When travelling, it's handy to be able to cover all your needs with a single lens. In addition, the weight of the camera should ideally be low. Therefore, cameras with a smaller sensor are the way to go. The OM System OM-5 with the 14-150mm universal zoom covers every common field of view and weighs only about 700 grammes in total. The heavier and more expensive 12-200 mm also offers an image stabiliser, which is especially useful for telephoto photography.
For many years now, the Sony RX100 has proved itself as the ideal companion on hikes and walks. It fits in your pocket, is always ready to go and still offers everything you need. The viewfinder in particular is handy. Mind you, the latest RX100 VII variant is very expensive and can do things you don't necessarily need when travelling. My recommendation is therefore the RX100 V A, which also has a faster lens.
Further solid option: Canon EOS R10 with 18-150mm
Sports and wildlife photography: Sony Alpha 1, Canon EOS R7
The Sony Alpha 1 is no longer brand new, but it's still top-notch. It's fast enough for sports, wildlife and action photography and offers an outstanding autofocus. The 50-megapixel resolution ensures that the subject is depicted in sufficient quality even if you crop the image substantially. This makes capturing nimble subjects much easier. With the 200-600 mm Sony offers a perfectly fitting, very good lens, which – in contrast to the Alpha 1 – is not that expensive. You can find David's hands-on review of the camera here.
With the EOS R7 and its two lightweight super-telephoto lenses, Canon proves that equipment for sports and wildlife photography doesn't have to cost a fortune. The camera's autofocus is sensationally good for this price. With the super telephoto lenses mentioned above, you can easily snap shots even of songbirds. Given the narrow apertures and the APS-C sensor, however, you'll need a lot of light – ideally sunshine – for a really high-quality image. Click here for David's review.
Further solid options: Nikon Z 9, Fujifilm X-H2S
Filming: Sony FX3, Panasonic Lumix S5 II
If you plan to film exclusively, I recommend the Sony FX3. Its 4K video quality is very good across the board, no matter the frame rate. Even at 120 fps, cropping is minimal and the choice of file formats is huge. Its case is actively cooled and peppered with 1/4-inch thread holes, allowing you to attach all kinds of accessories without an additional cage. Operation of the FX3 is also fully geared towards filming. It comes with an XLR handle where you can connect professional microphones. For more details, click here.
The Panasonic Lumix S5 II is much cheaper than the FX3. It has a full-frame sensor, too, and its video quality is also good. The Lumix only films in 4K with a maximum of 60 fps, but it can even do 6K with up to 30 fps. The autofocus has finally reached the high level of the competition thanks to the new phase system. In my review, the S5 II's dynamic range and the colours in Panasonic's log profile also stood out in a particularly positive way.
Further solid options: Canon EOS R5 C, Sony FX30
Vlogging: Sony ZV-E1, Sony FX30
Are you an aspiring vlogger? My recommendation for you is the Sony ZV-E1. It has the same full-frame sensor as the FX3, but costs just about half the price. The only thing you give up is active cooling and the more professional case. In return, the ZV-E1 is much more compact. Combined with a lens like the Sony FE 20-70mm f/4 G, it makes for a versatile combination of excellent image quality and low weight. On top of that, it offers new AI features and a very aggressive digital image stabiliser. More on that here.
Want the benefits of the Sony FX3's professional body, but don't want to shell out 5,000 francs? The Sony FX30 is the answer for you. For less than half the price, you'll only have to make one sacrifice: instead of a full-frame sensor, the FX30 only comes in APS-C size. This can be an advantage, especially for vlogging, since you can make use of the correspondingly smaller APS-C lenses. This reduces the weight of your rig. The quality loss compared to the large sensor is workable, as seen in my short-format review.
Further solid options: Panasonic Lumix S5 II, Canon EOS R10, Sony ZV-E10
---



My fingerprint often changes so drastically that my MacBook doesn't recognise it anymore. The reason? If I'm not clinging to a monitor or camera, I'm probably clinging to a rockface by the tips of my fingers.
---
---