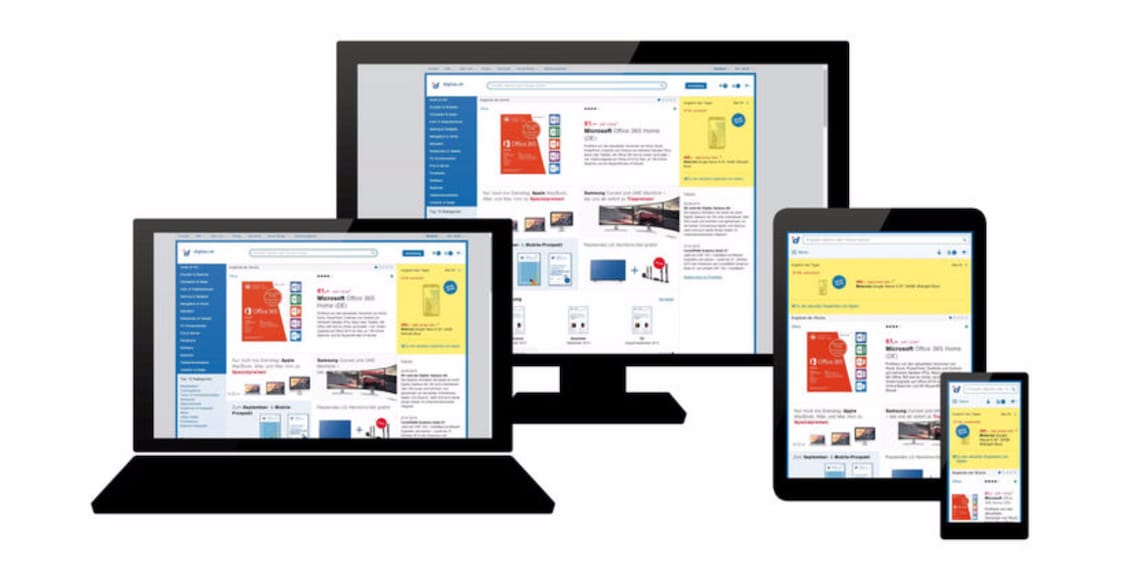 The digitec and Galaxus apps are here

For years, there was no way of finding us in the Google or Apple app store. But that's all changed and both our shops now feature their very own app. As this has caused some confusion among a few customers, we would like to take this opportunity to explain why we decided to go down the app route.
The foundation for the apps was laid two years ago with a total redesign of our online shops and the complete restructuring our website. In addition, a fully-fledged responsive functionality was introduced, which I told you about around one year ago:
We have now added apps that follow the same pattern and have already been installed by thousands of users. But not everyone's happy with them. Occasionally we get user feedback such as: "A mere wrapper for the website is totally useless." or "It would be really cool if the app had its own functions". In this regard, there are a few things to consider:
The apps are currently just the WebView of the website in a slightly modified container. Overall, we are developing our online shops towards a Progressive Web App that also benefits the WebView. The latter was implemented with React Native from Facebook and, using JavaScript, we were able to benefit from the know-how from the web development.
When our large engineering team here in Zurich develops new shop functions, it aims to make them available to all customers on all platforms. However, if we were to programme individual functions for Android or iOS, we would not only require specialized teams but their work would also only benefit a relatively small share of customers using that specific operating system. So we prefer to focus on features that are an advantage for all our customers.
At this point in time, we primarily want to gain experience. It was important to us to be present in the app stores and to offer an installable version of the shop that provides the basis for potential further development. This is an agile process, meaning that we are continually optimising our solutions; as was the case with the apps that were only just launched in November and have already undergone variousmodifications to enhance the user experience.
The technological possibilities in the web are developing rapidly. A Progressive Web App includes various approaches and technologies, which, to date, could only be used by native applications. But this is changing. For example, some platforms do not necessarily require push notifications to have an installed app. This is definitely an interesting option for collection notifications, availability changes or similar features.
These are the reasons why we openly say: The app is nothing other than our website. It's simply our shop. Because that's what we're good at! Oliver Herren, our CTO, sent me the following lines on this matter: "From a user's perspective, the only relevant issue is whether the functionality is good. If something was natively programmed or not will not be of interest. Another important point is that our online shop can be seamlessly used on all devices. Therefore, we focus on one solution for all devices. This is done by means of a Progressive Web App. In other words, the online shop not only adapts to various screen sizes and types but also uses the latest browser features."
The apps are available here: digitec Android / digitec iOS / Galaxus Android / Galaxus iOS
Speaking of features: After the release of our app, our employees had the opportunity to tell us what they thought of it or ask questions via our internal blog. I would like to share some hand-picked contributions – feel free to add your own comments in the comments field below:
"A notification for the deal of the day would be great." – "I may have misunderstood but wouldn't that kind of notification just be an alarm clock that rings at midnight every day?"
"Still a lot of potential: Notifications for order ready for collection or new deal of the day, products on shopping list available again etc."
"I suggested this years ago XD FINALLY it's here!"
By the way, this article is part of our #FeatureFriday,we celebrate on Facebook and Twitter (almost) every week. Thanks for liking and following us! And if you feel like giving us a belated Christmas present, we would greatly appreciate your rating of the new apps – preferably a 5-star one :-)
---



I'm passionate about observing the development of the digital environment – particularly when it comes to the countless exciting and interesting challenges and changes it has in store for our society, our everyday lives and businesses. Apart from that, gaming has been a part of my life since I first started out at Digitec Galaxus as well as IT in general, travelling, sports, concerts and good food. 
---