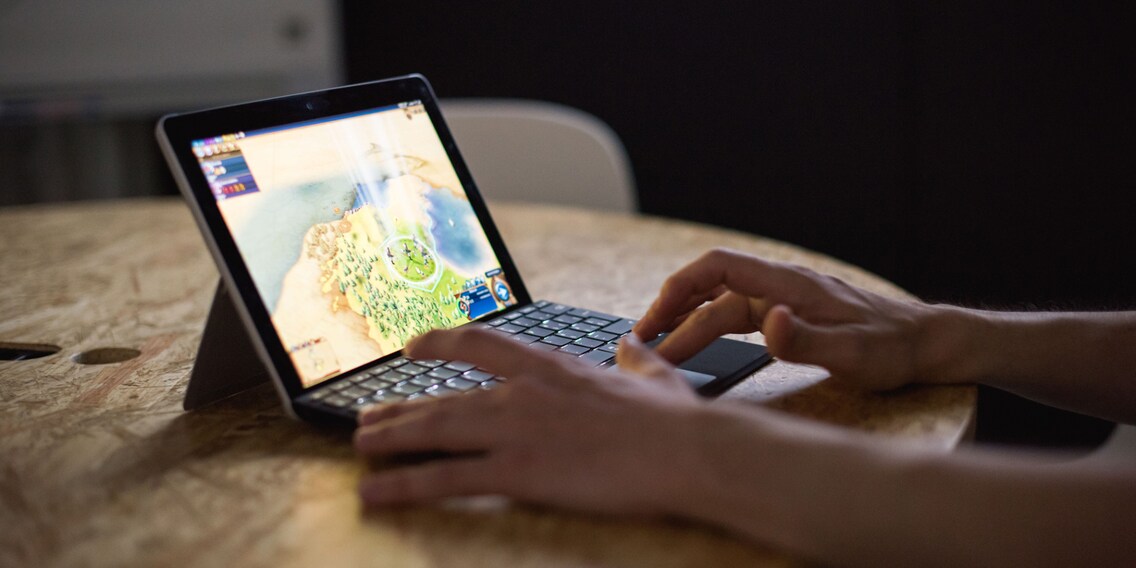 Surface Go: love at second glance

Microsoft's new 10-inch tablet cuts a fine figure with its magnesium alloy. But appearances aren't everything. That's why I put it through its paces, got annoyed about Windows S mode and had a ball playing Civilization VI with friends.
«This tablet is meant to be a 2-in-1 device?» My first impressions of the new Surface Go aren't what I expected.
I've just been handed it so now should really be the moment I gaze at the good workmanship and magnesium housing (as well as 3.5-mm jack connection) and let out a long «oooh». Instead I'm frustrated I have to buy the keyboard (type cover) and the surface pen separately. Oh well, it doesn't look like this review will come with beautiful drawings and curved lettering.
Fortunately, I'm given a keyboard, meaning I can road-test the tablet properly. I already feel more exclusive. But at the same time, I know I must not forget to look at things through the users' eyes. That's why I keep an grim countenance – externally, at least – and switch the device on.
Here's what the Microsoft Surface Go offers:
Intel Pentium Gold 4415Y
integrated graphics processor: Intel HD graphics 615
8 GB RAM (SK Hynix H9CCNNNCPTALBR-NUD, LPDDR3-1866, 2 x 4 GB soldered)
128 GB SSD (Toshiba KBG30ZPZ128G, M.2 PCIe 3.1a x2)
microSDXC-Slot
10-inch IPS multi-touch display (PixelSense display) with 1800 x 1200 pixel (3:2 aspect ratio, 217 ppi, high gloss, supports pen input)
stereo speakers (Dolby Audio premium), 2 x microphones, 3.5-mm jack connection
5-megapixel front camera and 8-megapixel rear camera (both can record 1080p videos)
brightness sensor, acceleration sensor, gyro, magnetometer, Windows Hello camera (face recognition)
2-cell, 26.12 Wh lithium ion battery

Windows 10 S mode (you can switch to «Windows 10 Home» for free)

If you're interested in the cheaper model (4 GB RAM and 64 GB eMMC), the type cover or the surface pen, these are the links you need:
Here's an overview of all the Surface Go accessories. And if you want to be the first to try the Surface Go, pop down to our store in Basel or Zurich from 3pm on 28 August.
Windows 10 S, but what does the S stand for?
Before we get into that, I have to give you my first impressions of the pre-installed Windows version. This has the potential to send your blood pressure through the roof. At least it can if you've not been warned and are using Windows S mode for the first time.
My colleague Dominik already turned his nose up at the S mode in his recent article (in German):
video

Background informationComputing

Windows 10 S – Das Windows, das dich in den leeren App Store zwingt
When you're in S mode, you can only install software from the Microsoft store. The problem with that is the store only has one browser (Microsoft Edge) for some sort of security reason. This means you won't find Firefox, Chrome, Opera or Safari to download. Even installing an exe file in Windows S mode just isn't an option. That's why I'd recommend holding off on S mode for the time being.
Escaping S Mode: how to break free
Leaving S mode won't cost you anything. And once you do, you end up with a normal Windows 10 Home. Thank goodness, otherwise this would be a pretty short review.
These are Microsoft's instructions – although they didn't work for me:
Open the Microsoft store
Navigate to «Switch out of S mode»

Install the «Switch off S mode» app

When I searched on my Surface Go in the store, nothing came up. But that could be because I've got a pre-launch model. If you have similar problems, first look for «Microsoft Store» in the Microsoft store. Bear with me – I know it sounds strange, but once I installed the store from the store, I can see the «Switch off S mode» app. One click and a few seconds later and Windows 10 Home is finally on my Surface Go.

Now you can install whatever you want to the device.

Design and ports

The Surface Go measures 24.5 x 17.5 x 0.83 cm, weighs 522 grammes (without the type cover) and comes with a magnesium casing, which makes it feel robust. It's well finished so I can't find any sticking out edges or other snags that could make it seem cheap or even creak.
Unfortunately, a lot of the Surface Go components are soldered or stuck down. That means if there's a fault, the repair work will be quite extensive. The only place you can update is the disc space. Thank goodness for the microSDXC slot, which is under the base.
The ports are few and far between on this tablet, which is supposed to function as a fully fledged notebook. On the right hand side there's a 3.5-mm jack, something we should be grateful to find at all these days. Underneath there's a USB 3.1 port (type C) and below that you'll see a magnetic connection for the power cable (surface connect port).
On the underside of the tablet there's another magnetic connector, this time for the surface type cover. The power button and the volume controls are on the top left.
PixelSense display
As a big film fan, I find myself raising an eyebrow at the specs for the inbuilt display. Did I read that right? I can't watch 1080p films in full resolution (or only scaled)? Yip, that's correct. You'd need 1920 x 1080 pixels and they just aren't there. Instead, the display in 3:2 format comes with 1800 x 1200 pixels. I'll admit this wouldn't have occured to me without the spec sheet, because even with just 217 ppi, the IPS panel looks pretty sharp.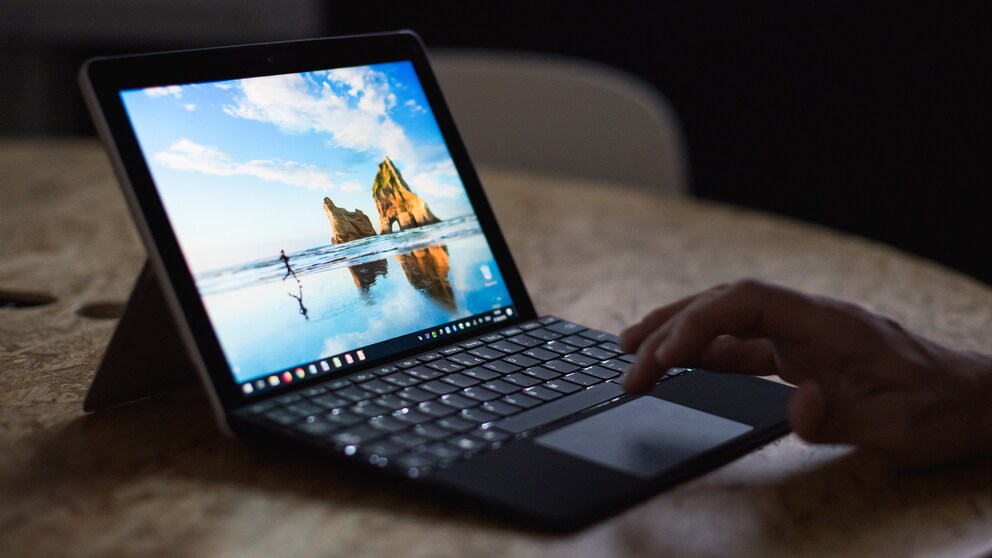 The colours have a natural feel and the black level is acceptable, even if it's nowhere near the quality of an OLED display. Incidentally, Microsoft lists the contrast as 1500:1. The Surface Go also features Corning Gorilla Glass 3, which should protect it from any bumps and bashes.
As with many other devices, this tablet comes with a high gloss display. It's not rocking my boat as the slightest bit of sun on the screen makes it difficult to see. But on the plus side, the viewing angle is always stable and you can choose to operate the tablet with one of ten fingers or the pen. If you have the pen, that is...
Type cover (keyboard and trackpad)
The alcantara microfibre type cover is a keyboard and display protector in one. It's smooth to the touch and reminds me of suede. To attach it to the Surface Go you just have to hold it near the magnetic connection on the underside of the tablet. Then as if by magic it'll automatically clip on so you end up with a fully fledged notebook.
You can use the 244 gramme cover either flat or slightly angled. The keyboard also features a three-tiered backlight. At 24.8 x 19 x 0.46 cm, the keyboard is fairly small so you have to do without a numeric keypad. But the type cover makes up for this with keys that are generously enough spaced that you can go to town with touch typing.
Having said that, typing with the cover wasn't pleasant to begin with. Why? Because the key drop was only 1 mm. I still can't get my head around this trend for an ever-smaller stroke. But I'm getting used to it all. When it comes to the trackpad and its multi-finger motion support, I don't have anything to complain about. Even sweaty fingers in summer swipe effortlessly across the pad.
Sound
The Dolby-certified sound that comes out of the loudspeakers on the top left and right hand side of the display is surprisingly good. When I listen, I'm under the impression the speakers are further apart. But we still come back to the same old story you get with a lot of other tablets and notebook. Namely that the sound gets starved slightly when you play bass-heavy tracks.
Electric guitars also sound a bit out of tune (for example on Amerika by Rammstein). If you like listening to harder sound like this, you'll want to use the jack and your favourite headphones.
Battery life
The inbuilt, 26.12 Wh Li-ion battery falls just short of lasting a typical day in the office (eight and a half hours). At least not if you're going to surf the net and listen to YouTube now and again while using MS Office like I do. In which case, the test device lasts between seven and eight hours.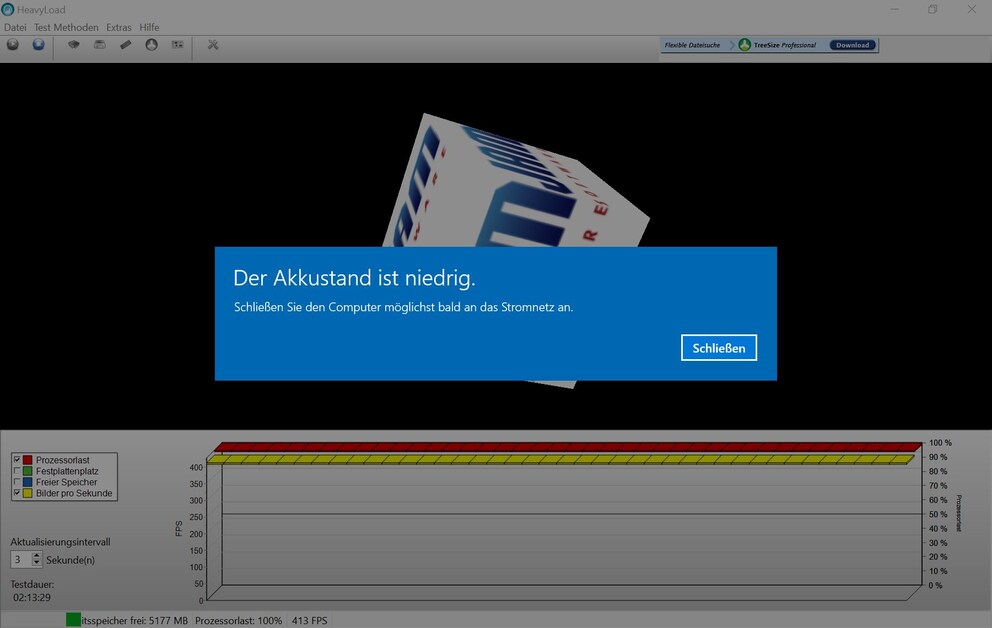 When I carry out the HeavyLoad stress test with the highest screen brightness, the battery starts to struggle after exactly two hours and 15 minutes. By that point, you could fry an egg on the table. But I'd only dare do that with an aluminium casing.
CPU and GPU
It goes without saying that the Surface Go along with its processor and graphics performance aren't designed for gaming. But I tried out some games all the same, and I struggled to find even one title apart from solitaire and the like that ran smoothly. While you can play Civilization VI with the lowest graphics settings at 22 to 38 fps, it only works because there aren't any fast sequences. That was what really won me over about the Surface Go, as I love the Civilization series.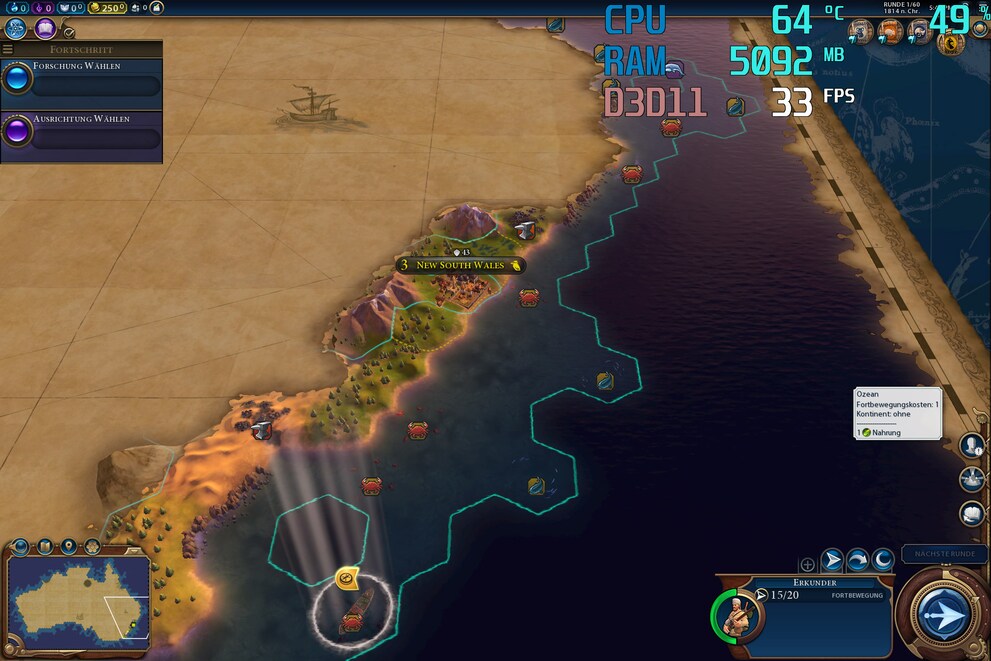 But let's get down to the nitty-gritty. What's actually lurking in this tablet?
Intel Pentium Gold 4415Y including HD Graphics 615
The Intel Pentium Gold 4415Y has been marketed under this name since October 2017. Before that, it was just called Pentium 4415Y, having been introduced at the start of 2017. It's an economical 64-bit dual-core microprocessor designed especially for use on the go. It is manufactured by Intel using the improved 14-nm+ process.
The 4415Y has a clock speed of.6 GHz and a TDP of 6 W (the manufacturer can also reduce this to 4.5 W). It supports up to 16 GB RAM (dual-channel, LPDDR3-1866). Also on the chip is the Intel HD Graphics 615, which runs at 300 MHz and has a burst of 850 MHz.
Performance benchmarks
The Maxon Cinebench R15 isn't really meant for testing gaming performance, as it scales up to 256 CPU threads and focuses on floating point performance. The calculations for Cinema 4D, the mother of this benchmark, are usually carried out on large server farms. This means that processors with more cores always deliver a better result. Present-day games and office applications mostly only support two, four or six CPU cores – in other words, up to 12 threads.
This means if you want to compare processors with Cinebench R15, you can only do that if the processors have the same number of threads.
Here's how Surface Go fared with Cinebench:

As for Geekbench 4, this is a benchmark that spans various platforms. It works on Windows, MacOS, Linux, Android and iOS. In version 4 of CPU benchmarks, the base value of 4,000 points mirrors the performance of an Intel Core i7-6600U that is being clocked at 2.60 GHz.
Geekbench can be used to test the GPU (single-core and multicore) with simulated real situations. It is also useful for determining GPU performance in image processing and machine vision. Thanks to Geekbench browser you can compare the results with other systems.
Geekbench results for Surface Go:
See the benchmark results in detail here:
Verdict

I was allowed to put the Surface Go through its paces for a week. And now that it's over, I can honestly say I'd love to keep it. The 10-inch IPS display seems plenty big enough for working on. At the same time, it's small enough to take everywhere with me. What's a shame is that it only comes with a 1800 x 1200 pixel resolution. Apart from that, the colour display and black value gets the thumbs up from me.

In terms of power, it's not worth getting your hopes up. But it's not all bad: the inbuilt CPU and integrated GPU are almost enough for everything you'd need apart from gaming and rendering. Hey, at least Civilization VI runs on it, even if it is at the lowest graphics setting.

The allocated disc space is rather lean at 128 GB. What's great is that you can update the tablet with the microSDXC card. I'm less enamoured with the way they market it as a 2-in-1 device when you can really only call it that if you buy the keyboard separately.

All in all, I'm really pleased with Microsoft's latest edition to the family. The magnesium casing and the cute size of the Surface Go definitely make it an eye-catcher. If I wanted to buy a new tablet with notebook features in the near future, this one would definitely be a top contender. It's also nice to see there are tablets that can run purely on Windows.

There's only one thing I think Microsoft should cull from its range and that's Windows in S mode. I doubt the majority of users would appreciate how much it calls the shots and keeps you in imaginary handcuffs.
---



I find my muse in everything. When I don't, I draw inspiration from daydreaming. After all, if you dream, you don't sleep through life.
---
---
These articles might also interest you
Skeleton Loader

Skeleton Loader

Skeleton Loader

Skeleton Loader

Skeleton Loader

Skeleton Loader