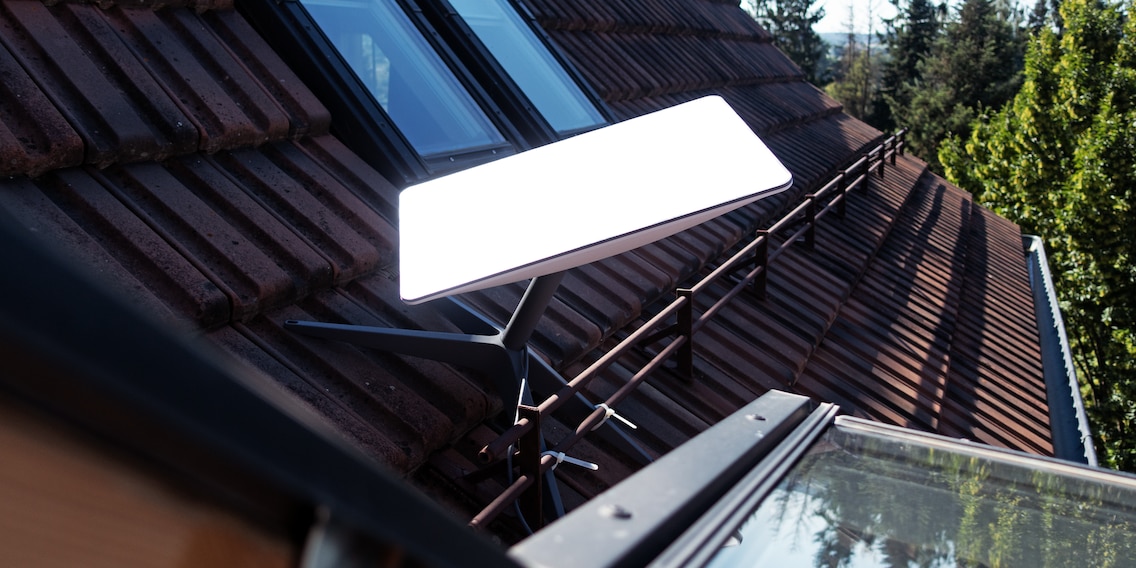 Starlink satellite internet review: up to 250 megabits from space

Elon Musk's SpaceX sent me a Starlink Standard Kit. The satellite dish has been on my roof ever since and does a good job – for a hefty price.
Who exactly is SpaceX's space internet for? Anyone who can afford it and has no other option for «fast» internet. So, a mountain cheese dairy, or globetrotters who want to explore the most remote corners possible in their campervan. By the way, it's not really suitable for online gaming, but more on that later.
You'll get different speeds depending on your location. In the US, the download speed is currently only around 60 megabits per second. Where I live, north of Zurich, I can download an average of over 200 megabits per second. This is because the download speed drops when a lot of other Starlink users are active in your area. Wherever you are, you'll have to be satisfied with upload speeds of just over 10 megabits per second – I found that it takes some getting used to.
In a rural village that's still close to the city, the satellite dish makes no sense. SpaceX's hardware and internet subscription is more expensive and less powerful than cable internet. Also, sloping roofs aren't always a good location for the dish with its integrated motor and heater. The Starlink app also makes this clear to me after the initial installation. After moving it closer to the roof ridge, however, things are running smoothly. However, one thing really surprises me: the wireless router that comes with the set doesn't have a single Ethernet port.
Caution: you'll need approval for roof installation
Depending on the state and municipality, installing a satellite dish on the roof of a house requires a permit. In Switzerland, you usually need a permit from the relevant building authority. You also need your landlord's written consent for any change to a rental property according to tenancy law (Article 260a of the Swiss Code of Obligations).
How Starlink works: once to space and back
Starlink is SpaceX's satellite internet. The space company started launching Starlink satellites into space back in 2019. It now operates more than 4,000 small satellites at an altitude of 540 to 570 kilometres in near-Earth orbit. There are plans to expand the network to 12,000 units, which should do their job at an altitude of between 340 and 614 kilometres. A further expansion to 42,000 units is also planned. As of mid-2023, Starlink already has over 1.5 million subscribers.
Starlink is currently available in most countries in North and South America, Europe, Australia and New Zealand, as well as a few countries in Africa and Asia. You can find detailed status information and countries to follow soon here.
Depending on its location, the satellite dish needs a different amount of visibility to the north for you to be able to enjoy your space internet. This is because a particularly large number of satellites are at 53-degree latitude. If you set up a dish in Switzerland, you'll notice that it automatically points to the north-east. This allows it to track up to ten satellites at once and automatically select the one with the best signal quality. As the satellites are always moving, the dish constantly adjusts itself to the correct direction for newly emerging satellites.
By 2022, the average global download speed is expected to be 87 megabits (10.9 megabytes) per second. I'm testing a stationary Starlink dish. The speed should typically be between 50 and 150 megabits per second when downloading and between 10 and 20 megabits when uploading. The latency should be between 20 and 40 milliseconds. In some countries, SpaceX already offers a business Starlink solution that's said to offer speeds of between 150 and 500 megabits per second. There are also dishes designed for mobile use, which we should have available soon. A private Starlink solution for the shipping industry is a future ambition. The passenger shipping sector, on the other hand, is already being equipped with dishes.
What you need for Starlink and how much it costs
A sloping roof is less than ideal for a Starlink satellite dish. If there's too much roof over the dish, it can impede the link between the dish and the satellite. In order for SpaceX's space internet to work, the dish needs all-round visibility – more precisely from an elevation angle of 25 degrees. This means that it works best on a relatively flat surface or close to the ridge of a roof – obstacles, such as treetops, will impede the connection to the satellite. If you want to check whether a location is suitable for Starlink, you can use the corresponding app. Available for Android and iOS, it has a feature that uses your camera to scan the potential location and tells you if it's not suitable.
As I have access to four sides of the roof from two floors at home, I only place the dish where it's most convenient. I attach it a bit above the first attic floor on the south side. However, that means it's too far from the gable for smooth reception. And too close to the west side of the roof, which forms a cross gable above it with the south side.
Admittedly, I didn't use Starlink's location scan feature prior to deployment. The Starlink app alerts me to the issue as follows:
In addition to the information that I should expect an interruption every five minutes, I'm also shown exactly where any problems arise on the mirrored surface. The dish is slightly obscured to the north and east by the higher roof at times, so I pack everything up again and place it back on the higher second attic floor on the west side. So, the problems are history.
As you can see, the dish is provisionally placed on the snow guard for my test and secured with cable ties. It's far from a recommended method. The stand provided is stable and the dish weighs more than six kilogrammes. But if an autumn storm approaches, I wouldn't bet on it actually holding up.
Not exactly cheap
Once you've found a suitable location, the standard kit currently costs 400 francs. Starlink also charges a one-time fee of 50 francs to activate the hardware. The kit includes the standard dish with a removable 15-metre cable, a metal stand and a wireless router. Not yet available in our shop and not included in this kit are alternative dishes that are stronger or designed for portable use.
The Starlink dish has built-in heating so you can even surf in winter despite snow flurries. Then it's important to make sure that cats don't have access to the dish. There are enough stories of Starlink dishes filled to the brim with four-legged friends.
In addition to the hardware, you need a Starlink internet subscription. The costs for this differ depending on the country. In Switzerland, SpaceX currently charges 65 francs per month. The subscription isn't limited in terms of data. There's as much speed as the satellites can deliver based on their workload.
Accessories: missing Ethernet ports, Wi-Fi extensions and dish mounts
You can't connect the Wi-Fi router to other network devices via Ethernet because there's no connection. There's only one input on the device for the long cable from the dish and a second for the power connection. I've never come across another router like it – what's the point? But there's a remedy in the form of an Ethernet adapter that you can hang in front of the router:
As this article goes live, the network adapter isn't yet available in this country. It has previously sold for $25 in the US. There's a gigabit RJ45 port for that – not two or three, which I think makes more sense. If you have this port, not only can you connect a network device (I recommend a switch), you also have the option of running the router in bypass mode. This disables the device's router tasks and enables you to use a better Wi-Fi router.
As an old-fashioned model, the (second generation) Starlink router only has the Wi-Fi 5 standard. Nevertheless, it has no problem with mesh networking – its network can be expanded with other mesh-capable network devices to form a mesh system. This ensures that a dedicated network is created on the destination floor, which is much better than classic repeater forwarding of the signal. However, the Starlink router only transmits with three antennas (3×3 MU-MIMO), which can limit the connection to a mesh repeater compared to common solutions with four antennas (4×4 MU-MIMO). Especially in a solidly built house.
If you want to buy an official Starlink mesh repeater to extend the Wi-Fi, it's not available in our shop yet. We'll do our best to deliver these and other accessories as soon as possible. This means that even longer cables (22.8 and 45.7 metres) and mounting accessories will follow.
Take a chance and install Starlink on the roof with the following mounting options:
For anyone wanting to drill a hole, Starlink has also developed cable routing solutions:
How easy it is to install
What might not be easy when installing Starlink is laying the cable connection between the dish and the router. Since I can't drill a hole in the wall for my test without my landlord getting angry, I use an open skylight.
Once the dish is in place and the cable is laid, Starlink can be started up easily and in minutes. I simply plug the cable from the dish and the power cable into the router.
It's best to place the router in the centre of your home so that the Wi-Fi signal covers as many square metres as possible. After two minutes of waiting, looking out the window, I notice that the dish has tilted from its vertical installation position to a horizontal one. I then launch the Starlink app and follow its instructions. I choose what my Wi-Fi network should be called, define a password and link the app to my Starlink account.
As soon as that's done, I'm online. A first speed test reaches almost 200 megabits per second. But that might not be the end of the story: the app tells me that it needs 15 minutes for the signal to stabilise for the time being. After that, Starlink collects five more hours of data to guarantee that there are no blockages.
Starlink's downstream and upstream speeds (August 2023, near Zurich)
During the test week, the weather's autumnal, although it's still the height of summer. There are 30-degree days with blue skies and sunshine, as well as 14-degree days with heavy rain and a thick cloud layer. It's also a bit stormy at times, which my makeshift installation survives perfectly.
Does weather have an impact on speed or latency? Definitely not in my tests. Although I got different results on different days and at different times, it was independent of the weather conditions. Nevertheless, raindrops on the mirror could reduce performance. Strong winds could also cause the dish to vibrate, which can also result in a loss of signal.
I tested the speed and latency as often as possible over seven days at various times of the day and night. I used a current laptop in the same room as the Starlink Wi-Fi router. The following is the cumulative result in terms of speed when tested with Ookla's Speedtest:
On average, I get 205 megabits per second (25.6 megabytes). If I divide that across streaming 4K movies, I could run at least eight at the same time. No streaming service streams with more than 25 megabits. That's a hell of a lot. However, the upload figure isn't really that high at 12 megabits per second (1.5 megabytes). If I want to load large photos in RAW format onto the editorial server, it takes a hellish 66.6 seconds per 100 megabytes. On the other hand, it's good that I never fall below 143 megabits downloading and uploading doesn't have any major outliers either – nine megabits were always guaranteed.
If I look at my IP address, the number makes an unusual impression rather than a dazzling one. So, I query my IP location on the internet and then realise that I seem to be in the USA. The Starlink dish sends a signal to the satellite, which in turn sends a signal to the ground, eventually ending up in Seattle, Washington. This can be an advantage or a disadvantage, depending on the situation. If you often use a VPN to access content from the US, you won't have to anymore. If you often have to upload or download data to a European server or NAS, you might get less performance. For most internet users, however, this shouldn't matter.
Ping: why Starlink isn't suitable for online gamers
If you want to test how long it takes for a data signal to travel from the computer to the server and back, you can do this with a ping. This allows you to identify latencies. If a signal takes too long, it can be very disruptive when playing online games.
SpaceX itself writes that Starlink should have low latencies. The company considers 20 to 40 milliseconds of delay to be low. I put these theoretical values aside and use the console to check for myself how quickly the internet responds to my calls. To do this, I ping google.com. For comparison, I also tested cable internet:
The average 42-millisecond ping is more than three times as high as with the cable internet, but within a range that could also be tolerable for gamers. Well, it could, if there weren't so many regular outliers above this. If you play a shooter and want to react quickly, a tenth of a second delay with Starlink internet can be annoying. Likewise, high latencies can take patience if you want to upload a lot of small files to a server. The ping is fine for average internet users who don't play games.
Relatively high power consumption
Depending on the model, a Wi-Fi router normally requires between 12 and 30 watts when it sends or receives data. My power meter reads more for the Starlink router.
I started measuring watts right after starting Starlink for the first time. In the first 15 minutes, it consumes up to 97 watts during calibration. After that, consumption drops. If no device is currently active, the power consumption fluctuates every second – it moves between 43 and 61 watts. If I do a speed test, it fluctuates between 62 and 76 watts.
What really shines here in winter is the heating of the dish. It should be able to draw an additional 90 watts. Since snow is currently rare below 2,000 metres of altitude, I can't check that.
Verdict: the space internet works well; the price and router equipment could be better
To be honest, SpaceX surprised me. I didn't doubt before the test that satellite internet would work. But I'd have expected less speed. With 205 megabits per second, I can do a lot and also get larger downloads in a reasonable amount of time. I knew in advance that the upload figure was comparatively measly, but that doesn't make it any better. Luckily, I download a lot more than I upload.
Since I play offline games more than online ones, the high latency doesn't bother me either. The fact that SpaceX advertises low latencies, on the other hand, is cheeky. It's better to transparently admit that the product also has a downside – and advertise with what is actually there: you can get an internet connection, no matter how remote your home is. That's good, even though it's expensive and the wireless router has old-fashioned Wi-Fi 5… and it doesn't even have an Ethernet port.
Header image: Martin Jud
---



I find my muse in everything. When I don't, I draw inspiration from daydreaming. After all, if you dream, you don't sleep through life.
---
---
---