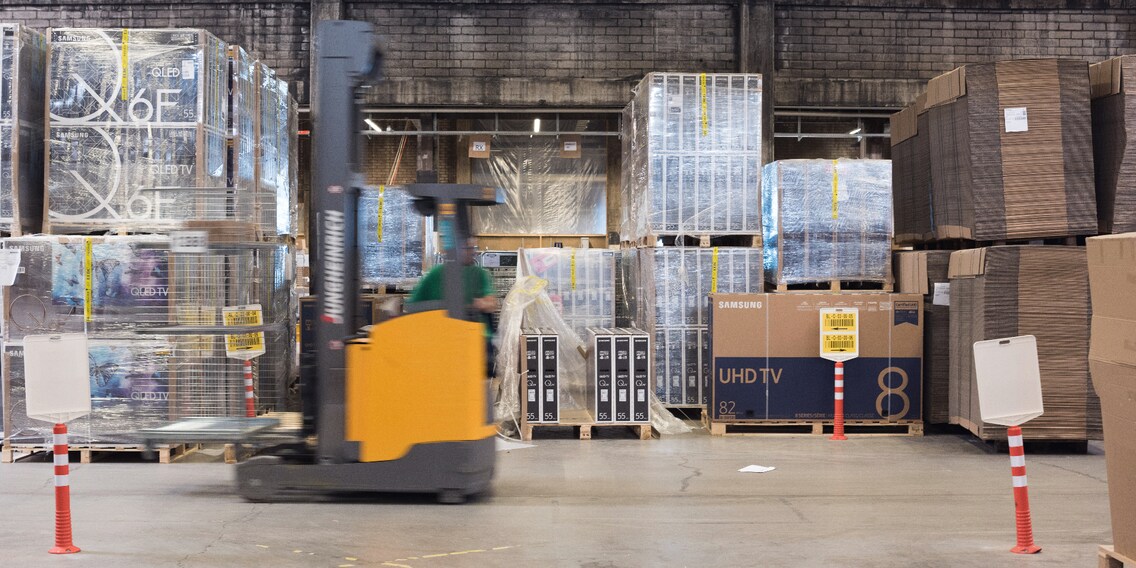 Singles' Day, Black Friday and Cyber Monday – here's what you need to know

Singles' Day, Black Friday and Cyber Monday – the fated month of bargain hunting has arrived. Here's everything you need to know about the upcoming sales at digitec. And a link to all the deals.
Want to know what deals we have lined up for you this Black Friday season? You'll find an overview of our offers in time for each sale.
It starts around the beginning of November at the latest. More and more, those two magic words get typed into digitec's search bar: «black friday». We hear you. You want to know what amazing deals we can offer you. Maybe that long-desired OLED TV? How about a cheap game console? Or maybe, just maybe, one of those hotly sought-after graphics cards?
To make this Black Friday something to look forward to, here's a little list of questions we get asked most often. With answers provided, of course.
When is Black Friday?
As mentioned above: 26 November. Here at digitec, deals will start appearing at the start of day, i.e. 12:01 a.m., and last until midnight. By the way, Black Friday was invented by US retailers. The special holiday was meant to boost business after Thanksgiving Day. There are various theories surrounding the origin of the name «Black Friday». My favourite states that the day used to be so lucrative that merchants would end up with black fingers from counting dollar bills.
When can you see digitec's Black Friday deals?
Needless to say, there will be many deals awaiting you on Black Friday itself – over 350, to be exact. But you'll find special offers even before that at digitec, namely starting 22 November. You can find them in our magazine, for example. Simply filter by «Promotion» as the section and then «Black Friday» as a topic.
How high will discounts go on Black Friday?
It all depends on the product in question. Since margins tend to be low for retailers in the electronics sector, smaller discounts are generally the norm there compared to other sectors, as you'll see at Galaxus. In short: the better our buyers negotiate with manufacturers and suppliers, the sweeter the deals you get.
Is Singles' Day the same as Black Friday?
No, Singles' Day is a Chinese invention meant to boost their sales. Black Friday was invented by the Americans (see above). In China, people shop until their smartphones glow on Singles' Day, or 11/11. Retail giant Alibaba alone reported sales of around $64 billion on one single day in 2020.
Is Cyber Monday the same as Black Friday?
Okay, the chances that anyone who can distinguish between Monday and Friday asked this question are slim. Cyber Monday is the last in a series of crazy shopping days. On 29 November, online stores (yes, digitec, too) offer one last round of special deals before Christmas. Cyber Monday was invented by the Americans. Once again. The Monday following Thanksgiving (itself the fourth Thursday in November) was and is a response from online stores to Black Friday, which was originally launched by brick-and-mortar retailers.
Be that as it may: discounts and promotions are available on all three days. The vast majority of retailers use each of the three occasions as an opportunity to encourage customers to shop – as do we.
What impact will global supply shortages have on Black Friday?
There's no one reason for poor product availability. The situation also varies from industry to industry and country to country. Check out Alex Hämmerli's clear and concise overview here:
Currently, there's a shortage of many products, particularly those that require semiconductors and computer chips. And there are a lot of them. The lack of graphics cards is reaching near-legendary status. Earlier this year, game consoles were also affected; today, smartphones, printers, baby monitors, laptops, PCs, robot vacuum cleaners, and even refrigerators and fully automatic coffee machines are also sometimes unavailable. Experts believe the semiconductor shortage will last for months or even years, as the factories that could combat the shortage through higher production have long construction and lead times. Only one thing is certain: in our economic system, high demand in the face of scarce supply usually causes prices to rise.
Has the list of digitec Black Friday deals leaked?
No, no, and no again. That's only happened to us once. But it's almost endearing that so many of you still remember this embarrassing event from two years ago.
We already made sure to protect our Black Friday deals much better back in 2020.
https://erp.digitecgalaxus.ch/de/MarketingPageContent/BoxDetail/49556?renderCrudLinksOnTopToo=y
---



Journalist since 1997. Stopovers in Franconia (or the Franken region), Lake Constance, Obwalden, Nidwalden and Zurich. Father since 2014. Expert in editorial organisation and motivation. Focus on sustainability, home office tools, beautiful things for the home, creative toys and sports equipment. 
---
---
These articles might also interest you
Skeleton Loader

Skeleton Loader

Skeleton Loader

Skeleton Loader

Skeleton Loader

Skeleton Loader