Loading up Santa's sleigh: here are our pre-Christmas order deadlines

Even for those with a creative knack for last-minute Christmas shopping, things could get tight this year. If you're the type of person who only thinks of gift ideas at the 11th hour, here are our Christmas order deadlines and collection options.
Let's cover the most important stuff first. Anything you order by 5 p.m. on Thursday, 22 December that's marked as «in our central warehouse» will generally get to you by 24 December.
We and our logistics partners need an extra day for orders involving wine or bulky goods i.e. especially heavy items like sofas and 85-inch TVs. Although, who actually buys a sofa as a Christmas gift? Either way: if you want wine or anything super heavy, you need to place your order by 5 p.m. on Wednesday, 21 December for it to make it under the tree by Christmas Eve.
How to find products that are «in our central warehouse»
There are two ways to find products we have in stock at our own warehouses. Working alongside our logistics partners, we're fairly certain we can get these products to you on time.
The first way is to use the filter function. Just select «Offers», then «Products in stock». This way, you'll find the products you're looking for in the results.
Alternatively, you can keep an eye out for the sleigh icon. From 15 December, you'll see this symbol on products guaranteed to be delivered by Christmas. The same goes for the other way round: no sleigh, no guaranteed delivery. This'll be especially important from 22 December onwards, when the symbols will be gone, showing only the typical delivery time. While a product may be marked with «delivery tomorrow», the high volume of parcels means your order could actually get stuck in the warehouse, should something go awry.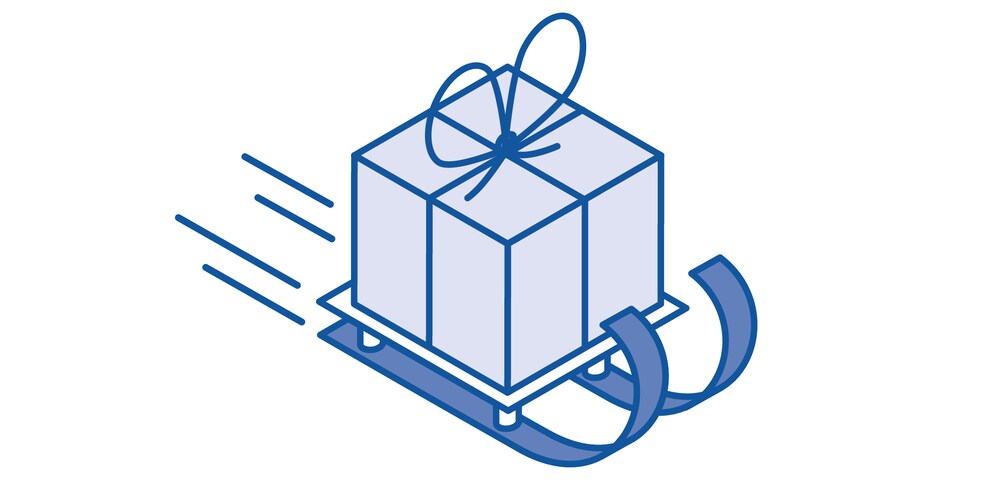 What happens if you order after 5 p.m. on 22 December?
You can, of course, still keep placing orders after 5 p.m. on Thursday, 22 December – or even on Friday 23 December. We're generally able to get your parcel to you by 24 December. «However, we can't guarantee that in good conscience, given that it's not solely down to us after that,» says Peter Weingartner, Leader First & Last Mile in Supply Chain Management.
How to collect your order in store
If you're running really late, you can shorten the processing time of your order by selecting collection at one of our store locations. Here are the order deadlines for collection on Saturday, 24 December:
Lausanne: 4:45 a.m.
Geneva: 4:45 a.m.
Bern: 5:30 a.m.
Zurich: 5:45 a.m.
Winterthur: 6:30 a.m.
St. Gallen: 6:30 a.m.
Basel: 6:45 a.m.
Kriens: 8:15 a.m.
Dietikon: 8:45 a.m.
Wohlen: 12:00 p.m.
These times apply to in-stock products weighing less than 30 kilogrammes. Please also note the opening hours of our stores on 24 December, as well as on the subsequent bank holidays.
Our opening hours during the Christmas holidays
Saturday, 24 December (Christmas Eve): open until 4 p.m.
Sunday, 25 December (Christmas Day): closed
Monday, 26 December (Boxing Day): closed
Tuesday, 27 to Friday, 30 December: usual opening hours
Friday, 31 December (New Year's Eve): all stores open until 4 p.m., except Geneva (cantonal holiday)
Sunday, 1 January (New Year's Day): closed
Monday, 2 January (Berchtold's Day): stores open in Zurich, Wohlen, Winterthur, St. Gallen, Kriens, Geneva, Dietikon and Basel
For the eleventh hour: gift vouchers
Missed all the deadlines? Are you at your wit's end, having lost all trust in everyone and everything? Worry not – we have your saving grace: digital vouchers! You'll even be able to gift this digital ticket to retail therapy by text message. All you need to do is forward the voucher code. Or you can invest a little more time and affection, print out the voucher and put it in an envelope you've decorated yourself. That probably looks a bit more impressive. You can select the value of the voucher: anything from 10 to 5,000 francs is possible.
Don't want to buy a dud? Get your head around the topic of gift vouchers first by reading my 2021 interview with a gift voucher.
If you do go for a gift voucher, and are in need of inspiration on how to spruce it up, you'll definitely find a few good tips in this article.
---



Journalist since 1997. Stopovers in Franconia (or the Franken region), Lake Constance, Obwalden, Nidwalden and Zurich. Father since 2014. Expert in editorial organisation and motivation. Focus on sustainability, home office tools, beautiful things for the home, creative toys and sports equipment. 
---
---
These articles might also interest you
Skeleton Loader

Skeleton Loader

Skeleton Loader

Skeleton Loader

Skeleton Loader

Skeleton Loader