How to make sure your order arrives in time for Christmas

Guilty of last-minute shopping? Here's all you need to know – from Christmas order deadlines to collection options.
This year, if you order a product from us by 4 p.m. on Wednesday, 22 December, we guarantee that it will arrive by Friday, 24 December. This applies to everything we send by parcel or letter – and, of course, only for products currently in stock at our warehouse. You can filter for these in our shop.
You can also look out for the gift icon. Starting on Wednesday, 15 December, you'll find it on each product's page next to its availability information. If the gift icon is there, you can place the product in your cart and rest easy. Your order will arrive in time for the festivities.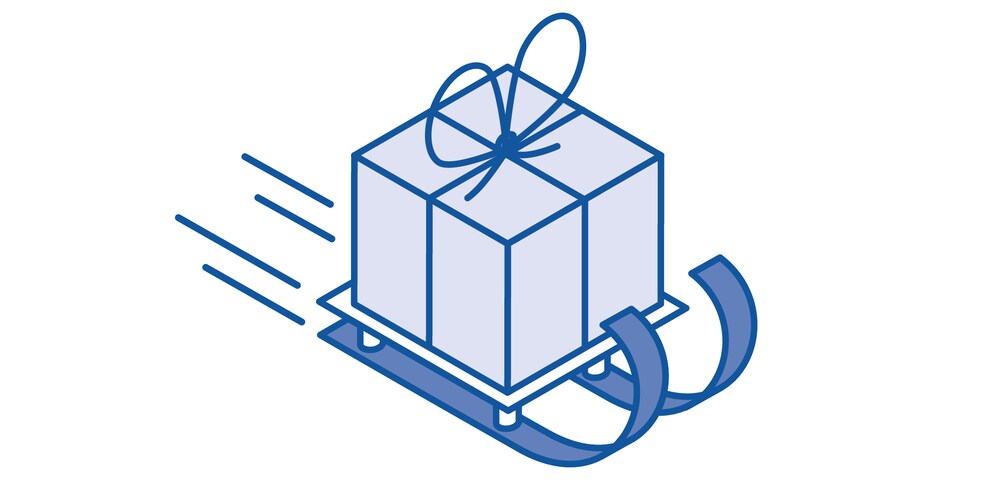 Of course, you can also order on Thursday, 23 December. These orders will typically also make it to your doorstep in time for Christmas Eve. «But we can't guarantee that in good conscience, because then it's not solely in our hands,» says Peter Weingartner, Leader First & Last Mile in Supply Chain Management.
For large and heavy products that can't be shipped as normal parcels, the order deadline for delivery by 24 December is slightly shorter: namely, 4 p.m. on Monday, 20 December. For wine, the deadline for your order is 4 p.m. on Tuesday, 21 December.
Order online and collect at a store
If you're running really late, you can shorten the processing time of your order by selecting collection at a digitec store. Here are the deadlines for collection on 24 December:
Lausanne: 4:45 a.m.
Geneva: 4:45 a.m.
Bern: 5:30 a.m.
Zurich: 11:00 a.m.
Winterthur: 6:30 a.m.
St. Gallen: 6:30 a.m.
Basel: 6:45 a.m.
Kriens: 8:15 a.m.
Dietikon: 11:00 a.m.
Wohlen: 12:00 p.m.
These times apply to in-stock products weighing less than 30 kilogrammes. Please also note the opening hours of our stores on 24 December, as well as on the subsequent bank holidays.
Our opening hours during the holidays
Friday, 24 December (Christmas Eve): open until 4 p.m.
Saturday, 25 December (Christmas Day): closed
Sunday, 26 December (St. Stephen's Day): closed
Monday, 27, to Thursday, 30 December: normal opening hours
Friday, 31 December (New Year's Eve): all stores open until 4 p.m., except Geneva (cantonal holiday)
Saturday, 1 January (New Year): closed
Sunday, 2 January (Berchtoldstag): closed
Covid isn't helping this year, either. We don't currently expect any sudden regulation changes in retail, but should they happen, you can always check the current opening hours here.
When everything's too late: vouchers
Missed all the deadlines? Are you at your wit's end, having lost all trust in everyone and everything? Worry not – we have your saving grace: digital vouchers! You can even gift this digital ticket to retail therapy by text message. All you need to do is forward the voucher code. Or you can invest a little more time and affection, print out the voucher and put it in an envelope you've decorated yourself. That probably looks a bit more impressive. You can select the value of the voucher: anything from 20 to 5,000 francs is possible.
All this may sound a little overwhelming. But hey, it could be worse. You could be fighting to get a «Turbo Man» action figure at the last minute.
---



Journalist since 1997. Stopovers in Franconia (or the Franken region), Lake Constance, Obwalden, Nidwalden and Zurich. Father since 2014. Expert in editorial organisation and motivation. Focus on sustainability, home office tools, beautiful things for the home, creative toys and sports equipment. 
---
These articles might also interest you
Skeleton Loader

Skeleton Loader

Skeleton Loader

Skeleton Loader

Skeleton Loader

Skeleton Loader