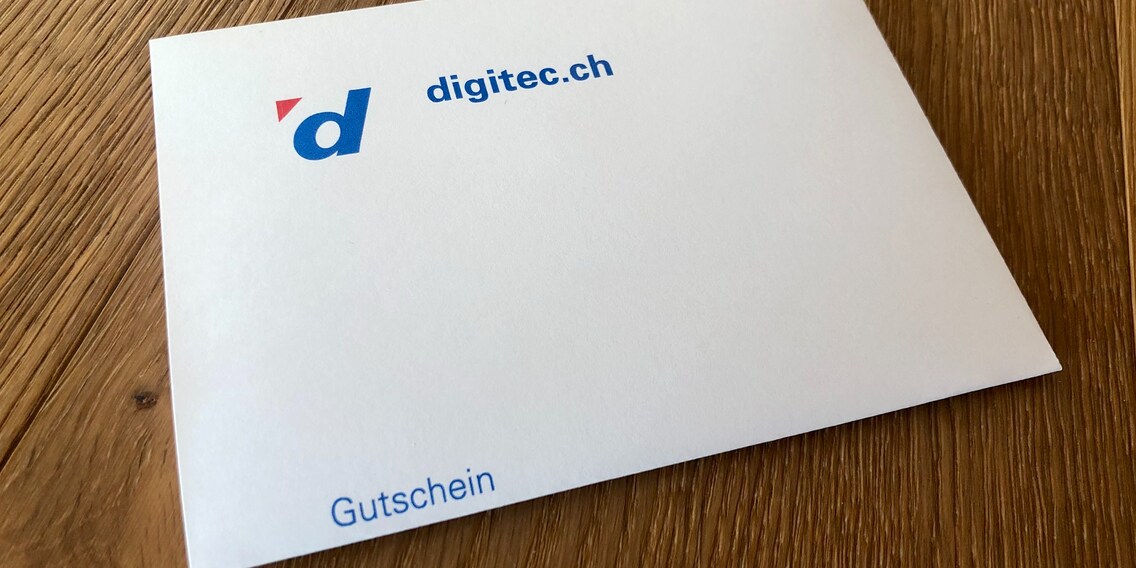 This article was translated automatically.
A voucher interview: "Many of us are not really free at all"
The closer Christmas gets, the more popular it becomes: the gift certificate as a present. But how is it for someone who is only ever popular when the gift-givers can't think of anything better? In an interview, a voucher gives some shocking answers.
Guido Gutschein is chairman of the "Interest Association of Vouchers for Christmas and Beyond" (IdGuzWeiudh). He represents the interests of his association voluntarily towards politics and society. His main job is as a voucher in the online shop of Digitec Galaxus.
Thank you, Mr. Gutschein, for taking the time to answer our questions during this stressful time for you and your colleagues.
Guido Gutschein: You're welcome, I'm glad that someone is interested in us for once.
But you shouldn't be complaining about a lack of interest so close to the festive season, should you?
Not really, no. But the great love is never there, neither on the part of the giver nor on the part of the recipient. I see a lot of small talk, forced smiles and promises. It's all just hot air. Ask my buddy Balloon Voucher, he knows the subject even better.
Aren't you making yourself smaller than you are? After all, you provide peace and joy between giver and recipient.
True, most of the time at least. But I also see the faces of the recipients. A colleague, a gift certificate for a beauty clinic, once told me that it was almost torn apart when a man presented it to his wife. Life as a gift certificate is fraught with peril.
You're exaggerating...
Not at all. My father, for example, Znacht Gutschein, has been lying in a dark drawer in Canton Bern since Boxing Day 2013. I have not seen him for years. But even worse are the cases that end up in the waste paper. They die a far too early death in the crematorium.
That means that many of them will never be able to fulfil their destiny?
Exactly. Did you know that it's estimated that at least 10% of us will never be redeemed? Nobody asks, nobody cares. It's a hushed problem.
The stores and institutions that give you life in the first place are also the ones that are most happy about a lonely life on your part. They make money on every voucher that dies an undignified death.
Yes, that's right, the shops ... (smiles smugly). They made us the slaves we are today. Hardly any of us are really free anymore. Almost all of us have to carry small print around as a burden - minimum order quantity, branded items excluded, not applicable to products already reduced, only valid for overnight stays from Monday to Thursday. About 80 percent of us live as such a coupon precariat. They have to scrape by as "coupons" and are touted on the internet like sour beer. And on the other side, the top one percent, the fancy plastic cards with credit for luxury department stores, streaming services or V-Bucks.
What would improve the situation, what do you want from us as consumers?
(long pause for thought) Respect. That's what I wish for. We are more than a piece of paper with a string of numbers on it. We also have feelings, or rather we pass on the feelings of the giver to the receiver.
Now I too have a bit of a guilty conscience. What could I do concretely?
It's the little things. Don't just send me around as a drab numerical code that then gets used to pay for some graphics card ...
**Um, there aren't actually any video cards available right now...
Never mind, it was just an example, geez! So, whoever gives away a voucher may wrap it nicely. Wrapping paper, ribbon, maybe even a nice box - that would make our voucher-life much better.
I will make an effort. Thank you for taking the time to answer my questions. Merry Christmas!
P.S.: Tips for wrapping gift certificates in style can be found here:
Know-howArts and crafts

5 ways to packagevouchers more imaginativelyat the last minute
P.P.S.: Guido voucher and his colleagues you can buy at Digitec Galaxus here. Unfortunately, it is "only" a numerical code. Sorry.
---



Journalist since 1997. Stopovers in Franconia (or the Franken region), Lake Constance, Obwalden, Nidwalden and Zurich. Father since 2014. Expert in editorial organisation and motivation. Focus on sustainability, home office tools, beautiful things for the home, creative toys and sports equipment. 
---
These articles might also interest you
Skeleton Loader

Skeleton Loader

Skeleton Loader

Skeleton Loader

Skeleton Loader

Skeleton Loader