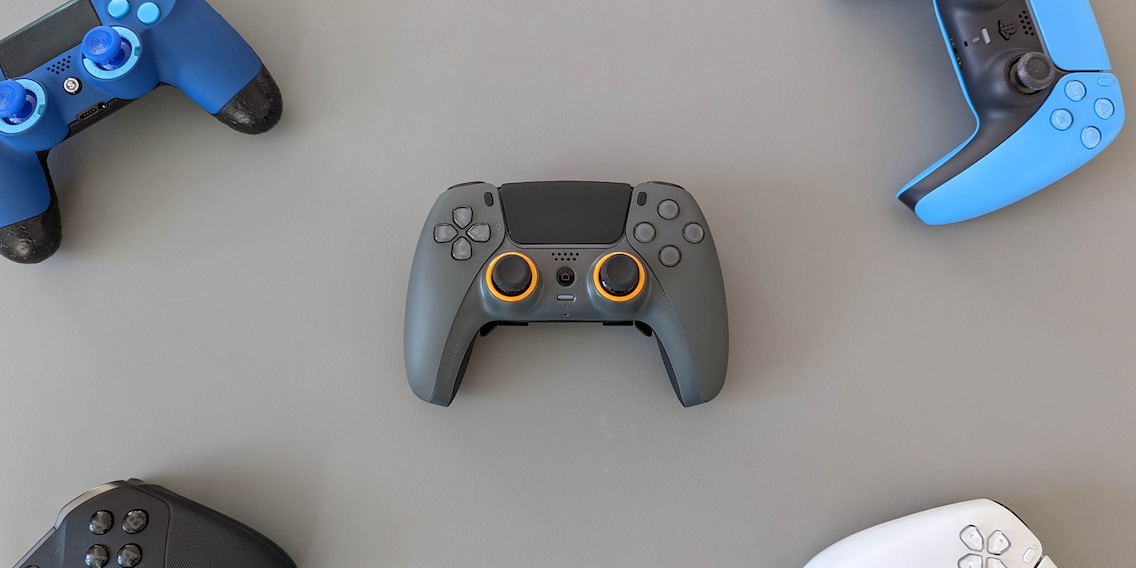 Scuf Reflex Pro review: possibly the best PS5 controller but it's far too expensive

The Scuf Reflex Pro wants to be the Lamborghini of PS5 controllers. From a tech point of view, it's hard to find fault with it. The only thing that doesn't seem right is the price-performance ratio.
Sony's Dual Sense is a solid controller. It sits comfortably in your hand, feels well made and comes in a variety of colours. Nonetheless, a lot of players still want more: more features, more settings, better grip. Unlike Microsoft, Sony doesn't offer its own premium controller, which is why third-party manufacturers such as Scuf step in to fill the gap. The Scuf Reflex Pro is compatible with PlayStation and PCs, but it will set you back a fair amount.
This is what the Reflex Pro can do
The Scuf Reflex Pro costs a whopping 250 Swiss francs (240 euros). For the equivalent of half a PS5, you get two interchangeable analogue stick sets, non-slip handles as well as four detachable paddles on the back. The latter being the Pro controller's main selling point. The controller includes four extra buttons that can be remapped so that your thumb and index finger don't have to operate all the buttons.
Unlike on Scuf Infinity4PS Pro, Playstation 4's predecessor, the Scuf Reflex Pro doesn't let you adjust the pressure sensitivity of the trigger buttons L2 and R2 any more. I have a suspicion this is down to the haptic triggers on Dual Sense. Game developers can determine the trigger strength via software. What's more, fingernail-like trigger button extensions have also been removed.
All of this makes configuring the paddles easier. With the Reflex Pro, there's a small button on the back that lets you switch between three profiles or choose no assignment at all. Predefined profiles are hidden behind the three colours:
Blue: shooter
Red: sport
Green: racing
To start your own assignment, first select a profile then hold the profile button until it flashes. Then press one of the four paddles at the same time as the button you want to assign it to. In order to save the new configuration, press the profile button again. You've got L1, R1, L3, R3, D-Pad and the four action buttons to choose from.
Removing the pedals is a fiddly business.
You can remove the four paddles if you don't need them by pulling them down. But with the first go, that's easier said than done. There's hardly any grip area and pushing doesn't cut it either. I'm always paranoid about breaking the little plastic things. Eventually, I manage to get it to budge with a mixture of pulling and pushing. After several rounds of plugging it in and then unplugging, it works better and I can now pull it out with two fingers. This raises the question of whether they'll end up falling out themselves over time. The whole thing doesn't really seem that elegant, especially when you're dealing with a device in this price range.
What's been handled better is switching analogue sticks. The only thing I have to do is loosen the cover on the bottom of the handles and then I can pull the sticks out. Then it's a case of plugging in a new set, putting the cover back on and it's done. Microsoft's Xbox Elite controllers keep making it even better. And not only because this is the place where you can switch the D-Pad. The magnet and plug-in mechanism combo is also much more elegant.
You've got two sets of analogue sticks at your disposal.
Reflex Pro doesn't need any software. Just like a normal dual-sense controller, it receives updates via the PS5. To connect your Reflex Pro, link it up to the PS5 with a USB-C cable, turn it on and follow the instructions on your TV. You can connect to the PC via cable or Bluetooth. To do this, press the home button and the share button simultaneously until the controller flashes. Then you should see it pop up in the Bluetooth device menu.
Like a glove
The Scuf Reflex Pro is slightly heavier than Sony's Dual Sense, which is why it feels a bit better. The rubber grips are a welcome addition. These mean the device sits securely in your hand – even if an «Elden Ring» boss makes you break out in a sweat again. In terms of analogue sticks, I prefer the shorter ones. Nonetheless, I'd have liked to have used the ones that have an outward curve. But the thing is, one of them is longer than the other, which doesn't suit the way I like to play. This is another area where the Xbox Elite does a better job, in this instance by making three sets.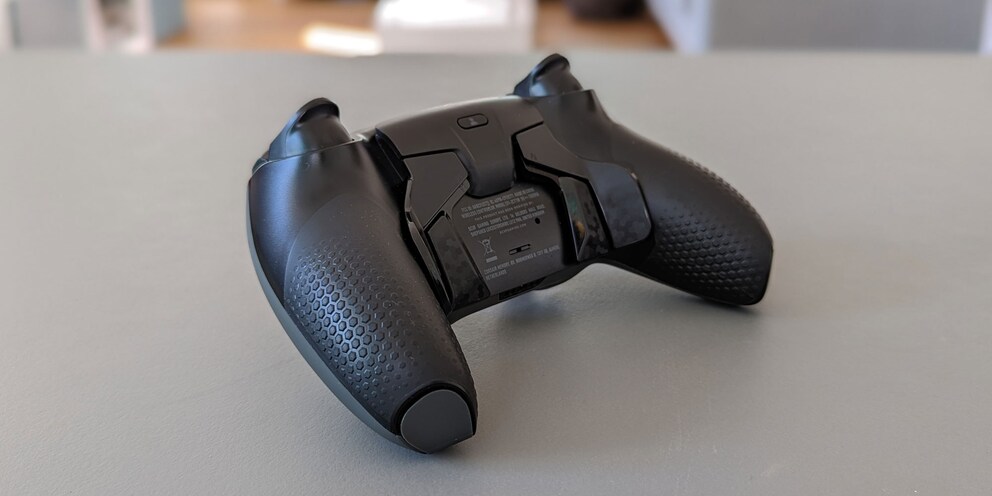 I have no complaints about the outer paddles. They're perfectly positioned for my taste. But it's a different story with the inner paddles, which take a lot of getting used to. I need to use the side of my fingertip to operate them. And when I do that, I can't hold the controller properly, which makes me feel uneasy while playing.
The other buttons are more or less identical to those on the Sony controller. The only difference being that the shoulder buttons are more satisfying to press on the Reflex Pro, and they sound even better.
Paddle to the metal
You can't dispute the advantages of the paddle. I can hold the controller firmly in my hand and concentrate fully on the analogue sticks with both thumbs. All the while, my middle fingers deal with the X, square, circle and triangle on the back that the thumb button would normally handle. This is a huge advantage in multiplayer shooter games such as «Warzone». My right thumb can keep on targeting the surroundings. In other words, it doesn't need to take time out to press the circle button, slide, jump or reload weapons. Once I get used to the controls, I notice I gain milliseconds in response time in online games, which is crucial.
As I normally play shooters with a mouse and keyboard, the Scuf Reflex doesn't provide much benefit in these genres. But it's a whole other story with race games. Ordinarily, I play with automatics. Yeah, yeah, I know. The god of racing ought to punish me with flat tyres and engine damage. I've actually only ever changed gears using a paddle shift on the steering wheel when driving a manual. But I've not had a car like that in years. With the Scuf Reflex, I can now shift up and down with the paddles rather than the D-Pad. It almost feels like a quick shift on a real car steering wheel. This could even win over lazy casual racers like me. The amazing haptic feedback from «Gran Turismo 7» – especially from the triggers – does the rest. This is where the controller gets to show off its best side.
The Scuf Reflex is also advantageous in (mostly) single-player games such as «Elden Ring» or «Tunic». In From Software's fantasy epic, I can use it to add in potions or roll safely without having to take my eyes off my opponent. The «Zelda» inspired «tunic» also bears a number of «dark souls» in it. In the hectic fights to be chief, on more than one occasion I was glad I could throw down the saving healing potion by using the paddle. Normally, I'd have to have taken my index finger off the shield button R2 in order to press R1.
Verdict: cool but too expensive
Do you need more «pro» in your controller? The Scuf Reflex Pro does what it says on the tin. Thanks to better grip, extra paddles that you can practically assign anywhere, and removable analogue sticks, you have more control over your games. Does it make you game better? Maybe. For me, the main benefit is that it's customisable. The four extra buttons provide more flexibility and don't require as much finger gymnastics.
Without a doubt, the Reflex Pro feels like it's better finished than the normal Dual Sense controller. The problem is the price tag. For 250 francs, I expect more than a few paddles and increased grip. 100 francs less would bag Xbox players (and PC players) the Elite controller. It sits just as well in your hand. Not only does it let you make more adjustments, it's also easier to do so. That's what makes it difficult to recommend Scuf's controller. That being said, there aren't many alternatives to a Pro controller in Dual Sense design. Assuming the price tag doesn't put you off, when you invest in the Reflex Pro, you get a top-quality controller. But for everyone else, the wait for Sony to release its own Pro controller continues.
---



Being the game and gadget geek that I am, working at digitec and Galaxus makes me feel like a kid in a candy shop – but it does take its toll on my wallet. I enjoy tinkering with my PC in Tim Taylor fashion and talking about games on my podcast http://www.onemorelevel.ch. To satisfy my need for speed, I get on my full suspension mountain bike and set out to find some nice trails. My thirst for culture is quenched by deep conversations over a couple of cold ones at the mostly frustrating games of FC Winterthur. 
---
---