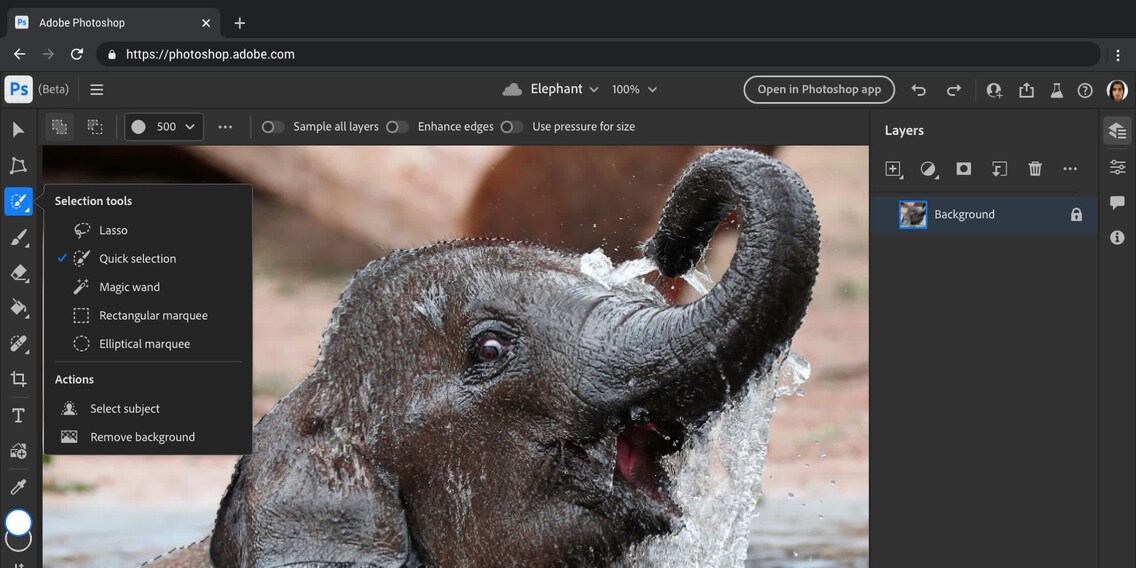 This article was translated automatically.
Photoshop for all: Adobe plans free image editing on the web
Adobe is testing a free web version of Photoshop. The company plans to make the freemium software available to the entire world. So far, however, only Internet users in Canada are benefiting.
In October 2021, Adobe released the beta of the web version of Photoshop. A much slimmed down version of the image editing software, but containing the most important tools and utilities. This version for paying customers has been provided with a few updates in the past few months that expand the service. Now Adobe plans to make its web version of Photoshop available to all Internet users for free in the future. Where free means that the software will be released as freemium - that is, the basic version costs nothing, but for certain additional services Adobe wants to see money.
Now Adobe has started testing the free web version in Canada. It is not yet known when it will be released for the entire world. The scope of the version offered in the future should provide enough tools to fulfill the core functions of the software. Adobe did not reveal what additional features will be available to paying customers.
Regarding the plan, Adobe says that they want to make Photoshop more accessible. More people should be able to try out the software - the web version offers the advantage that it can be worked with even without a high-end computer. This means that in the future it will also be possible for weaker computers to edit images with Adobe Photoshop.
---



I find my muse in everything. When I don't, I draw inspiration from daydreaming. After all, if you dream, you don't sleep through life.
---
---
---
These articles might also interest you
Skeleton Loader

Skeleton Loader

Skeleton Loader

Skeleton Loader

Skeleton Loader

Skeleton Loader