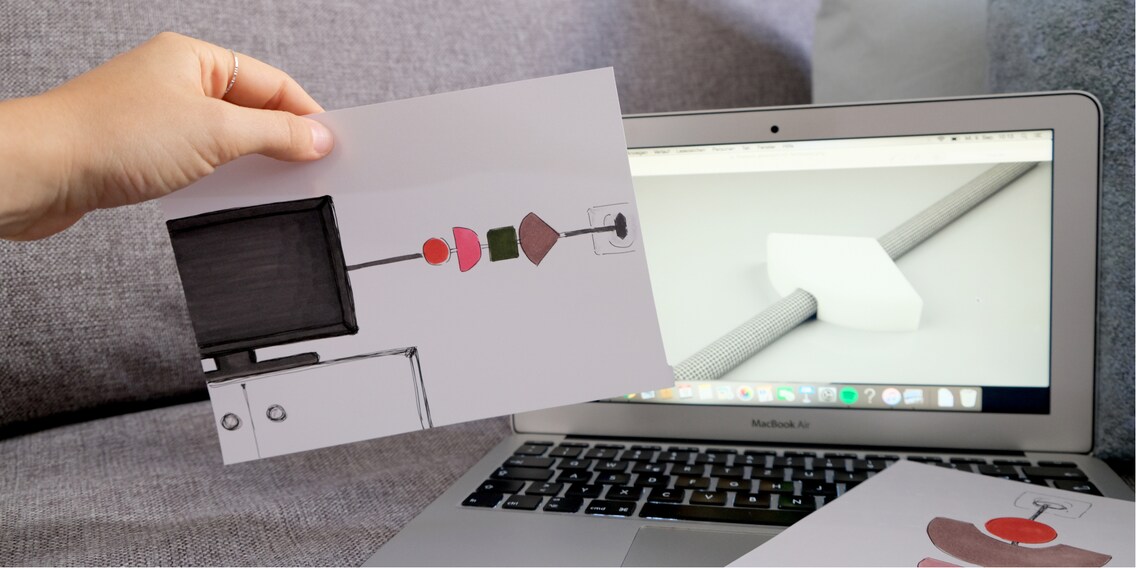 Part 1: DIY attractive cable solutions

What if you could decorate your cables like a Christmas tree or embellish them with photos like a pinboard? Printable DIY ornaments make this a reality.
My strong sense of aesthetics often pushes me to the limit. As a result, I mostly end up choosing appearance over practical design, only to get annoyed about the lack of functionality. As a lover of aesthetics, cables are a major thorn in my side. I hide them whenever I can, but this isn't possible in some places.
Rarely attractive
Most cable boxes and holders look boring or just too technical. Above all, they feel out of place in a home. Although they're designed to make hardware less visible or conceal them completely, they do the opposite. Having not yet found a solution, I regularly opt for trial and error.
Power sockets high up on walls are particularly difficult to hide. I have a cable like this in my living room which dangles down the wall to a multiple plug outlet. Moving it behind the wall or skirting would hide it, but as I live in a rented apartment, I'm keen to avoid making any major changes.
A small digression
I turned to the internet in search of other ideas. Eventually, I stumbled across Kristin Dickson-Okuda on Instagram, who covers cables with transparent fabric. She pushes the material together, creating creases and organic shapes. Her idea inspired me to take a new approach: what if I decorated my cables instead of hiding them?
I tried to emulate Kristin Dickson-Okuda. Unfortunately, I'm not an experienced sewer, so my attempts either failed or took what felt like an eternity. That, and the results weren't flexible – I had to make a new one for each cable, so they weren't easy to swap over.
A new attempt
I shared my woes with my colleagues. Then a new approach emerged: 3D printing. Kevin Hofer explained the options and suggested working on a design together. No sooner said than done. I did a few sketches, but I was unsure where to start. Should I redesign ugly cable boxes, or focus on hiding cables like the ones in my living room?
After talking to Kevin, it became clear that we wanted to work on more than just one project. First, we focused on creative ways to pimp a cable, then we moved on to cable boxes for multiple plug outlets. We'll share all of our designs over the next few weeks so you can get something out of it too.
The first idea: cable ornaments
Even though my first attempt at hiding cables was more mess-up than level-up, it inspired me. I didn't just want to hide the visible cables; I wanted to get more out of them. Ultimately, interior design is about the details. As some cables are on walls, a pinboard came to mind. I wanted to find a way to make cables into a kind of clothes line for inspiration, ideas and ornaments. This would allow you to curate these things and create a wall-mounted ornament. It took a few sketches for me to decide what I wanted. I took inspiration from the organic shape of a circle and added a few other geometric shapes.
The anticipation mounts
I showed my drawings to Kevin so that he could convert them to printable models in his CAD programme. Next up is choosing different colours for the 3D filament. That's all I can do for now. Kevin has the 3D printer. In the next article, he'll be showing us whether anything came of the ornaments.
---



«There are only two ways to live your life. One is as though nothing is a miracle. The other is as though everything is a miracle. I believe in the latter.»
– Albert Einstein
---
---
---
These articles might also interest you
Skeleton Loader

Skeleton Loader

Skeleton Loader

Skeleton Loader

Skeleton Loader

Skeleton Loader