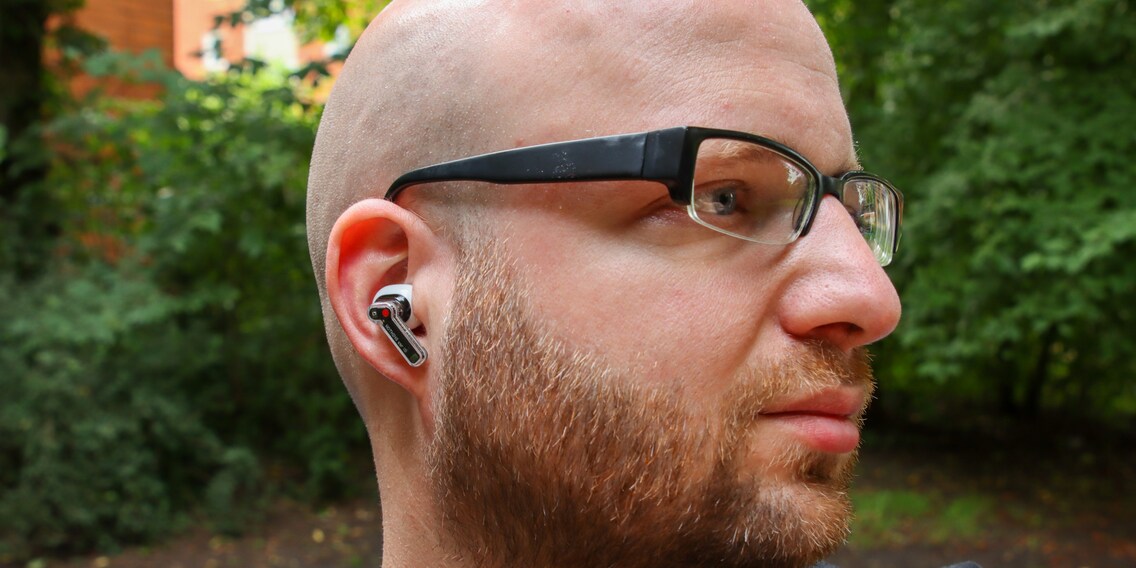 Nothing Ear (1) review: Nothing really matters

Quite often, the more a product is hyped before it's released, the more it will disappoint. And the earbuds by Nothing Ear (1) were subject of a massive hype. Do they disappoint? Not at all. Are they perfect? Not yet.
Not every startup gets as much attention for its first product as Nothing did for their earbuds named Ear (1). Then again, not every startup was founded by Carl Pei, who made a name for himself as co-founder of the smartphone brand OnePlus and is turning to other products with his new company. Its first release: true wireless earphones with active noise cancelling.
Transparent design and high comfort
In keeping with its name, Nothing has gone for a minimalist design. The Ear (1) come in a square case made of transparent plastic. Apart from that, the dominant colour is white. This creates a cool, simple and elegant look. There's an indentation in the lid of the box – between the earbuds. This puzzled me at first, but I soon realised what it's for: my thumb. Whenever I reach for the case, my thumb fits perfectly into this gap, allowing me to spin the case in one hand.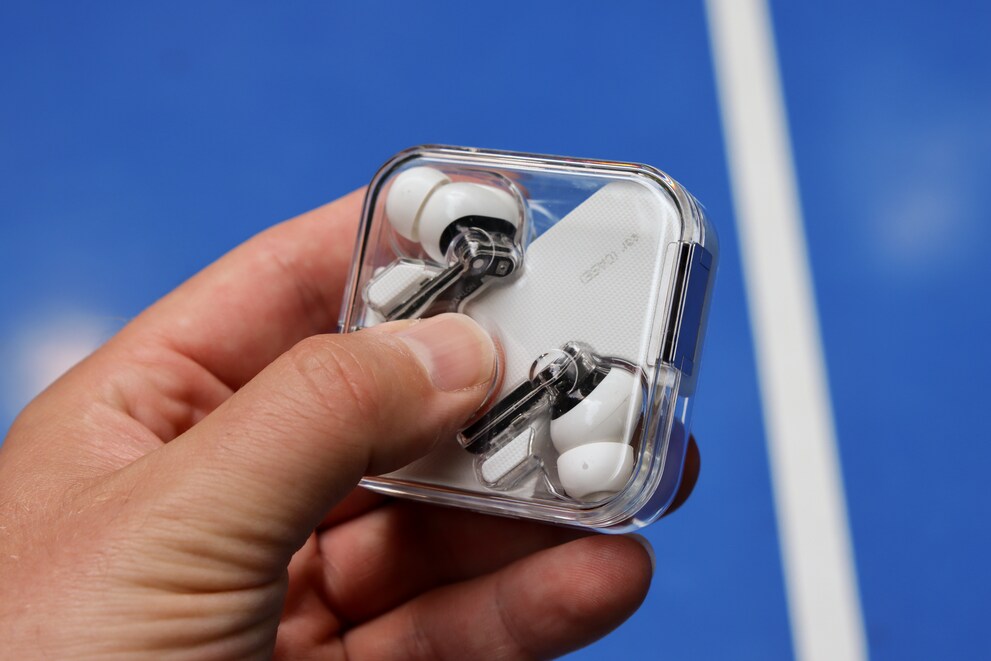 The transparent design continues on the earpieces. While the part that goes into the ear is white, the stalks are transparent, revealing the technology inside them. Two more sizes of ear tips are included, but the ones the Ear (1) comes with by default fit me perfectly. I don't have to change anything and could wear the earbuds for hours. At 4.7 grams each, the earpieces are light as a feather and don't tickle my ear.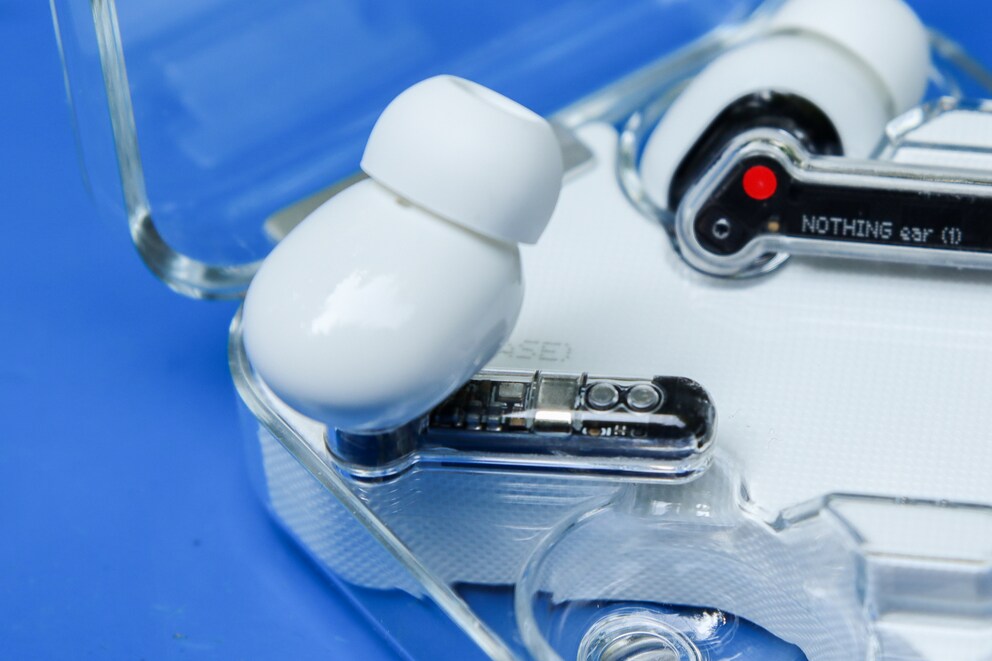 You don't have to worry about a little sweat or rain with the Ear (1), as they're IPX4-rated for water resistance. I took them running and moved around quite a bit and they stayed in my ears all along. The only time they fell out was when I pulled a sweater over my head or took off my bike helmet.
Good music and bad phone calls
The Nothing Ear (1) paired with my Android smartphone without any problems. However, do remember that they need to stay in the case for pairing. If you take them out, it won't work. They then connect to the smartphone via Bluetooth 5.2 as you remove them from their case and put them in your ears. The Ear (1) support two audio codes AAC and SBC. They don't support AptX and LDAC.
As soon as the earbuds were in my ear, I heard much less of my surroundings. But there's definitely room for improvement. Three microphones ensure active noise cancellation and help eliminate noise. The result? Not total silence, but a much more quiet walk along a busy road. The biggest advantage, in my experience, was that I didn't have to turn up the volume to listen to a podcast, for example. If someone spoke to me, I heard it, but I had to take out the earbuds to be able to understand what they said.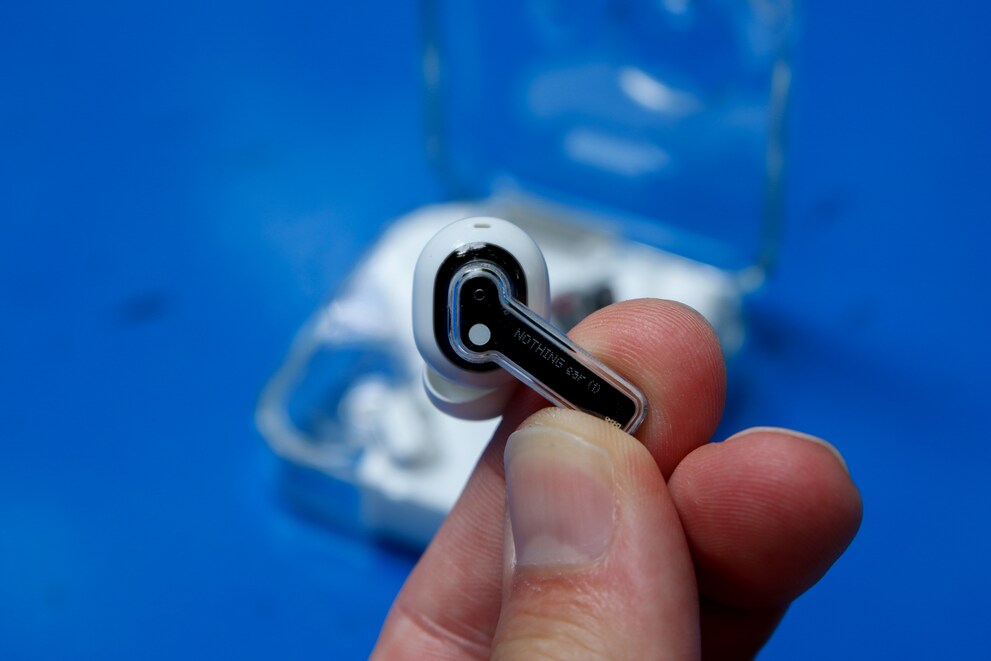 Alternatively, I could have activated the transparency mode, which offers a hear-through. Switching directly from active noise cancellation to transparency mode was like turning up the volume control on the stereo system to maximum. This meant I could understand what people were saying. In this case, whether you leave the earpieces in or not is a question of politeness.
The Nothing Ear (1) are equipped with one 11.6 millimetre driver per earpiece, which together create clear and voluminous sound. The fact that they're directly in the ear makes it easier for them to sound good and produce a stereo sound. There's also bass, but as with most true-wireless earphones, it isn't particularly pronounced. If you want to feel the bass, you need other output devices.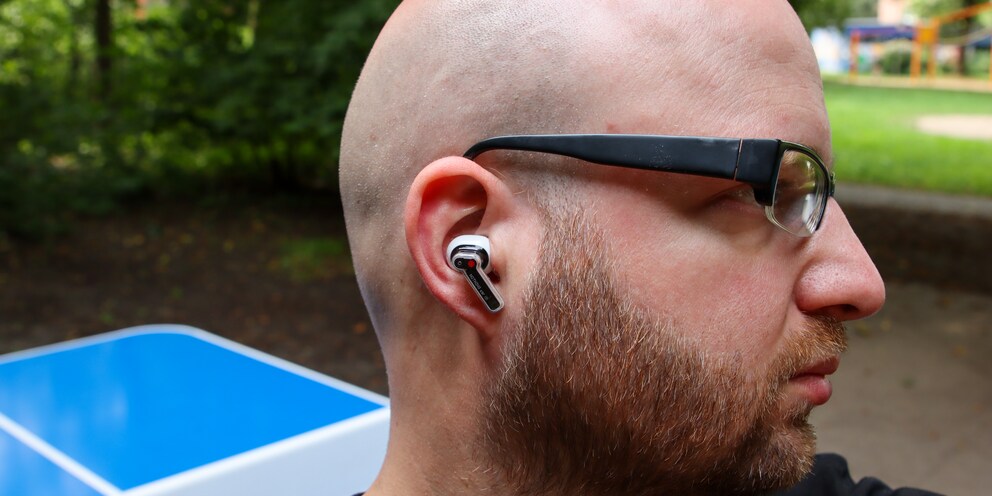 While I was happy with the sound and comfort of the Nothing Ear (1), the people I talked to on the phone weren't. When I was in a noisy environment, they could hardly understand me and the connection wasn't always stable even in quiet surroundings. Speaking of stable, it seemed to me that the active noise cancellation had small dropouts every now then or the software needed a moment to recognise a noise source in order to cancel it out. A software update could help.
Operation with and without app
Gesture control allows you to tap the earbuds to operate them – twice to pause and start playback or three times to jump to the next song – or swipe across them to increase the volume. Tapping and keeping your finger on them toggles between active noise cancellation, transparency mode and neither.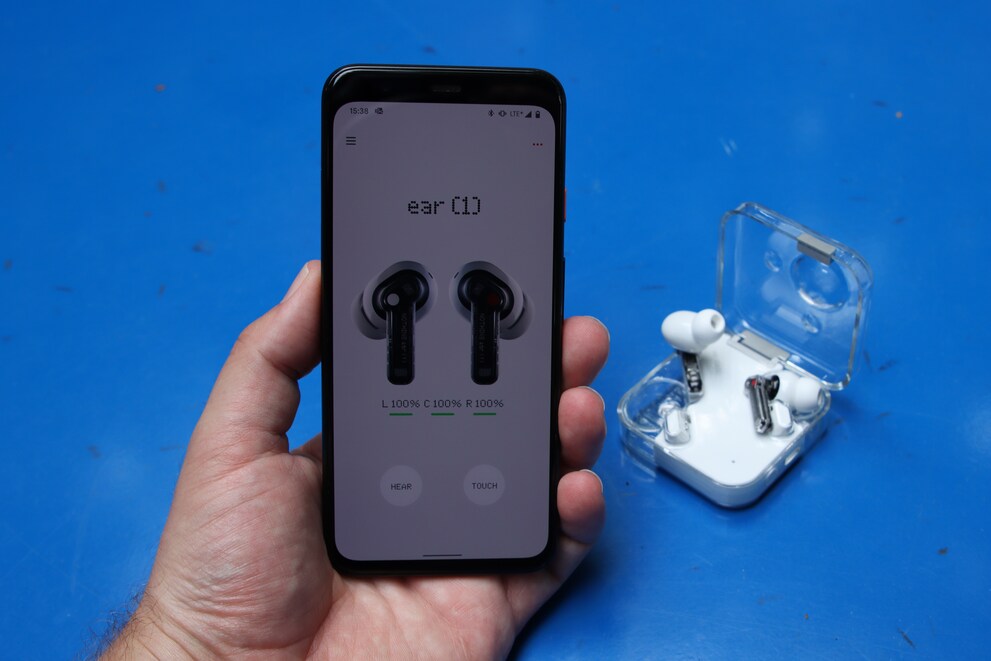 If you want even more control options, Nothing offers you another app for the Ear (1) (Android only). I installed this app. What I really liked is that I didn't have to create an account and the connection to the headphones also worked when I'd already paired them via the smartphone. Neither can be taken for granted.
The functions in the app itself are very clear. You can customise the touch and slide functions. However, the only difference from the presets so far is only using the triple tap on one of the earbuds to return to the previous song. You can also see which mode is currently active and choose between two levels of noise cancellation. The equaliser offers you four options: balanced, more treble, more bass or voice.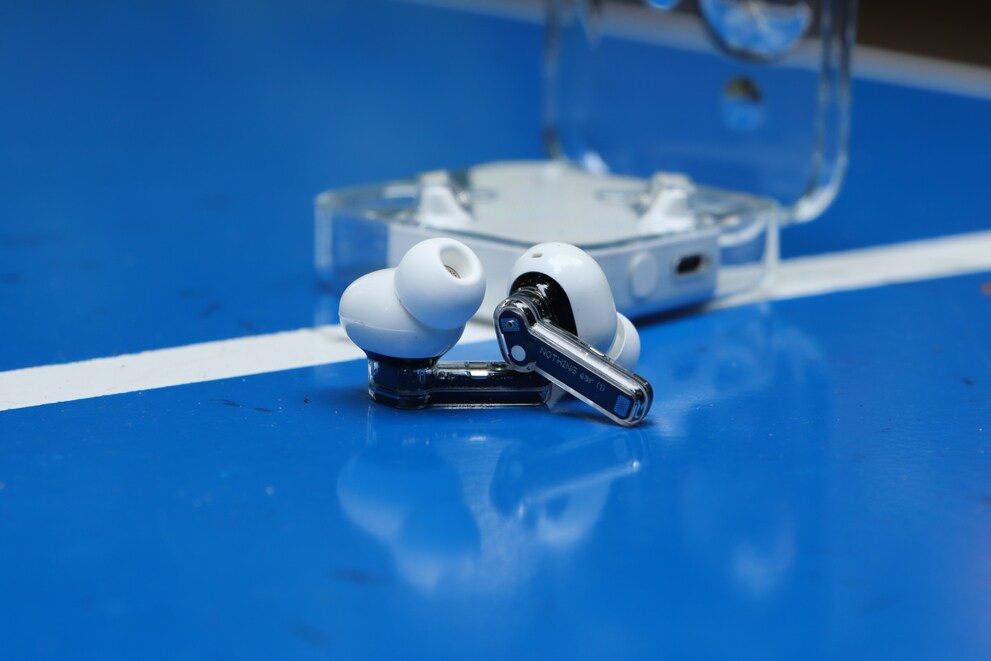 The app also displays the current battery level of the earbuds and the case. Nothing states a maximum battery life of 34 hours, which is reduced to 24 hours when using active noise cancellation – that's if you recharge the earbuds in between. Nothing doesn't reveal how long they're supposed to last on one charge. However, using them for two hours at a stretch wasn't a problem in my case and even then, they still had almost 40 percent battery left. The Ear (1) earbuds are charged in their case, which, in turn, is charged via USB-C cable or wirelessly via chargers that use the Qi standard.
Verdict: great headphones, but not for phone calls
I'm very happy with the Nothing Ear (1). They fit comfortably, sound great, suppress ambient noise, are easy to operate and feature decent battery life. But they're not quite perfect yet, as I did experience occasional, short dropouts of the active noise cancellation and audio problems during phone calls. If you're intending to spend a lot of time doing phone calls, I wouldn't get the Ear (1) yet.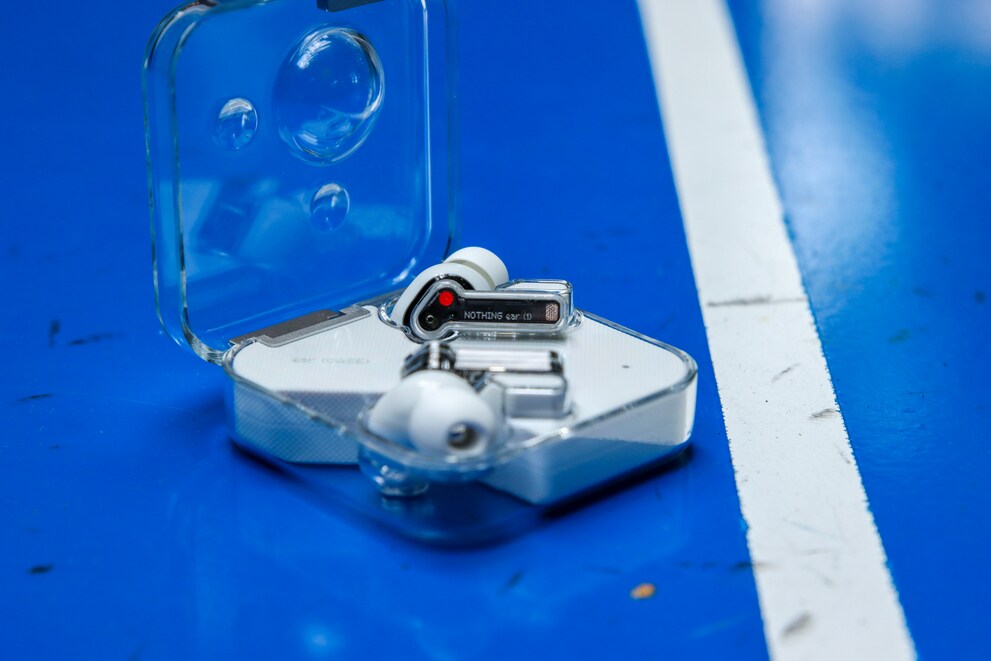 The Nothing Ear (1) earbuds don't have to shun any comparison, especially at this price tag. They're easily better than the Galaxy Buds Pro and just as good as the Sony WF-1000XM4 and the AirPods Pro, while costing much less. The Huawei Freebuds 4 come close to the Ear (1) in terms of price, but they haven't convinced me so far. I detailed review will follow.
I'm looking forward to seeing which device the startup will tackle next. After all, earphones aren't the only product they have their eye on. Looks like Madonna was right: «Nothing really matters».
---



When I was but a young student, I'd sit in my friend's living room with all my classmates and play on his SuperNES. Since then I've had the opportunity to test out all the newest technology for you. I've done reviews at Curved, Computer Bild and Netzwelt, and have now arrived at Galaxus.de. 
---
---
---
These articles might also interest you
Skeleton Loader

Skeleton Loader

Skeleton Loader

Skeleton Loader

Skeleton Loader

Skeleton Loader