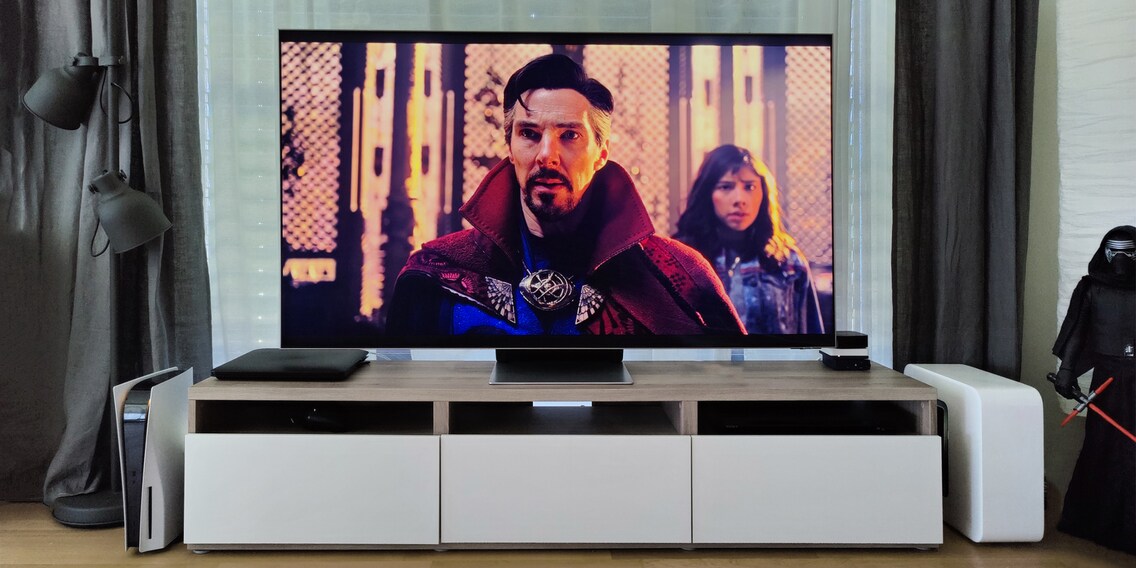 This article was translated automatically.
Neo QLED: Samsung's QN95B in a detailed test
Samsung has installed the second generation of Mini LED in the QN95B. This is the technology with which LCD TVs want to achieve the picture quality of OLED sets. Want - OLED is still better. And yet I am thrilled with the QN95B.
OLED TVs are the measure of all things - for now. Because Samsung's upcoming QD OLED technology could shake up the OLED throne(I described why here). In the meantime, the South Korean TV giant wants to serve the market as well as possible with its second mini-LED generation. After all, Mini LED is already supposed to be not only equally good, but even better than OLED.
Presenting: Samsung's latest Neo-QLED TV, the QN95B.
Right out of the gate: TL;DR version
This test is different. Packed and more in-depth than ever before. If that's too much for you, here's my conclusion right at the start:
Samsung's QN95B is an excellent TV for most purposes: movies, series and gaming. Even the upscaling works excellently. Thanks to its high peak brightness of over 2100 nits and its excellent colour fidelity, it plays to its strengths especially during the day and in bright rooms - also thanks to mini-LED backlighting, which ensures good contrasts and unusually deep black levels for LCD TVs.
In the evening, however, or at least in darkened rooms, the QN95B doesn't come close to OLED picture quality.
Design: Nothing out of the ordinary - and that's a good thing
No marketing department in the world can convince me that mini-LED TVs can compete with OLED TVs. Samsung's QN95B, however, is so close to the competition that when people ask me which TV I currently recommend, I no longer simply answer "OLED, what else" - even though Samsung's TVs are usually more expensive than the OLED competition.
There are good reasons for that. And Samsung's QN95B has them all.
The design, for example. Modern. Slim. Narrow edges. Not extraordinary - and that's a good thing. Televisions are supposed to be televisions, I think. No rectangles that look like an "I" in serif type when viewed from the side. That's a thing. No joke, as I wrote down here. But I like the curved, wafer-thin stand. It's barely noticeable and leaves about 7.5 centimetres of space between the panel and the TV furniture. Perfect for a soundbar.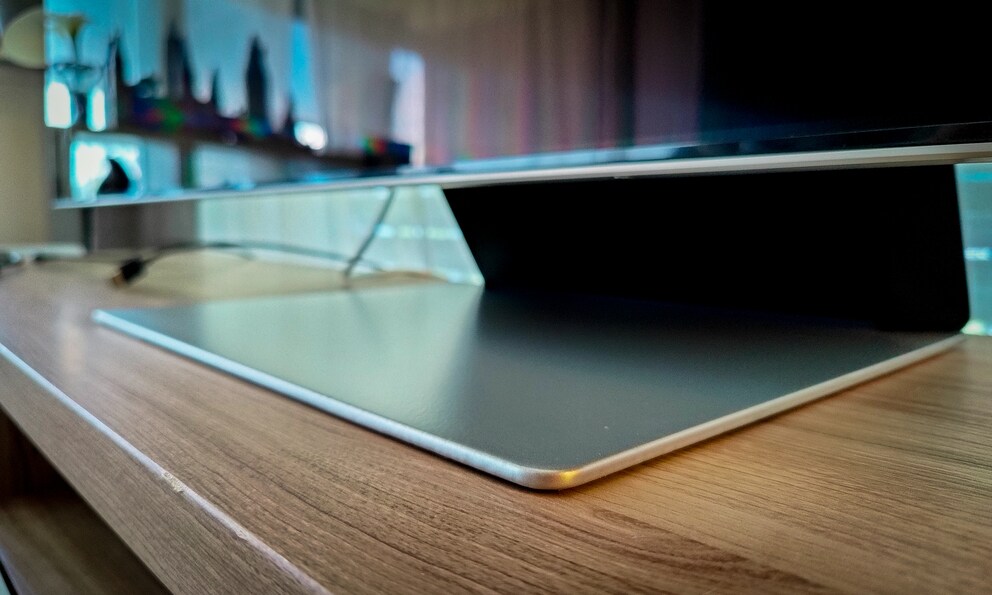 Viewed from the side, the Neo QLED with its 2.7 centimetres is quite thin for an LCD TV. They are usually a bit thicker. Around five to six centimetres. This is due to the additional LED layer that makes the LCD pixels in the panel shine.
Samsung's QN95B also has such an LED layer. Only there are no conventional lights, but mini LEDs. They not only provide better picture quality, but are above all much smaller. That's why the QN95B is so thin. Samsung's marketing celebrates this sonorously as the "Infinity One" design. Bravo... or something.
There is, however, one unusual design decision with Samsung's Neo QLED part: it has no external connections built into the panel itself. They are all in the separate "One-Connect-Box", a small box that Samsung has supplied with many of its TVs for several years. Only a single, inconspicuous cable connects the box to the TV and supplies power as well as video and audio signals. So if you hide the box elegantly in a drawer of your TV furniture, the tangle of cables disappears at the same time. I celebrate this with a sincere "Bravo!
The "One-Connect-Box" has the following connections:
4x HDMI 2.1 connections (4K144Hz, ALLM, FreeSync Premium Pro and HDMI Forum VRR).
One of them with eARC (HDMI 3)
2x USB 2.0 ports
1x USB port for external HDDs
1x output for Toslink
1x LAN port
1x CI+ 1.4
Antenna connections
Bluetooth (BT 5.1)
All four inputs support HLG, HDR10 and HDR10+. But none of them support Dolby Vision. Too bad. Samsung has been in a licensing dispute with Dolby for years. At least Dolby Atmos can be passed on to an Atmos-capable external soundbar or receiver.
The 65-inch version of the TV provided to me by Samsung weighs 30.4 kilograms. If you want to mount the TV on the wall - without the stand it still weighs 22.3 kilograms - you'll need a VESA 400×300mm mount. You can find one here in our shop.
To conclude this chapter: a look, or rather a pair of ears, at the sound. I am not a fan of it. But I've heard worse. The good thing about the 2.7 cm panel (thicker would be better for the sound, but not for the eye) is that it has enough room to fit six drivers. Together, they produce good sound as a 4.2.2 sound system with a total output of 70 watts - even if, to my ears, it is at best a temporary solution until I have scraped together the budget to buy a proper home cinema surround system. For example, Sony's HTA9, which I recently wrote a review about.
Measurements: high brightness and high colour fidelity
Full Disclosure: What comes next goes pretty deep into the subject matter. If you are not interested in tables and diagrams, you can skip all that and scroll directly to the chapter "Mini LED, round two". From there on, you'll get my subjective impressions with lots of video material. Have fun!
And so to the new section: Measurements. Of course, I could only show filmed or photographed displays and point out strengths and weaknesses. In the end, however, I would only be giving my subjective impression. But how bright, natural and accurate a television really is can also be measured in numbers. That's less sexy, but it has one advantage: numbers are more objective than I am.
Measuring is a tricky business. To get useful data, you need professional tools - hardware and software. We have acquired both in the editorial office. I'll tell you more about that shortly in another article here in the magazine.
I measured all the screen modes of the television. From "Brilliant" to "Standard" to the "Filmmaker" mode. Without calibration and manual changes in the settings. Just like most normal people use a television. After all, you want to buy a TV that is already as accurate and true to colour as possible without expensive and professional calibration. The best values were achieved in the film mode, both for HDR and SDR content. That is why all the measurements below refer to the film mode.
Maximum brightness
Brightness is important for the TV for two reasons. On the one hand, it influences the contrast value. It determines how many different colours a TV can display. On the other hand, the brightness is important if you often watch TV during the day in rooms flooded with light. If a TV is not bright enough, it can be outshone by the ambient light in the room. The picture then looks rather pale to you.
Let's look at the brightness of the QN95B.
Nit ist die englische Masseinheit für Candela pro Quadratmeter (cd/m²), also der Leuchtdichte beziehungsweise Helligkeit. 100 Nit entsprechen etwa der Helligkeit des Vollmondes am Nachthimmel.
There are two axes: the vertical one stands for brightness, the horizontal one for the window size in which the brightness is measured. At two per cent of the total window size, i.e. selectively and with very small picture areas, Samsung's Neo-QLED achieves an insanely high luminance value of 2104 nit. And that's in film mode, which is slightly darker than the TV's standard or even brilliant mode. This is simply fantastic and anticipates good contrast values measured later.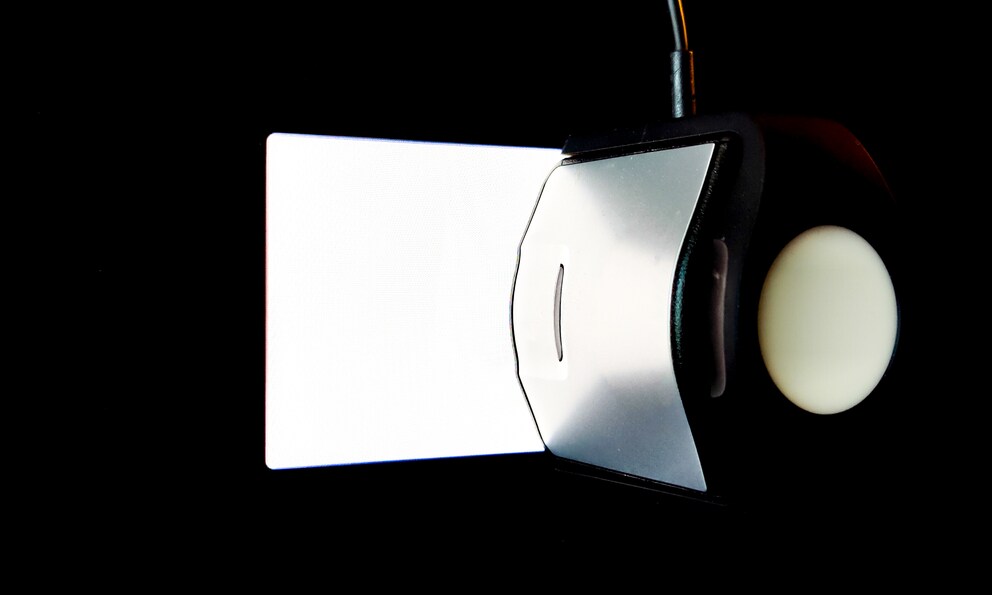 The TV's overall brightness at full window size is in the same vein: 658 nit. That's a lot. If you got 2000 nit on 100 per cent of the screen area, it would burn your eyes out. 658 nits is actually more than enough so that even in bright rooms you won't have a problem seeing anything on the picture in dark scenes. A typical feature of LCD TVs, by the way. OLED TVs emit much less bright light due to the technology. A lot of ambient light is therefore difficult for them.
White balance
How white should white be? That depends on the colour temperature. On the warmth or coolness of white. Warm tends towards yellow/orange. Cold tends towards blue. This in turn affects the representation of colours and their accuracy. In the industry, a white with 6500 Kelvin has been agreed upon for calibration, in short: white point D65. Most people would consider this a rather warm white, just like the resulting colours. Film mode, that is. The white and the colours in standard mode are clearly colder. For this reason alone, standard mode does not produce an accurate picture.
White is created on the television when the red, green and blue subpixels per pixel radiate simultaneously and with equal intensity. Full brightness therefore produces the brightest white. The lowest brightness, on the other hand, produces the deepest black. Everything in between is therefore nothing more than grey tones. The accuracy of the white balance is therefore measured with two tables:
Greyscale Delta E (dE)
RGB balance
The greyscale dE shows how much the greyscales produced by the television deviate from the reference value. The RGB balance shows the extent to which the greyscales produced by the television deviate from the reference value. Why is this important? Let's take a look at the specific QN95B example:
The graph on the left reads quite simply: the deviation from the reference value is called delta E, or dE for short. If you were to place the TV directly next to a reference monitor, this means:
Value is 5 or higher: Most people can tell the difference.
Value between 3 and 5: Only experts and enthusiasts can tell the difference.
Value between 1 and 3: Only experts recognise the difference, enthusiasts drop out.
Value below 1: Even experts cannot tell the difference.
Any value below five is a very good value for a non-calibrated TV. Samsung's QN95B manages this up to about 80 per cent white. With brighter whites, however, the dE is only so slightly above the value of 5 that the deviation from the reference value would not be noticed by most people.
But what exactly does "deviate" mean here? A look at the RGB balance shows this. There, a slight blue and green cast becomes apparent the whiter the produced white is. In other words, the blue and green subpixels radiate a little too strongly. But as I said, the deviation is just about dE 5, on average only 2.56 dE (dE Avg). It is therefore very unlikely that you will actually perceive the blue or green cast as such in a real image. Good marks, then, for Samsung's Neo QLED.
The colour gamut
We continue with the colour gamut, the coverage of the most common colour spaces: the higher the contrast, the more colours can be displayed and the more natural the picture looks. This is why the gamut is important for HDR content, as it uses large colour spaces with its eponymous high dynamic range.
Rec. 709: 16.7 million colours, the standard colour space for SDR content such as live TV and Blu-rays.
DCI-P3 uv: 1.07 billion colours, standard colour space for HDR content, from HDR10 to Dolby Vision
Rec. 2020 / BT.2020 uv: 69 billion colours, still hardly used in the film and series industry
The large "colour blob", including the darkened areas, shows the entire colour palette detectable by the human eye. The lightened area on the left shows the BT.2020 colour space. On the right, the same, simply the smaller DCI-P3 colour space. The white boxes show the actual boundaries of the respective colour spaces. The black circles, on the other hand, show the limits actually measured during the measurement.
The following colour space coverage was measured:
Rec. 709: 100% (good = 100%)
DCI-P3 uv: 92.49% (good = >90%)
Rec. 2020 / BT.2020 uv: 71.27% (good = >90%)
The QN95B thus achieves a very good 92.49% coverage of the important DCI-P3 colour space. OLED TVs usually achieve somewhat higher values in comparison. Among LCD TVs, the Neo QLED is nevertheless one of the front-runners.
The BT.2020 colour space, on the other hand, is less well covered at 71.27 per cent. This would lead to clearly visible compression with corresponding content. Dignity. As of today, even OLED TVs barely manage 80 per cent BT.2020 coverage. This is precisely why the film and series industry calibrates its HDR content almost exclusively in the much more widespread DCI-P3 colour space. The BT.2020 colour space is considered to be the colour space of the future, and the coverage value is therefore an indicator of future suitability.
Much more important is therefore the colour error.
The colour error
What do accurate colours mean? For the television set, colours are not colours but numbers. Numbers that precisely define the colours within a given colour space. Red, for example. Ivy green. Or cadet blue. When you watch television, these numbers are sent to your television as metadata. It interprets the data and displays them as corresponding colours. Simple. Simple, right?
No. TVs can process and display most signals within the most common colour spaces. But that does not mean that they will display the colours accurately. Otherwise the picture would look exactly the same on all televisions. Therefore, the more the colours displayed correspond to those on reference monitors, the more accurate and better the television.
As with the greyscales above, the deviation of the TV from the reference value is called dE. The white boxes show the reference colours sent to the TV by the test pattern generator. The black circles, on the other hand, show the colours actually measured. Again: dE values below 5 are good for non-calibrated TVs.
The graph anticipates it: Samsung's QN95B already has a very high colour fidelity by default. In fact, with a total of 40 measured values, I measured an average dE of an excellent 2.97. Sure, with calibration, the value could be pushed even below 2, maybe even down to 1. But the difference to a reference monitor is so small that even experts can hardly see it now.
For comparison: In standard mode, the dE was 13.57 - no comparison to film mode, to which - as a reminder - all measurements listed here refer.
Interim conclusion after the measurement
Let's draw a short conclusion. The measurements say that the QN95B has a bright picture that comes into its own best in rooms flooded with light. In darkened rooms, an OLED picture should still look better. The most common colour spaces - Rec. 709 and DCI-P3 - are well covered. The colour fidelity is particularly good. All measured values point to a very accurate picture overall.
Time to test the theory in practice.
Mini LED, round two
Let's move on to one of the most important features of the Neo-QLED TV: Mini LED. This means that thousands of closely spaced LEDs provide the background light. This is because LCD pixels cannot light up by themselves, but have to be illuminated from behind. And where pixels are supposed to remain black, the LED light is blocked by light crystals and polarisation filters. Theoretically. In practice, however, a little light always penetrates through the pixel. That is why in LCD TVs, where there should be black, there tends to be dark grey.
This is why TV manufacturers have developed Full Array Local Dimming (FALD): Hundreds of LEDs that dim locally. This ensures better black levels - and thus better contrasts that are supposed to rival OLED. In principle, Mini LED is like FALD. Only with thousands instead of hundreds of LEDs. They have room in the TV because mini LEDs are much smaller than FALD LEDs. In the meantime, even 152 micrometres - 0.152 millimetres - small Mini LEDs are being built, as I learned in an interview with Olivier Semenoux, Head of Product Management at TCL Europe.
In other words: Mini LED is the logical further development of FALD.
Why are smaller LEDs better than big ones? First and foremost, because they reduce annoying blooming, a kind of halo that occurs when bright edges against a dark background are not illuminated with pinpoint accuracy. Then LEDs also shine where there should actually be black. Several smaller LEDs, on the other hand, are more precise than a few large LEDs. And because there are many more LEDs in mini-LED TVs than in FALD TVs, there are also more dimmable zones and thus less blooming.
An example: the 65-inch model from LG's SM9900 series is said to have about 100 dimmable zones. Look at the shirt in the comparison below from "Westworld". Or the dark area to the left of the woman's face. It looks like they're shimmering. What actually happens with LG is that the background LEDs do not spotlight the faces or the bright white shirt. As a result, they also shine on those pixels that should actually be black. On Samsung's QN95B, on the other hand, you see nothing of the sort. According to Rtngs.com, there are 720 dimming zones.
This is the difference between Mini LED and FALD.
Quelle: UHD-Blu-Ray, «Westworld», Staffel 2, Episode 2. Timestamp: 00:11:50.
As you can see, thanks to mini LED backlighting, Samsung's QN95B can dim locally very well. This gives it impressive blacks for an LCD TV - and better contrasts than its FALD siblings. Impressive.
The picture: beautiful, accurate colours and gradations
The measurements above attest to the TV's good colour space coverage with very high colour fidelity. Theoretically. How does it look in practice?
Colour reproduction
There aren't many films that are more colourful than "Guardians of the Galaxy, Vol. 2". And there are even fewer scenes that cover the entire colour spectrum like this one. The sunset-red first scene in front of Ego's palace pops in saturated red, drawing Drax's skin razor-sharp and even highlighting his blood-red tattoos. The second scene also appears pleasantly warm and balanced, with the evening sun in the background and wisps of clouds around it, in which the blue and orange of heaven and hell mix.
Quelle: Disney+, «Guardians of the Galaxy, Vol. 2». Timestamp: 00:56:47.
As I said, if there is supposed to be a blue or green cast in bright areas of the picture on Samsung's QN95B, it is hardly visible. I see more of this in OLED TVs from LGs and Philips. This is not surprising: due to the technology, OLEDs tend to be too blue than LCD TVs.
Let's shift down a few gears. Colours don't always have to pop in the picture. For example, in the film "Knives Out", where a treacherous murderer is on the loose and director Ryan Johnson wants the picture to be as natural as possible. You can see how well a TV plays along, especially with the skin tones.
Quelle: UHD-Blu-Ray, «Knives Out». Timestamp: 00:33:34.
Here, too, the slight blue cast in LG's OLED TV is easy to see. Look at the shirt of the old Harlan Thrombey, for example. On the other hand, Samsung's picture seems a little too desaturated for this. Too flat. To me, at least, even though I'm deliberately grumbling at a high level here. LG's OLED simply has more punch. Look at the red wooden façade. Or the hanging notes in the background.
Black crush and shadow details
Not all scenes are bright. Some are really dark. That's why I want to test Samsung's ability to show details in dark areas of the picture. I don't make it easy for the QN95B. I even compare it directly with an OLED TV, namely LG's C2. There is a very specific reason for this: OLED pixels emit their own light. So with a UHD picture with over eight million pixels, there are - well - over eight million dimming zones. That's why OLED TVs can display perfect black, have better contrasts and no blooming.
Dark scenes are their speciality.
Like here, in "Blade Runner 2049". On the left, look for blooming around the windows. On the right, at LG, you see no blooming at all. Next, look for the difference in black and detail reproduction in dark areas of the picture. Which do you like better? I like the OLED picture on the right.
Quelle: UHD-Blu-Ray, «Blade Runner 2049». Timestamp: 00:04:50.
Scenes like this are where some people differ. If you ask Samsung, they will tell you that OLED swallows up far too many details in dark areas of the picture - called black crush. But I'm on the side of most experts and think that LCD TVs brighten up areas of the picture that shouldn't be brightened up at all. If you film in direct backlight in the example above, it is more natural if the rest disappears in dark, black silhouettes. In my opinion, this is not a black crush, but exactly how director Denis Villeneuve intended it: Two light sources for two protagonists who stand for two opposite philosophies - symbolised by the dark, delimiting black between them.
Brightness gradations
A final image test: Brightness gradations. Due to the technology, LCD TVs in particular flex their muscles here. In the following "Jurassic World" example, look at the sun in the background: even in such a bright picture area, the gradations are so fine that the sun is just barely recognisable as a sphere in the firmament. This is much less the case with LG's and Philips' OLED TVs.
Quelle: UHD-Blu-Ray, «Jurassic World». Timestamp: 00:21:18. Randnotiz: Das kurze Ruckeln links im Video kommt von meiner überhitzenden Kamera, die am Ende eines langen, heissen Sommertages genug vom Filmen hatte.
Again, the somewhat colder image of the OLEDs on the right is easily distinguishable from the warm Neo-QLED image on the left. To me, the OLED picture seems more natural. Punchier. Especially when I pay attention to the skin colour. Especially in this scene, I still like the nice warm picture of the Samsung TV filmed in the morning sun better.
Processor
The processor is the brain of the TV. Its main task is to receive, process and display picture signals. Processing means that it recognises poor picture quality and enhances it. Samsung calls it the "Neural Quantum Processor" with "4K AI upscaling technology". Behind the marketing gobbledygook is that the processor is supposed to remove noise, enhance colours, smooth edges, make movements smoother and add any missing pixel information.
Motion Processing and Judder
To start with, I give the processor a really hard time. Specifically: Judder, a phenomenon that all TVs have. Judder occurs when the picture signal and the TV panel do not have the same frame rate. With cinema films, for example. Samsung's QN95B can display up to 144 frames per second. Films, however, are shot at 24 frames per second. Processors synchronise this disparity with interframe calculations. If the processor is too aggressive, the picture looks as exaggeratedly fluid as in a soap opera à la "Good Times, Bad Times". But if it holds back, the picture stutters. Especially during long camera pans. The film seems nervous - in English: jittery. Hence the word "judder".
Sam Mendes' "1917" is full of such steady, slowly flowing camera movements and thus perfect for the judder test. First, however, I make a small correction in the Judder reduction. Samsung thinks a film has to jerk because that makes it look nice and cinematic. I find this old-fashioned; the judder is too much for me. In the picture menu, I have therefore increased the judder reduction from "3" to "7" in the expert settings under "Clarity". In my opinion, this is the sweet spot: Judder is visible if you pay attention to it, but it is never obtrusive. When comparing, pay particular attention to the vertical bars in the barn.
Quelle: UHD-Blu-Ray, «1917». Timestamp: 00:42:25.
By the way, I had the same problem with LG's OLED TV, the second comparison in the video above. To solve the judder problem there, I changed the motion processing in the expert settings from "Filmic" to "Natural". With Philips, on the other hand, in the third comparison, I found the judder reduction to be very good by default.
Next scene from "1917". Again, Mendes' camerawork provides an immense challenge for most processors. Especially with hard edges in front of blurred backgrounds, for example around the helmets of the two soldiers. Here, both processor and pixel have to react incredibly fast.
Quelle: UHD-Blu-Ray, «1917». Timestamp: 00:35:36.
Samsung's processor does exceptionally well, even if it doesn't flex its muscles quite as much as LG's processor, for example. Nevertheless, the picture flows, but never looks unnatural. In addition, the colour temperature is set accurately. Only in the dark areas does LG's OLED play a league above: the perfect black gives the picture that extra punch and adds depth to the scene. Philips' picture, on the other hand, is far too cold, but it scores with ultra-fluid camera movements.
Pixel response time
Next up, the Apple original "For All Mankind". I want to see how long a single pixel takes to change colour. If this doesn't happen fast enough, it looks to you as if the image is streaking - the effect is called "ghosting". I compare this directly with TCL's C82, another mini-LED TV. When the camera pans over the surface of the moon, look for the text superimposed on it. Then you'll see the streaks I'm talking about on TCL's right:
Quelle: Apple TV+, «For All Mankind», Staffel 1, Episode 5. Timestamp: 00:00:10.
On the Samsung left, on the other hand, you see almost nothing. Wow! That speaks for an excellent processor. It's hard for any LCD TV to display the scene free of streaks. This is shown by the two other comparisons in the same video with LG's and Philips' OLEDs. With them you see - if you look very closely - even less streaking. That doesn't surprise me. OLED TVs have excellent response times due to the technology. That's why they are considered exquisite gaming monitors. LCD TVs are at a disadvantage in this respect.
Upscaling
Now the most difficult test. This time I want to see how well the processor upscales lower-quality sources. Blu-rays or good old live television, for example. Or "The Walking Dead". The series was deliberately shot on 16mm film to create the feeling of a broken, post-apocalyptic world with old-fashioned grain along with image noise.
Quelle: Netflix, «The Walking Dead», Staffel 7, Episode 1. Timestamp: 00:02:30.
Samsung's Neo Quantum processor is capable of upscaling. Clearly. Because that's an SDR-quality HD source up there, with about 2 million pixels blown up to 8.3 million pixels. In other words: 75 per cent of the image is calculated. But sharpness and edge smoothing are very good. Only in terms of noise do I see Panasonic's and above all LG's processor a little further ahead. But even I have to look for differences with a magnifying glass.
Gaming: Input lag and game mode
Last test: Is the TV also suitable for gaming? Absolutely. With recommendation. The TV supports all features relevant for gamers:
4x HDMI 2.1 connections (4K144Hz / 8K60Hz)
Auto Low Latency Mode (ALLM)
Variable frame rates (FreeSync Premium Pro and HDMI Forum VRR)
To this end, Samsung - just like LG, Philips and Panasonic - has entered into a partnership with many major gaming studios. The result: HGiG - HDR Gaming Interest Group. According to the manufacturer, this should ensure that HDR is displayed as the game developers intended. PC gamers in particular could sing a song or two about poorly displayed HDR.
In fact, I measured an average input lag of a very good 11 milliseconds with Leo Bodnar 's measuring device, without recognising any too serious losses in picture quality. For example, when playing "Spider-Man: Miles Morales" on my Playstation 5.
Quelle: PS5, «Spider-Man: Miles Morales», 120Hz-Modus, VRR und Ray Tracing aktiviert.
I am satisfied to see that the colours are bright, black is really black, the edges look sharp and the picture does not blur too much even with fast and jerky camera pans. Look out for Miles' dark silhouette against the light, the detailed textures of snow-covered New York or the clearly visible details in the clouds. This is what a good game mode looks like.
Nice: Similar to LG, Samsung also offers a dedicated submenu, which can be seen at the beginning of the video, where you can make fine adjustments for gaming and see the current frame rate. Very important: Samsung's QN95B supports the new VRR-120Hz mode of the PS5 without any problems.
Conclusion: Too bad, if I could, I would even keep it.
So that's it, my first review with a deep dive that makes even the James Webb Space Telescope look old. If you enjoyed it, I have good news: This is how TV reviews will always come across from now on.
About the TV: Samsung's Neo QLED surprised me. I didn't expect it to be so colour-faithful "out of the box". The processor is good. So is the game mode. And if you watch TV especially during the day when it's bright in the room - which is the new normal for many people since the pandemic and the home office - you'll be much happier with a correspondingly bright mini-LED TV than with an OLED TV.
Still, the QN95B doesn't quite match OLED quality. At least not in darkened rooms. LG's C2, for example, is a little cheaper. If I had to choose, I would go for the OLED TV, but not right away. At this point in the year, the prices for 2022 TVs are relatively high. They start to fall in the autumn. 2021 models are currently particularly cheap for this, and most ordinary mortals, between you and me, don't see the difference anyway. So - not that I just betrayed digitec insiders and got into trouble. It's simply the industry standard.
Perhaps Samsung's overtaking manoeuvre will succeed with the next technology: QD OLED. The Samsung model is already in my house. A test will follow in two or three weeks. And Sony's QD OLED TV - with a Samsung panel but its own processor - could be released as early as this week.
Therefore: Stay tuned. The 2022 TV season is open.
---



I'm an outdoorsy guy and enjoy sports that push me to the limit – now that's what I call comfort zone! But I'm also about curling up in an armchair with books about ugly intrigue and sinister kingkillers. Being an avid cinema-goer, I've been known to rave about film scores for hours on end. I've always wanted to say: «I am Groot.» 
---
---
These articles might also interest you
Skeleton Loader

Skeleton Loader

Skeleton Loader

Skeleton Loader

Skeleton Loader

Skeleton Loader