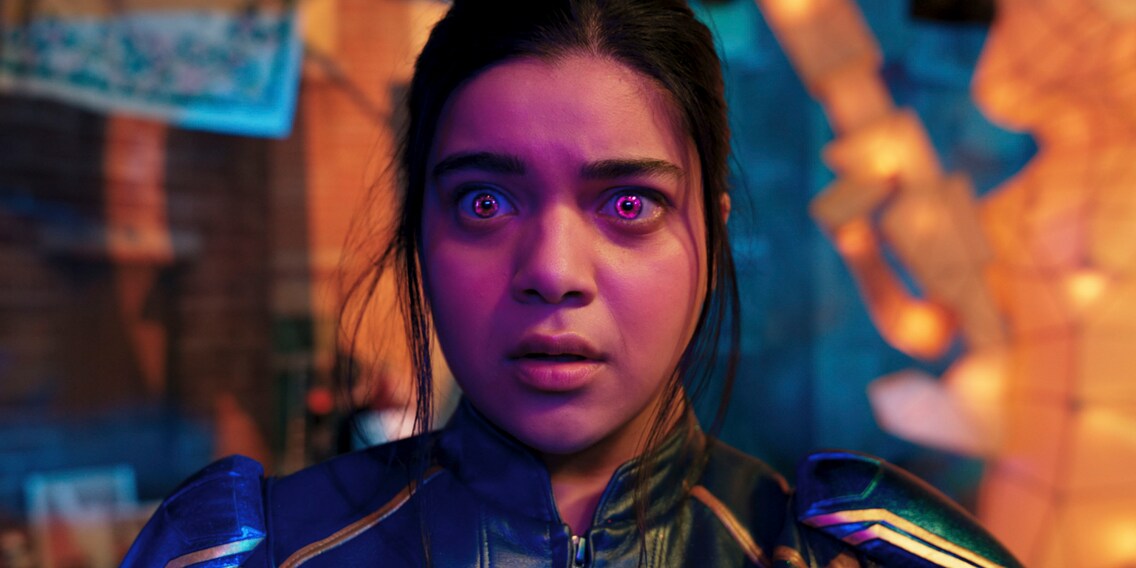 This article was translated automatically.
"Ms. Marvel" creator in interview: "Multiverse of Madness? More like Multiverse of Fun!"
In "Ms. Marvel," young Kamala Khan discovers her superpowers. To coincide with the start of the series, Marvel invited me to a roundtable with author Bisha K. Ali and directors Adil El Arbi and Bilall Fallah.
If anyone is a suitable author and head writer for Marvel's new TV series "Ms. Marvel," it's Bisha K. Ali (33). After all, the former stand-up comedian and current screenwriter grew up in the UK as the daughter of Pakistani immigrants - much like the young girl Kamala Khan, the series' main character. Bisha's writing talent showed early: in 2012, she took part in the Royal Court Theatre 's Young Writers Program. In 2019, she co-wrote Netflix's "Sex Education." And in 2021, she earned her spurs as a co-writer on Marvel's "Loki." Now, in "Ms. Marvel," she gets to head write and produce for the first time.
The film is directed by a Belgian duo with Moroccan roots: Adil El Arbi (33) and Bilall Fallah (36), better known as Adil & Bilall. They first attracted attention in 2015 with "Black," a critically acclaimed Romeo and Juliet spoof set in modern Brussels. But their biggest coup to date came in 2020 with "Bad Boys For Life," the most financially successful Hollywood film worldwide that same year.
ReviewAudio

Filmkritik: «Bad Boys For Life» – es hätte schlimmer kommen können
Even before the series premiere on June 8, Disney and Marvel Studios invited the trio to a virtual roundtable. At the center of the conversation: What inclusivity means to Marvel, how difficult issues are handled, which was the most memorable day on set and whether "Bad Boys" or "Ms. Marvel" is the bigger project.
---
What fascinates you most about Kamala?
Adil, co-director: For me, that she is a Muslim girl with Pakistani roots, but who grew up in America. Bilall and I can identify with that a lot! As Moroccan teenagers in Belgium, we often asked ourselves where our place was in the world. Whether we were cool or not.
Bilall, co-director: Kamala feels the same way. She is an outsider at school. At the same time, she feels misunderstood by her immigrant parents, who are very attached to their traditions. And then she suddenly gets superpowers. This turns her world completely upside down.
"Inclusivity is a big word. But today, for many kids, teens and adults, Marvel means the world - and being part of it, existing." That's what director Mohamed Diab said recently about his Egyptian superheroes in "Moon Knight." Is that what inclusivity is all about?
Bisha K. Ali, Head Writer: I couldn't put it better (laughs). Marvel actually has such a large global audience now that we all want to feel represented in it. That's also true for Kamala as a young, Muslim girl who admires the Avengers and especially idolizes Captain Marvel.
Kamala, after all, says in the series that it's not the "brown people," South Asian people who are expected to save the day.
Bisha K. Ali: Right. But we don't want to presume to speak for billions of Muslims worldwide. Islam is simply too multifaceted and diverse for that. But I hope that we can at least open the door to more characters with similar backgrounds. After all, we Muslims are also part of this world. If we succeed in doing that, then I'll be incredibly proud of our work.
Bilall: Absolutely. I can see how my nephew, my aunt, my cousins and all the other female Muslims in my family are incredibly inspired by the series because they finally have "their" superhero.
Adil: At the same time, we still wanted to tell a story that was universal enough to appeal to everyone. After all, everyone should be able to sympathize and empathize with Kamala - regardless of her religion, background or gender.
We also learn quite a bit about the history of India and its division. The subject is very bold for a TV series aimed at young people.
Bisha K. Ali: That's right. Even during the writing process, I talked a lot with Adil, Bilall, the other writers and the actors and actresses. About their experiences and family stories. Just thinking back on that makes me emotional.
In what way?
Bisha K. Ali: It's a heavy legacy that we carry. Civil wars. Flight. Exile. Immigration. We have had many profound conversations, and everyone involved has been incredibly open and blindly trusted me with their stories. For that, I am immensely grateful to them.
In fact, "Ms. Marvel" shows an amazing amount about the Muslim community and the role of women in it.
Bisha K. Ali: Exactly. I wanted to make all these stories as coherent and authentic as possible. After all, what Marvel character can claim to be a second-generation Muslim immigrant? I really wanted to keep that. And at the same time, I wanted Kamala to be as quirky and funny at her core as her comic book template. After all, it is a Marvel series! Achieving that balancing act was a big challenge.
Adil, Billal, your last film was "Bad Boys For Life." What was it like for you to go from an action-packed blockbuster to a personal, small story about the girl looking for her place in the world?
Adil: Honestly, "Ms. Marvel" is the much bigger project than "Bad Boys For Life" (laughs).
Bilall: Absolutely, we're talking about Marvel here after all (laughs).
Adil: It's true, "Bad Boys For Life" was a pretty big project, but once you get to Marvel ...
Bilall: Gigantic!
Adil: Multiverse of Madness, you know?
Bilall: More like Multiverse of Fun!
Adil: Exactly! When it came to all the shooting with the sets and the special effects, it was us who had a lot to learn.
Does that also apply to all the animation? The cartoons that fly out of their books? The graffiti? Kamala has quite a flowery imagination.
Adil: Those animations are actually something that wasn't in the script like that. We were looking for a way to visually represent Kamala's flowery imagination and bring it to life.
Bilall: And then we came up with the animation idea. We went to Kevin (note: Kevin Feige, Marvel Studios head) and asked him if we could do it. To our surprise, he said "yes." We were given a lot of freedom on set. That was great!
What was the most memorable day on set?
Bisha K. Ali: That was definitely the day I met Iman Vellani (note: actress of Kamala Khan) for the first time. It didn't take three seconds and I knew immediately: It's her. She is Kamala. I love her. She's exactly how I imagined her character when I was writing. Oh, and seeing Iman in her superhero suit for the first time, that was crazy.
---
The taping took place on June 2. Excerpts from it can be heard in our centennial podcast. "Ms. Marvel" began airing June 8 on Disney+. The series will have six episodes. A new one will be released every Wednesday. I got to preview the first two episodes, and what I saw pleasantly surprised me. You can find my complete first impression in my streaming highlights for June 2022.
---



I'm an outdoorsy guy and enjoy sports that push me to the limit – now that's what I call comfort zone! But I'm also about curling up in an armchair with books about ugly intrigue and sinister kingkillers. Being an avid cinema-goer, I've been known to rave about film scores for hours on end. I've always wanted to say: «I am Groot.» 
---
---
These articles might also interest you
Skeleton Loader

Skeleton Loader

Skeleton Loader

Skeleton Loader

Skeleton Loader

Skeleton Loader