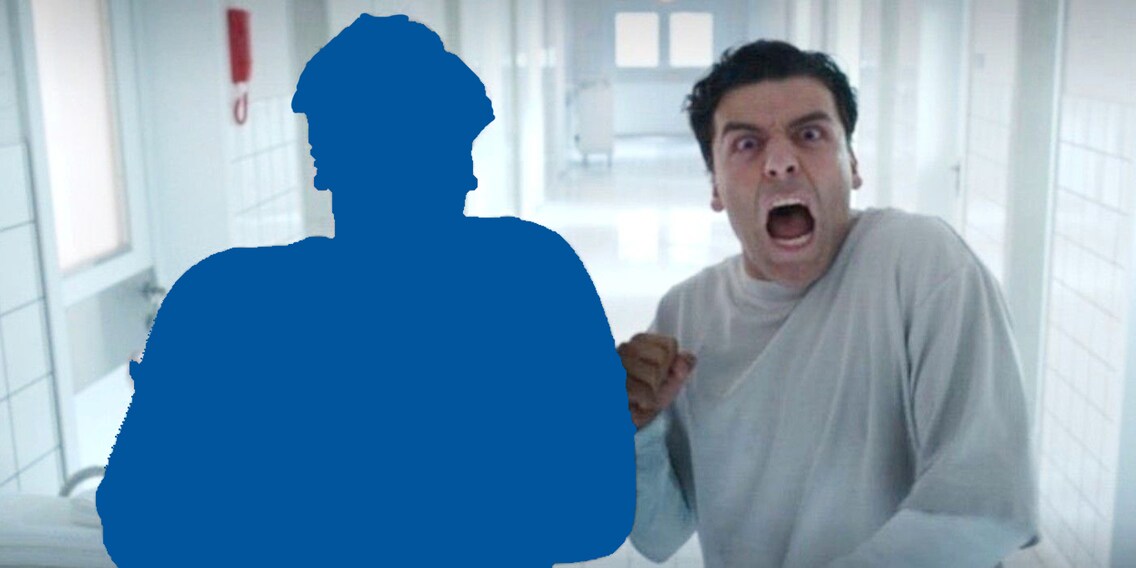 This article was translated automatically.
"Moon Knight": Let's talk about THIS moment, please!
The fourth episode of "Moon Knight" ends with a controversial bang. The comics may have already revealed what this might be all about.
One thing in advance: This is an episode analysis. With spoilers! So watch the first four episodes of "Moon Knight" first before reading on.
---
"What the heck!"
"Really!?"
"I don't understand anything anymore... "
That's about how most reactions to the end of the fourth "Moon Knight" episode read. Rightly so. Let's recap: Steven Grant - or Marc Spector, as the case may be - has just arrived in London and is now in Egypt. There, he wants to get ahead of the evil Arthur Harrow in his search for the prison tomb of the Egyptian goddess Ammit. After all, Ammit has been condemned to eternal imprisonment by the Ennead, the Egyptian pantheon of gods, for good reason: if Ammit had his way, all people who have ever committed or will ever commit evil would be instantly wiped out - even children.
Harrow wants to free Ammit. Marc wants to prevent that. The events come to a head. Arriving at the grave, Marc is shot by Harrow. Darkness envelops him. Marc dies... or does he? As the darkness fades, he suddenly finds himself in an insane asylum.
Has he imagined everything? Moon Knight? Khonshu? His whole life?
Inspiration from the comics
Anyone who has seen the interview between director Mohammed Diab, myself and two other European journalists knows that the unexpected turn of events is not that unexpected. After all, Diab said from the beginning that he was heavily inspired by author Jeff Lemire's 2016 "Moon Knight" comics.
In fact, Lemire's comics begin where the fourth episode left off: Marc Spector, as Moon Knight, has been fighting criminals for years - or has he? When he wakes up in an insane asylum without superpowers or a suit, it calls his entire identity into question. His identities. Something's not right. But is what's wrong possibly Marc's mind itself?
Lemire's story is iconic because it keeps comic book readers guessing for an astonishingly long time as to whether Marc has indeed imagined his entire superhero life to date. Add to that Greg Smallwood's intricate and detailed drawings, which blend madness and reality in such a way that it's never quite clear what's imagination and what's not. It's a combination I've rarely seen in Marvel comics before.
Therefore, if you want to read the Lemire run (writers never stay with one character for long, that's why the time they've spent writing for that character is called a "run") for yourself without being spoiled, it's best to stop here, read "Moon Knight" 2016, #1-14, and then come back to the article.
For everyone else - keep going.
The asylum: Is Marc imagining everything?
At first, the series wants us to believe that Marc actually imagined everything. Better: that he has imagined everything - from people and things that he sees and experiences in the asylum.
There's Marc's goldfish, for example, right in his "favorite place," where an orderly places him who looks like the fake policeman who's actually Harrow's henchman. Or his ankle bracelet on his wheelchair. The doughnuts from the truck. The Rubik's Cube. The Moon Knight toy figure. Or the guy with the long white hair who calls out the bingo numbers: we've already seen him as the golden mime Steve poured his heart out to. By the way, he looks just like Crawley from the Lemire comics.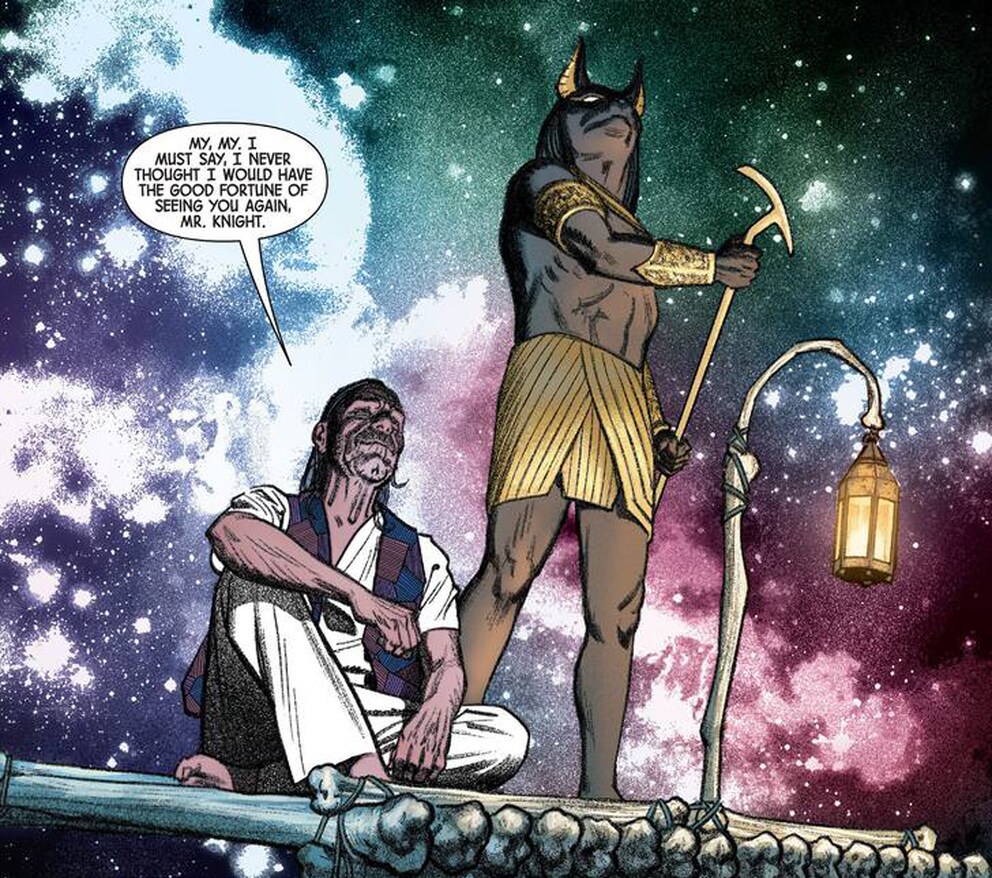 We continue with the film about the British adventurer Steven Grant. A patient who draws moon god Khonshu as a sparrow. Layla is there too, as a patient who steals his bingo ticket. So is the nasty manager of the museum store, Donna, suddenly holding a blue scarab stuffed animal as a confused patient. Speaking of the museum, isn't Marc in the very lunatic asylum that the museum staff suggested he go to?
And then there is Harrow himself, there the evil avatar Ammits, here the director of the asylum, who only tries to help Marc. Just as he once said in the first episode, in the museum, just before the Jackal appeared, "Marc, I'm just trying to help you." Fittingly, Harrow's line in this episode, when he shoots Marc before he awakens in the asylum: "I can't help someone who won't help himself."
The slow awakening
Marc resists the idea that he has imagined everything. With success: The madhouse - probably something like a mental construct in his head - begins to crumble. In a corridor he actually finds a sarcophagus. In it: Steven, his other personality. For the first time, the two face each other, in the flesh. Perhaps that's why the embrace is so heartbreaking.
But there is a second sarcophagus. For now, it remains closed. But who could be inside? Fans of the comics have a theory that is as good as watertight. Yes, it must be: The sarcophagus contains Jake Lockley, Marc's third character, who we haven't met in the series yet.
Or have we?
Who is Jake Lockley?
In the comics, Marc has three personas. First, his own original persona: Marc Spector, former military, then mercenary, then... a dying man in the desert, betrayed by another mercenary. With his last strength he drags himself to the temple of the moon god Khonshu, where he finds and saves him. In return, however, Marc must henceforth serve Khonshu as his avatar Moon Knight.
When Marc agrees, he is already a broken man: during his childhood he was tortured by a Nazi because of his Jewish descent. Marc was able to free himself, but the trauma left its mark: a dissociative identity disorder along with his first split-off personality, Steven Grant. Grant later becomes a kind of Bruce Wayne knock-off, earning millions as a Hollywood director to finance his nocturnal activities as Moon Knight.
The third personality develops a little later: Jake Lockley. Lockley is a mustachioed cab driver who blends in to get underground information that he doesn't have access to as Marc or Steven.
While the series takes the Marc persona pretty much 1:1 from the comics, Steven is anything but a philanthropist and womanizer. Rather, he's the pure opposite of that. It wouldn't be surprising if Jake was also interpreted differently than in the comics. More brutal, especially. More ruthless. Unafraid to kill people. Maybe even as evil.
"I sense chaos in you," Harrow said to Steven at the very beginning.
This was already hinted at in the third episode, when Marc, in the reflection of the knife, asks Steven what the hell he did with all those brutally killed informants, and the latter only replies with a dumbfounded "I swear I didn't do it." Fans have been speculating since then that Jake is behind it. Maybe even behind the bloody fights in the first episode; Marc always went much tougher than Steven in the series - but he always had scruples before killing, as far as we know.
What if it was even the Jake persona that killed Leyla's father? Harrow hinted at something along those lines, even if he had Marc in mind....
Anyway. Marc and Steven run past the closed sarcophagus. Whoever is in there, stays in there for now.
The hippo: Is rescue coming?
The Hippo. "Hi," it just says, waving and wagging its ears happily. At this point, at the latest, it's clear that there's something wrong with this insane asylum - as long as Marc isn't imagining these strange things.
According to Lemire's comic, the asylum is actually a cosmic, perhaps even interdimensional construct. Similar to the Othervoid. This has already been hinted at in the series, at the gathering of the Avatars in episode 3. The comics tell us that the Othervoid is the place where the Egyptian gods withdrew after humans turned their backs on them. A place far from our reality, outside the direct sphere of influence of the gods. The only possibility to influence us humans from there is via avatars.
This does not suit Khonshu. Both in the comic and in the series. In the Lemire comic, however, he goes so far as to create the construct of the insane asylum in Marc's head in order to break his mind completely. So that he can completely take over Marc's body and finally walk the earth again as a deity. I wonder if this is also his "Endgame" in the series? It's possible. Khonshu has never come across as particularly sympathetic so far. In the Lemire run, Ammit is also the supposed bad guy at first, until Khonshu turns out to be the real string-puller.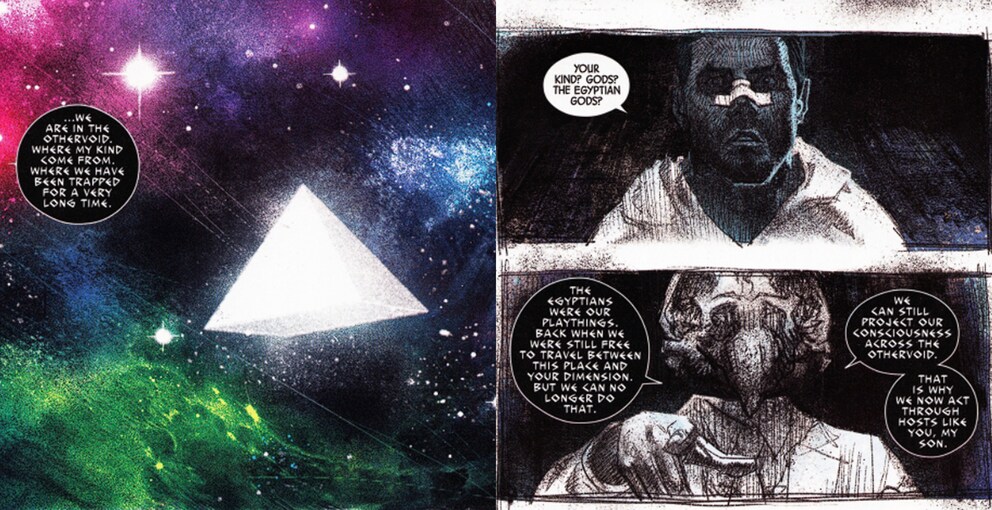 But what's the hippo all about? Apparently it is the Egyptian goddess Taweret. Her appearance: a premiere. After all, she has never appeared in a Marvel comic before. Accordingly, the official Taweret biography has only been available on Marvel.com for a few days - since the premiere of this fourth episode.
The biography tells us that Taweret is an Ennead, specifically the Egyptian goddess of childbirth. Aha - is that a hint at Marc's or Steven's rebirth? But then, what was she doing in the asylum? Maybe she was sent by someone who wants to save Marc and Steven. Khonshu? Ammit? Mephisto? I'm shooting in the dark. Maybe she's just there to accompany our hero to the realm of the dead. Outside of the Marvel universe, Taweret is also considered a cleanser of the dead, so that the deceased can pass on to the next phase of the afterlife.
Well then. Two episodes are still missing, which I haven't seen yet either. My guess: Marc, Steven and Jake have to learn to get along with each other before they can move on to the next phase. At least that's what happens in the Lemire comics.
---



I'm an outdoorsy guy and enjoy sports that push me to the limit – now that's what I call comfort zone! But I'm also about curling up in an armchair with books about ugly intrigue and sinister kingkillers. Being an avid cinema-goer, I've been known to rave about film scores for hours on end. I've always wanted to say: «I am Groot.» 
---
---
These articles might also interest you
Skeleton Loader

Skeleton Loader

Skeleton Loader

Skeleton Loader

Skeleton Loader

Skeleton Loader