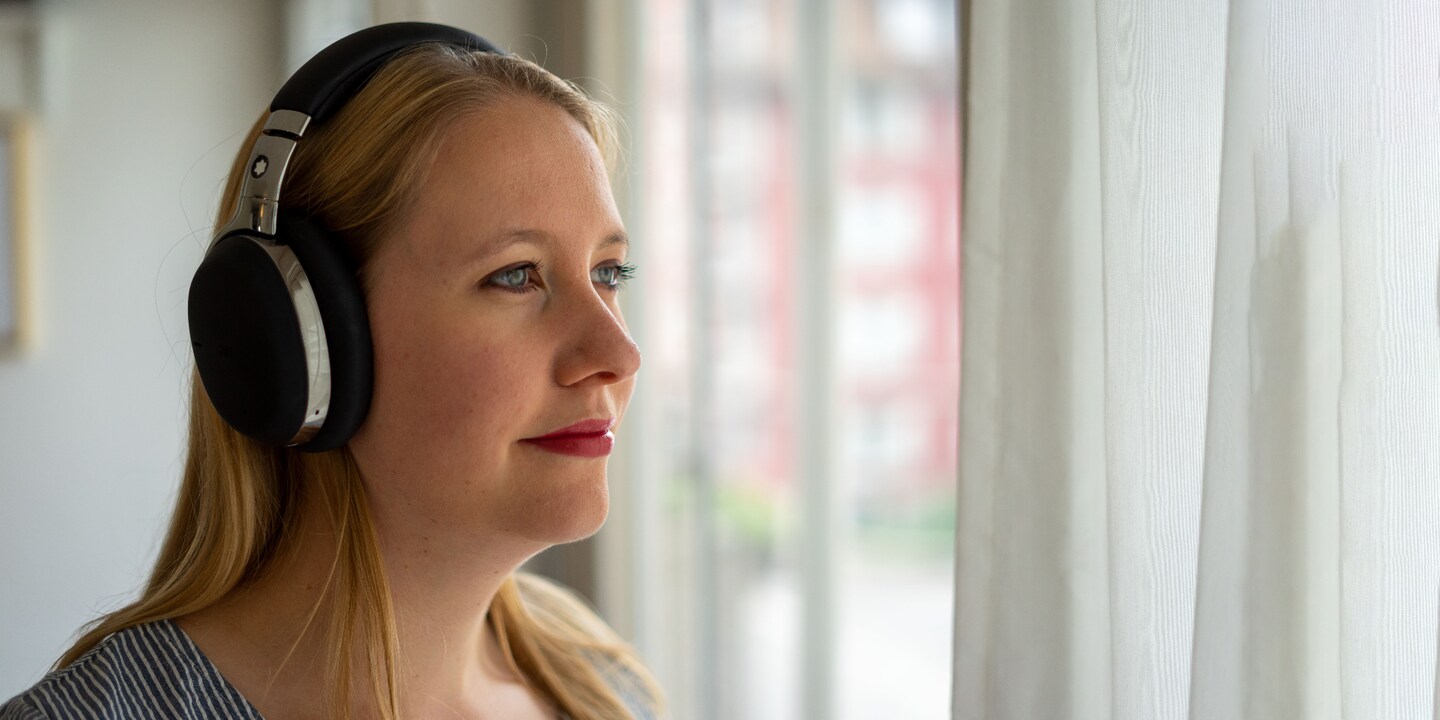 Montblanc MB 01: testing the rich person's headset
Premium manufacturer Montblanc has entered the headset business. I tried their over-ear headphones with active noise cancelling for a few days.
I was quite shocked when I saw the little box with the Montblanc sticker next to the cardboard garbage outside my neighbours' flat. Luckily I was quicker than any public employees or potential thieves, and I quickly escaped into my flat with the expensive Montblanc product.
So, after taking a shot at smartwatches, this famed manufacturers of exclusive fountain pens created some over-ear headphones.
In a press statement last March, Montblanc revealed that the headphones were developed in Hamburg by their in-house designers as well as external assistance by Alex Rosson. Alex Rosson is one of the two CEOs of high-end headphone manufacturers Audeze.
Whenever a manufacturer debuts their first product in a new category, a lot of people suspect it was externally produced. The only thing the company does is slap on their brand logo. However, this doesn't seem to be the case with Montblanc's luxury headphones. But will Montblanc be able to compete with Sony or Bose, companies that have years of experience in the headphone sector?
Let's start with some positives: comfort
An uncomfortable headset is annoying. Montblanc thankfully put some work into this aspect: you can wear the MB 01 for hours without even feeling it. The soft leather padding doesn't exert much pressure. Even though I tend to be sensitive when wearing headphones. Sennheiser Momentum models usually have me throwing them off my head after ten minutes, they're so annoying.
The MB 01 fits anyone. Even people with gigantic ears will be able to completely fit them into the pads. They're so big, I can even wear them with earrings. Even if you need glasses, these pads are soft enough to not give you any problems.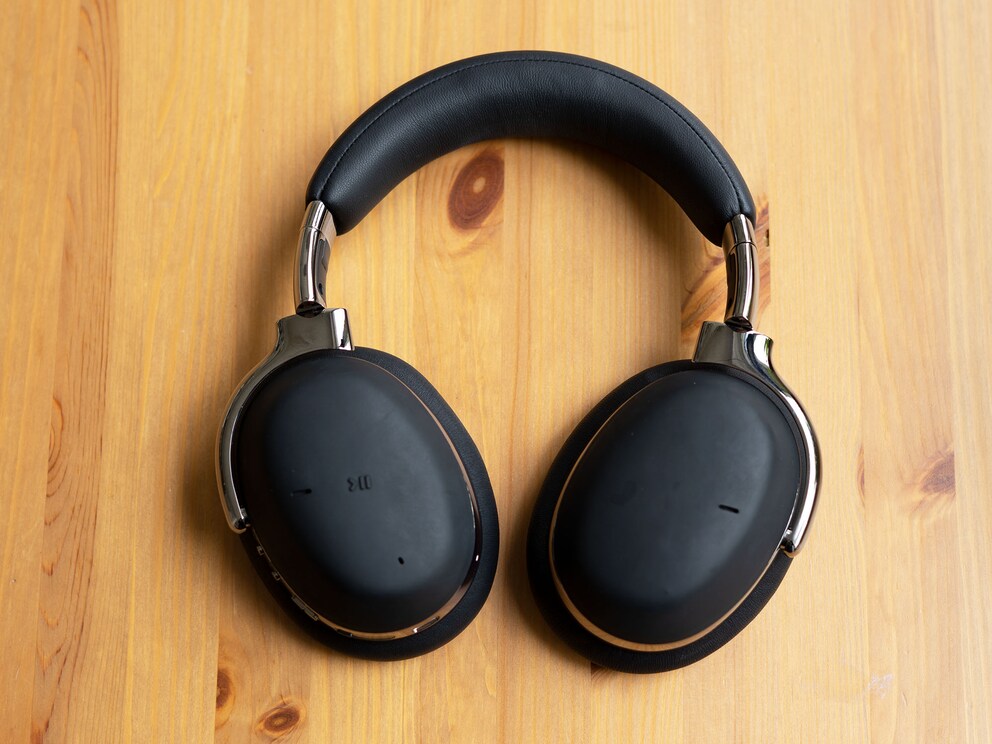 The MB 01's weight is mid-range: Montblanc's headphones tip the scales at 280 grams. The lightest over-ear active noise cancelling headphones come in at 220 grams, the heaviest is a whopping 350.
Material and a controversial carry bag
The Montblanc website claims that these headphones are made from fine materials such as aluminium, silicone and leather. However, the aluminium frame under the soft leather padding feels more like plastic. If you extend it, then you'll actually see some black plastic pop out. I don't like it, it looks cheap. In addition, a part of the shiny coating split off while I had the headset in my backpack. It wasn't inside the cloth carry bag.
You heard right. Montblanc's carry bag, which most manufacturers make from high-quality materials, is just a cloth bag. The blurb writes that the headphones come delivered with an additional case. I expected more from a luxury manufacturer like Montblanc than a thin black cloth bag.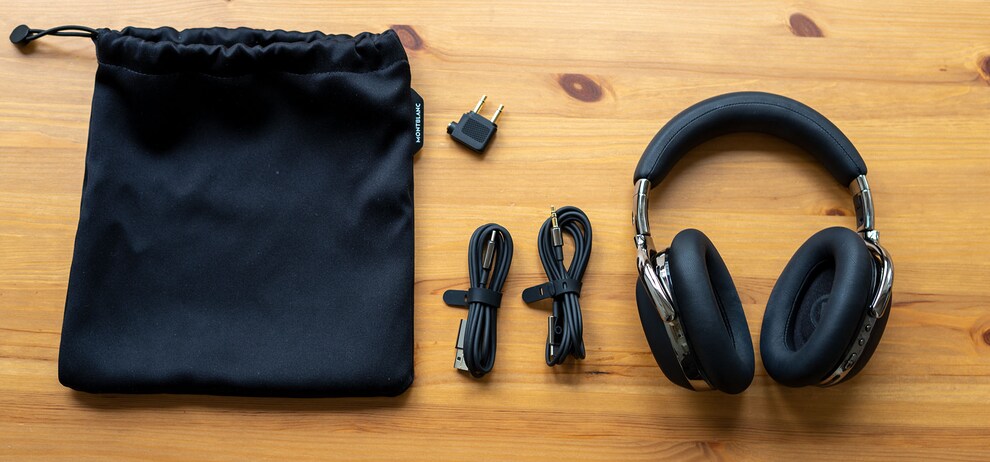 Montblanc also added a silicone coating to the outside of the ear pads. It feels nice. But as soon as you touch it with greasy fingers, it won't look that good anymore.
In addition to the cloth bag, your delivery also includes a jack to USB-C and a two-sided USB-C cable. The headphones only have one USB port, there's no headphone jack.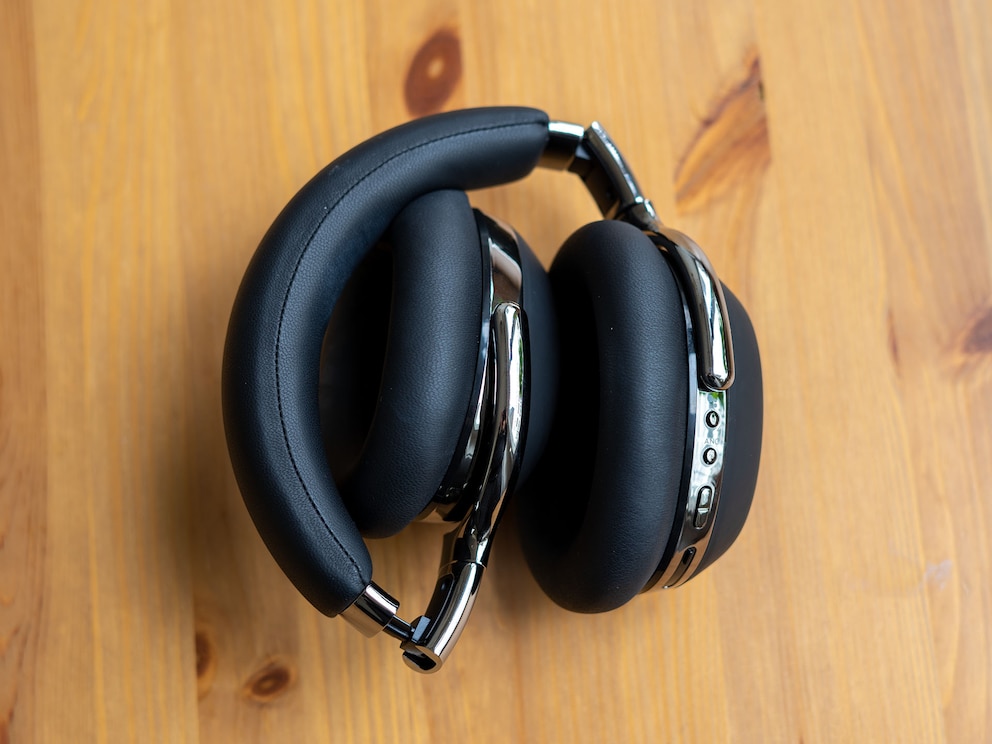 It even includes an adapter you'll need in some airplanes. The MB 01 is pretty dense, the ear pads can be flipped back and turned around.
Controls: simple but good
The silicone coating on the ear pads includes a multi-function button. You can press play/pause or skip forwards and back. It feels nice to press thanks to the silicone surface. The surface gives you some useful tactile feedback whenever you press the button.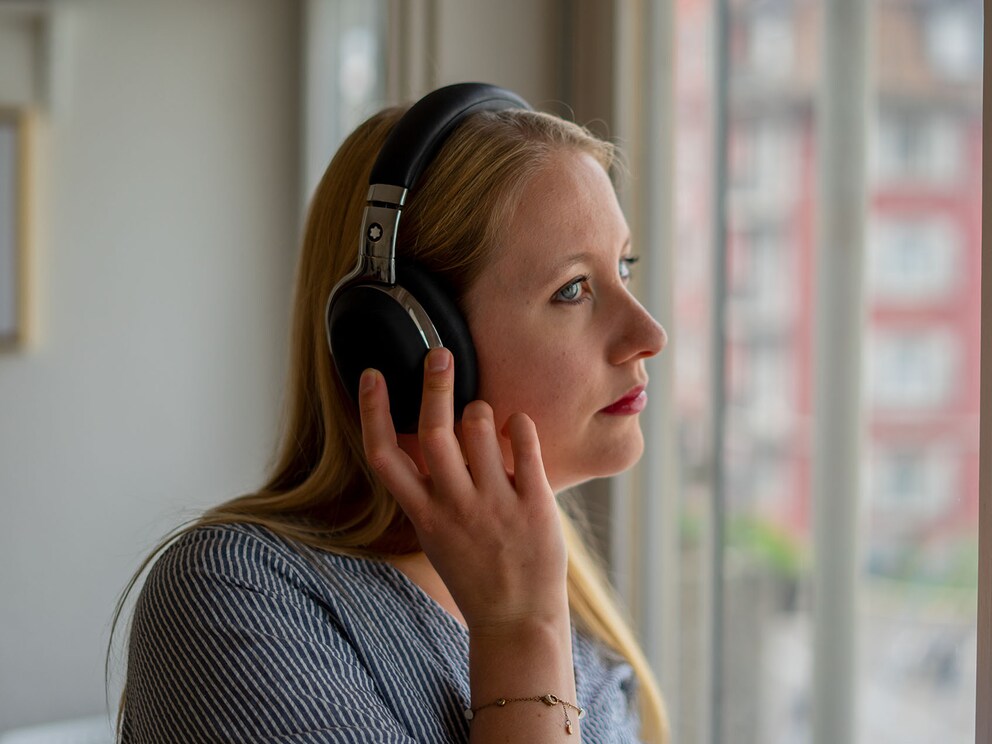 This button is my favourite thing about this headset. I've had my share of bad experiences with fancy touch controls that never work when they're supposed to. You get four additional knobs on one of the pads: on/off, volume, ANC and Google Assistant can all be controlled from your right ear pad. There's no control surface on the left pad.
The one little niggle I have with these controls is that the on/off button is rather small and needs to be held down for three seconds – but it's not a deal breaker. If you want to stop the MB 01 from playing music, you'll need to enable this functionality by holding down the ANC and another button for a moment. Then it'll be permanently set up. Auto pause is pretty reliable in this case.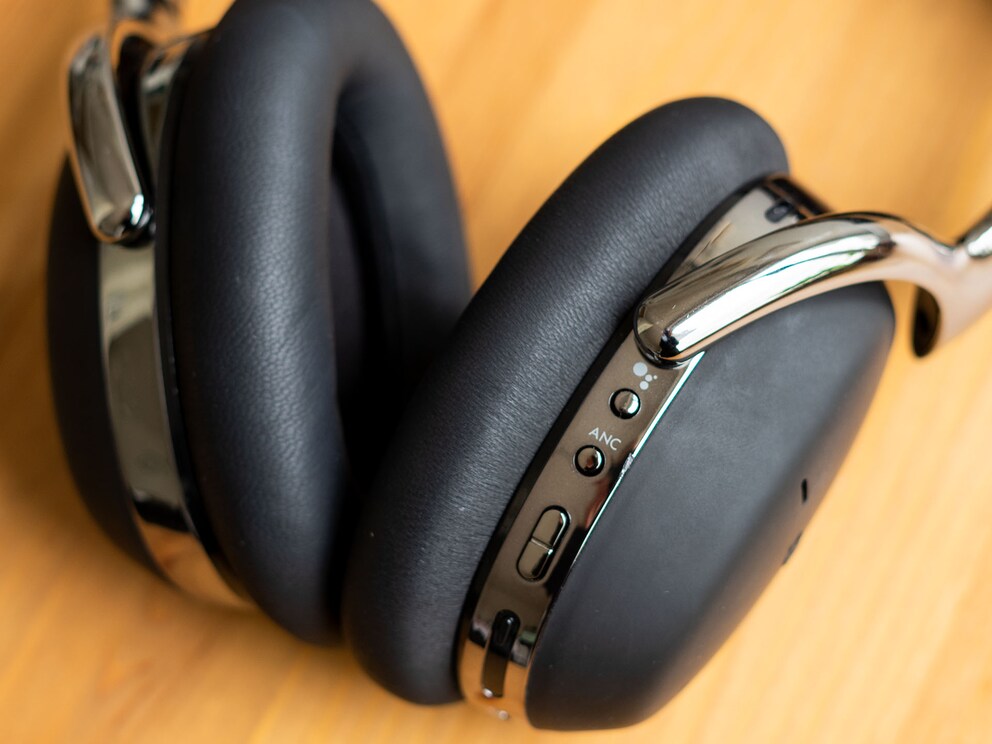 Sound: okay, buuuut...
Generally, the MB 01's sound is alright: the mids are present and don't get drowned out by the bass, a problem that many newer headphones have. Good that Montblanc didn't follow this stupid trend. The bass is soft but full. The headphones basically sound warm and detailed – even without V-Shaped Sound.. The tone is neutral, as it should be, and the highs aren't too grating, but clean and clear. I didn't pick up any distortion from the MB 01.
Still, I sometimes get the feeling that the sound is missing something during certain styles of music. While listening to a podcast with the MB 01, I noticed some background noise.
Deafening hissing
For the longest time, I had this uneasy feeling about the sound, but I couldn't put my finger on the problem. But as soon as I noticed it, the hissing immediately annoyed me. I wanted to know whether it was just me, so I gave the headphones to some colleagues to try. They only noticed the noise when I told them about it, and even then it didn't bother them much.
With ANC off, the hissing is less annoying, but it's still there. It only completely disappears when you use the MB 01 with the included cable. Then this Montblanc headset sounds really nice. But I really don't see the point in using such an expensive Bluetooth headset with a cable.
ANC does add this annoying element, but the rest sounds fine. But since the headphones are already very well isolated, you won't get blown out of your chair when switching on ANC. While commuting, noise cancelling works well enough as well.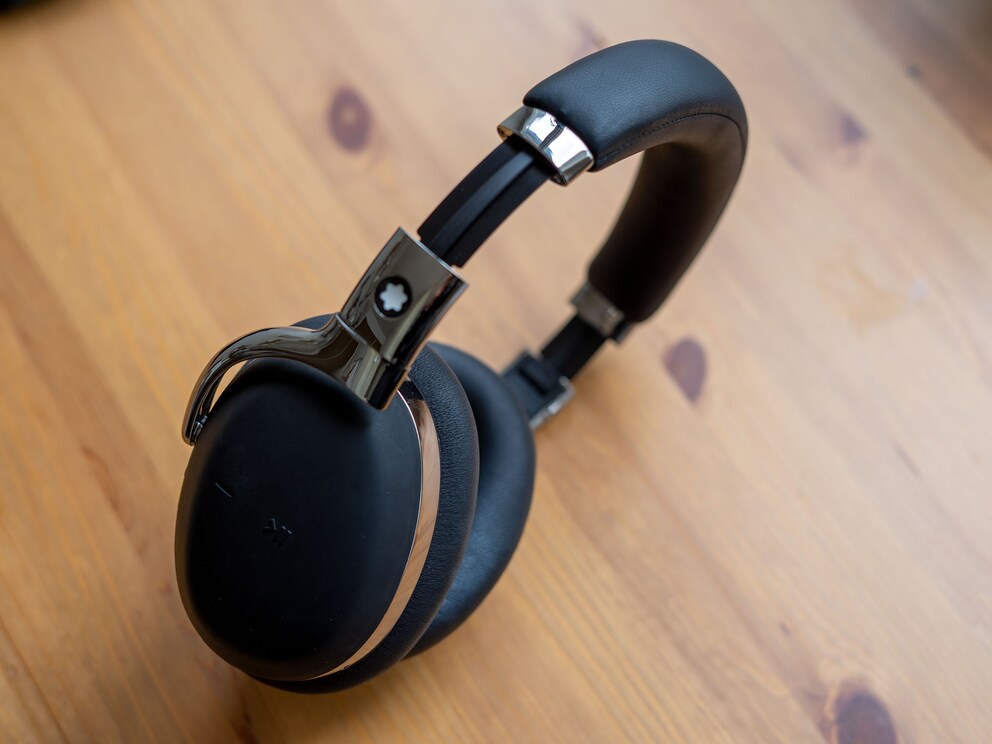 Connection and battery life are fine, calls work
Montblanc installed Bluetooth 5.0 in this headset. The MB 01's range is surprisingly far: I can leave my flat, walk down the hallway and still hear music. It only cuts out when you take the elevator to a lower floor. I never had connection problems, cuts or latency when watching videos. In addition, both Bluetooth codecs, aptX and AAC, are included. AptX is the standard in high Bluetooth sound quality for Android phones, AAC applies to iOS. The headphones can even be set to aptX Adaptive depending on what phone you're using.
According to Montblanc, the battery lasts around 20 hours. I got to about 12 with ANC on, which tends towards the weaker side when compared to other headphones. I'm a bit annoyed that the headphones announce their battery level whenever they're turned on. But since it only counts in quarter steps, this led to some confusing incongruities when comparing with the Bluetooth settings of my phone. There's no way to change language settings yet. But according to Montblanc, this'll come out soon.
Montblanc is silent when it comes to charging time. It took me about two hours to completely fill up the battery.
The MB 01 works very well with calls as well as a headset for your PC. I was even able to make a flawless audio recording with these headphones. My office headset was extremely noisy while doing the same, and my voice sounded like I was in a cave. Montblanc's sound quality on the other hand is very. Even the person I called said I sounded nice.
Conclusion: a normal, comfortable and exceedingly expensive headset
Aside from its comfort, there's nothing really special about these headphones – but then there's the price. The most convincing thing about the MB 01 is its shape. Ideal for long journeys. It can be condensed into a small space, a nice bonus. Bluetooth is good and stable, but that's to be expected at its price.
The controls are easy to use. The headphones do hiss, which I find very annoying, but you might not think so. It only stops when using a wired connection. But I won't pay up CHF 600.– for that.
The price is the ultimate letdown of the MB 01. There's just no excuse for wasting that much money on it. It's simply too expensive for what it offers. It looks alright, but it can't make up for its price tag. I quickly sent back the Montblanc headphones without regrets. I couldn't even afford them myself.
---

Testing devices and gadgets is my thing. Some experiments lead to interesting insights, others to demolished phones. I'm hooked on series and can't imagine life without Netflix. In summer, you'll find me soaking up the sun by the lake or at a music festival.
---
---
---