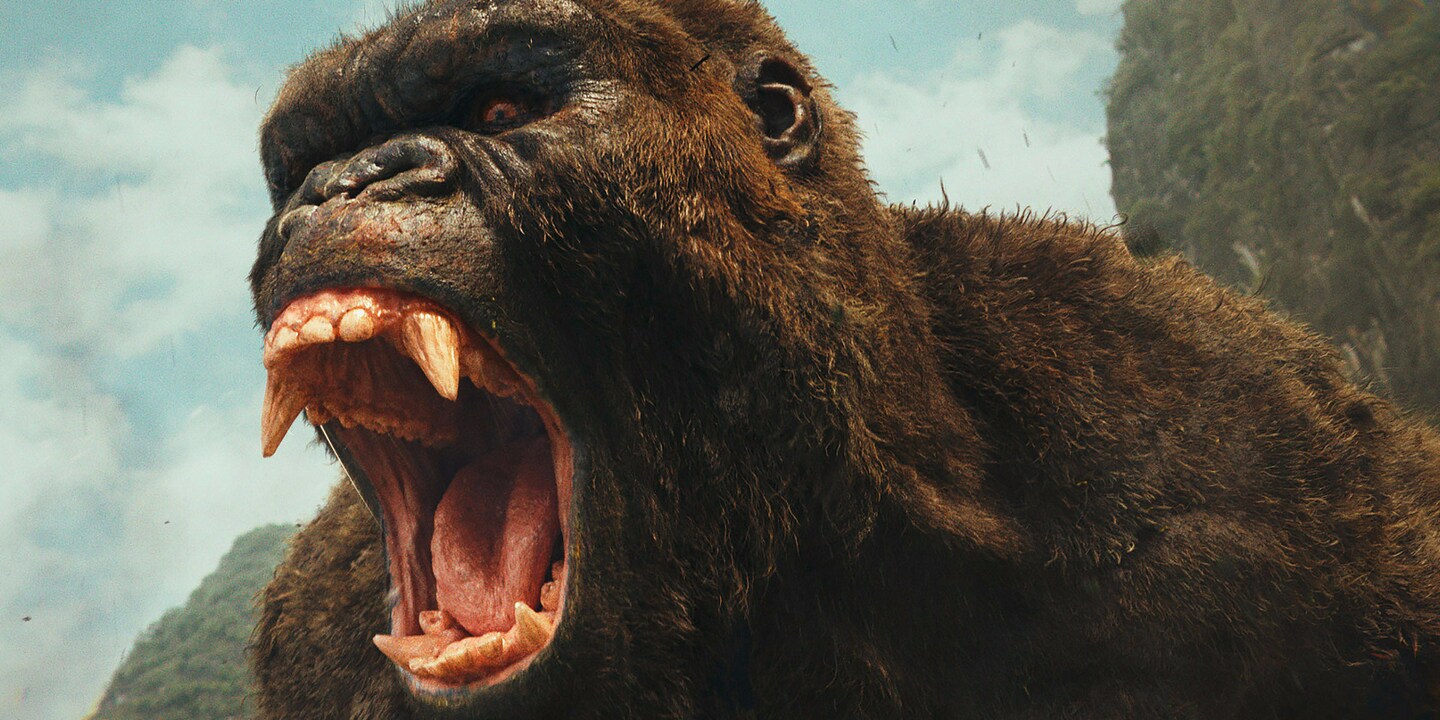 © 2017 Warner Bros. Ent. All Rights Reserved.
Kong: Skull Island – Experience the giant ape in VR and win tickets to the movie premiere

King Kong is as synonymous with the cinema as popcorn. Alongside special effects Godfather Ray Harryhausen, the giant ape from Skull Island is a true pioneer when it comes to effects. From 9 March, Kong will be let loose on the big screen and even a little sooner in virtual reality. Be part of the action! We're giving away tickets to an exclusive pre-premiere and will make sure your VR experience is perfect.
Everbody knows him or at least knows of him: Kong – a giant ape captured by an expedition team on primeval Skull Island and a true movie legend. This year, "Kong: Skull Island" is hitting cinemas. For the launch of the movie, Warner Bros. studio has come up with something special. After all, there's no Kong without a special effects revolution.
Take in some of the Skull Island atmosphere by putting on your VR goggles in the cinema and checking out the island. You can even do this prior to the movie premiere: Abaton cinema will be catering for the Skull Island VR Experience on the dates below – that's before the official cinema release on Thursday, 9 March.
Thursday, 2 March 2017, 4.15 p.m. to 11.15 p.m.
Friday, 3 March 2017, 4.15 p.m. to 11.15 p.m.
Saturday, 4. March 2017, 4.15 p.m. to 11.15 p.m.
Sunday, 5. March 2017, 4.00 p.m. to 9.00 p.m.
For an ultimate VR Experience, the filmmakers exclusively refilmed the first minutes of the movie. That way you'll be there when the helicopter flies the main characters to Skull Island. What starts off as a standard helicopter flight soon turns into an unparalleled adventure. It's important to Warner Bros. that you know the following: The VR Experience contains no spoilers as it is purely inspired by the first few minutes of the movie – plenty of time for you to get a good at all the critters on Skull Island.
The setup is as follows and provided to Warner Bros. by digitec:
We're giving away a free pair of Gear VR goggles with every Galaxy S7 (edge)! View all offers (in German):
Simple, right? Not only does the Android platform offer developers simplicity, it also means that VR now fits into your pocket in the shape of a Samsung Galaxy S7 Edge.
Your chance of winning
If you're gagging to be one of the first to see "Kong: Skull Island", you'll be happy to know that the VR stand with the Samsung Galaxy Gear and Samsung Galaxy S7 Edge will also be at the movie premiere on Monday, 6 March 2017 at 8.30 p.m. at Sihlcity Cinemas. Pre-movie drinks will be served from 7.30 p.m. And there's a special treat for all you true film aficionados: The movie will be shown in 3D in the English original with German and French subtitles.
We've got 10x2 tickets to this premiere. All you need to do to take part is give us a scientific explanation of why Kong is so big and how he is able to live side-by-side with dinosaurs. Simply enter your answer in the comments field below. Naturally, we'll be judging all the comments with the seriousness they deserve. The winners will be selected on Friday, 3 March 2017 at 12 noon. Remember: The more creative, the better!
Good luck!
You might also be interested in
---

Journalist. Author. Hacker. A storyteller searching for boundaries, secrets and taboos – putting the world to paper. Not because I can but because I can't not.
---
---
These articles might also interest you
Skeleton Loader

Skeleton Loader

Skeleton Loader

Skeleton Loader

Skeleton Loader

Skeleton Loader