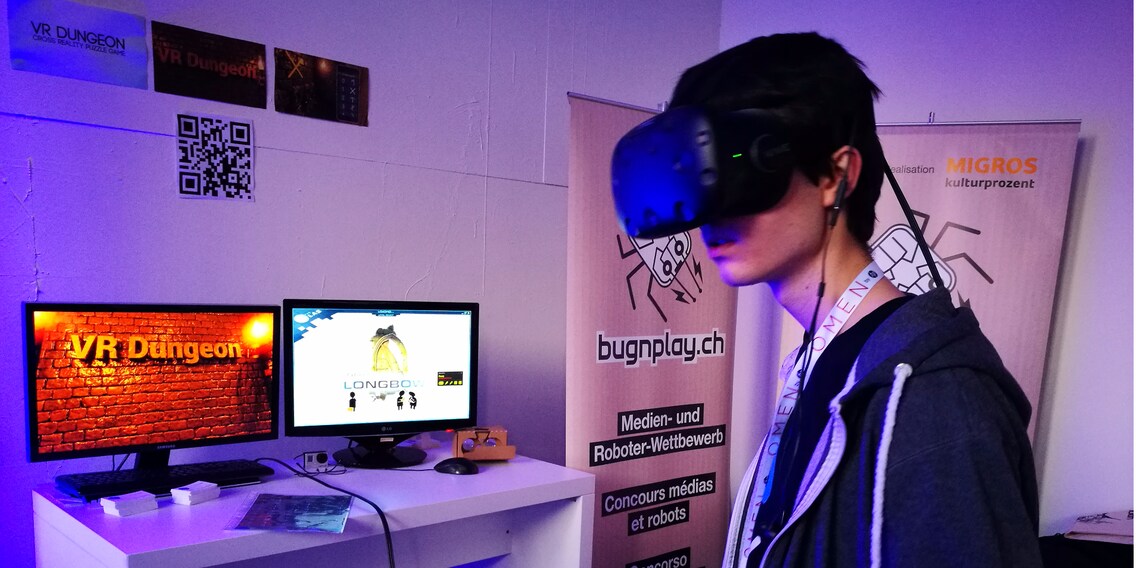 Just 15 years old and already developer of two VR games

At the Zurich game festival Ludicious, visitors were among the first to try out "VR Dungeon". A game was developed by two teenagers – one of them 15-year-old Jeremias Baur from Switzerland.
He may be just 15 years old, but Swiss teenager Jeremias Baur already has two VR games to his name. At Zurich game festival Ludicious, he presented "VR Dungeon" – a game developed together with Zsombo Szabo (17) from Hungary. The festival organisers provided the teenagers with their very own stand to present their project to visitors. The two young adults had previously met at a VR workshop at Ars Electronica in Linz, Austria.
Their project was made possible by Bugnplay.ch – a digital youth competition for games, code, robotics and multimedia held by Migros-Kulturpozent. For his first VR game "FindJ", Jeremias won the GameAward in 2016. This was followed by a trip to Linz, where he laid the foundation for "VR Dungeon" together with Zsombor. In the course of a cooperation with Ludicious, the two teenagers were sent to the game festival in Zurich, where they were given their own stand and the opportunity to give a presentation on their project.
Visitors of Ludicious in Zürich got to try out the game.
The puzzle game "VR Dungeon" is for two players. One wears the HTC Vive and the other uses his or her smartphone. The player with the goggles is trapped in a Dungeon and has to decipher cryptic symbols. This is where the other player comes into effect by providing solutions from his or her smartphone.
Programming without VR goggles
The boys also received support from digitec. As neither Jeremias nor Zsombor own VR goggles, we provided them with a pair. This raises the question of how you can develop a VR game without goggles? "That was the fun thing about it", explains Jeremias. "The foundation for our game was laid at Ars Electronica. They had an HTC Vive we could use. And the rest we programmed back home – without goggles". As Jeremias and Zsombor couldn't expect the same level of imagination from the visitors at Ludicious, they were desperately looking for somebody who could lend them a good pair of goggles.
Meanwhile, the game is available on Steam as an early access game. The two of them want to further develop the game and are planning on getting their very own HTC Vive. If you want to support them or fancy trying out "VR Dungeon", simply go to Steam and check it out for for just five francs.
You might also like:
---



Being the game and gadget geek that I am, working at digitec and Galaxus makes me feel like a kid in a candy shop – but it does take its toll on my wallet. I enjoy tinkering with my PC in Tim Taylor fashion and talking about games on my podcast http://www.onemorelevel.ch. To satisfy my need for speed, I get on my full suspension mountain bike and set out to find some nice trails. My thirst for culture is quenched by deep conversations over a couple of cold ones at the mostly frustrating games of FC Winterthur. 
---
These articles might also interest you
Skeleton Loader

Skeleton Loader

Skeleton Loader

Skeleton Loader

Skeleton Loader

Skeleton Loader