Is Netflix doing away with series marathons?

If the latest quarterly figures are to be believed, Netflix's audience is diminishing. The Californian streaming service is now said to be considering the most spectacular change of course in its history: a shift away from binge-watching.
Things are not going well at Netflix right now. The streaming pioneer lost hundreds of thousands of subscribers in the first quarter of 2022. According to Netflix, the figure may even stretch into the millions by the end of July. In doing so, the company confirmed its sales are growing more slowly than expected. This in turn has led to hundreds of job cuts, and according to a CNBC news report, there's a taboo-breaking move waiting in the wings that's as spectacular as it is controversial: the abolition of binge-watching.
Obviously, viewers could wait until every episode of a new season has been released in order to binge-watch them. New seasons and episodes would, however, only be released on a weekly basis. Whether you like it or not. Is Netflix a sinking ship?
To steer the vessel back on course, co-CEO Ted Sarandos is pulling out all the stops. First, he confirmed a soon-to-be-released, new ad-supported tier subscription that'll be cheaper for viewers willing to put up with the occasional ad. The company also wants to find a way to monetise account sharing, although this looks more like an act of desperation. And now, the end of binge-watching as we know it might even be on the horizon. It'd be a spectacular change of course.
The power of binge-watching
Netflix certainly win any friends with the abolition of the series marathon. While the streaming platform didn't invent binge-watching, but it did shape it significantly. In 2012, the company began releasing entire seasons all in one go. In 2013, a survey conducted by Netflix, as many as 61 per cent of viewers admitted to regularly watching 2-6 episodes in one sitting. The poll demonstrated that binge-watching didn't garner any negative associations among audiences. In fact, the majority considered it normal. Reason enough for Netflix to declare binge-watching «the new normal».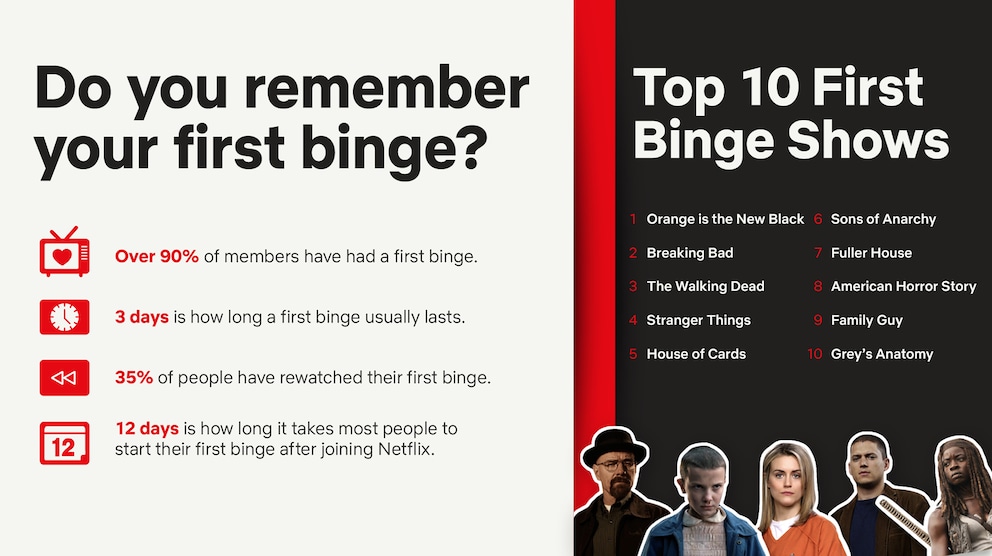 The Californian firm shook the linear TV landscape from the ground up. Audiences could finally choose for themselves when and how many episodes of a new series they wanted to watch. No more schedules. No more fixed programming. Pure freedom.
Netflix, aware of its unique market advantage, even made a sport out of it: «Binge Racing». Binge racers are viewers who devour an entire season within 24 hours of its release. The streaming service had this to say on the matter: «Before you assume that racers are just basement-dwelling couch potatoes, know that for these super fans, the speed of watching is an achievement to be proud of and brag about. TV is their passion and Binge Racing is their sport.» This actually went so far that co-CEO Reed Hastings got carried away and said: «Really, we're competing with sleep.»
The power of weekly viewing
Netflix grew – and in its wake, so did the competition. Unlike Netflix, however, Prime, Disney, Apple, Sky, HBO and the like don't rely on binge-watching. Not directly. They continue to release their content on a weekly basis, like in the days before Netflix. If you want to binge-watch a series, you can wait until the whole thing has been released. Mind you, you run the risk of seeing spoilers from your friends on social media.
However, there's a reason why Netflix's competitors are sticking with weekly releases: it allows them to «stretch» their content. This brings down costs, which is reflected in the subscription fees. Weekly episode analyses from YouTubers and bloggers boost the hype around each individual episode. And the risk of subscriptions being cancelled prematurely or temporarily at the end of the month is reduced. Especially when new episodes are released after the monthly cut-off point. Disney's release strategy for its two juggernauts «Star Wars» and «Marvel» speaks volumes:
December/January/February: «The Book of Boba Fett»
March/April/May: «Moon Knight»
May/June: «Obi-Wan Kenobi»
June/July: «Ms. Marvel»
August/September/October: «She-Hulk»
October/November: «Andor»
Netflix can't do that. Its audience can consume new content considerably more quickly. And that's what it does, too. Before immediately demanding more TV fodder. Especially since if they don't, they threaten to go over to competing platforms – which are much cheaper. If Netflix doesn't want to lose its audience, it has to constantly add new content at an ever-increasing pace. This is costing more and more money. If Netflix doesn't want to simply keep raising its subscription fees – suicide in such a competitive landscape – this can only mean one thing:
quantity over quality.
«There's so much junk on Netflix. I hardly ever find really cool stuff on there anymore. That's why I cancelled my subscription. It was too expensive anyway.» We've all heard comments like these from friends and acquaintances. Maybe even from ourselves. Netflix may have laid the foundation for its sweeping success by releasing entire series at once. Today, on the other hand, what was once Netflix's recipe for success is threatening to become a vicious circle.
What's next for Netflix?
With its 221.6 million registered subscribers, the US company is still the largest streaming service in the world. By a long way. Amazon Prime currently has 200 million subscribers, but «only» 175 million of them use Prime Video. Disney+ comes in third with 137.7 million subscribers. So, it'd be premature at this point to talk about Netflix's demise.
Nevertheless, investors been reacting with concern lately. Something that's apparent when you look at the way Netflix's stock prices have been developing: in October 2021, its stock was trading at 690 dollars per share. Today, it's valued at around 180 dollars per share. This isn't what having confidence in a certain future looks like. The situation is critical.
If the CNBC article is to be believed, Netflix could abandon what was once its most important cornerstone. Netflix is always experimenting with new release strategies. Think splitting season finales such as «House of Money» or «Ozark». At the time, Netflix cited production difficulties caused by the pandemic as justification for the move. Only recently, however, the streaming service released the entire fourth season of «Stranger Things» in June – with the exception of the last two episodes. They didn't appear until 1 July.
After the end-of-month cut-off point.
Clever.
It seems as though Netflix has no choice. Not if all of its competitors go on releasing new content in chunks as well. Netflix risks kicking up a storm of controversy with such a drastic change of course. In the long run, however, the Californian streaming service could refocus on putting more emphasis on quality if it were to produce less content within the same budget. This, in turn, would also benefit us viewers.
---



I'm an outdoorsy guy and enjoy sports that push me to the limit – now that's what I call comfort zone! But I'm also about curling up in an armchair with books about ugly intrigue and sinister kingkillers. Being an avid cinema-goer, I've been known to rave about film scores for hours on end. I've always wanted to say: «I am Groot.» 
---
---
These articles might also interest you
Skeleton Loader

Skeleton Loader

Skeleton Loader

Skeleton Loader

Skeleton Loader

Skeleton Loader